Recipe: strawberry vodka
Our oppressive heat of the last several weeks seems to be abating so that Kaweah can resume her jolly evening walks without overheating. While we adjust to summer temperatures, it's much harder on the pup. So 80°F might be tolerable for us, but it will have her gasping for air on the baby trails.

kaweah was so very happy to be out after a rain
trail markers in our town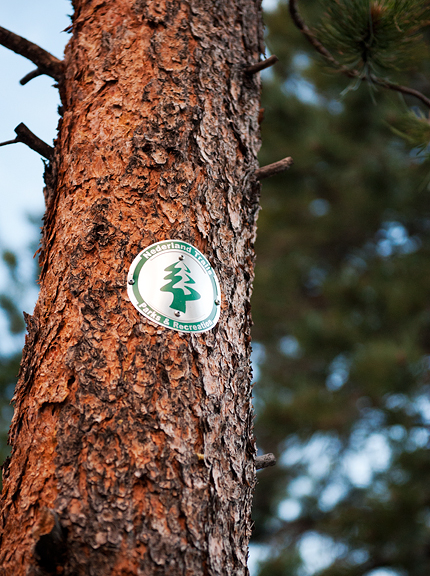 This cooling trend was just in time for the Fourth of July holiday too. It was lovely getting our legs outside and back on the trails. The wildflowers are going nuts in the high country too. For our holiday, we went for an early morning local hike.
big views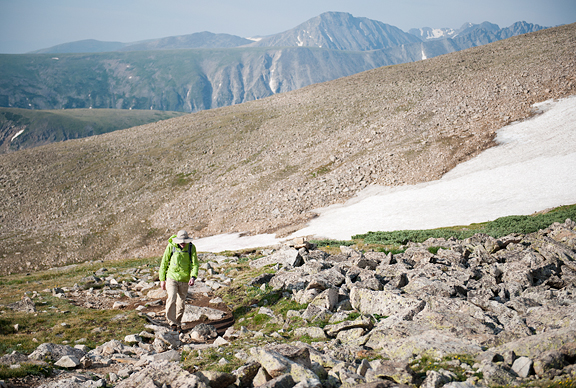 little critters (can you spot the pika?)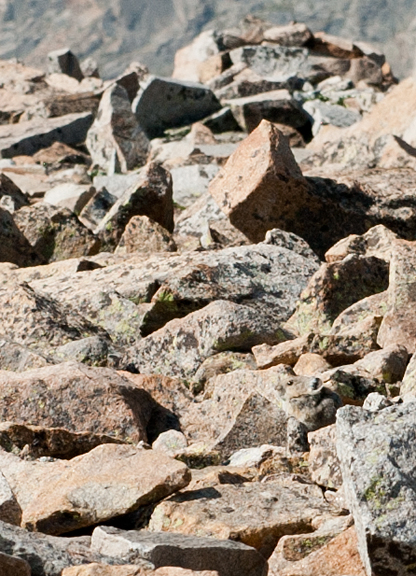 final ascent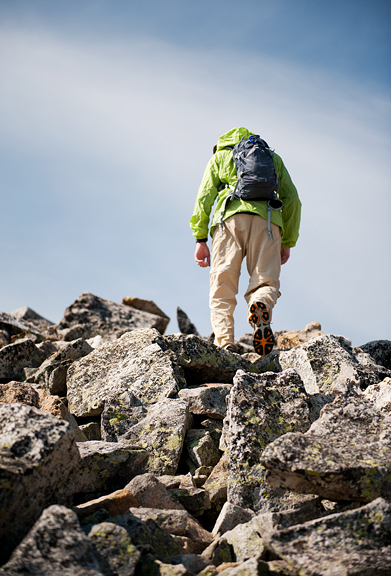 token summit shot on mount audubon (haze is smoke from wildfires in wyoming)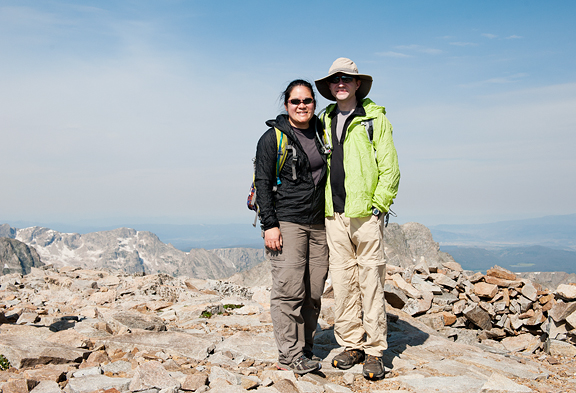 wonderful blue columbines (colorado state flower)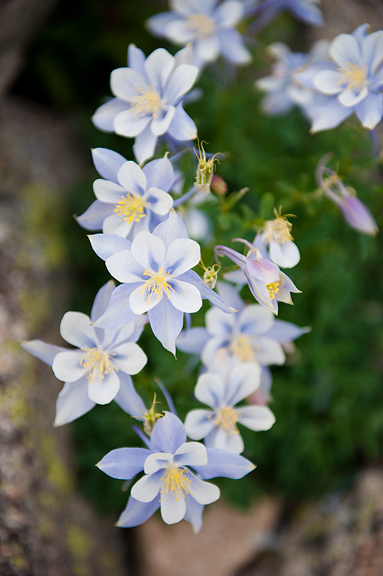 blessed rains on the descent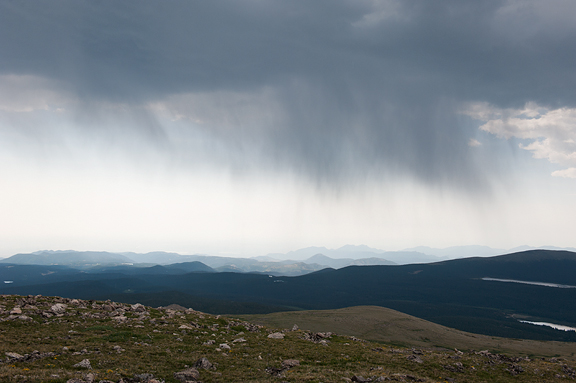 Fireworks were cancelled in our mountain town for obvious reasons (two words: Colorado wildfires). If you're hankering for sparklies, you can see fireworks photos from
2011
and
2010
. Instead of scoping out a location from which to shoot the fireworks like previous July 4ths, I got to chill out at home and make a simple, but elegant dinner.
pan-seared scallops on fresh vegetables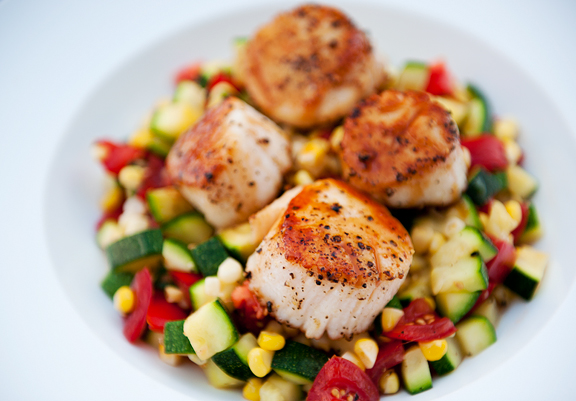 My beverage of choice is water. I love it. But when I want to offer something special to friends, it's usually fruity and usually homemade. In summer, the quintessential beverage is lemonade. I like to play with fancy lemonade like
lavender lemonade
or in this case, a strawberry lemonade. Except this is an adult strawberry lemonade made with homemade strawberry vodka.
get yer hands on some proper strawberries
red to the core
You might have deduced that I am a little obsessed with strawberry beverages. You are correct. I'm enamored with the brilliant red color and the intensely strawberry flavor of
strawberry syrup
and now this strawberry vodka infusion. Infusions are fun, easy, and pretty. They're great to give away or keep for yourself.
wash the berries
slice into quarters or halves (if they are small)
This infusion comes from my friend,
Sean Timberlake
, who also runs a great site on DIY preserving:
Punk Domestics
. It's so simple a child could make this… except they couldn't purchase the vodka.
strawberries in the jar
in goes the vodka
Right, so you wash some berries, chop them up, and place them in a glass jar with the vodka. That's most of the work right there. Seal the jar and give it a shake. Then you store the jar in a cool, dark place for 3-7 days (go for 7, let's maximize that flavor) giving it a shake once a day. I know, it's hard not to break into it early, but be patient. When it's ready, strain out the strawberries and you are left with a handsome, brilliant red liquid.
red!
the strawberries have given up their essence to the vodka
strain it
Sean recommends storing it in the freezer and enjoying the strawberry vodka straight. I store it in the freezer, but I can't drink it straight. It tastes like cough syrup to me because I've never really acquired a taste for vodka. However, if you add a shot (or two) of the strawberry vodka to lemonade, the cough syrup taste goes away.
squeeze some lemons to make lemonade
add simple syrup and water
Strawberry vodka lemonade tastes like strawberry lemonade. You can't detect the vodka, but the strawberry flavor is strong and bright. Beware, lightweight boozers! You can get plastered enjoying one too many strawberry vodka lemonades on a hot summer day. But don't let that deter you from enjoying one (or two…) because it's utterly delightful. And if you really don't want the boozer option, then go for a virgin strawberry lemonade using the
strawberry syrup
in place of the strawberry vodka – just make your lemonade less sweet since the syrup has a lot of sugar in it.
add a shot or two of strawberry vodka to the lemonade
a great way to enjoy summer
Strawberry Vodka
[print recipe]
from a guest post on David Lebovitz by Sean Timberlake of Punk Domestics
2 pints (1.25 lbs. or 575g) strawberries, organic or unsprayed
750 ml vodka
Wash, hull, and cut the strawberries into halves if they are small, quarters if they are large. Put the cut strawberries into a glass jar with a capacity large enough to hold the strawberries and the vodka. Pour the vodka into the jar. Tighten the lid on the jar and give it a good shake. Store the jar in a dark, cool place for 3-7 days (I went with 7 days). Give it a swish once a day. When the vodka is ready, strain the strawberry solids out with a fine mesh sieve, cheesecloth, or if you have a lot of time on your hands and want a super clear liquid – a coffee filter (this method totally doesn't work for the impatient). Store in the refrigerator or the freezer for several weeks. Makes a quart.
To make strawberry vodka lemonade, add 1-2 ounces of strawberry vodka to a glass of lemonade over ice.
lemonade
3/4 cup sugar
1 cup water
1 cup fresh squeezed lemon juice (about 5-6 lemons)
2-3 cups water
Stir the sugar and 1 cup water together in a small saucepan and bring to a boil. Make sure the sugar dissolves completely. Let boil for a minute then remove from heat. Let the simple syrup cool. Combine the simple syrup with the lemon juice and add 2 cups of water. Add more water to taste. Makes about a quart (depending on how strong you want your lemonade).