Recipe: spinach artichoke cream cheese
They said it was going to snow this weekend, and it did. But between the sun and the 60 mph winds, we've got nada on the ground here. We are headed for single digits tonight (in °F) and the wind chill is well below zero. That would explain Kaweah's lack of the usual dawdling when we turn around to go back home during her walk (but she still loves her walks). It also means that I have been a baking fool for the past few days, filling the house with the warm scent of fall spices, roasted vegetables, and hot soups. I'm still waiting for proper winter (read: snow), but in the meantime…

we have had a string of brilliant sunrises and sunsets the past week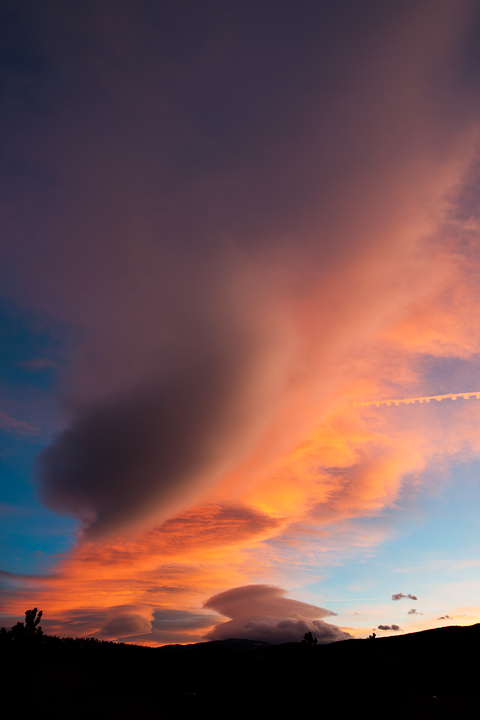 lunch with jeremy at pica's (wet burritos: carne asada and pork adobado)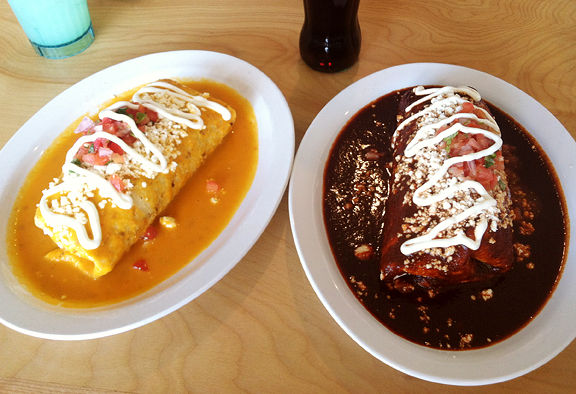 hoarding the best duck prosciutto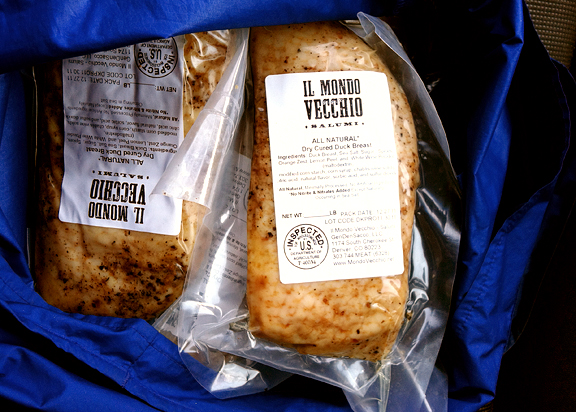 That last shot is of four duck breast prosciutto from
Il Mondo Vecchio
in Denver, which is closing its doors at the end of this month (November 30, 2012). I'm heartbroken and upset about the closure because I love this small local business and their quality products. I've ventured down to their Denver loading dock before, but then
Cured
(in Boulder) began to carry Il Mondo Vecchio's salumi such that I could gift duck breast prosciutto to a deserving hostess from time to time.
I don't get to Denver very often (this is voluntary) and I know I am missing out on some great eats and treats in the city, but I do hear about great places from my local pals. Back in the spring, when my friend Kathya came to visit with me, she brought me bagels and cream cheese from Hi*Rise in Denver. The bagels were good, but the cream cheese was absolutely lovely – spinach and artichoke. When I had polished off the last of the spinach and artichoke cream cheese, I thought to myself, "I need to get in on that action."

spinach, artichoke hearts, lemon, salt, cream cheese
chop the artichokes
You can use frozen spinach if you don't want to deal with fresh spinach. I had fresh spinach on hand and rather like the idea of knowing exactly what is in it. It's a quick blanch in boiling water, then drain it and squeeze it out just like you would frozen spinach. Chop it up and you are good to go.
blanch
drain
chop
This is like the cream cheese version of
this artichoke dip
with spinach tossed in for good measure. Actually, it lacks the oomph of the garlic, but think of it as the mellower cousin. It's chock full of spinach and chunky artichoke.
squeeze some lemon juice into the mix
chunky, creamy, dreamy
spread on a toasted bagel
Sure I love this spinach and artichoke cream cheese on a bagel in the morning. I also like it on a bagel with tomato slices and muenster cheese melted on top for lunch. You could even put a fried egg on that for the Ultimate Decadent Bagel of Yum. I may or may not have eaten a spoonful as is. Don't judge. Make a batch and tell me you didn't do that too.
a welcome start to the day
Spinach Artichoke Cream Cheese
[print recipe]
inspired by Hi*Rise Bakery
5 oz. fresh spinach or 1/4 cup frozen spinach, squeezed of water
8 oz. cream cheese, room temperature
1/2 cup artichoke hearts, chopped
pinch of salt
squeeze of lemon juice
If using fresh spinach, blanch the spinach leaves in boiling water for no more than a minute and drain. Squeeze the spinach out as much as possible. Chop the spinach. Mix the spinach, cream cheese, artichoke hearts, pinch of salt, and lemon juice (to taste) until blended. Makes a pint.