Recipe: roasted butternut squash with moroccan spices
Well well well, if it isn't December. How have you been, December? You certainly haven't been very snowy lately, at least not in Colorado. While December has been acting more like August around here, I've noticed a frenzy of gift shopping going on all around me for the impending holidays. I've gone and done a little hunting myself. That is, I've gone and gathered up a few dealios on some lovely gift ideas just for my readers. I know a few kickass ladies who happen to run their own small businesses and turn out beautiful, high-quality products. Each one gave me a code for a discount or a free gift for my readers!

cmh design (code through December 20, 2012: HOLIDAYSHIP)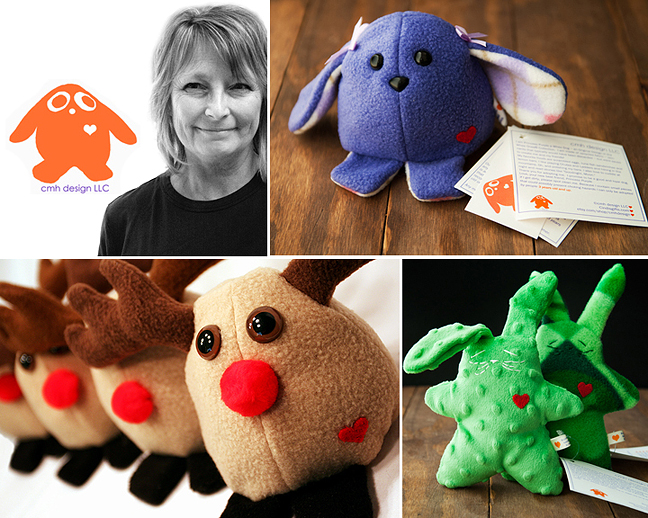 Cindi Miller Herleman is the Denver-based artist and boss lady at
cmh design
. She handcrafts adorable squee-worthy stuffed toys and other items for kids, big and small. I recently ordered a Whee One from Cindi for a present, and got two little security bunnies to gift to a couple of children in need. It was tough just ordering the gifts and not picking out a few for myself – like the zombies, frankensteins, and draculas! Cindi even makes scary monsters cuddly and sweet. She also maintains a collection of brightly-colored whimsical bibs and burpies for the littlest kids as well as pillows and knit hats.
cmh design is carried in physical stores around Denver as well as in Seal Beach, California and in New York City (see listings). But don't fret if you can't get to those places, Cindi has an Etsy store where she graciously set up a discount code for all use real butter readers. Enter HOLIDAYSHIP on your order BEFORE DECEMBER 20, 2012 to receive free shipping on your order. Go check out the cuteness and see her latest creations on the cmh design Facebook page.

spotted dog farm (code through December 31, 2012: BUTTER)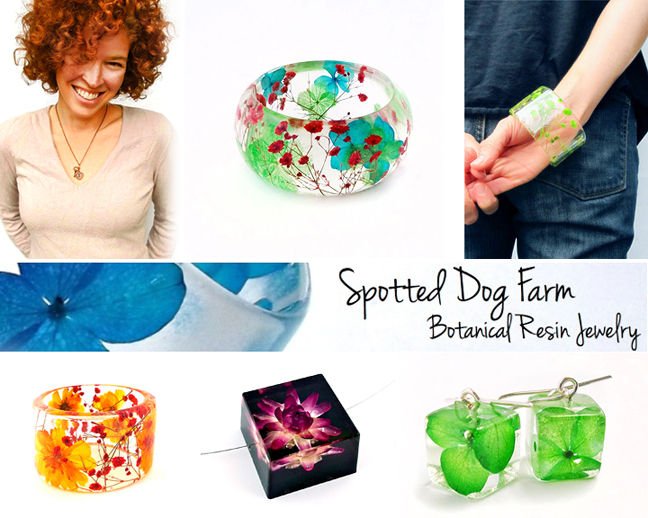 Hopping over to Asheville, North Carolina, you will find Sumner Smith, the proprietor of
Spotted Dog Farm
. Sumner has mastered handmade botanical resin jewelry – real flowers or delicate leaves suspended and preserved in resin. She has a most gorgeous selection of pendants, rings, earrings, and bangles in a delightful array of colors and designs. Browsing the jewelry on offer is like a walk through a field of summer wildflowers. These lovely pieces make fantastic gifts for others or… for yourself!
You can peruse the handmade botanical resin jewelry at the Spotted Dog Farm Etsy store. Sumner has kindly provided free shipping to all use real butter readers through DECEMBER 31, 2012. Just enter BUTTER to get free shipping on your order. Keep up with the latest on the Spotted Dog Farm Facebook page.

helliemae's (code through December 24, 2012: mobutter)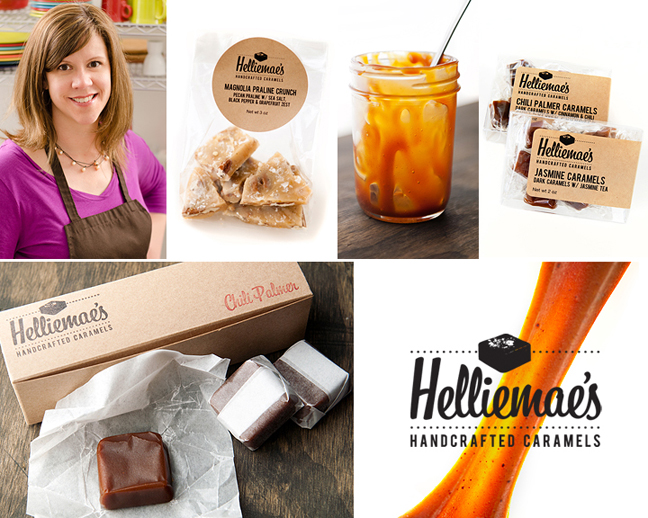 And last, but certainly not least, is my dear Ellen Daehnick, the owner and caramel pusher at
Helliemae's
in Denver, Colorado. Helliemae's caramels are rich, creamy, buttery (how could we not be friends?!), salted, and dark – dark as in burnt caramel. They are luxurious and indulgent treats that melt in your mouth. Ellen constantly experiments with new flavors, testing products to her exacting standards and treating the rest of us to seasonal favorites like apple caramels in the fall, candy cane caramels for the holidays, jasmine tea caramels for Mother's Day, and Atticus caramels (Stranahan's Colorado whiskey, cane syrup, and bourbon barrel smoked salt) for Father's Day. These punctuate the year-round goodness of classic salt caramels, coffee caramels, Chili-Palmer caramels (cinnamon, chili, salt), cardamom caramels, caramel sauce, and heavenly Magnolia Praline Crunch (pecan praline crunch with sea salt, black pepper, and grapefruit zest – oh my word…).
So here's the deal that Helliemae's has for use real butter readers: order $50 or more, add a 2-ounce box of classic salt caramels to your cart, enter mobutter at checkout, and you will receive the 2-ounce gift box of tiny caramels ($10 value) for free through DECEMBER 24, 2012. Stay on top of the latest in caramel flavor goodness at the Helliemae's Facebook page or follow Helliemae's on Twitter @helliemaes.
Full disclosure: I was not asked, given stuff, nor paid by these fine ladies to feature their products. It's all about sharing the awesome with you.
Whew! That's a lot of fabulousness on one page, kids. Let's wrap it up with a recipe. I call it a sleeper recipe because people tend to ignore vegetables, as if they were the shy nerd in the hall. Truth is, that nerd just needs a little olive oil, some spices, and suddenly it owns dinner! That's right. Butternut squash never ceases to thrill me with its sweetness, nuttiness, and versatility.

salt, pepper, olive oil, spices, and a butternut squash
cumin, coriander, chile, paprika, cinnamon, allspice, ginger, cayenne, cloves
mix the spices together and use a teaspoon
This recipe comes from my friend,
Kalyn
, who always posts healthy and tempting dishes on her blog. It calls for 4-5 cups of cubed butternut squash, but I think I had more than that… a lot more (my squash was 4.5 pounds). No matter, that's just more to enjoy. Now, am I the only person whose hand cramps up when peeling a butternut squash? That skin is like armor. But once you're past the skin, the brilliant orange flesh is hard, yet pretty easy to handle.
peeling the tough outer skin
scooping out the guts
dice into 1-inch cubes
I swear peeling the butternut squash is the toughest part, then you're home free. Cube the flesh and toss it in a bowl with some olive oil, salt, pepper, and a teaspoon (or more) of the Moroccan spice mix. It's pretty straightforward to make your own spice mix (a list of common spices) and yet it adds so much depth to the flavor of the squash. I used a large roasting pan because I wanted each piece to be in contact with the pan to maximize the browning surface area. The browned bits get sweet and crunchy.
add the moraccan spice mix
toss
arrange in a single layer in a greased pan
While the squash roasts in the oven, don't go running off for long. Turn the cubes over every 15 minutes, so that you will brown the pieces on more than one side. Be gentle when handling the cubes as the butternut squash will get softer the longer it cooks. When it is done, remove the butternut squash to a serving platter, sprinkle with sea salt, and try to share.
roasted and ready
sweet, earthy, spiced, and salted
Roasted Butternut Squash with Moroccan Spices
[print recipe]
from Kalyn's Kitchen
4-5 cups butternut squash, peeled and cut into 1-inch cubes
2 tbsps olive oil
1/2 tsp kosher salt
fresh ground black pepper
1 tsp Moroccan spice mix (see below)
moroccan spice mix
2 tsps ground cumin
1 tsp ground coriander
1/2 tsp chile powder
1/2 tsp sweet paprika
1/2 tsp ground cinnamon
1/4 tsp ground allspice
1/4 tsp ground ginger
1/8 tsp cayenne powder
pinch ground cloves
Mix spices together. Makes 5 teaspoons.
Preheat the oven to 475°F. Lightly grease a large roasting pan or baking dish. Toss the butternut squash cubes together with the olive oil, salt, pepper, and Moroccan spice mix in a large bowl. Empty the squash into the pan and spread into a single layer. Roast the butternut squash for 40-50 minutes, turning the pieces every 15 minutes or so. Before serving, sprinkle with sea salt and. Serves 4-6.