Recipe: sopaipillas
Over the weekend, we lost a longtime family friend. He was the father of one of my childhood besties. Even though he wasn't related to me, I called him Uncle. That is how I was taught to address friends of the family – Uncle or Auntie. But I always thought of him as an uncle. He was a positive, kind, gentle, soft-spoken, and even-tempered man with a sense of humor and a genuine sincerity. He had a sweet smile and a demeanor that put people at ease. I loved him like family.
I shed my share of tears on and off throughout the weekend while Jeremy quietly handed me tissues and squeezed my hand. I know better than to think that the people we love will be there forever, and yet it still knocks the wind out of me when they are no longer here. Despite the frigid temperatures, I needed to get outside and move – get the blood pumping and take deep breaths of mountain air with each glide of my skis on silent snow. It's how I sort my thoughts, heal a broken body or a broken heart, try to answer the unanswerable questions. It's where I seek comfort.

frosty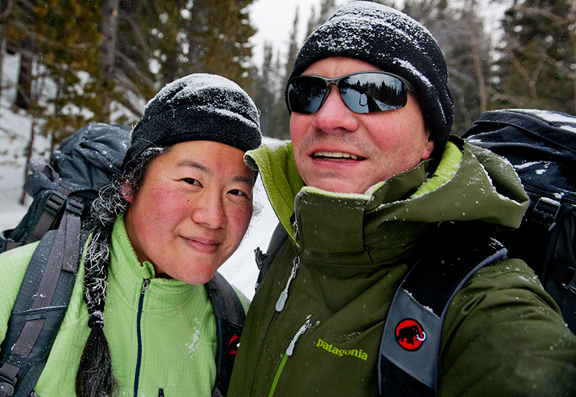 I'm not much of a comfort eater. I don't seek comfort in food. Typically, if I am in need of comforting, I'm not eating. But I do enjoy the occasional "comfort" food like anybody else. When I made chile rellenos over the holidays, we both felt as if something was missing… that finishing touch. The majority of the restaurant meals I've enjoyed over the past 20+ years in New Mexico ended with sopaipillas. It's a simple fry bread served as hot pillows of dough with a bear-shaped bottle of honey on the side and little fanfare. New Mexicans love their sopaipillas.
flour, water, milk, vegetable oil, baking powder, salt, sugar
mix the dry ingredients together
work the oil into the flour with your fingers
stir in the milk and water
The recipe is simple enough, but what kept me away for so long was the frying. Man, I hate frying. I just don't like dealing with the oil afterward – the clean up, the filtering, the storage (Boulder recycles used vegetable oil, so I save it up to recycle every few years which is better than the alternative). Every now and again it is worth the trouble though. I call those items fry-worthy and sopaipillas are most certainly fry-worthy.
mix it into a sticky dough
knead until "earlobe" soft
rest under a damp cloth
divide into three balls and rest some more
The first time I made sopaipillas, I followed the recipe instructions and made a batch of 12. They were cute and little – about the size of my palm. Jeremy informed me that these were on the small side, that typical sopaipillas were larger. On my second attempt, I made a batch of 8 and these were exactly like the ones we enjoyed in restaurants. I also got New Mexico's native son's approval.
roll out a ball of dough to about 1/4-inch thickness
cut into quarters
ready to fry
The key to rolling out the dough is to not manhandle it. Roll it out, but try not to press it down. Don't overwork the dough or re-roll the dough either. The goal is to get a nice puffy pillow when you fry it and that won't happen if you squash the hell out of the dough. Another important tidbit is to use fresh oil. Apparently, the smoke point of oil decreases with each use. The oil needs to be pretty hot in order to get the sopaipillas to puff properly. I used my frying oil a second time for the second batch and while they came out fine, I did notice more inconsistency in the frying on the second batch of sopaipillas. And finally, when you place the dough wedges into the hot oil, as soon as they rise to the top, ladle hot oil over the tops of the sopaipillas. This encourages them to puff up, which is what you want. It all happens quickly, so I don't recommend trying to multi-task when making sopaipillas. Give them the undivided attention they deserve.
frying and puffing
serve hot
dessert sopaipillas are usually served with honey
There is no better sopaipilla than a fresh, hot sopaipilla. Carefully grab one, taking care not to burn your fingers, and pull a corner off. Drizzle honey into the opening as you turn the sopaipilla in such a way as to drizzle honey all over the interior of the fry bread. Jeremy's mom recounted how, as a kid, Jeremy (or maybe it was his younger brother) once filled his sopaipilla full of honey. Oy.
tear off a corner (eat or reserve for later to dip in honey)
drizzle the honey
Jeremy and I both agreed that these were exactly like the sopaipillas we have enjoyed in New Mexico. It reminded him of home. The crisp outside and soft, doughy inside are perfectly paired with sweet, gooey honey. And they're fun to eat. It would surprise me if one didn't find some comfort there.
best when fresh
Sopaipillas
[print recipe]
from The Border Cookbook
2 cups (250g) all-purpose flour
1 tsp salt
1 tsp baking powder
1 1/2 tsps sugar (optional)
1 1/2 tsps vegetable oil
1/2 cup lukewarm water
1/4 cup milk, at room temperature
Whisk the flour, salt, baking powder, and sugar (if using) together in a large mixing bowl. Work the vegetable oil into the flour mixture with your fingertips. Stir the water and milk into the flour mixture until you get a sticky dough. Turn the dough out onto a floured work surface and knead it until it is "earlobe" soft (about a minute). Form it into a ball and let the dough rest, covered with a damp cloth, for about 15 minutes. Divide the dough into 3 balls (2 balls if you prefer larger sopaipillas). Cover the dough balls with the damp cloth and let rest for 15-30 minutes. At this point you can refrigerate the dough for up to 4 hours. Dust your work surface with flour and roll out a ball to a 1/8- to 1/4-inch thick circle. If you have any protruding edges, trim and discard to get a circle. Take care that you don't re-roll the dough because it results in a dense dough. Cut the circle into quarters. Repeat for the rest of the dough balls.
Heat about 2 inches of fresh oil (canola, peanut, vegetable) in a deep pan to 400°F. Use fresh oil because the smoke point of oil drops with each use. Carefully add 2-3 wedges of dough at a time. As they rise to the surface of the oil (this happens in about 10 seconds), ladle hot oil over the tops to promote ballooning. I found I only needed to ladle oil over the tops once. When the sopaipillas are puffed and the bottoms are golden (30 seconds to a minute), flip them over and continue to fry until golden (30 seconds to a minute). Remove from hot oil to paper towels. Serve hot with honey. Makes 12 small sopaipillas or 8 large sopaipillas.