Recipe: mandarin pancakes (mushu shells)
The stars aligned and we were able to tear ourselves away from our computers and hit Vail this week while there was moderately decent snow. It's all relative. When you're looking at another crappy season (two in a row well below average) you get a little desperate to ski anything. It wasn't bad at all. I mean it wasn't hip-deep powder, but I realize I sound like a completely spoiled local when I say that… and I am.

smiles, everybody! smiles! (iphone)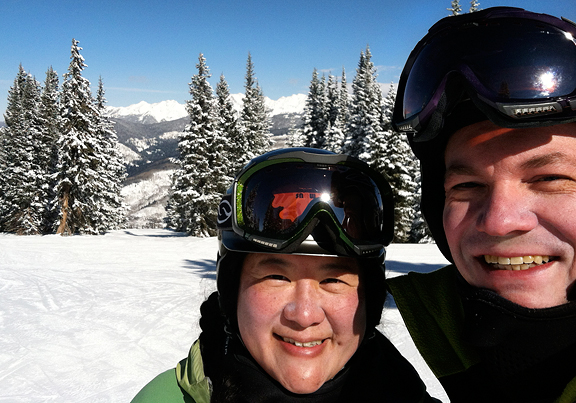 bumps (iphone)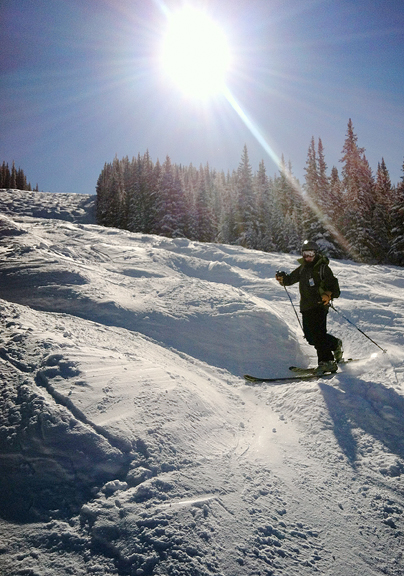 and trees (iphone)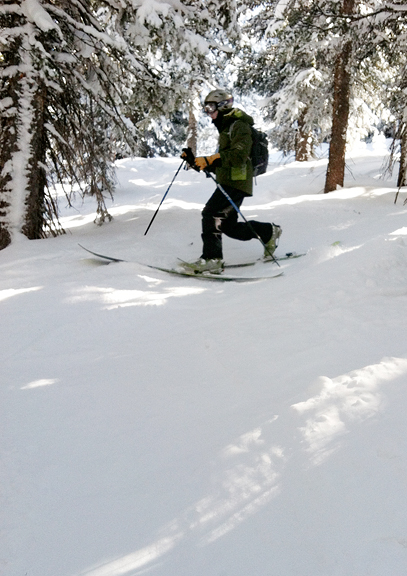 I've got nothing planned for Valentine's Day and I know for a fact that Jeremy doesn't have anything planned either. Unless it snows, and then the plan is to ski it. The interwebs are exploding with sweets and chocolate and things that make my teeth hurt just to look at them. I was getting groceries in town and noticed that everywhere I went, the floral displays had grown 500% and the people selecting flowers were all (confused-looking) men. It was funny and then it was a little sad because I wished people (and not just men!) would bestow little gifts or be extra-nice to everyone all the time. That's how it should be.
So I have a little gift for you here. I know that it can be a super pain in the hoohoo to find mushu wrappers for some folks and over the many years, readers have asked if I had a recipe for making them at home. And I didn't. But I did. I just didn't know it. I was asking my mom about making them when she said (almost shouted), "JenJen! Don't you remember that I made those when you were little?!" Uh oh…

flour, water, and a little oil
stir in boiling hot water
make a dough
Mom did, in fact, make mushu wrappers or mandarin pancakes from scratch when I was a kid and I totally blanked on it. I think this is evidence that I tried to cram too many things into my finite brain-space and a few things got shoved out. Sorry, Mom! A recipe off my cookbook shelf confirmed just how simple they are to make.
knead the dough on a lightly oiled surface
smooth and elastic (but not sticky)
roll it out into a log
cut the log into 20 even pieces
These mushu shells can also be served with Peking duck. They are going to be thicker than store-bought versions, but they have a much better flavor (nuttier, sweeter) and retain more moisture. The trick is to sandwich a thin layer of oil between two pieces of dough and roll them out until they are thin. You don't want to manipulate them so much that they meld together, but do roll them to at least 6 inches in diameter.
flatten each piece of dough with the palm of your hand
spread a little vegetable oil on one round, then place a second round on top
roll them out
aim for a round pancake, about 6 inches across
The most time intensive aspect of the whole thing is cooking the mushu shells because I can only cook one at a time. If I'm willing to deal with more dishes, I can run two at a time. Basically you slap a pancake onto a thin layer of oil on a skillet or frying pan over medium heat. The bottom will eventually blister and turn golden in places, while the top puffs up. Rotate the pancake with your fingers to prevent it from burning or sticking. When the contact points turn golden on the bottom, give it a flip and do the same for the other side until the contact points are golden too. While the pancake is warm, find a seam and work it apart with your fingers. Carefully pull the pancakes apart.
puffing up on a skillet
steam escaping from the pockets
two pancakes in one!
Because this is such a linear process, I recommend placing the finished pancakes under a damp cloth so they can keep warm and pliable. In my arid climate, these pancakes turn to wafers in mere minutes if they aren't covered. Serve them with mushu pork (or chicken or beef or tofu or however you like to get your mushu on) or better yet – with Peking duck, hoisin sauce, and green onions! That's my absolute favorite way to enjoy these homemade mandarin pancakes. These are relatively easy and quite forgiving. And if for some reason the two pancakes won't separate, just treat them like one pancake and keep on keepin' on.
serve folded in quarters with duck, hoisin suace, green onions
wrap it up and savor the goodness
Mandarin Pancakes (Mushu Shells)
[print recipe]
from Chinese Snacks by Huang Su-Huei
2 1/2 cups all purpose flour
3/4 cup boiling water
1/4 cup cold water
vegetable oil
Place the flour in a large bowl. Add the boiling water and mix together. Add the cold water and mix again until smooth. Mine never became smooth until I gathered it together with my hands and gave it a little kneading. Drape a damp cloth over the dough and set it aside for 20 minutes. Take the dough out of the bowl and knead it on a lightly oiled work surface until smooth and elastic (took me about 5 minutes). Cut the dough in half and roll each piece into a long roll. Cut each one into 10 equal-sized pieces.
Flatten the dough pieces with the palm of your hand into 3- or 4-inch diameter rounds. Spread a thin layer of vegetable oil on a dough round, then place another piece of dough on top of the oiled dough. Press them together then roll them out with a rolling pin to a 6-inch (or larger – I prefer larger), thin round pancake. Repeat for the rest of the dough rounds.
Heat a skillet or flat-bottomed shallow pan over medium flame. Drizzle a dash of oil on the pan and fry one pancake until the fried side begins to show golden bubbles. The top will begin to puff and bubble too. Rotate the pancake in the pan with your fingers to prevent burning. Flip the pancake over when the bottom is golden. Remove the pancake from the pan when the other side is golden. Repeat for the remaining pancakes. After the pancakes are cooked, you can separate them by finding a seam at the edge and carefully peeling them apart. Fold the pancakes into quarters to serve. Cover with a damp cloth to keep them warm and moist. These pancakes can be served with mushu pork or Peking duck. Makes 20 pancakes.
more goodness from the use real butter archives