Monday, February 25th, 2013

Recipe: chicken pot hand pies
We were just gifted 10 inches of snow. In past years this might not have been as big of a deal, but it's the most we've received in one storm this season at my house. Jeremy hit the local hill despite our aversion to weekend crowds. I stayed home to work and to nurse a sore back after running icy moguls just a few days prior. A dump of snow is always welcome, but what lies underneath depends on the weather that came before (this is also critical for avalanche assessment). We have had sun, wind, and warm temperatures interspersed with a few inches here and some frozen spittle there. It can be pretty crunchy stuff. And when you're glad that your skis find ice underneath the powder instead of rocks, you know it's been a paltry winter. So when Jeremy got home in time for lunch, I asked him if he wanted to step out for a ski tour on the local trails.

the snow was coming down all day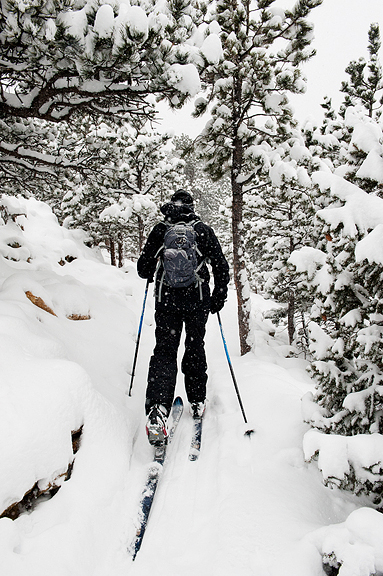 and the trees retained all of their poofballs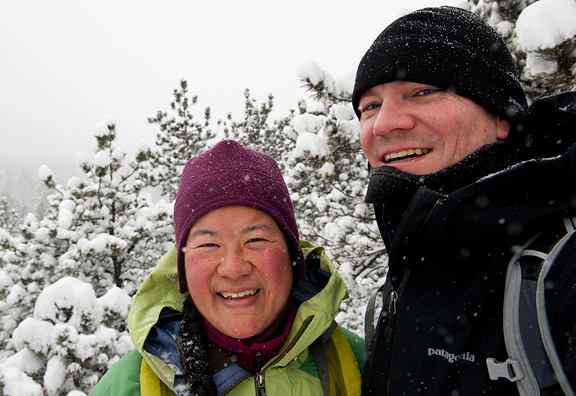 silent and beautiful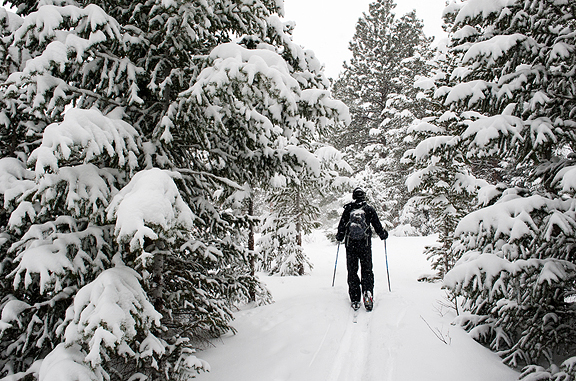 It's a lovely thing to be out in the mountain forests when it snows. It's quiet, peaceful, invigorating. We don't talk much so we can listen for moose, elk, or maybe spy a winter white rabbit before it tears off into the woods. The focus is on our environment, our energy, the weather, the rhythm of the kick and glide. But once we get to the car, all thoughts turn to what there is to eat at home. This is especially true when there is something particularly good and exciting waiting in the kitchen. This time, we had chicken pot hand pies.
chicken, mushrooms, onion, potatoes, carrots, garlic, lima beans, parsley, rosemary, thyme, salt, pepper, olive oil
dice the vegetables
chopped and minced
I love me a good chicken pot pie, but I think I am completely enamored with savory hand pies. The first time I had a proper savory hand pie was in New Zealand where the ubiquitous meat pie won me over… as did their fish and chips. Then I sampled a small fraction of what Australia had to offer. A few years later I was walking with
Todd and Diane
through little Saigon when Diane purchased a pâté chaud for me to try. Heaven. And last summer while I was running on fumes at the Boulder Farmer's Market, I plunked down some cash for the last chicken hand pie at
Sharmane's
booth. So much happiness in one tiny pastry package.
mix the vegetables, herbs, and olive oil together
toss
**Jump for more butter**