Recipe: chinese dan dan noodles
I hope you all had a great weekend whether it was a Fourth of July long weekend or just a regular weekend. We watched throngs of visitors flock to Crested Butte and happily saw their numbers dwindle as the weekend wound down. I've noticed that when people come to the mountains they 1) like to sit in the driveway of their vacation rental (why?!) and 2) burn things. I'm okay with #1 if they'd just quit with the #2. Meanwhile, Jeremy and I have been hosting my parents and exploring more of the area both with them (restaurants) and without them (trails).

and fishing – dad loves fishing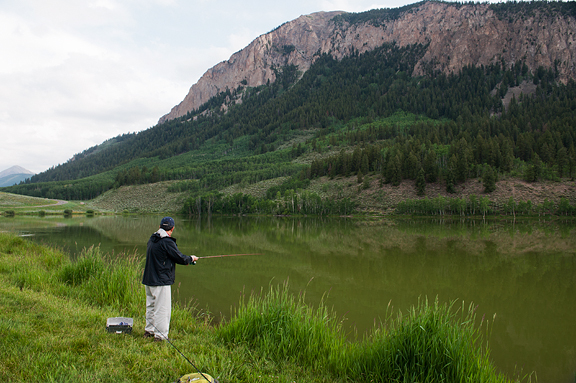 grabbing cocktails in mount crested butte before dinner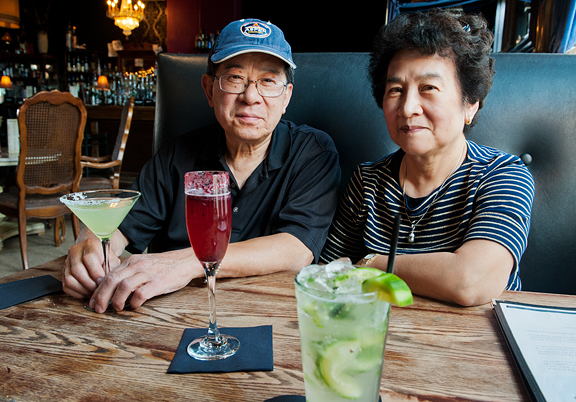 The great thing about the mountains is that wildflowers peak at different times depending on things like elevation, slope aspect, amount of sun, moisture (both from the sky and from streams), and their species. Some spots are nearing peak bloom while others are just getting started. Regardless of their state, it is simply invigorating to get out and see it for yourself in some of the finest scenery Colorado has to offer.
mule ears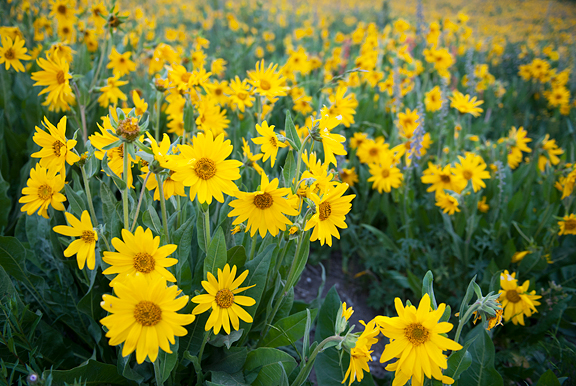 mint family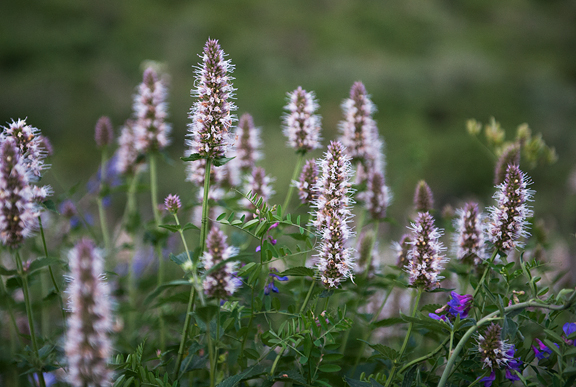 mule ears and larkspur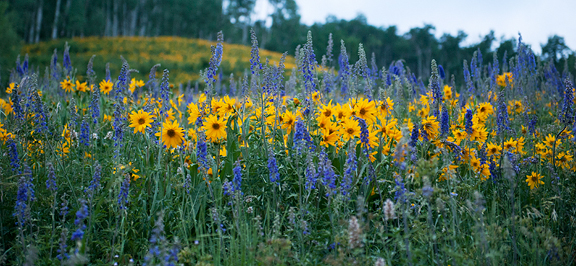 hiking the "oh be joyful" trail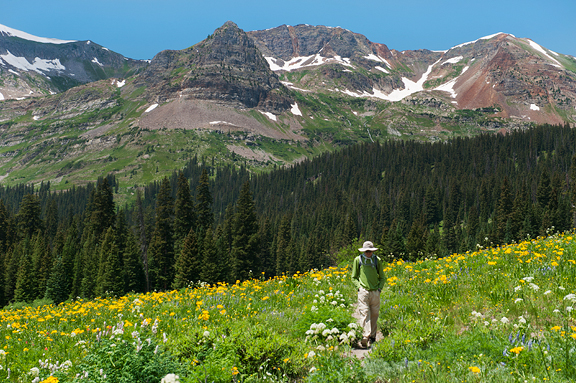 A week before my parents arrived in Colorado, I called to ask them if they had a recipe for
dan dan mien
or dan dan noodles. I hadn't ever had the dish before, but several friends raved about the noodles and asked if I had a recipe. I did not. Turns out my parents didn't have a recipe either, but they definitely had their opinions on how the noodles should be prepared. I went to the interwebs and found what I thought would taste good. Several days after I had photographed and eaten the noodles, my parents inquired about my search and their curiosity was piqued when I said I had tried a recipe.
me: ground pork
dad: no, no ground pork
me: za tsai (preserved mustard green)
dad: (makes a face of disgust and disbelief)
me: peanuts
dad: nobody puts peanuts in dan dan mien!
When Mom told me what she puts in her version of the noodles, Dad interjected and said her recipe was also incorrect. Then they argued over what goes into the noodles. I just want you to know that even though I liked this version of dan dan mien, it is not sanctioned by either of my parents. Their recipe may be forthcoming, if they can ever agree on what goes into the noodles… For now though, you can chew on this.

the sauce: chili oil, black vinegar, soy sauce, garlic, sugar
adding black vinegar to the grated garlic, soy sauce, and sugar
whisk in the chili oil
Dan dan noodles is a Sichuan dish, and Sichuan cuisine is known for its love of spicy food. You can purchase chili oil in Asian grocery stores or you can make your own as described in the
Serious Eats recipe
. Once the sauce is made, assemble the other ingredients.
sauce, garlic, green onions, peanuts, preserved mustard green, sichuan peppercorns, pork, noodles
here's the preserved mustard green brand i buy
if you can't get fresh noodles, try dried noodles
crush the sichuan peppercorns with a mortar and pestle
I should point out a few notes on some ingredients. You can find whole Sichuan peppercorns at an Asian grocery store. Don't substitute black peppercorns for Sichuan peppercorns because they are not the same thing, nor are they related. Sichuan peppercorns have a distinct flavor and a mild numbing effect. It's good stuff. And fresh noodles are better than dried, but don't get anything that is too thin or flimsy.
crushed peanuts, sliced green onions, ground pork, chopped preserved mustard green, ground sichuan peppercorn, grated garlic
sauté the pork with the mustard green
ready to make some dan dan noodles
Assemble the noodles as you like. There is no set amount of sauce or other ingredients. It's a matter of preference, really. I like a little bit of everything and perhaps a little more of the sauce and the noodles. I'm a noodle and sauce girl. That's how I roll.
top the noodles with some of the pork mixture
add sauce
finish with peanuts, garlic, green onions, and a sprinkling of ground sichuan peppercorns
I liked these noodles very much, but it's hard for me to dislike something with noodles, peanuts, pork, and spicy sauce. At this point, I'm wondering what my parents' version(s) of
dan dan mien
are. Until I can extract and try to reproduce their recipes, this one works for me… and you might like it too.
a bowl full of noodles and goodies
dig in!
Chinese Dan Dan Noodles
[print recipe]
from Serious Eats
12 oz. fresh Chinese noodles (I like the Shanghai style) or 6 oz. dried Chinese noodles
2 tsps vegetable oil
2 oz. ground pork
2 tbsps preserved mustard green, chopped
2 oz. roasted peanuts, crushed lightly
2 cloves garlic, grated
2 tbsps green onions (green part only), finely sliced
1 tbsp Sichuan peppercorns, finely ground with a mortar and pestle
sauce
1/2 cup hot chili oil
3 tbsps black vinegar
1 tbsp soy sauce
1 tbsp sugar
2 cloves garlic, grated
Make the sauce: Combine all of the ingredients and set aside.
Cook the noodles according to package instructions, drain and rinse. Set aside. Heat the vegetable oil in a sauté pan. When the oil is hot, add the pork. Break the chunks apart into smaller pieces with a spatula. When the pork is cooked, add the chopped preserved mustard green and sauté for another 30 seconds. Set aside. Divvy up the noodles in bowls and top with desired amounts of the cooked pork, sauce, peanuts, garlic, green onions, and Sichuan peppercorn. Serves 2-4.
more goodness from the use real butter archives