Ask me what there is to do in the mountains around Crested Butte – the last great Colorado ski town – and I'll rattle off a list of activities to get your heart pumping or sights to open your eyes wide with wonder. But when you've had your fill of stunning Colorado scenery and riveting outdoor adventure, you will need to refuel. One of my favorite stops in town (and in Colorado) is Secret Stash. We take all of our visitors here and love to pop by after a long hike to quench our thirst and load up on some of the best pizza around.

secret stash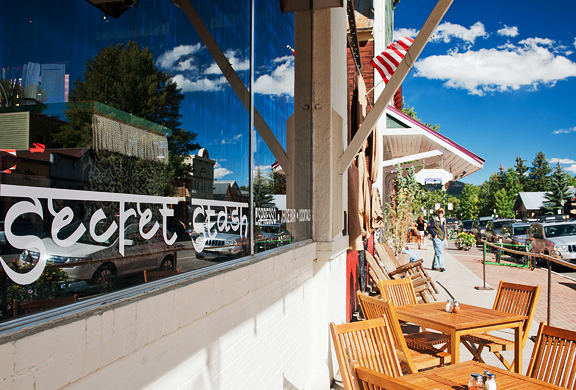 Secret Stash (or The Stash) used to sit at the top of Elk Avenue (Crested Butte's main drag) in a small funky house with two ovens and a line of patrons out the door. Your typical wait for your order at lunch, après ski, or dinner would land you north of 45 minutes. This summer, The Stash moved to a new location in the heart of historical Crested Butte on Elk Avenue and Third Street. It's much bigger than the old house, offering outdoor deck dining, sidewalk patio dining, several booths, tables, high tables, bar seating, and the uber fun sunken seating at the picture windows in front.
inside the stash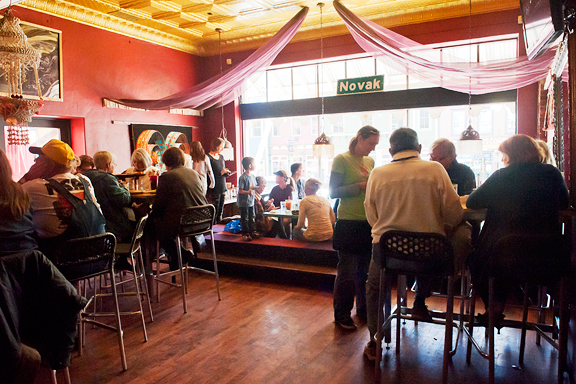 The wait staff – like almost any other wait staff in Crested Butte – is hipster with tats. They may not be the most professional servers, but they are super friendly and aim to please. As you step up to the hostess podium you'll find a gift shop (t-shirts, bling, candy) to your left, the bar to your right, and the restrooms straight ahead at the back. Once seated, take in the details of the eclectic and funky decor before you begin perusing the entertaining drink menu.
The Famous Stash Volcano Bowl is just plain fun to read about. It serves four people 48 ounces of "a bunch of booze mixed with tropical fruit juices served on fire." I'm too chicken to order that, but someday I might with three of my besties. My favorite summertime thirst-quencher is the frozen strawberry lemonade. You can get that with booze or without booze. And an even more delightful twist is when they add basil to that mix. Jeremy loves the Vegas Brainstorm a.k.a. The Best Gin and Tonic You Will Ever Have (Hendricks gin, Fever Tree tonic, fresh lime, juniper berries). In addition to The Stash's creative drinks, they offer a decent selection of beer and wine – both on tap even!

frozen strawberry lemonade (with or without vodka)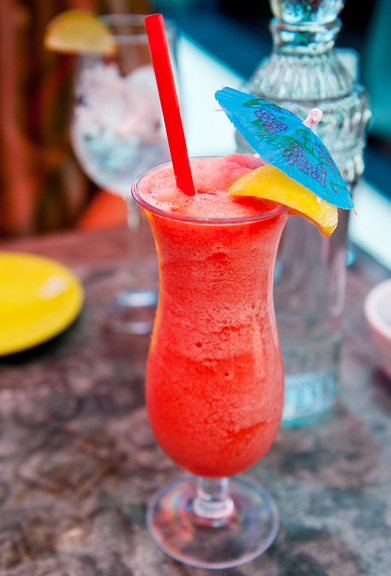 the vegas brainstorm (gin and tonic, but awesomer)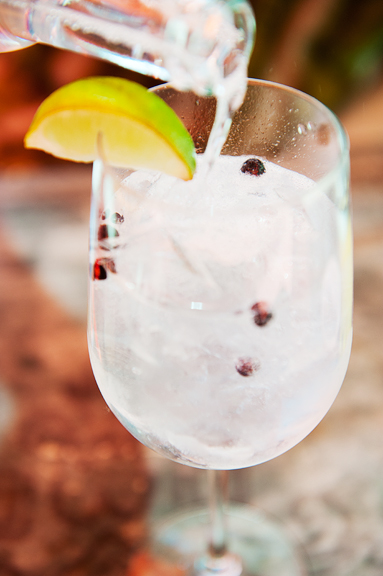 After you've rattled off your drink order, have a looksee at the appetizers or consider the salad bar. But really, you ought to try some appetizers. There are two items that we order again and again. The truffle fries (a.k.a. crack fries) are french fries with white truffle oil, Parmesan cheese, green onions, and cracked black pepper served with garlic aioli. I know, you're thinking, "French fries at a pizza joint?" Yes. Order them. The Stash wings are the other must. They grill the wings and baste them in their excellent house barbecue sauce, then top them off with green onions and sesame seeds with ranch and blue cheese dressings on the side.
the truffle fries (aka crack fries)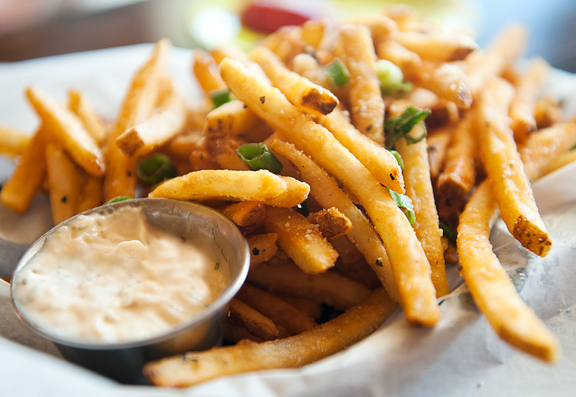 stash wings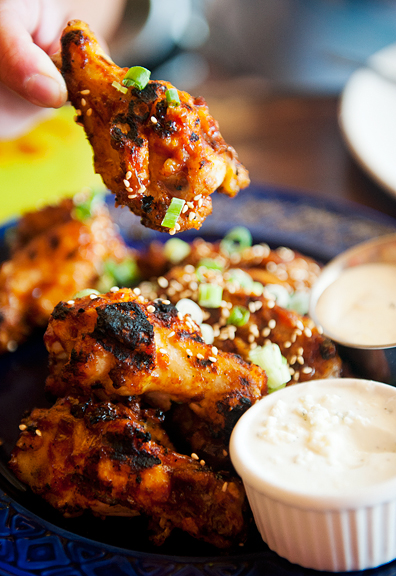 Now on to the pizzas. Actually, there are pasta dishes on offer as well, but I've never ordered any because the pizzas are so damn good. If you want pizza by the slice, they always have a vegetarian and a meat option in addition to a good old slice of cheese pizza. We love sharing a pie or two with friends or taking the leftovers home for breakfast the next day. You can build your own pizza in small (12-inch) or large (16-inch) or choose from their list of specialty pizzas. The Stash has a nice selection of vegetarian as well as meaty pies. Our standard order is always a pepperoni and mushroom pizza.
pepperoni mushroom pizza – a classic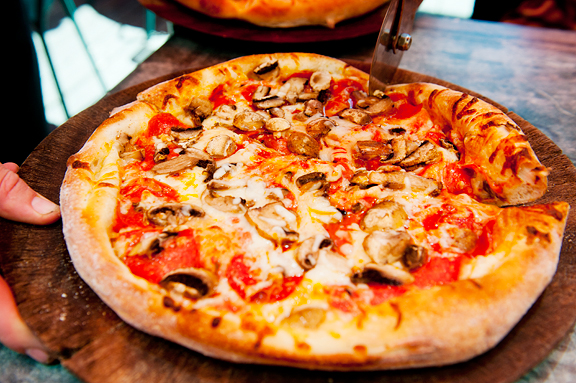 I've eaten a lot of pizzas in a lot of places, but Secret Stash has the very best crust around. I actually LIKE eating the crust because it has great flavor, a perfect crisp and chewy texture, and just enough sweetness and salt. And that's the regular crust. They have other flavored crusts too, but I've always ordered the standard. As for sauces, I like my red sauce to be a balance of tang, sweetness, salt, and tomato – not too thick, but not runny. I dig their red sauce. If red sauce isn't for you, don't panic. You can choose roasted garlic oil, garlic butter, blue cheese, buffalo wing, pesto, chipotle, barbecue, ranch, or balsamic reduction.
texas biggin' (it's like a supreme with canadian bacon)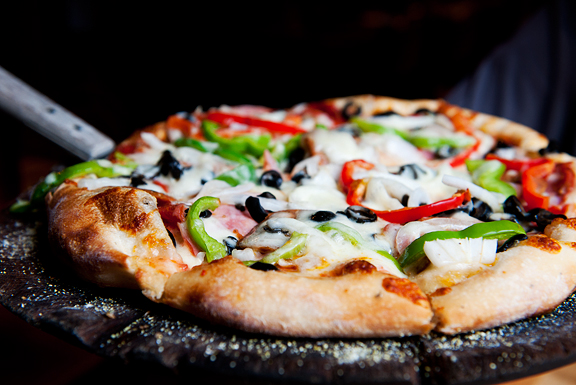 There is a good standard assortment of toppings and cheeses from which to choose as well as less traditional additions: bacon, shrimp, shaved ribeye, roasted potatoes, shredded lettuce, and sliced pickles. Too many choices? Not to worry – the specialty pizzas are there to give you some ideas or just make the decision that much easier. Of the specialties, I cannot resist the Woodward with its garlic butter base, spinach, prosciutto, mozzarella, and fresh eggs (over easy) on a salt and pepper crust. But we've also thoroughly enjoyed the New Potato Caboose on a server's recommendation. If you thought it odd to order french fries at a pizza joint, how about french fries ON your pizza? It's a red sauce pie with mozzarella, french fries, bacon, cheddar, green onions, and a drizzle of sour cream… like potato skins, but in pizza form.
the woodward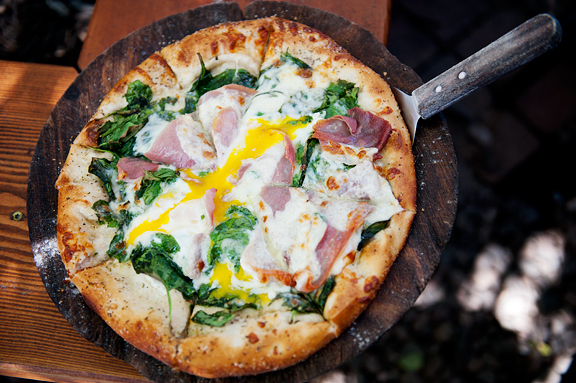 our friendly server slices up the new potato caboose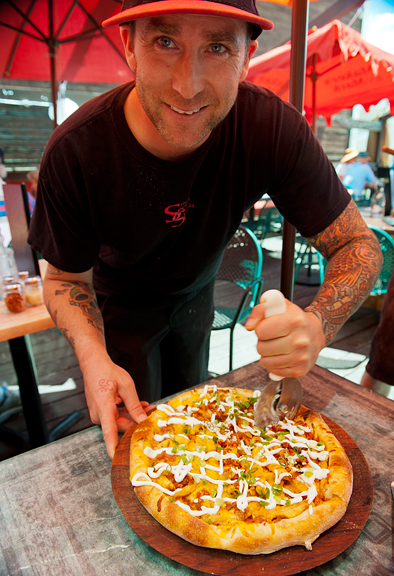 meatball pie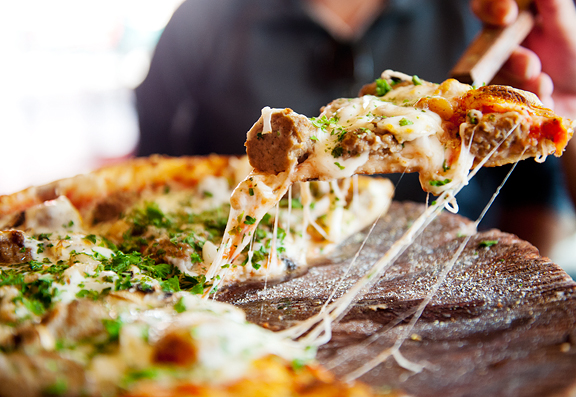 If you somehow managed to not fill up on drinks, appetizers, and pizza – they do offer desserts. I just never had room and haven't looked at the dessert menu, although they offer several gelato flavors that you can scope out in the gift shop (and I assume, order at your table).
Secret Stash is a great place to enjoy some of the best noshes and libations in town after an epic day on the slopes or in the backcountry. Wind down with the locals and visitors alike in this casual, hip, upbeat mountain ski town atmosphere. They serve lunch and dinner daily until 11:00 pm and recently added breakfast service starting at 8:00 am Friday, Saturday, and Sunday. This winter, The Stash will expand breakfast to a daily schedule. When you are done and feeling satisfied, walk those calories off around charming downtown Crested Butte.
Secret Stash
303 Elk Ave.
Crested Butte, CO 81224
Ph: (970) 349 6245
Twitter: @StashPizza
Facebook: Secret Stash Facebook Page
Full Disclosure: No comps. All opinions are mine.