Recipe: beef porcini pot pies
Spring forward. Spring forward. I rather think of it as pouncing forward. It's a bit jarring, the darkness in the morning and the extended daylight in the evening and whoa, when I sit down to work on the computer I have one less hour than I thought I did. Jeremy is a fan of Daylight Saving Time. He said he feels like he's in fog all winter until the clocks jump forward. He loves the stacking of extra daylight on the other end of the day. Kaweah, we discovered, does not care for Daylight Saving. We tried to coax her awake Sunday morning, but she was having none of it. She'd open one eye, look at me, and then plop her head back onto her soft, warm bed. So we let her sleep until her little appetite clock said it was time to eat.

spring wha?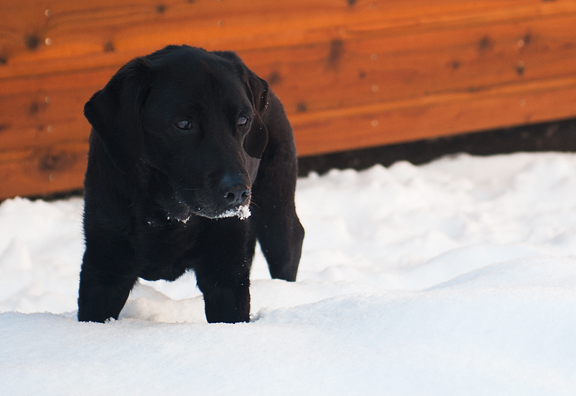 We had a nice wallop of snow Friday (great powder at our local resort) and then the snow clouds gave way to bluebird skies and the mercury soared into the 50s this weekend. Jeremy and I got out to ski tour Saturday, but the backcountry snow was already turning to mashed potatoes under the power of the sun and warm air temperatures. But it was gorgeous and my brain is already transitioning to spring skiing mode.
i never get tired of the colorado high country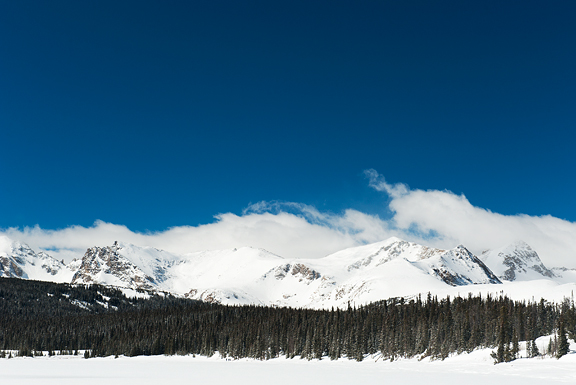 It's March, and I'm starting to poke about in the corners of my freezers and pantries to see which treasures I squirreled away last summer are still around. I have heaps of roasted green chiles, diced tomatoes, tomato sauce, jams, summer corn, peaches, huckleberries, pickled things… and dried porcini. Those porcini are such a labor of love.
Wendy
and I slog many miles in the mountains searching for these gems of the forest. Then she cleans every single mushroom (and sometimes there are a lot of them) that very evening, breaks them down, and begins dehydrating them. No small feat. To let them spoil or go to waste is to beg the tree gods to animate and smack you upside the head for being such an ungrateful douchecanoe. When I flipped the calendar to March, I set about making some beef porcini pot pies.
olive oil, red wine, salt, pepper, dried porcini, onion, potatoes, flour, rosemary, thyme, garlic, tomato paste, boneless beef short ribs
rehydrate the porcini
strain (and reserve) the porcini liquid
Porcini grow out of the ground and so there is bound to be a little bit of grit here and there. I rehydrate my porcini, then strain the liquid through a fine mesh sieve and it seems to do a good job of removing any debris. The liquid must be reserved – don't you dare throw it out – it's called liquid gold for a reason! I squeeze as much liquid out of the mushrooms as I can and run that through the sieve too. Then I'll rinse the mushroom pieces out in cold water and get any remaining grit out. I treat store-bought dried porcini the same way.
prepped meat, vegetables, aromatics, and porcini soaking liquid
combine the onions, potatoes, salt, pepper, and olive oil
toss and roast
I based my recipe on
this one from Bon Appétit
. I added potatoes and porcini and replaced pearl onions with regular onions. Next time I make this, I will add 2 cups of frozen lima beans too, because I love them and I think the pies could have benefited from more vegetables. The potatoes and onions are roasted separately and added into the filling just before assembling the pies. While the potatoes are roasting, you can get started on the pie crust dough. You want to get that going so the dough can chill for at least 2 hours. It uses half butter and half shortening (or lard) and results in one of the flakiest, well-behaved pie crusts I've tried.
ice water, salt, butter, shortening, flour
pulse the fat into the flour
toss the mixture with ice water
lightly knead to form a ball
wrap in plastic and chill for 2 hours
I like the idea of letting the dough chill while I'm preparing the beef filling. Makes me feel doubly productive and the two should be ready at about the same time, more or less. And if the potatoes are roasting too, then you can think of it as being triply productive. Right on.
season with salt and pepper
coat in flour
shake off excess flour
brown in oil
The original recipe calls for simmering the beef for 2 1/2 to 3 hours, but I opted for the pressure cooker which is 40 minutes of cooking time and about 20 minutes of natural release. Less time, less energy, more physics. Just remember to lower the heat enough so that the pressure is still high, but you aren't scorching the bottom of the pressure cooker (I had a little scorching, but it was just the herbs, thank goodness).
stir the tomato past into the sautéed garlic
add red wine and herbs and reduce to half the liquid volume
pour the porcini liquid in with the beef and porcini mushrooms
The potatoes will finish roasting first, just let them rest and wait for everyone else to finish. When the beef is done, the meat should fall apart with the push of a spoon. Shred the beef with two forks or mash them roughly with a wooden spoon if you prefer large hunks of meat in your pot pie. I also take this opportunity to remove any unwanted gristle or fat. Then combine all of the filling ingredients.
roasted potatoes and onions
tender beef
put the potatoes, beef, and chopped thyme in a bowl
the filling is ready
The pot pie can be made as a single-crust pie where the filling is poured into a baking dish and the crust is set on top or as a double-crust pie. I went the double-crust route because I like the idea of a self-contained pastry full of savory deliciousness. If you want a double-crust pot pie, you will need to… DOUBLE the pie dough recipe. It just means the extra step of laying down a bottom crust. This recipe yielded enough dough for six 6-inch mini pie dishes.
press the bottom crust layer into the dish
fill
top with upper crust and crimp the edges together
x marks the spot (actually, they are steam vents)
brush with cream and sprinkle with salt
The final product was dreamy. I really really like this pie crust recipe for the super flaky, extra crisp dough that is easy to handle. Even the cut scraps can be wadded together and rolled out again for fine results. The filling was a perfect blend of flavors from the wine, herbs, beef, and vegetables. However, I felt there was too much beef and too few vegetables for my taste, but that's easily remedied. The recipe below is adjusted for a more even distribution of vegetables. I also missed the "sauce" that you normally get in a pot pie, which I suppose is because I had the heat a little too high on my pressure cooker which released more liquid than I wanted to boil off. I've addressed that in the recipe too (the added cup of water and the lowered flame as well as reduced time from 50 minutes to 40 minutes). Seriously though? This is a fantastic pot pie that kicks just about any other pot pie in the hoohoo.
one pie was enough for the two of us
and the winner is the beef porcini pot pie!
Beef Porcini Pot Pies
[print recipe]
slightly modified from Bon Appétit
crust
double the crust recipe if you want a bottom and top crust
3 cups all-purpose flour
2 tsps kosher salt
1/2 cup unsalted butter, chilled and cut into pieces
1/2 cup vegetable shortening or beef lard
1/2 cup ice water
beef porcini filling
2 oz. (1 cup) dried porcini mushrooms
3 cups boiling water
2 medium yellow onions, diced
4 medium yukon gold potatoes, peeled and cut into 1/2-inch dice
4 tbsps olive oil
kosher salt
pepper, freshly ground
2.5 lbs. boneless beef short ribs, cut into 2-inch pieces
1/2 cup all-purpose flour, plus more
4 cloves garlic, minced
2 tbsps tomato paste
2 cups dry red wine
2 sprigs rosemary
6 sprigs fresh thyme
2 cups lima beans, frozen (optional, but I really like them)
2 tbsps fresh thyme, chopped
flaky sea salt
heavy cream, for brushing
Make the pie crust dough: For a double crust (crust on bottom and top of pie), double the recipe. Pulse the flour and salt together in a food processor fitted with a metal blade. Pulse the butter and shortening (or lard) into the flour until it resembles coarse crumbs with some tiny pea-sized pieces. Empty the contents into a large bowl and sprinkle the ice water over it while tossing with a fork. Lightly knead the dough, pressing it together to form a cohesive ball. Wrap tightly in plastic wrap and refrigerate for at least 2 hours.
Make the filling: Preheat oven to 425°F. Soak the dried porcini in a bowl with 3 cups of boiling water. Cover the bowl with a plate and let sit for 30 minutes. Strain the mushroom liquid through a fine mesh sieve and reserve the liquid (you should have about 2 cups). Rinse the porcini of any debris and coarsely chop the mushrooms. Set aside. Toss the diced onions, diced potatoes, 2 tablespoons of olive oil, and salt and pepper together until evenly coated. Place the vegetables in a large roasting or baking pan and roast for 40 minutes, stirring them every 15 minutes. Remove from oven and set aside.
Season the beef short rib pieces with salt and pepper, then coat in 1/2 cup of flour. Heat 2 tablespoons of olive oil on medium-high flame in a large stock pot or pressure cooker (whichever you plan to cook the beef in) and brown the beef on each side (about 8-10 minutes). Do this in batches if necessary. Remove the beef from the pot to a bowl. Reduce the heat to medium and add a tablespoon of olive oil if necessary (but hopefully you have some oil remaining in the pot) and sauté the garlic for a minute until fragrant. Add the tomato paste and stir until darkened (took me about 3 minutes). Add the wine, rosemary, and thyme sprigs. Bring everything to a boil, scraping brown bits until the liquid is reduced by half. Add the porcini, beef, 2 cups of porcini liquid.
If using a pressure cooker, add another cup of water and pressure cook on high setting for 40 minutes (over a medium-high flame) and then natural release (if the liquid is too watery, just simmer uncovered until the liquid reduces and thickens). If cooking conventionally, simmer the filling uncovered for 2 1/2 to 3 hours (add more water if necessary) until the liquid is thick enough to coat a spoon. Remove the herb sprigs from the beef. Shred the beef with two forks (it should be tender enough that this is easy to do). Add the roasted potatoes and onions, lima beans (optional), and the chopped thyme.
Assemble the pot pies (or pie): Preheat oven to 375°F. Roll the pie dough out to 1/8-inch thickness. If making a double-crust pie or pies, layer the bottom of your pie or baking dish with a single layer of pie dough, pressing it against the sides and having 1/4 to 1/2 inches of overhang. Cut away any excess dough and re-use it if necessary. For both double-crust and single-crust pies, fill the vessels with beef filling until the filling is even with the lip of the dish. Cover the dish(es) with a layer of pie dough that has 1/4 to 1/2 inches of overhang. Crimp the edges of the two layers of dough together if making a double-crust pie, or tuck under and crimp the edges if making a single-crust pie. Brush the top with cream and sprinkle salt over the top. Cut steam vent slits into the top of each crust (an X should work). Set the dish(es) on a foiled-lined rimmed baking sheet to catch any drips. Bake 35-40 minutes for small pies (6-inch) or 50-60 minutes for large pies. Makes six 6-inch pies or one 3-quart baking dish "pie".
more goodness from the use real butter archives