Recipe: california hand roll (temaki)
Despite being the summer high season in Crested Butte, our time here has been pleasantly quiet and peaceful. Colorado mountain towns have long winters and short summers, but boy are those summers exploding with color, activity, beauty at every turn – both in the backcountry and in town proper.

the town of crested butte is simply charming
Our neighborhood is filled with the sounds of people greeting one another in the street while walking or heading out for a bike ride, children laughing and playing, and the jingle of dog tags as pups get their walkies in the fresh mountain air. Several of our wonderful neighbors have told us how sorry they were to hear of Kaweah's passing. This is – as many mountain communities are – a dog-loving community.
our dear next-door neighbor even sent flowers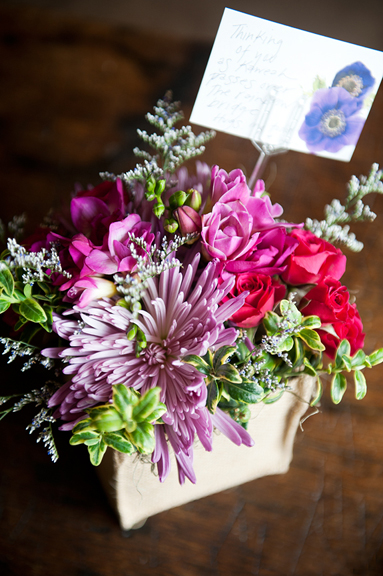 Jeremy and I took a few days to visit his folks in Pagosa Springs – a lovely mountain town in the-middle-of-nowhere, southwest Colorado. We got up early one morning for a trail run before everyone else had risen and greeted the sunrise as we paced through scrub oak and sticky mud from the previous day's thunderstorms. Afterward, we sat on the porch with his parents watching throngs of hummingbirds spar over the hummingbird feeders. The Rufous hummingbirds are especially territorial and aggressive which made the bird watching all the more entertaining. It's really quite spectacular.
sunrise on the trail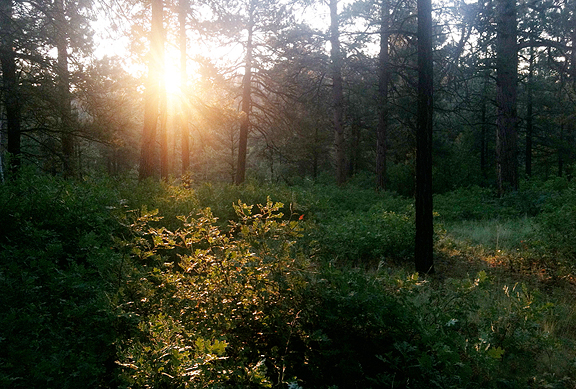 a lone rufous monitors the bird feeder from a nearby branch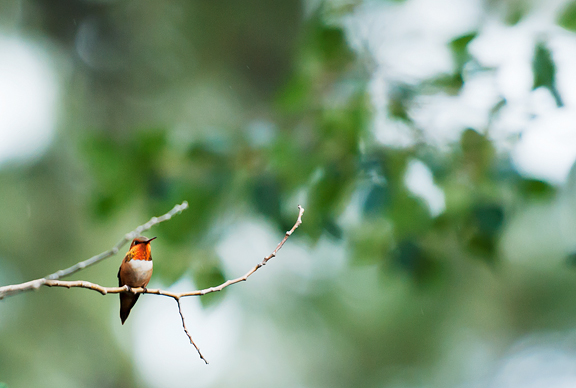 then thwarts the attempts of an aggressor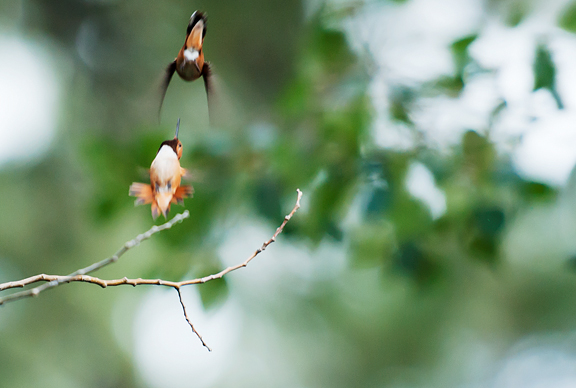 and shows the other guy what's what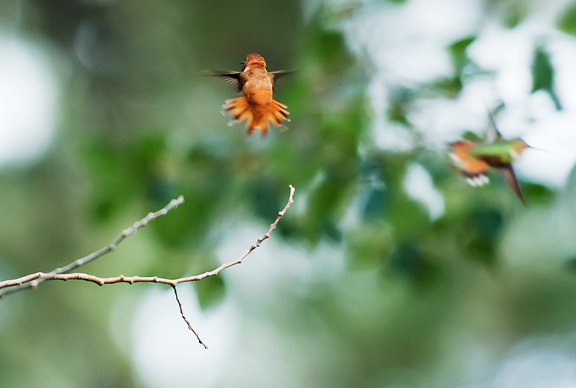 We returned to Crested Butte in time to meet my friend
Irvin
and his partner who were road tripping through Utah and Colorado this summer. We spent 48 hours giving them a quick sampling of Crested Butte: checking out Mount Crested Butte, dining in Mountaineer Square, coffee and pastries at
Camp 4
, hiking to a great 360° view in the high country, pizza at
Secret Stash
, mountain biking, dinner at our place, browsing the farmers market.
a.j. and irvin on our hike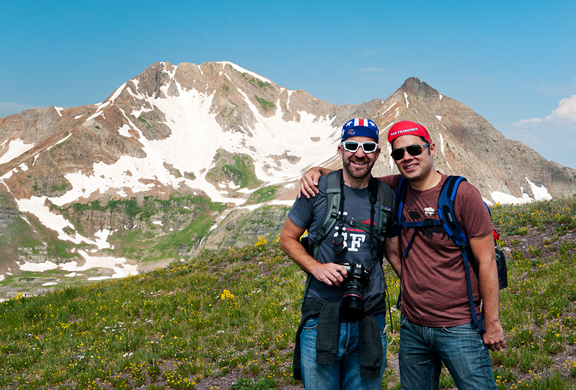 irvin grabs a slice of "the woodward" pizza at secret stash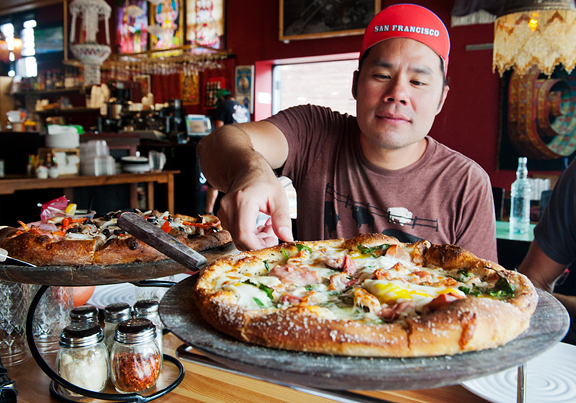 Our multi-day non-stop schedule kept us rather busy and preoccupied such that we weren't dwelling too much on the little black dog that was missing from our lives. Of course, we miss her terribly. But when people tell us they are sorry, I thank them and point out that Kaweah lived a very good and happy dog life. On our drive from Pagosa Springs to Crested Butte, I was finally able to verbalize how I felt about my time with Kaweah. She was a gift to us, both literally and figuratively. It was our responsibility to provide the absolute best life to her that we could and we took that task to heart. We were with her to the very end so that she was never alone, afraid, or unloved. Only now do I understand just how much of a gift she really was and will always be until my dying day. This is me finding closure.
***************
I know that some people consider sushi a summer food because of the raw aspect, but I maintain a year-round love affair with sushi. I crave it after skiing just as much as I crave it after (and during) summer backpacking, and we're fortunate that Boulder has a lot of decent sushi on offer and Crested Butte has one sushi bar (they used to have two, but my favorite one closed its doors last year). We also make sushi at home. One of my favorites is the California roll – something I never order in restaurants, but often make in my own kitchen. It is a good gateway sushi roll because the crab is cooked. When we prepare California rolls at home, we tend to go for the hand rolls or
temaki
because they're quick and easy to make and consume.
wasabi powder, sesame seeds, sriracha, nori (seaweed), sushi rice, masago (capelin roe), cucumber, avocado, mayonnaise, king crab legs
slice the cucumber into strips
stir wasabi powder into mayonnaise to make…
wasabi mayonnaise
You don't have to use real king crab or snow crab legs. You can use
surimi
(imitation krab) instead. I like to steam the crab legs (even though they're previously cooked and frozen) and get all of the meat out of the legs and body at once. Peeling the crab legs while assembling sushi will result in soggy sushi rolls.
peeling the crab legs
pitting the avocado (be careful doing this)
prepped and ready to assemble
The absolute basic components of a California roll involve
nori
(toasted seaweed), sushi rice, crab or krab, and avocado. I just happen to like embellishing mine with some cucumber and
masago
(capelin roe) or
tobiko
(flying fish roe) for crunch. Sriracha, wasabi mayonnaise, and toasted sesame seeds are optional, but good! The sushi rice is a seasoned steamed sushi rice. You don't have to use sushi rice, you can use plain steamed sushi rice instead – but the added seasonings in proper sushi rice really adds to the overall flavor of the sushi. Now, the assembly of a hand roll is all about not overfilling it and rolling it tightly without tearing the seaweed. Consider your workspace to be the left-most square of the rectangular seaweed sheet.
layer the seaweed with rice diagonally across the "square"
spread some masago on the rice
add the cucumber, avocado, and crab meat
squirt some wasabi mayonnaise and sriracha
Once your hand roll is loaded with all the goodies you can think of, start rolling it up like an ice cream cone, because a cone is the shape this is going to resemble. Begin with the short corner and fold it over the filling, tucking the corner in when you touch the other side of the seaweed as you roll it in a clockwise fashion (or counter clockwise if you are a lefty). Here is where you get the cone shape. If it isn't cone-shaped, but rather cylindrical, unwrap it and try again. Keep trying until it is a cone and the bottom is too small for things (like rice) to fall out.
tucking the short corner under the other side of the seaweed
continue rolling it up into a neat cone
press a little grain of cooked sushi rice on the remaining corner to seal the roll
And that's all there is to it! Hand rolls are not cut with a knife and are (in my opinion) less messy to make than
maki
. They don't require any special equipment like a bamboo mat, so it's quite accessible for most kitchens. We tend to make them as we eat – one at a time – otherwise the
nori
gets soggy and tough to eat. It's also easier to customize each hand roll to the person eating it. My favorite thing about hand rolls is that they are like savory ice cream cones – a real treat!
sprinkle with some toasted sesame seeds
serve with wasabi, soy sauce, and gari (pickled ginger)
California Hand Roll (Temaki)
[print recipe]
6-12 nori (toasted seaweed) sheets, cut in half
4 cups prepared sushi rice (see below for recipe)
1 cup masago (flying fish roe)
2 avocados, pitted, peeled, and sliced
1 medium cucumber, julienned
2-3 cups King crab meat
Sriracha hot sauce (optional)
wasabi mayonnaise (optional)
toasted sesame seeds (black or white)
sushi rice
2 cups sushi rice (uncooked)
2 cups water
3 tbsps rice vinegar
1 tsp salt
2 tbsps sugar
Make the sushi rice: I use a rice cooker. Combine the water and rice and cook per the instructions on your rice cooker. If you don't have a rice cooker, you can try these instructions (I've not done them myself): Wash, drain, and soak the rice in water for at least 30 minutes, then drain. Combine the rice and measured water in a saucepan and cover. Place the pan over moderately high heat. When the water boils, reduce the heat and cook for about 10 minutes. Turn off the heat and allow the rice to steam undisturbed for at least 10 minutes (don't remove the lid or you'll ruin it). Combine the vinegar, salt, and sugar in a bowl and stir until salt and sugar are dissolved.
Wet a mixing bowl large enough for the rice. Wipe off excess water. Wet the tub a second time with vinegared water (1 cup water + 2-3 tablespoons vinegar). Wipe off any excess. Heap the cooked rice in center. Allow rice to cool in the tub for 10 minutes. Pour the dressing over the rice and mix the dressing evenly with a large spoon or rice paddle. While mixing, fan the rice to cool it. The rice is ready to use when it reaches body temperature.
Wasabi mayonnaise: You can purchase wasabi mayonnaise or make your own with 1 cup of mayonnaise and 2-4 tablespoons of wasabi powder (to taste). Mix them together until completely blended and you have wasabi mayonnaise.
Assemble the hand roll: Hold a half sheet of nori in your hand. Using a spoon, chopsticks, or your other hand (dipped in water – helps to keep the rice from sticking to your hand), spread 3-4 tablespoons of seasoned sushi rice from the top left corner of the sheet diagonally down to where the opposite corner would be if it were square. Layer 1-2 teaspoons masago, then add a slice of avocado, a few strips of cucumber, and then some crab meat. Drizzle Sriracha and wasabi mayonnaise over the fillings and sprinkle with a dash of sesame seeds. Starting with the bottom left corner, begin wrapping the seaweed around the fillings along a diagonal line perpendicular to the line you laid the rice on. Keep wrapping until you have a cone. Seal the corner to the cone with a piece of smooshed sushi rice. Makes 1-2 dozen hand rolls (depending on how full you make them).
more goodness from the use real butter archives