Recipe: roast lemon chicken with chanterelles
You can learn so much from your neighbors. At least, I have this past week. While I tried to restrain Neva from jumping on two friends and apologized for the "craziness", one of them said her dog used to do it too, but ever since she sent her to doggy day care, she is much better behaved. Now that Neva is 6 months old and spayed, we can start giving her a few days a month at a day care more for socialization than anything else. And another friend recommended letting Neva hang out in the car without driving anywhere to get her over the fear of the car. Each day I'd spend 30 minutes with Neva in the back of the car – back hatch wide open – and we'd watch the world go about its business around us. I gave her a treat (either a greenie or part of a scoop dog treat) to make happy associations. The first day I had to lift her into the car as she struggled to run away. She drooled and foamed at the mouth for the first 15 minutes, letting out sad little cries and wails. By the sixth day, she was leaping into the back on her own, asking politely for the goodies, and feeling pretty darn happy.
The real test was driving her someplace. I waited until after 5 days of car therapy had passed. She hopped in on her own and didn't drool or foam once! She did let out a few quiet whimpers when she realized what was happening, but then we were at the trailhead and she was able to focus on the hike instead. She did great. At 4 am this morning, we drove home to Nederland and Neva (on dramamine) did pretty well for 5 hours over mountain passes and windy roads – no puke, but a little bit of drooling. We're working on it and at least she is making progress.

happily chewing her greenie in the back of the subaru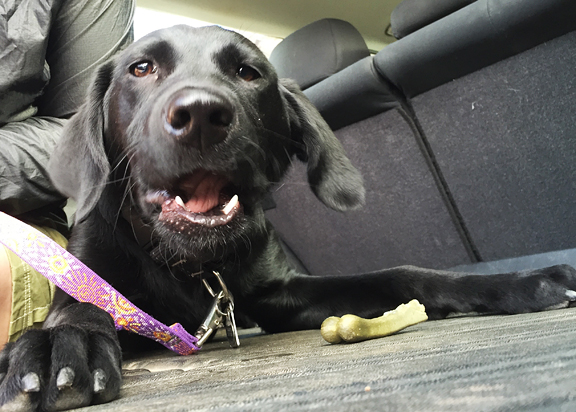 Neva and I were both happy to see Jeremy pull into the driveway Friday evening. He offered to take care of Neva so I could spend the weekend shooting the fall colors, but I said no. Strong winds on Friday stripped many of the leaves off the aspens around town, and I felt the time would be better spent getting some exercise and simply enjoying the last of the fall colors together rather than trying to get those money shots. Besides, I was able to grab a few decent snaps.
getting neva back on the trails saturday (plus a happy swim at the end)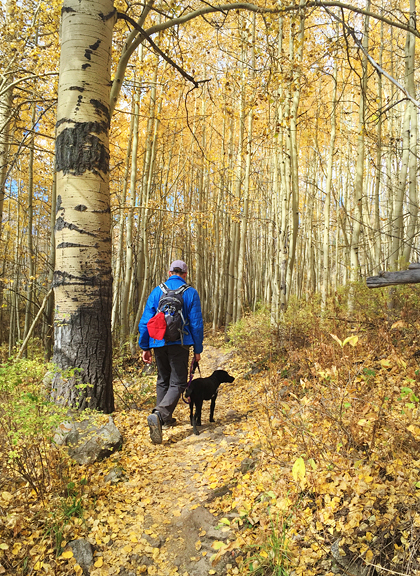 a hike to a view on beckwith pass, sunday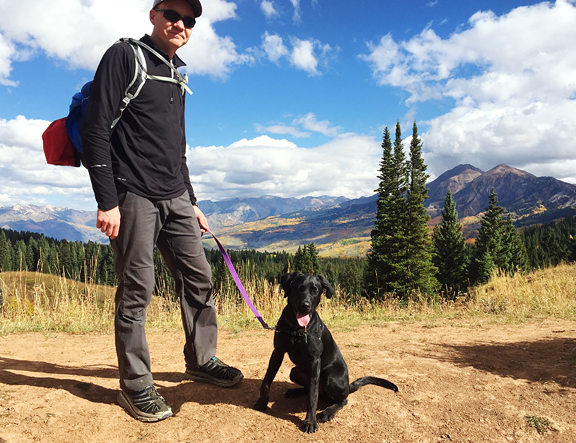 jeremy and i got some time on the stand up paddleboards, too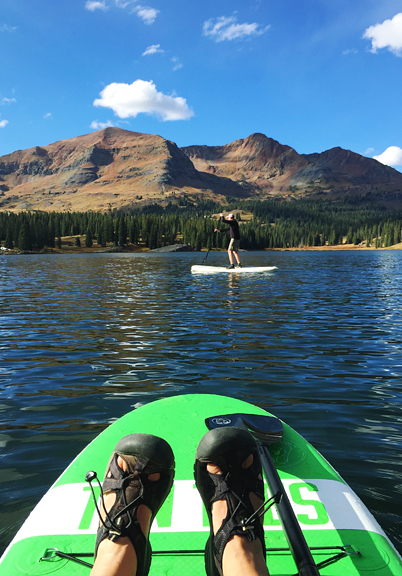 thursday's sunset before the winds picked up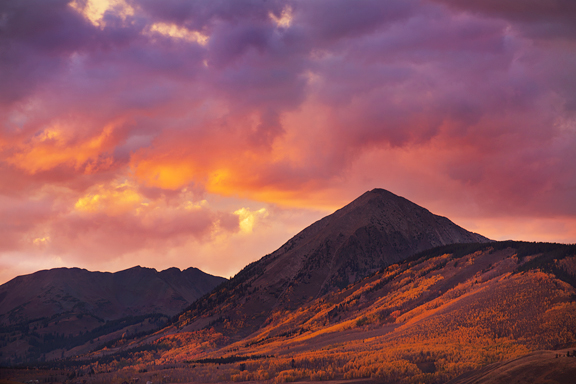 even though some stands are past peak, it is still pretty gorgeous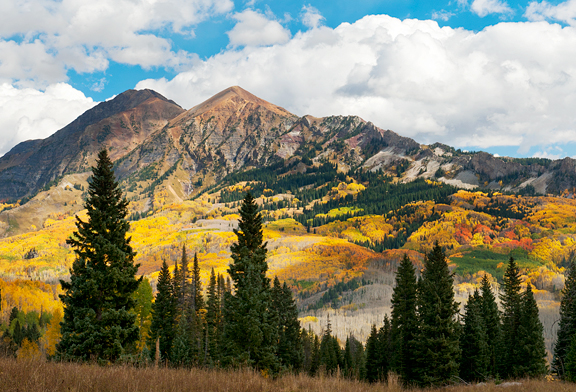 There was a dusting of snow on the high peaks (probably above 13,000 feet) Saturday morning, but the sun made quick work of returning the snow to the atmosphere (I'm pretty sure that snow sublimated off the summits). As Jeremy and I hiked with Neva through carpets of fallen aspen leaves, we caught each other up on news of the week, angry letters we want to write to elected officials, and mushrooms. It's hard for me to hike a trail and not point out where there was a good flush of chanterelles or porcini from the summer, or where there ought to be a good flush of chanterelles or porcini if *I* were one of those mushrooms and had a say about where I were to fruit. Friends of mine in other parts of the world have to deal with foraging chanterelles while golden leaves are falling on the ground, which makes for far more challenging visual conditions. We have it nice here in Colorado – our beautiful yellow chanties come up when most of the vegetation is green (as do our porcini).
well, how beautiful are you, little chanterelle?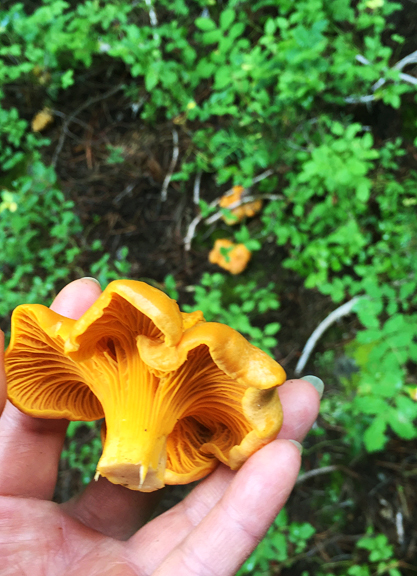 frilly and delicate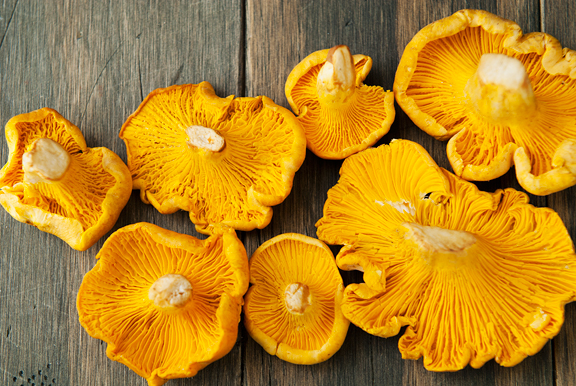 Now that I've had my fix of fall colors (they're still going and I still enjoy them, but now I don't feel compelled to photograph them once peak is over) and it has snowed a few times in the high elevations, I am ready for ski season to start. No really, I am. Sooooo, any day now, Nature! In the meantime, I'll get some trail running in since Neva no longer requires constant supervision and I'll start roasting things like chicken and oh hey – chanterelles. Roasting is an easy way to make a dinner packed with flavor. Use any (edible) mushroom, but I happened to have fresh chanterelles when I shot this recipe last month. I don't have fresh chanties now, but I did sauté several pounds of chanterelles in butter for freezing. If you have frozen cooked chanterelles, they will work just fine in this recipe.
chicken, carrots, parsley, thyme, pepper, olive oil, chanterelles, potatoes, onion, lemon, salt, garlic, bacon
mise en place
Most of the time when I peruse a menu and see a chicken entrée, my eyes automatically skip to the next item – unless the chicken is roasted – then it gets my attention. But it's so incredibly simple to roast your own chicken at home, that home is where I usually enjoy it. I will either roast a whole bird or the legs, because dark meat is where it's at. I like to save the bones or carcass to make broth, and I save the drippings for gravy making sessions. And potatoes. How can you roast chicken without potatoes? Do roast the chicken with potatoes. And carrots. And onions. And bacon. Don't forget the mushrooms. Seriously, put whatever you like in there.
mix olive oil, salt, pepper, and lemon zest
rub on the chicken and under the skin (extra goodness)
arrange the chicken in a roasting pan
Brown the bacon in a pan and save the grease for cooking the mushrooms (save the bacon, too). If you are using frozen mushrooms that have already been sautéed, you can skip frying the mushrooms in bacon grease. When the mushrooms are cooked, toss them with the bacon and the rest of the vegetables, herbs, and olive oil. If you are using frozen mushrooms, then let them thaw and toss them in with the other vegetables.
brown the bacon
add the chanterelles to the bacon grease
sauté the chanterelles until cooked
drizzle olive oil over the vegetables, herbs, bacon, and mushrooms
toss to coat
Spread the vegetables out among the chicken pieces in the roasting pan. Try to get it distributed in a single layer as much as possible because that will give you the maximum surface area of crisped roasted bits. Of course, whenever I roast vegetables, I always get excited at the thought of leftover roasted vegetables and add more than I should. That's okay. It helps to give the vegetables a stir every 15 minutes or so, to allow for more even roasting.
into the oven
out of the oven
It's a straightforward one-pan weeknight meal that is ideal for the impending cool down as winter nears (yes please, and with snow) and most of the time is spent in the oven. We love the added earthy, almost floral bites of chanterelle interspersed among the potatoes, carrots, and juicy chicken. You can make a gravy from the pan drippings to drizzle over your chicken and vegetables for an added boost of flavor (mmmm, gravy….). This dish tastes like autumn, and it is finally starting to feel like autumn around here. So why not? I'm pretty sure it would be a welcome meal in winter, too. I'll just have to test that theory out…
serve it hot with all of the goodies
the leftovers are delicious, too
Roast Lemon Chicken with Chanterelles
[print recipe]
1 tbsp sea salt
2 tsps black pepper, freshly ground
2 lemons, grated zest of
4 tbsps olive oil
6 whole chicken legs (drum and thigh)
1/4 cup bacon, diced
1/2 – 1 lb. fresh chanterelle mushrooms, cut in half if large
4 medium potatoes, 1-inch dice (I used yukon golds)
4 carrots, 1/2-inch dice
1 medium onion, cut into 1/2-inch wedges
2 cloves garlic, minced
1 tbsp fresh thyme, chopped
1 tbsp fresh parsley, chopped
Preheat oven to 375°F. Mix the salt, pepper, lemon zest, and 2 tablespoons of olive oil together. Rub the chicken skins on top and under the skins with the lemon zest rub. Place the chicken legs in a large roasting pan in a single layer. In a medium saucepan or a sauté pan, brown the bacon until cooked. Remove the bacon from the pan and set aside. Heat the bacon grease in the same pan over medium high heat. Sauté the chanterelles in the bacon grease until cooked. Remove from heat. Toss the bacon, mushrooms, potatoes, carrots, onions, garlic, thyme, parsley, and 2 tablespoons of olive oil together in a large bowl. Pour the mixture into the roasting pan with the chicken, arranging the vegetables into as much of a single layer as possible. Roast for 75 minutes. Stir the vegetables around every 15 minutes or so. Serves 6.
more goodness from the use real butter archives