It's a new year! I know some of you were hoping for a recipe, but this is a different kind of recipe. It's a recipe for life. Learn something. Be active. Simple, right?
Are you the type to make new year's resolutions or do you make resolutions throughout the year regardless of the date? I'm in the latter camp, although last year I did manage to make a resolution that coincided with the start of 2015. Jeremy and I participated in the Thanksgiving Nordic Ski Camp in Crested Butte at the end of 2014 to try skate skiing for the first time. We received a crash course in a half day and liked it enough to invest in some gear. The problem was we sucked at skate skiing. We not only required more time on skate skis, we needed more instruction. I decided to sign up for Eldora Women's Days. Seven years earlier, I joined the program to improve my telemark skiing.

my local ski hill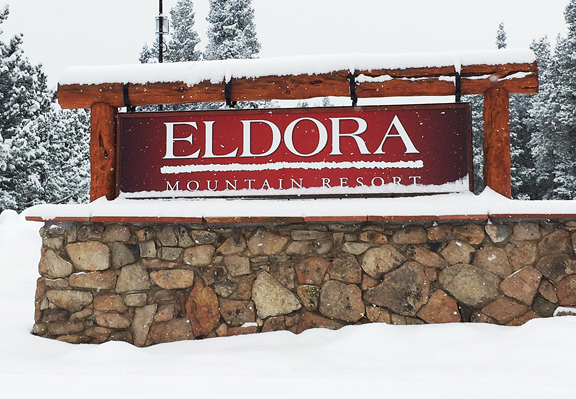 Even though this program is specific to
Eldora Mountain Resort
and women, other mountains may offer similar opportunities. If you don't live near Eldora, I encourage you to look into program offerings at ski hills near you or near places you might visit. Anything from one-time private lessons to longer term group programs are a good way to learn a new activity, improve your skills, make friends, and get out there. Don't live in or near a wintery wonderland? The same thing applies to running, hiking, biking (mountain biking, fat biking, cycling, cyclocross), sailing, stand up paddle boarding (SUPing), swimming, angling, climbing (rock, ice), etc. And don't forget walking! Walking is a low impact, easy, and wonderful way to get moving. The point is to be active and feel good about it and feel good about yourself.
i'm still friends with many of my ski gals from the program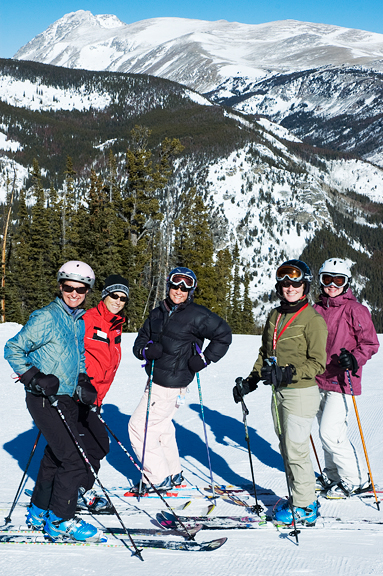 I figured the start of the year would be an appropriate time to tell you about the Eldora Women's Days program because 1) session 1 starts this week and 2) most people resolve to stick to their diet to lose weight, but fewer resolve to exercise to be healthy. Skinny does not equate to Healthy. Also? Dieting is boring. But exercise? That can be fun. REALLY fun.
clean slate (or clean corduroy, in this case)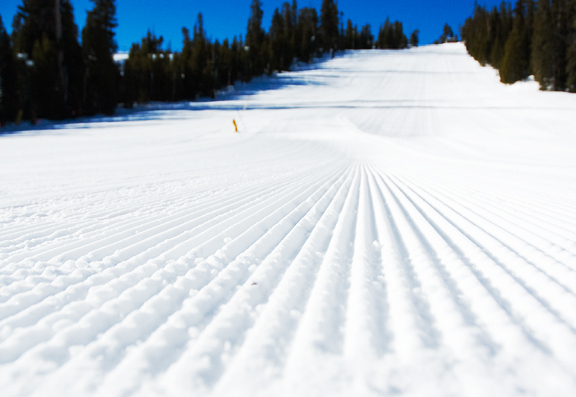 Eldora Mountain Resort began the Women's Days program to teach women how to alpine ski, snowboard, telemark ski, classic ski, or skate ski in a group setting that didn't include men. Why? Well, the informal explanation is that a lot of men have these things called egos that take over their brains when they are around other men and especially around women. There tends to be more showboating and less learning when the ego(s) are present. So remove the egos and you get a fun, supportive, and comfortable environment in which particpants can learn, practice, and ask questions. They offer two sessions each year, the first is six weeks starting the first week of January and the second session is four weeks starting in mid-February. You can sign up for one or both sessions. Participants meet once a week and can choose Tuesdays, Wednesdays, or both days. For the truly hardcore, sign up for all ten weeks and both days – that's some serious instruction time on the mountain. In my experience, groups have varied from 4 to 6 students plus one instructor.
telemark skills test on the first day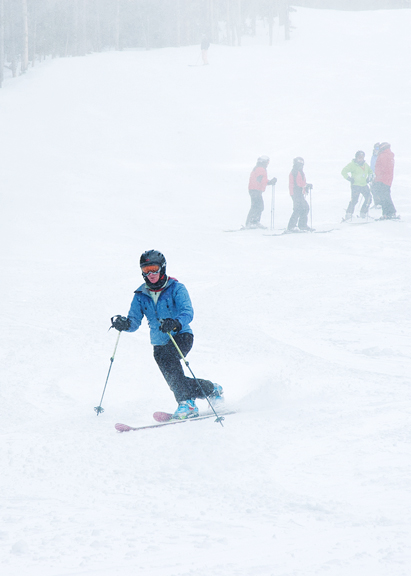 A typical day begins with an optional hot buffet breakfast in the Indian Peaks Lodge at 8:30 am. By 9:30 am, you should meet with your group at the Nordic Center (if you are classic or skate skiing), or at the base of Challenge/Cannonball lifts (if you are alpine, snowboard, or telemark). Instruction continues until 11:30 am when everyone breaks for a hot buffet lunch at the lodge. Then the afternoon instruction resumes from 12:30 pm to 2:30 pm. If you don't have your own gear, you can rent equipment from Eldora's rental shop on the ground floor of the lodge or from the Nordic Center. The very first day will involve a short skills test so instructors can divvy students up into beginner, intermediate, and advanced groups.
getting feedback from the instructor
I first registered for session 1 of 2008 shortly after my breast cancer diagnosis, making sure my surgeries and chemotherapy wouldn't interfere with the program. I only missed one class because of the chemo effects, but was otherwise thrilled to be able to participate. Not only did I make great friends in the advanced telemark group, but we had the best instructor ever. We practiced new and old skills and were able to analyze our form through videos and watching one another as well as getting personalized feedback from our teacher. And we had major fun the entire time.
even chair time is used for instruction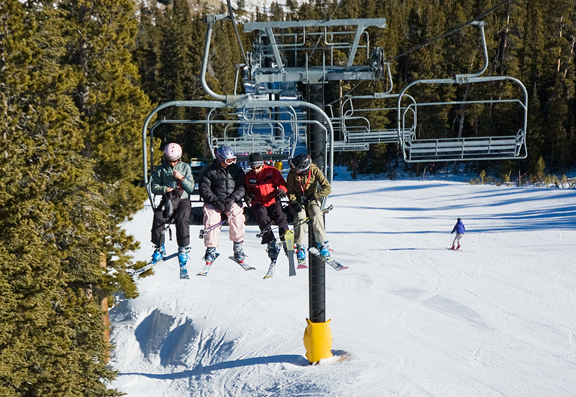 Lunch is when all of the program groups convene between the morning and afternoon instruction. Most people sit with their own group to view videos or chat, but there is also plenty of mingling because everyone is friendly. The hot meals are served buffet-style and there are typically gluten-free, dairy-free, and vegetarian options, hot soups, fresh salads, and cookies for dessert. I have to concede that the food was better back in the day, but food isn't why you sign up for the program. The program director will take this opportunity to make announcements like special offers with local businesses for program participants, dress up days (the last day usually has a theme), and giveaways. Names are pulled from a hat for various prizes donated by businesses like Outdoor Divas hats, free massages, sporty bags, and even artwork (I've donated matted photos to the giveaways).
lunchtime giveaways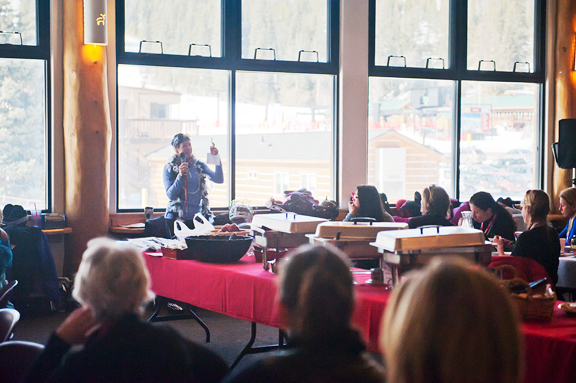 I've never been one to seek out all-women events or activities before the Women's Days program. You get used to being outnumbered when you attend a tech school and major in engineering. But after the great experience I had in 2008, I signed up for a second session in 2009 (advanced telemark, with the same instructor!) because I felt chemo had kept me from truly giving it my best effort. And that session was as great as my first one, but this time we were able to tackle moguls and glades (well, glades because my friend Leyla dragged me through the kiddie glades and it was a blast). What I love about the structure of Women's Days is that you work with your instructor once a week, practice on your own (or with your friends) at some point during the next six days, then get feedback, reinforcement, and new techniques when you meet again.
the drill: keeping the balloon between your knees when you tele turn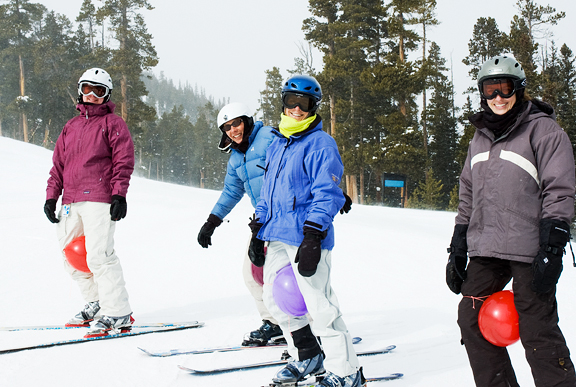 pausing before the next run
Fast forward to January of 2015. I'm filling out my skills form on a clipboard in the Nordic Center at Eldora. I check off: skate ski, beginner. That was me. I just wanted to get the basics down with an expert who could correct my mistakes and help me become a better skate skier. But it didn't quite work out that way. Once we finished the skills test on the snow, I was lumped into the intermediate group. I asked to make sure there hadn't been a mistake (maybe you thought I was someone else who actually knows how to skate?). No mistake, they said, I was going to be in intermediate.
Have you ever struggled so much and felt so defeated that you just wanted to cry? That was my first day. Not only was I the absolute worst student in my group of four, but I was exhausted from using muscles in ways that I was convinced weren't natural for human beings. I kept the tears in check, slipped and floundered my way to 2:30 pm, and plopped onto the couch once I got home. My arms and legs were shaking jellied versions of their former selves because they were completely exhausted from the hours of hill work. I went into skate skiing feeling pretty humbled as it was, but that day had crushed my soul. As I pulled a warm blanket over my head, I recalled what Twila told me when I announced I wanted to start skate skiing. "Skate skiing is hard." It wasn't just Twila, the New York Times thinks so, too. I had to ask myself if I thought I could do this. Then I asked myself if I wanted to do this. Ultimately, I answered (in my head), yes and yes.

my terrific instructor and half of my wonderful group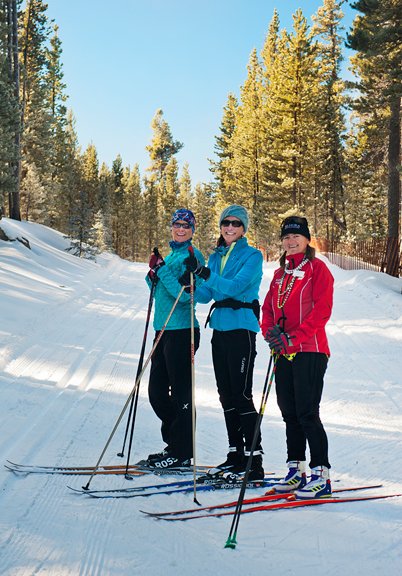 And you know what? I'm so glad I stuck with it. I've said this before, but skate skiing is the hardest sport I've ever learned. It's not only cardio intensive, but it requires all manner of balance, strength, and coordination. But I love it despite the pain, suffering, and humility before the mountain. I practiced in between my class days and my instructor was so great about addressing my specific hang ups. Once again, I had amazingly supportive ladies in my group and we all benefited from one another. By the end, I had learned enough to skate moderately competently, but more importantly, I could continue practicing and improving with some confidence based on what had been taught. And that's when I knew I had fulfilled my resolution.
classic skiing on a powder day when the grooming machine died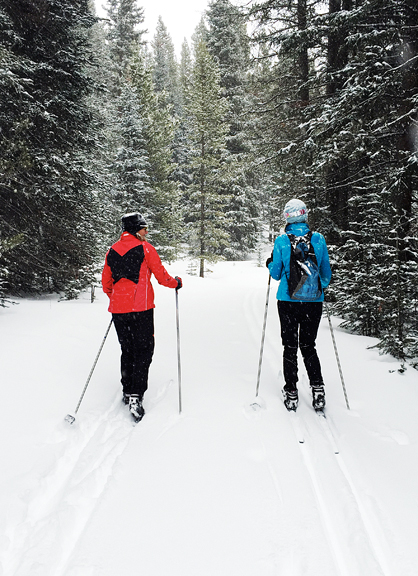 As I laced up my skate boots for the first time this season, my fear was that I had forgotten everything my instructor had taught me just ten months prior. I said as much to her when I saw her at the Nordic Center and she laughed. I hadn't forgotten, and I hadn't regressed too much since I last hung up my skis in the spring. So now, my goal is to suck less at skate skiing, have more fun, and get more exercise. And it's possible because of the Eldora Women's Days program that put skills like telemark and skate skiing within my reach so I can live a healthier and happier life.
skating away (the bikini bottoms were for the mardi gras theme)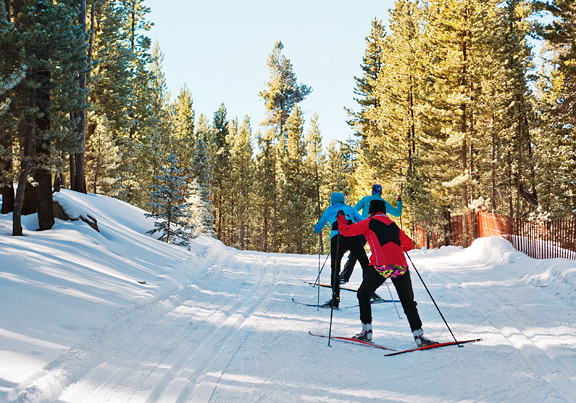 For more information on the Eldora Women's Days program, visit
the program's web page
. And if you don't live near Eldora Mountain Resort, consider researching programs near you that could open your world to new and fun activities.
Full disclosure: All program expenses were paid for by me. I was not compensated in any way by Eldora Mountain Resort for this post. All opinions are my own.

more goodness from the use real butter archives