Recipe: pretzel bites
Our most recent storm brought nearly 3 feet of snow to us in Crested Butte. And while we have been getting our fill of the powder (and then some!), there is the issue of clearing the snow on and around our house so we can get in and out, and so Neva can potty in the yard without disappearing completely. The thing about snow in Crested Butte is that it doesn't really melt away until late spring. This morning was a balmy -18°F. So yeah, no melting here, just moving snow to make room for more snow. But the deep freeze is also what keeps the powder stashes fresh for days.

the snow in the yard is piling high (neva and jeremy for scale)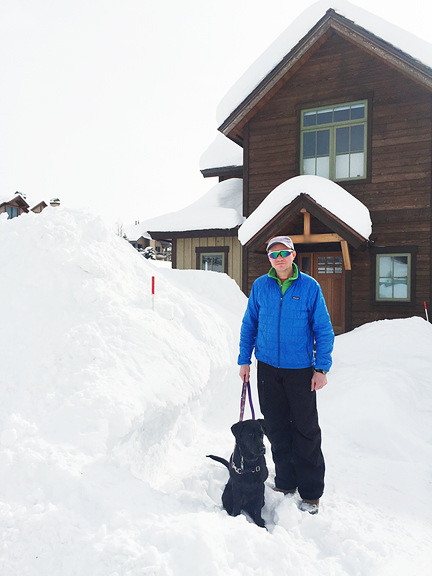 when neva is not outside, she wants to be outside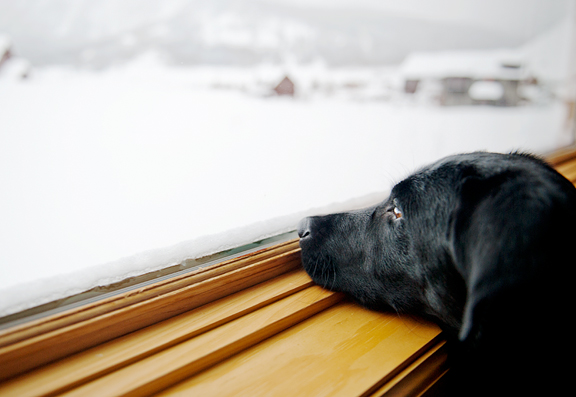 getting turns in the fresh stuff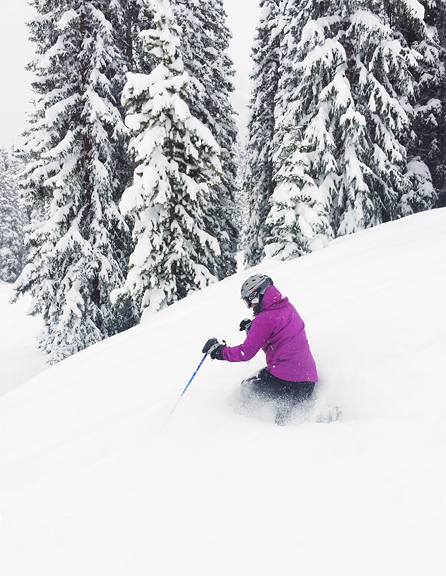 we've never skied such deep and fluffy powder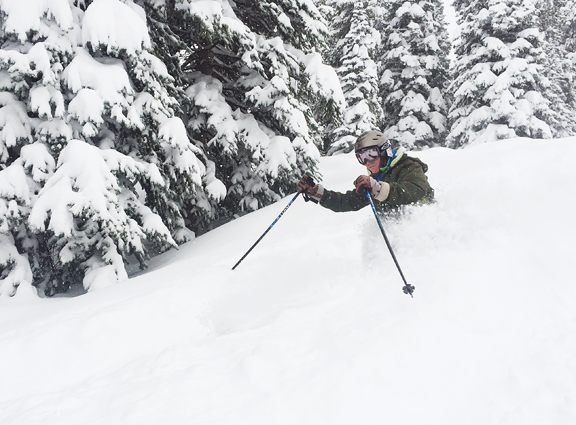 jeremy getting after it in the trees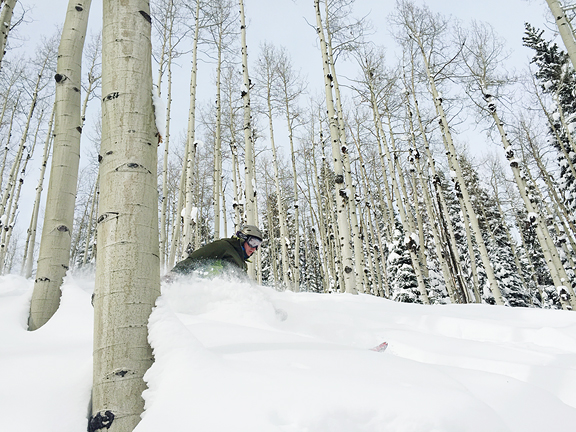 Alternatively, you might not be a snow lover (WHY??!). I can't say I understand, but I know people who dislike the cold and snow of winter. Maybe you prefer to sit at home and watch a bunch of dudes hurl themselves about a rectangular field. Every person has their "thing". No matter which thing is your thing, there is no denying that a batch of warm, soft pretzel bites would be a good thing!
brown sugar, butter, yeast, egg, salt, baking soda, pretzel salt, water, vegetable oil, flour
stir the flour and kosher salt together
get the water to around 100°f
mix melted butter, warm water, yeast, and brown sugar together
What I love about the cold weather is how enjoyable baking can be. Baking in summer is just asking for trouble around here as we don't have air conditioning, our summers keep getting hotter and hotter (boo!!!), and hot weather makes me cranky. But turn the oven on when it's single digits outside and then fill the house with the aroma of baked goods? That's the warm fuzzy humanity is seeking. Making pretzels involves yeast dough, boiling, and baking – but the results are so worth it! You can turn it into a fun group project (with adult supervision around hot or sharp things).
add the flour mixture to the wet ingredients
knead until the dough pulls away from the sides
place the dough in a greased bowl and turn it over to coat
When the dough has risen (usually doubled in size), start your pot of water and baking soda boiling. Divvy the dough into eight equal pieces and start rolling each piece into a rope 22 inches long. Cut the ropes into 1-inch pieces to form your proto pretzel bites.
bring the water and baking soda to a boil
the dough, she has risen
cut the dough into eighths
roll each piece of dough into a rope
slice the ropes into 1-inch pieces
By now, the water should be boiling. Working in manageable batches, boil several pretzels in the water for 30 to 45 seconds, then scoop them out with a strainer. This is the process that gives your pretzels that lovely browned exterior when you bake them. Scatter the pretzels on a lined baking sheet, making sure they don't touch (or they will touch forever). A brushing of egg wash and a sprinkle of pretzel salt or kosher salt, and you're ready for the oven.
straining the pretzel bites out of the water
beat water and egg for the egg wash
brush the pretzels with egg wash
sprinkle salt on top
Maria
's original recipe is for plain soft pretzel bites with a cheese dip. I played with other variations like garlic butter soft pretzels and cinnamon sugar soft pretzels. The recipe I followed for the cinnamon sugar version was gross, so I'm not posting that. If you want cinnamon sugar pretzels, you can bake these following the recipe instructions below, except don't sprinkle them with salt before baking. When the pretzels are done, brush them with melted butter and toss them in a mixture of 1 teaspoon ground cinnamon and 2 tablespoons of sugar. The garlic version is included in the recipe below, and that was a big winner around here because who doesn't love garlic, butter, and bread together?
some options: cinnamon and sugar or butter and garlic
minced garlic
simmer the melted butter and garlic until fragrant
The pretzels are ready when they turn a deep golden brown on top. Take them out of the oven and serve immediately if you are opting for a plain pretzel. I went for the garlic butter pretzels, which adds the extra step of brushing the pretzels with garlic butter before serving. Easy!
baked golden and ready to eat
unless you want to brush them with garlic butter for extra awesomeness
No matter the occasion: game day, snack day, stay at home day, or après ski – these warm, soft, and addictive little nuggets are sure to please. Serve with cheese dip, mustard, or whatever you like to accompany your plain or garlic pretzels. Cinnamon sugar pretzels probably don't need a dipping sauce, but if you insist on being THAT person, you can whip up any old cream cheese frosting to go with it. And since they're little, it's okay to have more than one!
garlic butter pretzels with mustard
the bowl is a party unto itself
Pretzel Bites
[print recipe]
from Two Peas and Their Pod
1 1/2 cups warm water (about 100°F)
2 tbsps light brown sugar
1 packet or 2 1/4 tsps active dry yeast
6 tbsps unsalted butter, melted
2 1/2 tsps kosher salt
4 3/4 cups all-purpose flour
vegetable oil
10 cups + 1 tbsp water
2/3 cup baking soda
1 egg, beaten
sea salt or pretzel salt
garlic butter (optional)
6 tbsps unsalted butter, melted
2 cloves garlic, minced
Stir together 1 1/2 cups of warm water, the brown sugar, yeast, and melted butter in the bowl of a stand mixer fitted with the dough hook. Let sit for 5 minutes. In a separate bowl, combine the kosher salt and the flour. Add the flour mixture to the wet mixture and mix on low until just combined. Increase the mixing speed to medium and let mix for 3 minutes until the dough begins to pull away from the sides of the bowl. Knead the dough for another minute. Grease a large bowl with vegetable oil. Place the dough in the bowl, then turn it over to coat the entire dough ball in oil. Cover the bowl with plastic wrap and let it rise for an hour in a warm place.
Preheat oven to 425°F. Whisk the egg and 1 tablespoon of water together to make the egg wash. Set aside. Line two baking sheets with parchment paper. Combine the 10 cups of water and the baking soda in a large pot and bring to a boil over high heat. While the water heats, divide the pretzel dough into 8 equal size pieces. Roll each eighth into a 22-inch long rope. Cut each rope into 1-inch pieces. Boil the pieces in batches for 30-45 seconds, then remove them from the water with a strainer. Set the pieces on the parchment-lined baking sheets making sure the pretzels don't touch each other. Brush the tops of the pretzels with the egg wash, sprinkle with salt, and bake for 12-13 minutes until they are golden brown. Cool on a baking rack. Serve with mustard. Makes 176 pretzel bites.
Garlic pretzel bites (variation): Bring the butter and garlic to a simmer in a small saucepan over medium-low heat. Continue to simmer until fragrant. Remove from heat and brush the garlic butter over the warm pretzel bites.
more goodness from the use real butter archives