Sometimes it takes a little nudge to discover something wonderful that is right under your nose. In the heart of downtown Crested Butte, The Sunflower has always been a great place for us to grab a spinach and feta croissant or a good sandwich to go. For some reason, I assumed it was breakfast-lunch only because their menu lists breakfast and lunch. I was half correct. The Sunflower is a communal kitchen – a cafe/deli in the daytime and a restaurant at night. Two separate businesses that share one space. I only learned about Supper at Sunflower this spring when Rob, the best painter in town and fellow mushroom foraging enthusiast, mentioned it to me.

sunflower is located on elk avenue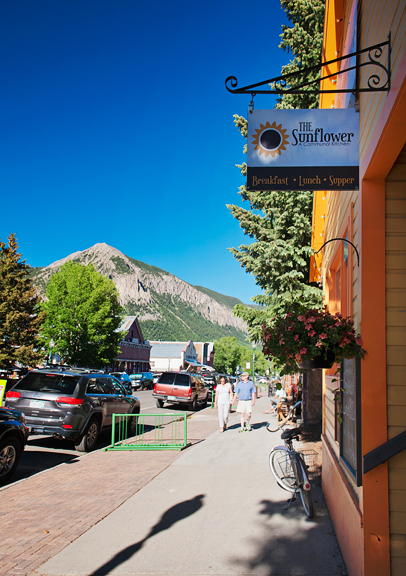 Indoor seating in this cozy, rustic establishment maxes out at 32, but in summer the pleasant patio easily doubles the restaurant capacity. Reservations are highly recommended and there are generally two seatings each night: early [6:00 pm, 6:15 pm, 6:30 pm] and late [8:00 pm, 8:15 pm, 8:30 pm]. Every time we have dined at Supper at Sunflower, the place has been packed with regulars and newcomers alike. Their staff is warm and friendly, and every server was quite knowledgeable about the menu and the extensive wine list (and what pairs well with what). Sunflower also offers a huge number of wines by the glass as well as a dozen beers by the bottle. Be sure to ask about their
porrons
.
a cozy interior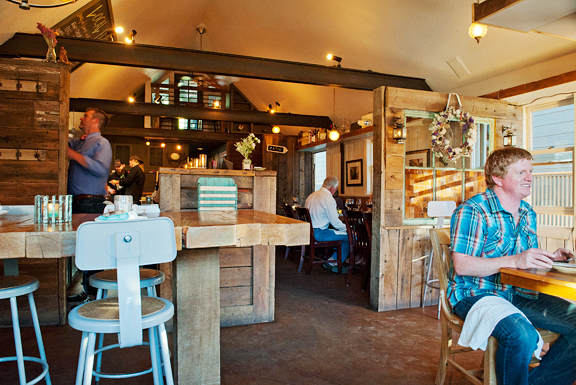 patio dining with my folks on a fine colorado summer evening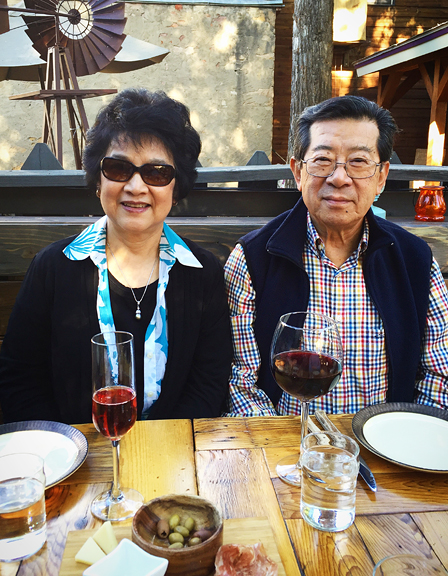 Small bites and small plates dominate the menu at Supper at Sunflower, although there are large plates in the traditional sense of a meal. I feel that the quantity on the small plates offers the best value. Supper at Sunflower encourages sharing and sampling – a fun way to enjoy and explore more of their Spanish-influenced farm to table cuisine. Start with a selection from their Nibbles, an assortment of cheeses, cured meats, olives, and nuts. There is usually a tempting seasonal soup and a couple of salads, all incorporating fresh, local ingredients.
some nibbles: olives, manchego, finocchiona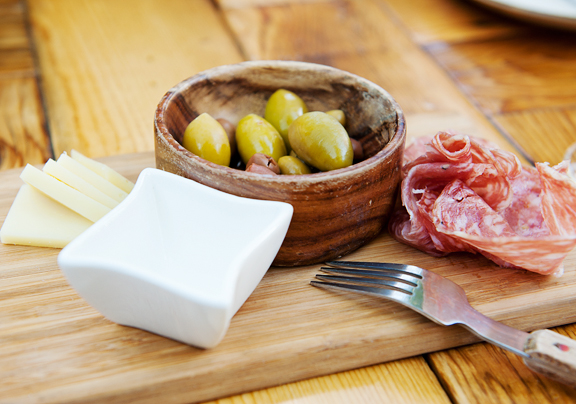 Admittedly, we get so excited about the appetizers that it wasn't until the third visit (on my birthday) that I ordered the heirloom tomato salad with ricotta cheese, watermelon, and pickled cucumbers. That salad embodied what I enjoy most about the food at Supper at Sunflower. A thoughtful and exciting balance of textures and flavors exists in most of their dishes. Best of all, I love their use of homemade pickled and preserved toppings to accentuate and enhance the plates. They add zing and zip to an already exceptional combination of flavors. Of the many (so many) small plates we've tried, my favorite was the rabbit escabeche. The tangy stewed rabbit and vegetables arrived along with an amorphous piece of charred dough – some of the best bread I've ever tasted!
albacore tuna poke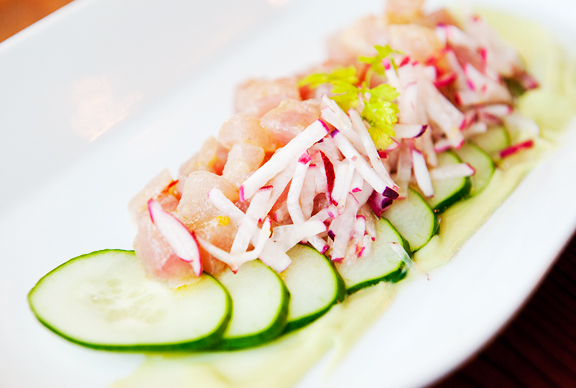 rabbit escabeche with grilled bread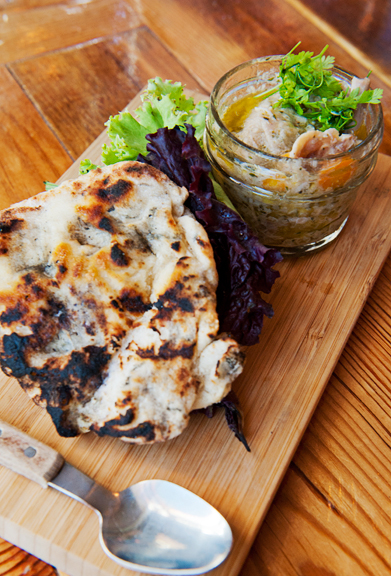 house burrata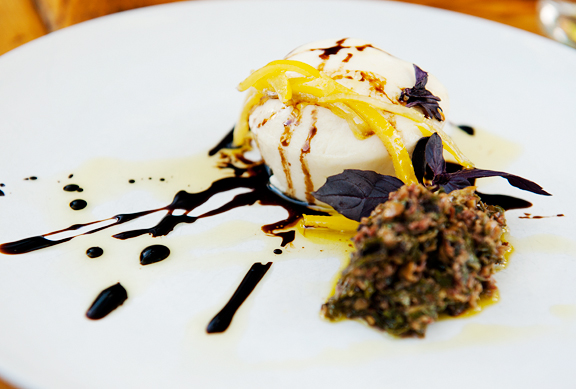 pork sausage with fava beans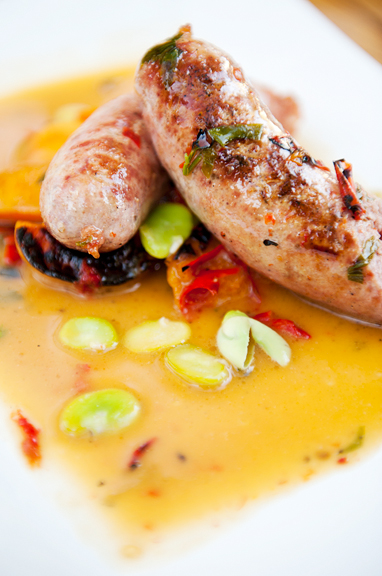 Another aspect I like about the appetizers/small plates is if you really like something, it's no big deal to order another plate of it (or two!). The hardest part is deciding which one to order more of as they're all so good. The handmade pasta was cooked to perfection – firm bite, yet tender. The seared scallops on beluga lentils wowed me such that I went and found a recipe to
make the lentils at home
. Not only do we love eating here, the menu constantly inspires me.
scallops on beluga lentils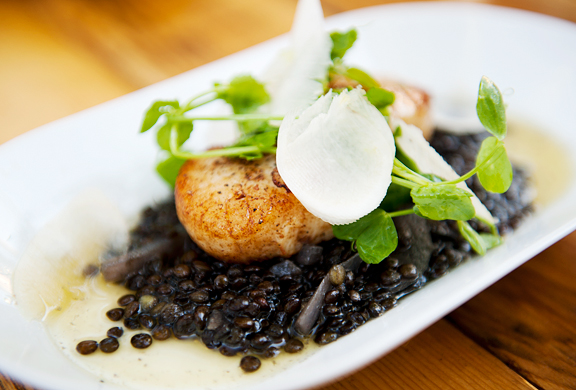 lamb chops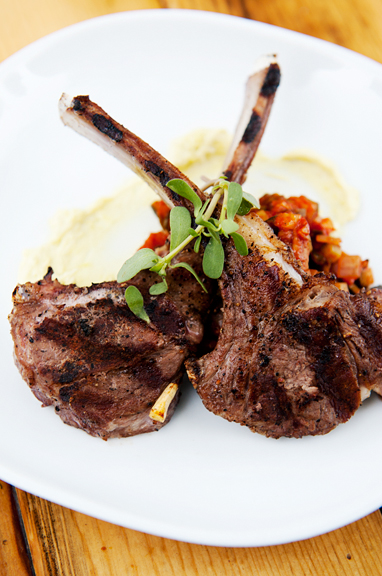 beef bolognese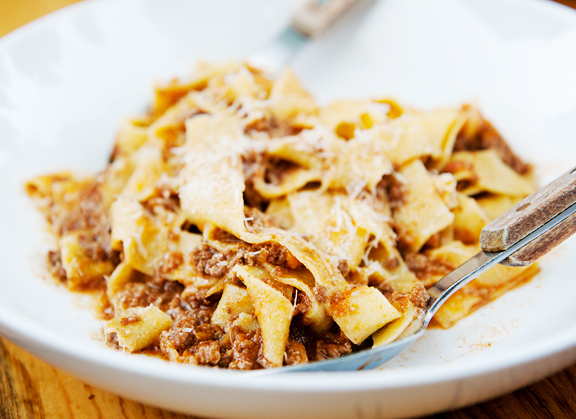 Plates or mains can be shared or eaten solo. Personally, I'm all for sharing because it means you sample more of the delightful menu. Supper at Sunflower offers half as many main plates as appetizers on the menu, but it is a nice selection of entrées rounded out with accompaniments like grains, vegetables, and sauces. Their seasoning and preparation of meats and seafood maximized flavor, tenderness, and juiciness. The ensembles worked so well together.
pork chop with apricot sauce, asparagus, and potatoes anna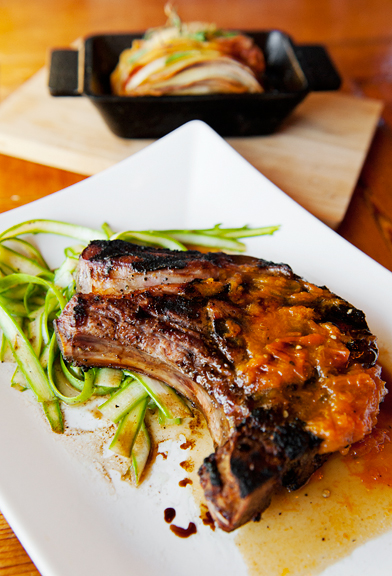 sable fish, haricot vert, niçoise vinaigrette, lentils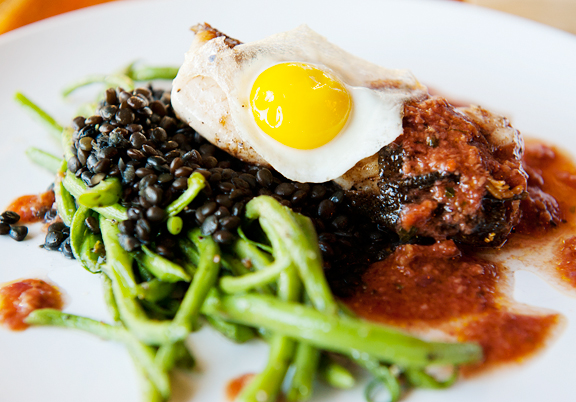 We always try to leave room for dessert to get an overview of how the kitchen prepares the sweeter side of the meal. Should you find yourself at Sunflower, please do yourself the favor of saving space in your tummy for dessert. There are typically 5-6 selections ranging from ice cream sandwiches filled with homemade flavors like chai or lemon verbena to seasonal fruit tarts, custards, and cakes. The pastry chef has a real talent for creative combinations of local ingredients, flavors, textures, and temperatures that top off a memorable meal. Of particular note was the panna cotta with local honey berries and orange mint soup – special and refreshing – we still talk about that amazing dish today!
flan, tuile, and a glass of sauternes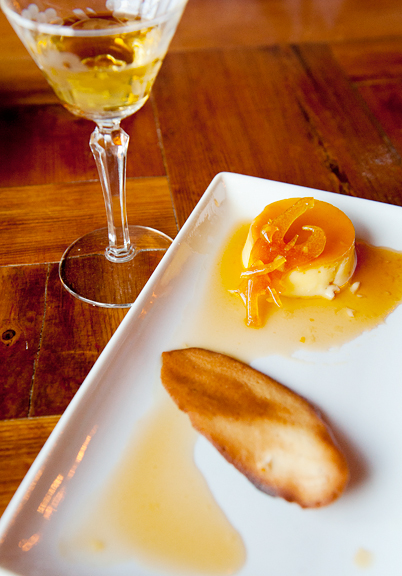 rhubarb tarte, lemon curd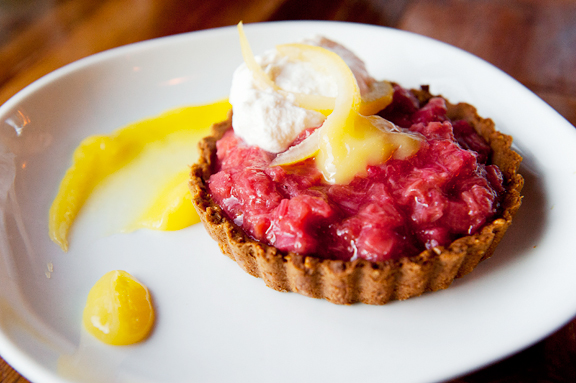 panna cotta, honey berries, orange mint soup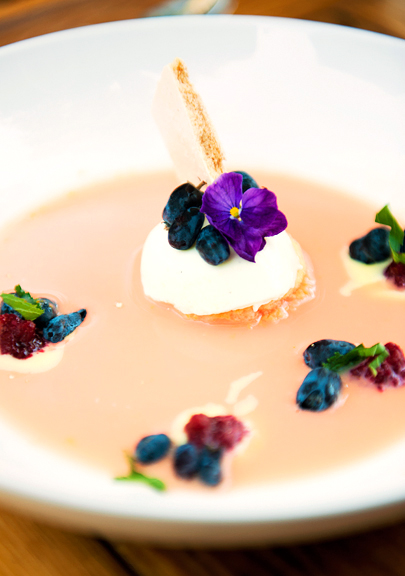 If all of the above isn't enough to love on Supper at Sunflower, how about what they did for the locals during the 2016 shoulder season. Supper at Sunflower changed into a pop-up ramen bar for over a month, dishing up Asian inspired appetizers, bowls of ramen noodles, and homemade desserts including HOMEMADE FORTUNE COOKIES with handwritten fortunes! The ramen options include vegetable (miso broth), seafood (lobster broth), chicken (shoyu chicken broth), or pork (tonkatsu-rich white pork broth) topped with an assortment of goodies like enoki mushrooms, wakame (tender seaweed), or soft boiled egg. There are also a dozen add-ons for your ramen in case you wanted some pork belly, bean sprouts, black garlic, or heirloom chili sauce with your bowl of awesome. When we arrived in Crested Butte for the week of Thanksgiving, the first stop (after getting Neva set up at the house) was ramen at Sunflower. So good. If you are in the area, this weekend (December 7-10) is the last weekend of the pop-up noodle bar and you should totally go.
pickled vegetables (spicy cucumber, shishito pepper, carrot, ginger)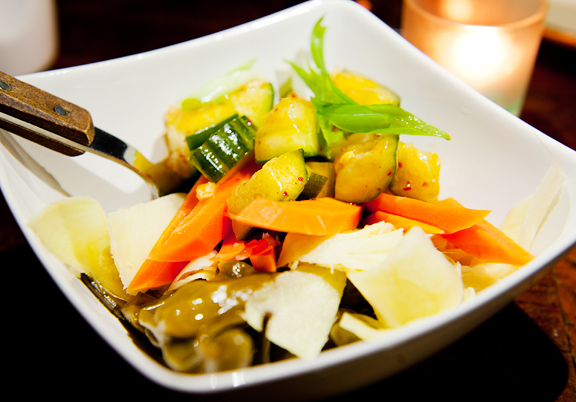 albacore tuna poke (avocado, sweet sticky rice, seaweed, radish, wasabi tobiko)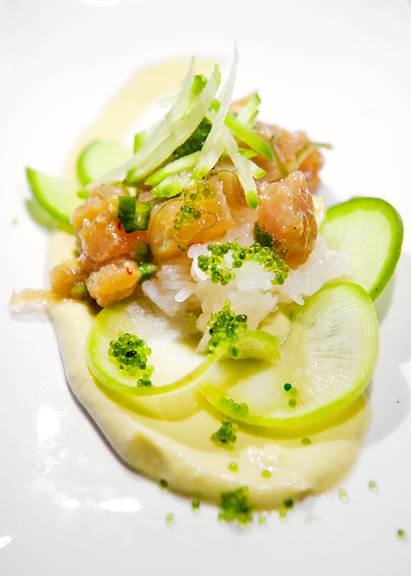 pork belly steamed buns (heirloom chili mayonnaise, kohlrabi celeriac slaw)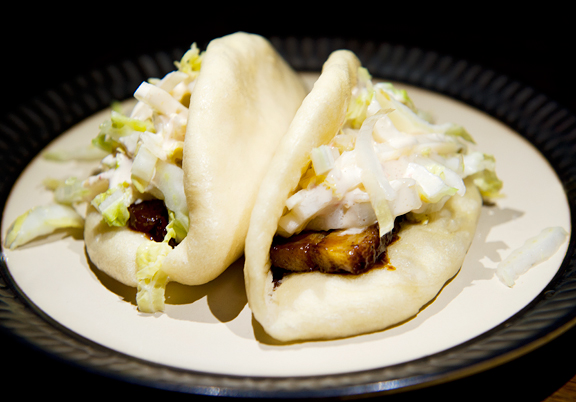 pork (bottom) and seafood (top) ramen bowls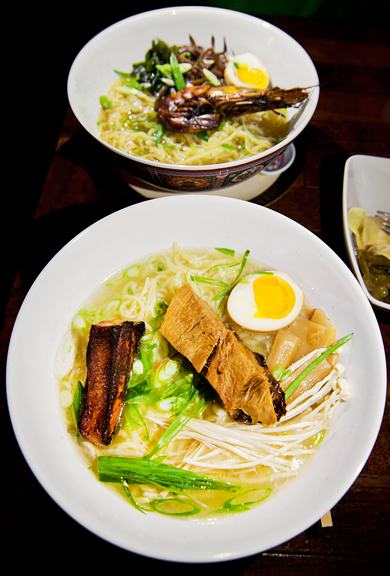 Supper at Sunflower has quickly become our new favorite restaurant in Crested Butte, which is saying a lot because this cozy, small mountain ski town boasts several excellent restaurants. Both dinner and dessert menus offer an array of creative and delicious plates, crafted with equal parts love and brilliance. I am especially fond of the appetizers for the variety, value, and flexibility they allow the diner. The staff work hard to ensure your perfect evening, while taking the time to answer any questions and to make you feel at home whether you're a local or a visitor. The only disappointing aspect of Supper at Sunflower is leaving when the meal is done. But then you have the next meal to look forward to.
Supper at Sunflower
214 Elk Ave.
Crested Butte, CO 81224
Phone: (970) 417-7767 (call or text)
Email: supperatsunflower@gmail.com
Tuesday-Saturday, 6pm – close.
Hours subject to change based on the season. Call for hours.
Facebook: Supper at Sunflower Facebook Page
Full Disclosure: No comps. All opinions are mine.