Recipe: soy sauce braised wild mushroom noodles
Last Friday when I left the Boulder County Justice Center, my head was pounding from countless hours of listening to lawyer-speak. Right before I stepped out of the building, one of the security staff shouted at me. He ran over to thank me for the blondies I baked for them and wished me a happy weekend. I had brought some for security, for my fellow jurors, and the courtroom. Who couldn't use a cookie on a Friday? A friend of mine has pondered aloud why I bake and give away sweet treats. Like, what's the dealio, Jen? It's a simple gesture that goes a long way to elicit a smile, brighten someone's day – a small gift made with love (and butter).

chocolate chip toasted pecan sea salt blondies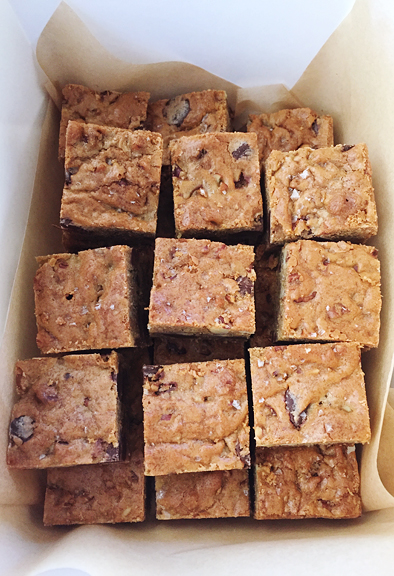 Driving up the canyon at the end of the day Friday, my shoulders relaxed and I let the cool mountain air wash over me, my mind turning to our weekend plans. I was looking forward to spending time with my puppy, catching up on work, and maybe even getting outside for some fun with Jeremy. Check. Check. And check! On a lark, Jeremy and I went to do a little reconnaissance and we each found a few morels, kicking off our second season (at least the first season wasn't a fluke!). On Sunday morning, we threw the bikes on the roof rack, loaded the skis in the car, and set off on a bike-hike-ski. We rode in with our skis strapped to our packs, stashed the bikes in the woods where the snow started, then hiked up a little way before switching over to skis and skinning up the rest of the way. There is still plenty of snow in the backcountry and we're slated to get another foot or more in the high country this week! Ski season isn't over, kids.
i love this goofball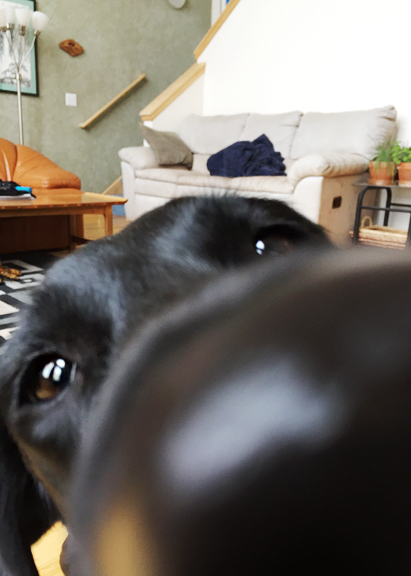 first black morel of the season!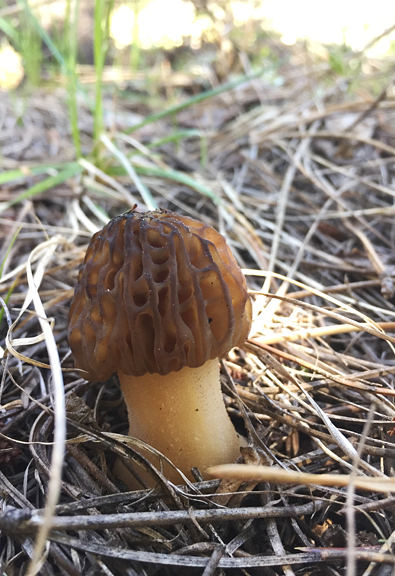 skinning up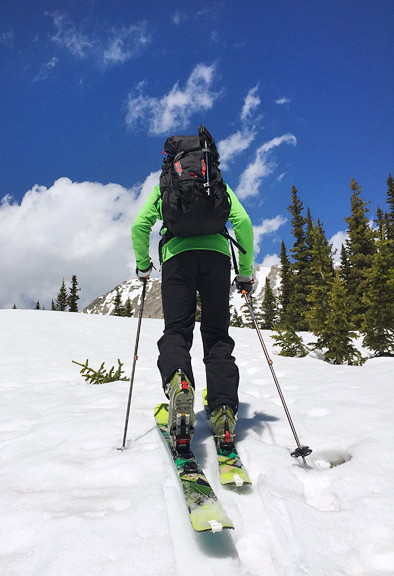 skiing out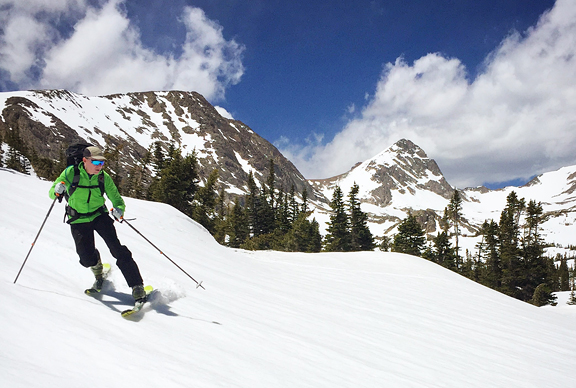 pausing as we look east toward the plains (where it's hot – too hot for my tastes)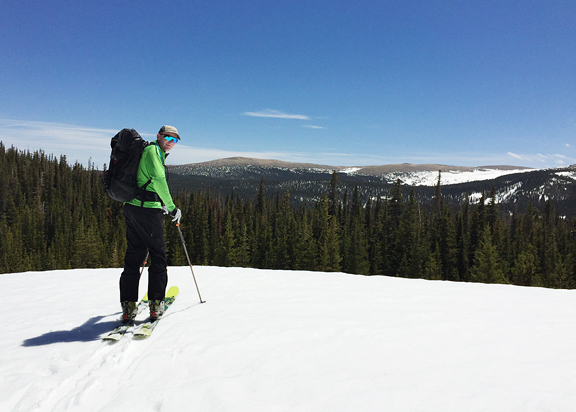 One of the best things about finding black morels in the mountains is that I can stop looking for blonde morels on the flats. You see, foraging for black morels means staying in the mountains where I don't get ticks (I'm still careful though), it's much cooler, and it's where I want to be. Foraging for blonde morels on the plains is an exercise in paranoia because I have to worry about ticks and poison ivy AND the hot weather makes me irritable, there's tons of trash, and there are too many people. I know, I know… I've become that weird-ass mountain person. At least my searches on the plains resulted in some good hauls of oyster mushrooms. The good news is that I don't have to return to lower elevations to forage those because their cousins, the aspen oysters, should start flushing in the mountains any day now.
oyster mushrooms are welcome in my kitchen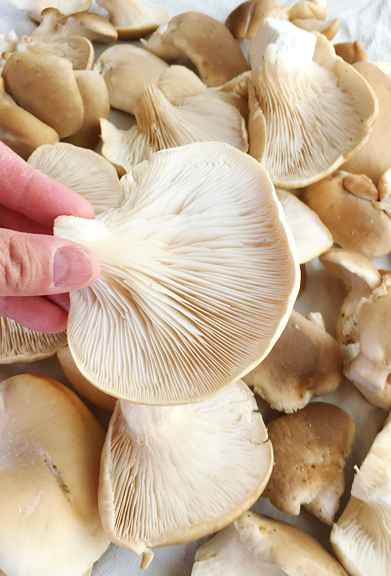 The first time my buddy, Erin, and I found oyster mushrooms this season, I told her to take them home. I wasn't ready to deal with wild mushrooms just yet. One of my great fears is to forage some beautiful edible wild mushroom, take it home, then not have time to deal with them and let them rot. That's just plain wrong. So once I knew we could find oyster mushrooms, I did some research on recipes I wanted to try and went to buy the ingredients. I've seen oyster mushrooms at Whole Foods, but I didn't realize (or didn't register) that you could purchase fresh oyster mushrooms at the Asian market. I went ahead and bought some just in case our foray the next day was a failure.
Luckily, it was not a bust and I went home to make some soy sauce braised wild mushroom noodles. My friend, Kelly, had posted a link to this recipe on Facebook and I thought, "How timely! Oyster mushrooms are flushing." In addition to oyster mushrooms, this dish calls for beech mushrooms and shiitakes. The only complaint I have about the recipe is that I had to go buy Yet. Another. Bottle. Of. Soy. Sauce. I have six different kinds of soy sauce in my refrigerator right now, the newest addition being the Mushroom Flavored Superior Dark Soy Sauce. If you can't find the mushroom dark soy sauce, then I imagine dark soy sauce (which is different from regular soy sauce) should work.

for your soy sauce reference
beech mushrooms, chinese wheat noodles, oyster mushrooms, dried shiitakes, mushroom dark soy sauce, light soy sauce, green onions, shallots, sugar, salt, vegetable oil, sesame oil
The dried shiitake mushrooms are rehydrated in boiling hot water and the soaking liquid is reserved for braising the mushrooms. Ever since one of my aunts sent an email around to the family with unverifiable information about chemicals in the soaking liquid of dried shiitake mushrooms from China, I've harbored this paranoia in the back of my brain. So I went out of my way to purchase certified organic shiitake mushrooms for a small fortune from Whole Foods. Welcome to my head.
rehydrating shiitakes (save the soaking liquid)
trim the stems and slice
ingredients prepped
As with most Chinese recipes, the bulk of your time is spent prepping the ingredients. The actual cooking time is a little over a half hour, with 20 minutes of that on a simmer. I suppose any self-respecting Chinese girl would have a wok at the ready to make these noodles. I've been halfway there for the past 5 years with my cast iron wok still in its box, awaiting its inaugural seasoning. In the meantime, my trusty stainless steel All-Clad sauté pan works beautifully. A note about cooking mushrooms: I often say that I don't like to wash my mushrooms (I wipe them with a damp paper towel or use a brush) and then someone invariably comments that it's totally okay to wash your mushrooms. The reason I like my mushrooms dry is because it's easier to get a nice sear when you toss them into a hot pan with butter or oil. If the mushrooms are wet, the first thing that happens when they hit the hot pan is the water boils off as steam and you have just steamed your mushrooms instead of searing them.
sauté the shallots and onion whites
sear the mushrooms
pour in the mushroom liquid after searing the mushrooms
add the soy sauces and sugar
While the mushrooms simmer, get a pot of water boiling and cook your Chinese wheat noodles. If you are aiming for a gluten-free version, you can use a different kind of noodle (rice, cellophane, etc.), but keep in mind that you'll need to find gluten-free substitutes for the soy sauces. I think tamari will work for the light soy sauce, but I'm not familiar with any gluten-free dark soy sauces (you may have to make your own?). When the noodles are cooked, drain them and add them to the mushroom sauce.
add the noodles to the mushrooms
top with green onions and sesame oil
toss
Serve the noodles topped with more green onions and a dollop of chili garlic sauce or black bean garlic sauce or chili black bean garlic sauce or XO sauce – you get the idea. This is a crowd-pleaser for vegans and carnivores alike. The mushrooms are packing some serious umami here. Make it a main dish or serve it with other courses. It's easy enough to be a weeknight meal and fancy enough for entertaining.
finished with black bean garlic sauce and green onions
umami all the way
Soy Sauce Braised Wild Mushroom Noodles
[print recipe]
from The Woks of Life
6 large dried shiitake mushrooms
8 oz. oyster mushrooms, roughly sliced if they are large
8 oz. beech mushrooms, bottom trimmed (the large mass they are growing from)
3 tbsps vegetable oil
4 shallots, finely chopped
3 green onions, white chopped, green parts julienned
1 1/2 tbsps mushroom flavored dark soy sauce
3 tbsps light soy sauce
1 tbsp sugar
dried shiitake mushroom soaking liquid + enough water to equal 2 1/2 cups
wheat noodles of your choice
1/2 tsp sesame oil
salt to taste
Rehydrate the shiitake mushrooms in hot (just boiled) water for 30 minutes. Squeeze the mushrooms of their liquid, but reserve all of the soaking liquid. You may rinse the mushrooms under clean water and remove any debris if they are especially dirty, and squeeze them dry again (but don't save this rinse water). Trim the stems off and julienne slice the mushrooms.
Heat the oil in a large sauté pan or wok over medium heat. Add the shallots and onion whites. Stir fry until the shallots are translucent. Turn the heat to high and add all of the mushrooms. Don't stir them, just let them cook until they begin to brown where they touch the pan. Stir and let the other sides brown. If the mushrooms produce any liquid, let it all cook off. Reduce the heat to medium and add the soy sauces, sugar, and the mushroom liquid (plus any additional water to equal 2 1/2 cups). Cover and simmer for 20 minutes.
While the mushrooms braise, bring a pot of water to a boil and cook your wheat noodles until done. Drain and set aside. When the mushrooms are done simmering, add the noodles to the sauce with sesame oil and the green onions. Toss together. Season with salt to taste. Serves 4-6.
more goodness from the use real butter archives