Wednesday, October 8th, 2014

Recipe: cioppino
The most brilliant sunsets often involve something other than the sun. A setting sun in a crystal clear sky is predictable, plain Jane. There might be color, but it helps to have something more. Smoke, volcanic ash, pollution, dust, blowing snow, and water vapor can provide particulate matter in the air to absorb, scatter, and reflect light. The atmosphere peels away the shorter wavelengths, permitting the longer ones to bounce off these particles in the air, creating a glowing canvas on the sky. Colorado gets some pretty spectacular sunsets on a regular basis, but the Front Range really knocks it out of the park with dramatic cloud formations and weather phenomena. Monday evening, we were welcomed back to Ned(erland) with a nice display.

blazing sunset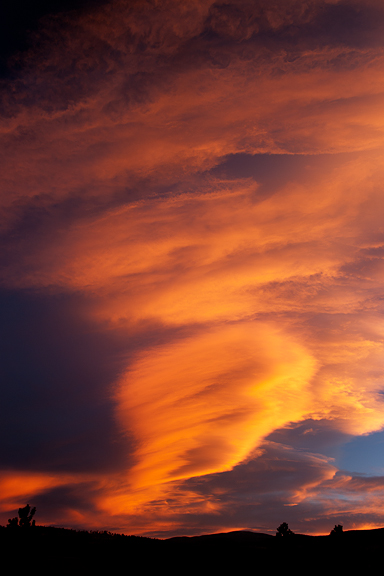 turning rosy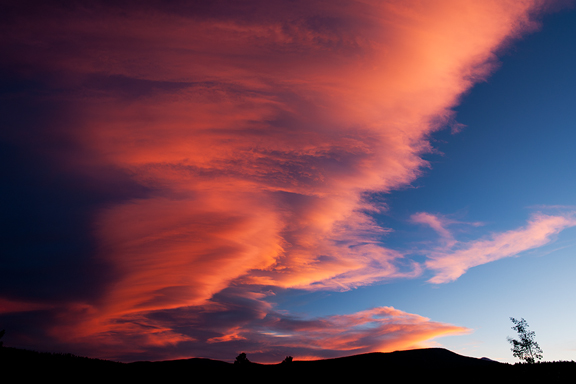 The following day, I tiptoed about in the dark gathering my equipment, gloves, hat, headlamp, so as not to wake Jeremy and drove into the blackness of early morning. I drive carefully at night in the mountains, because you never know what will decide to spring across the road in front of you. We have some big critters around here that could do proper damage to a car, but in all honesty, I brake for little tiny voles and mice as much as I do for moose and elk. I arrived in Rocky Mountain National Park before sunrise, but the sky was getting lighter by the minute. I had rented the Nikkor 500mm f4 telephoto lens from my friends at
Pro Photo Rental
to shoot the total lunar eclipse, but figured I would also shoot the elk rut in Rocky – because you really don't want to get too close to bull elks during the rut.
elk does and aspens bathed in golden sunrise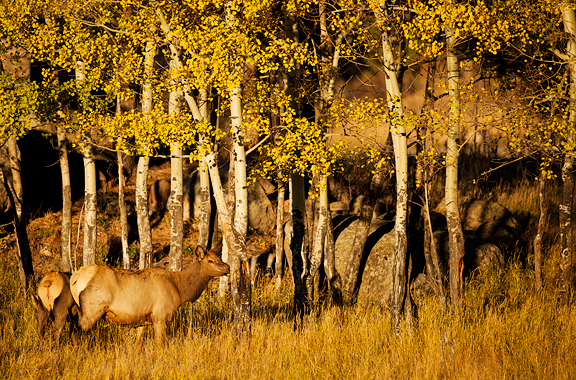 herding his harem across the meadow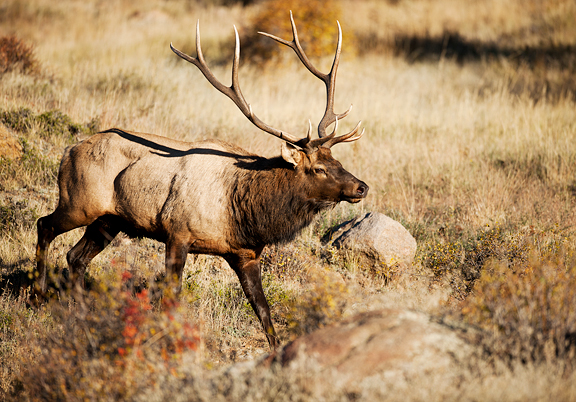 non-competing males having breakfast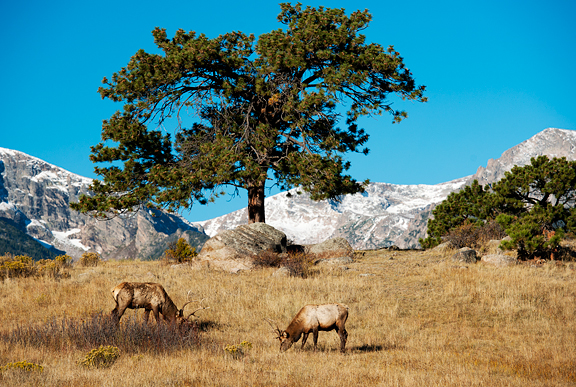 Wildlife photography is a different kind of photography from what I'm used to, so I felt it was good to challenge myself and try to improve what modest skills I have. Each time I shoot with the 200-400mm or the 500mm, I become that much more acquainted with the nuances of shooting super telephoto. Speaking as a photographer, the elk weren't in the best locations for a great shoot and the bulls were not as impressive specimens as when I photographed in 2012. You can't move them into the right light or the right setting like you can a cookie or a sandwich, nor can you move the mountains or the shadows or the trees or the guy who parked his Honda CRV in the worst place possible (but these are things you get used to when you photograph landscapes). You must move, and when it comes to bull elk in mating season, you give them wide berth and lots of respect. The sound of elk bugling into the evening air has been my soundtrack for much of the fall shoot and my trail runs for the last few weeks. Their calls echo back and forth between the hillsides of mountain valleys, eerie and haunting, but beautiful. Quintessential autumn in the Colorado high country.
bull elk bugling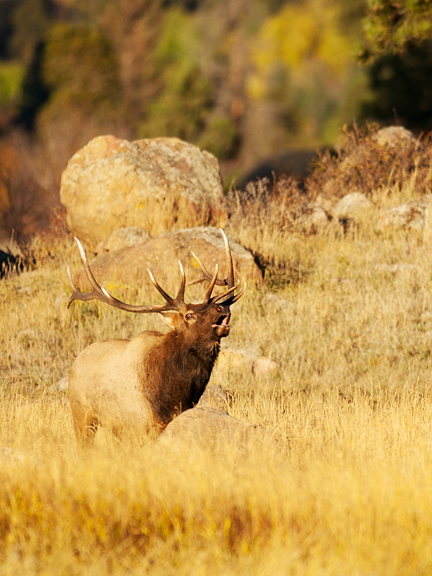 this guy bugles constantly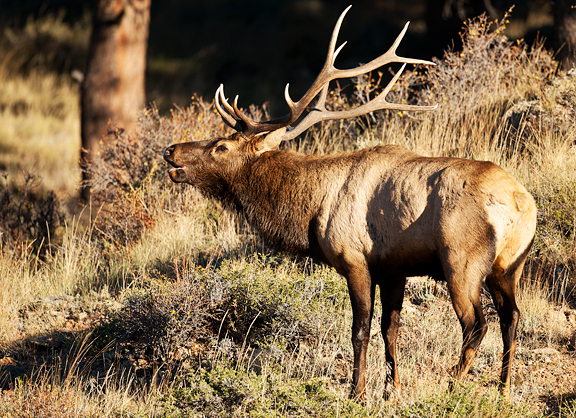 handsome fellow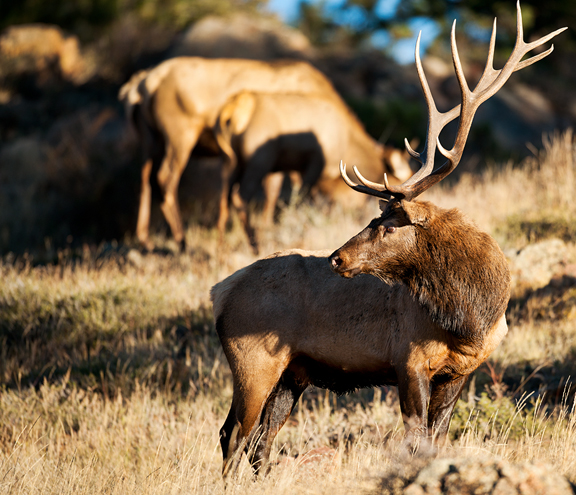 another bull elk chowing down on aspen bark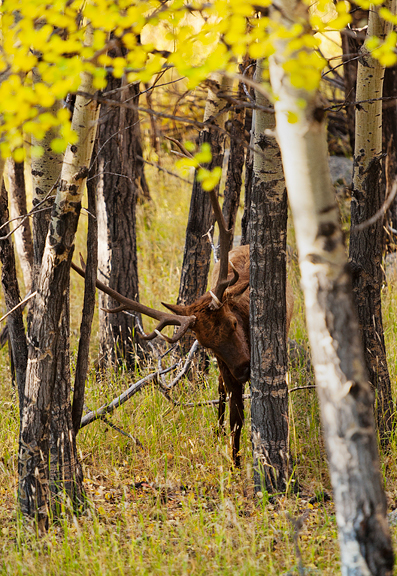 Whenever I set an alarm, I usually wake up five minutes before it goes off. But last night when my alarm sounded at 3 am for the total lunar eclipse, I was not awake, but in a deep slumber. I slunk out of bed and into warm clothes as Jeremy turned on his side and pulled the covers over his face. It's funny that the resident astrophysicist is the one who sleeps while I stumble outside to photograph the moon, the planets, the stars, the meteors. It was not to be. A uniform layer of high clouds stretched from every corner of the world above me and I debated whether or not to stay up in the hopes that it would clear. The radar and the forecasts told me to go back to bed, so I dutifully obeyed. At least I got some elk.
We are on our fifth or sixth oscillation between warm and cold weather since late summer. During the first cold snap, Jeremy and I were driving to Crested Butte in freezing rain and quickly failing daylight. We agreed to pick up dinner on the road and my stomach turned at all of the fast food options. Pulling into Frisco (near Breckenridge) we discovered a Whole Foods had opened this spring. I knew exactly what I wanted as I ran through driving rain and snow into the store – hot soup. Jeremy rarely knows what he wants to eat, but because we were short on time, I told him he was having soup. In the parking lot, spooning hot cioppino into our mouths, I felt warmth spreading from my tummy to my limbs and up the back of my neck. Jeremy kept making mmm mmm mmm sounds because he loves cioppino. Behind the steamy windows of our Subaru, I swore a silent oath to myself that I would find a good recipe for cioppino and make it at home.

fennel, leek, onion, garlic, carrots, celery, green pepper, parsley, crushed tomatoes, olive oil
dried basil, dried oregano, dried thyme, bay leaves, salt, pepper, cayenne, tomato paste, flour, butter, chardonnay, water
halibut filet, large sea scallops, medium sea scallops, crab meat, shrimp, clams
**Jump for more butter**