Friday, January 24th, 2014
Chinese New Year (or the Lunar New Year) is a week away! It will be the Year of the Horse, which is special because my sister was born in the Year of the Horse and would have been 48 this year. I'm busy cleaning the house, prepping special foods, and doing those things that are supposed to bring luck in the new year. Maybe you are a traditionalist or perhaps the lunar new year doesn't have any significance to you, but you want to make a celebratory meal or throw a Chinese-themed party. Either way, I've got a recipe round up for you!
traditional dishes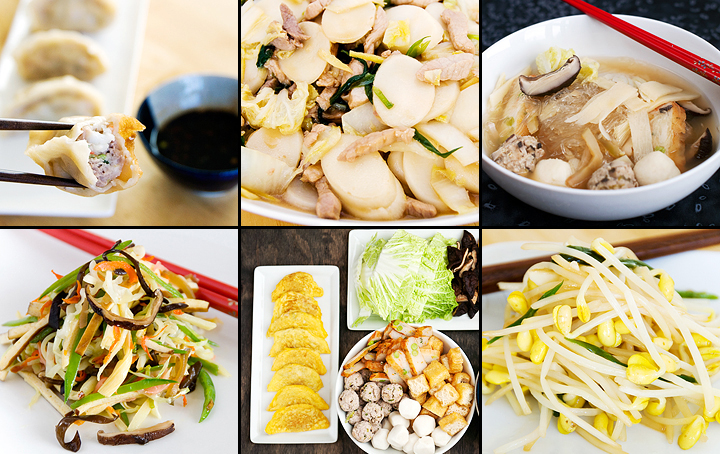 These are the dishes I make year after year. They symbolize luck, fortune, health, happiness, promotion.
Cellophane noodle soup: It's a big pot of goodies – sort of a catchall for lucky things. The cellophane noodles (bean thread noodles or glass noodles) represent long life – so for goodness' sake, DON'T CUT THE NOODLES. Meatballs and fish balls are round, which the Chinese like and their meaning is reunion.
Chinese dumplings and potstickers: Theoretically you are supposed to make dumplings (boiled or steamed), but I always make potstickers because I'm a crunch-junkie. My mom always told us that eating dumplings meant more money in the new year because they are shaped like gold ingots. Then I found out later that dumplings also symbolize having sons. I'm sticking with the money story.
Chinese egg dumplings: The Chinese have a thing for dumplings, because they are like purses, and purses hold money. These egg dumplings typically go in the cellophane noodle soup, but they are wonderful eaten on their own too.
Lucky ten ingredient vegetables: Lucky lucky lucky! Ten is a lucky number. Don't make this with nine or eleven ingredients – you'll screw up the new year! Also, don't use hollow vegetables (green onions, water spinach – these are hollow and bad luck). Tofu is okay, but no meat is allowed in the dish.
Stir-fried rice cakes: These rice cakes are sticky, chewy disks of rice flour. The name of the rice cake, nian gao, sounds like "higher year". Eating the rice cakes is good luck for a promotion or toward greater prosperity.
Stir-fried soybean sprouts: These are my favorite and plentiful in most Asian markets this time of year (because everyone wants luck!). Eating soybean sprouts (or bean sprouts in general) ensures a good start to the new year.
appetizers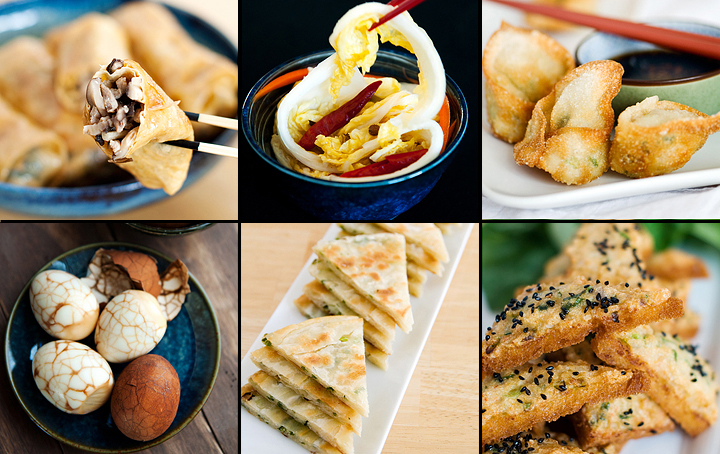 There's something you should know about tofu. It's a big deal.
Fu
is "luck" in Chinese. So tofu is pretty popular in the new year festivities because everyone wants lots of luck. The thing is, you shouldn't eat white tofu because white is bad – it's the color of mourning/death. That's bad luck. But don't fret, there are a bazillion ways to eat tofu: fried, dried, marinated, sheets, pressed.
Bean curd rolls: You can find bean curd sheets or tofu skin in Asian grocery stores. They are either dried or frozen. This tofu skin roll is filled with savory pork and vegetables, and then braised til soft. I order it at dim sum all the time.
Chinese tea eggs: Eggs represent fertility, but I just love the subtle flavor of the tea infusion as well as the delicate crackle pattern on the peeled egg.
Fried shrimp wontons: Terrific nibbles with the added bonus that shrimp symbolize happiness and good fortune.
Pickled Chinese cabbage: Served cold, this sweet, salty, sour, spicy, crunchy pickled cabbage wakes your mouth up in the best way possible. I could snack on a bowl of this all by myself. Cabbage means money, prosperity.
Scallion pancakes: One of the best savory snacks, ever. I'm not sure if it has any symbolism, but it's delicious!
Shrimp toast: More shrimp goodness (happiness and fortune).