Friday, August 14th, 2009

Recipe: rice with mushrooms, cuttlefish, and artichokes
I'm here, but I'm not really here – in all likelihood I'm someplace up in the Rocky Mountains as you read this. But that doesn't keep me from posting a Daring Cooks challenge because the challenge MUST BE MET (thanks to cron jobs).

daring cooks – ha cha!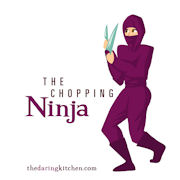 Let's get down to the nitty gritty here, shall we?
Our most revered and badass founders: Lis of
La Mia Cucina
and Ivonne of
Cream Puffs in Venice
.
Our beautiful host this month: Olga of
Olga's Recipes
.
The challenge: a delicious Spanish recipe, Rice with mushrooms, cuttlefish and artichokes by José Andrés.
The recipe is not paella, but it is similar to paella according to Olga. Either way, it is filled with a fantastic combination of fresh ingredients that are cooked into a hearty dish of traditional Spanish flavors. This post is going to be heavy on pictures and short on words… you're welcome.

trimming the artichokes
chopped onions, garlic, mushrooms, peppers, and tomatoes for the sofregit
**Jump for more butter**