Sunday, October 9th, 2016

Recipe: posole
Autumn in the mountains is a love affair with Indian Summer and early season winter snow storms. The trajectory of the sun across the sky incorporates a more horizontal component in the fall rather than shooting straight up high by 6 am in summer, which makes for cool morning trail runs that don't require sunblock. Chilly nights mean we welcome Neva snuggling between us on the bed, but daytime temperatures remain pleasant enough that windows and deck doors let mountain air flow gently through the house. If we're lucky, precipitation comes in frozen form. We were lucky this week.

we measured three inches at home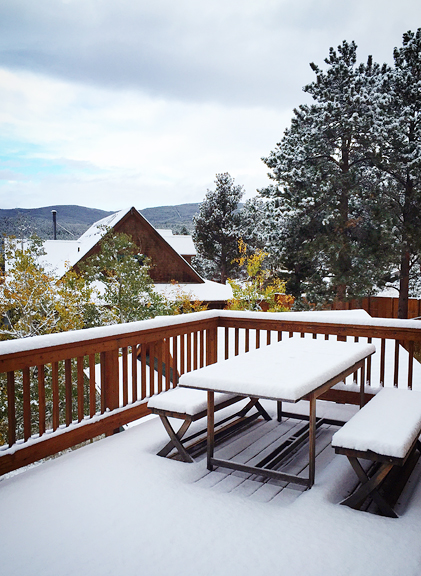 it got up to 6 inches in the backcountry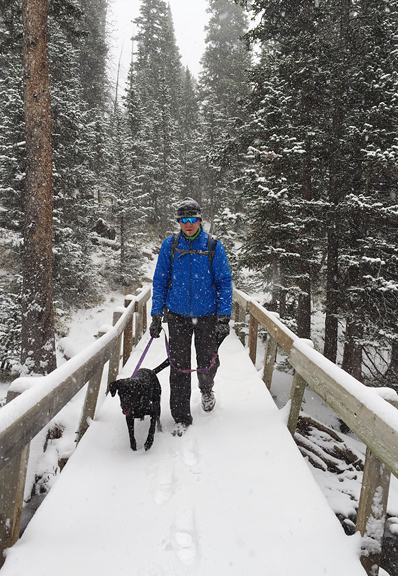 On our hike, Neva bounded and pounced in the snow for quite some time. I wonder what that little puppy brain remembers from last winter. She loves the snow so much, but does she understand that this happens each year or is every day a surprise for her? I suspect the latter. We saw a moose at one of the lakes, running away from us or the crazy windy horizontal snow, or both. Neva lost her mind, but she was leashed (this is why we keep her on a leash!), so she lost her mind in a 6 foot radius around Jeremy. She gets really excited when she sees horses, moose, elk, deer, cattle, people, grass blowing in the wind… pretty much anything. You can see the short video on
my Instagram
and hear Neva crying like a nut at the end.
But within 24 hours, the sun was back and the snow in town had melted away. Our local trails are crunchy underfoot with brown and yellow leaves that used to adorn the aspen trees above. The smell of autumn hangs on the air – musty and a little sweet. It smells wise to me, like it knows something that we don't. Now is a good time to process photos from the fall shoot, because the majesty of autumn in the mountains is so fleeting that I sometimes forget what I saw.

sunset on the beckwith mountains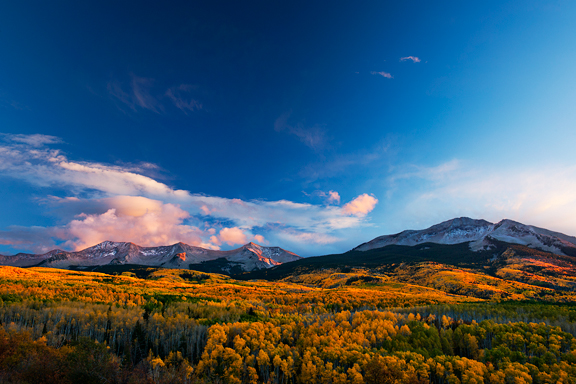 aspen leaves light up in the sun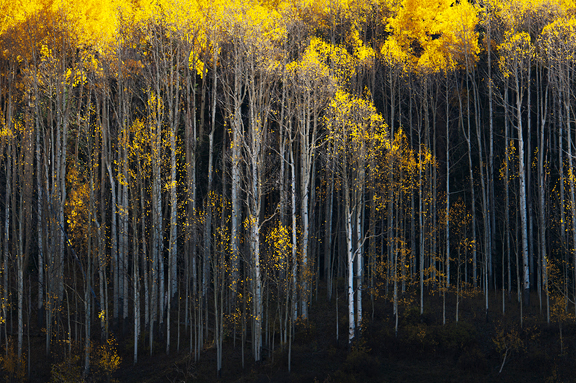 I recently went through our chest freezer to take inventory of what has been lurking deep in the corners all year. I didn't roast any green chiles at the end of this summer because I knew I had several bags adrift in the freezer sea as well as a new shipment of several pounds of gorgeous roasted red and green chiles from
The Hatch Chile Store
in New Mexico. Well, let's just say we are going to be having a lot of green chile dishes this winter, which is perfect because one of my favorites is posole.
a pound of diced green chiles (skinned and seeded)
hominy, limes, garlic, green chiles, pork shoulder, dried new mexico red chiles, salt, oregano
This recipe, which I believe my mother-in-law gave me years ago, was posted way back in the day such that I felt it needed an update – especially since I now use my pressure cooker! I've doubled the recipe in the photos here, but the written recipe below is for a single batch. If you love posole, you'll want to double it, for sure. I list instructions for both conventional stove top cooking and pressure cooker (you can also use a crock pot/slow cooker). If you don't concern yourself with steps like de-fatting the broth or starting with dried hominy, this is relatively quick and easy to make. I include those steps, too – but they are all optional. While I had planned (and prefer) to make posole from dried hominy, I couldn't find it in the three grocery stores I checked in Boulder – so ultimately I had to go with canned.
There are several bags of dried New Mexico red chiles in my pantry. Much like the state of my chest freezer, the chiles have not been properly labeled or organized. I grabbed the best looking whole chiles and discovered later that these were from the bag of HOT chiles. Use what heat level suits your tastes. I typically work with medium chiles because hot can be a bit too spicy for Jeremy and I find mild to be boring. A quick rinse with water renders the chile pods pliable so that you can lop off the stems and scrape out the seeds.

scraping the seeds from the chile pods
mincing garlic
**Jump for more butter**