Sunday, April 19th, 2020

Recipe: cauliflower karaage
We're in the middle of our sixth week of self-isolation and no one has gone off the deep end yet. Colorado's governor recommended wearing face masks in public places a few weeks back, so I consulted with my mother-in-law on patterns (she and her quilting pals have been sewing a bazillion to donate to health care workers!) and sewed a couple for us. Because elastic and other materials for making masks are in short supply right now, I made due with what scraps of elastic and pipe cleaners I had. The Olson mask pattern (https://www.craftpassion.com/face-mask-sewing-pattern/) took me forever on the first two, because I'm a shitty sewist and I had to learn what various terms and techniques were, and discover parts of my sewing machine I never knew existed. Jeremy's mom said sewing in progressive assembly is much faster and my next ten definitely went faster. Then I tried a modified version of a pleated mask (second version here: https://www.youtube.com/watch?v=bCCtGq6maw8) which I think I like better. I plan to make a mashup of the two designs to optimize fit and fabric use.

my first two olson masks with nose pieces and filter pockets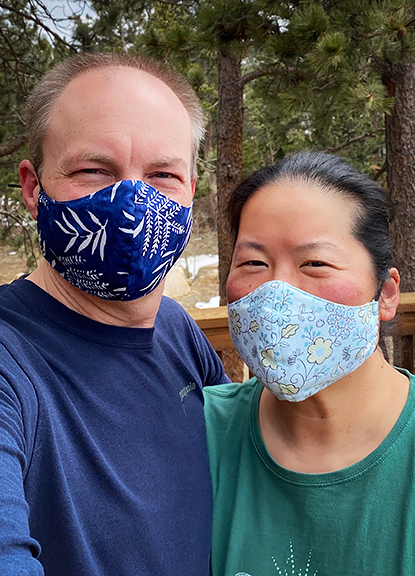 my next ten to donate or exchange for a donation to the recipient's local food bank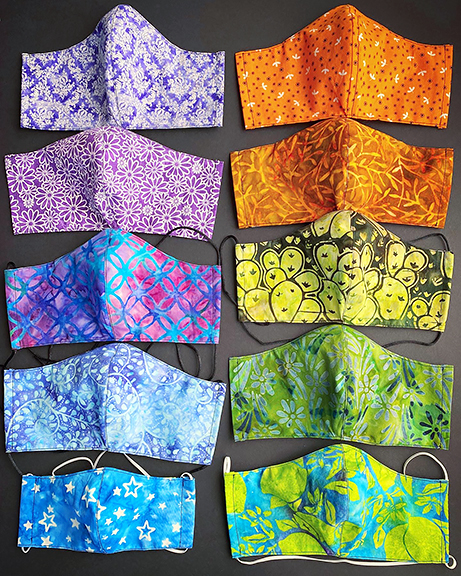 pleated version (with nose pieces and filter pockets)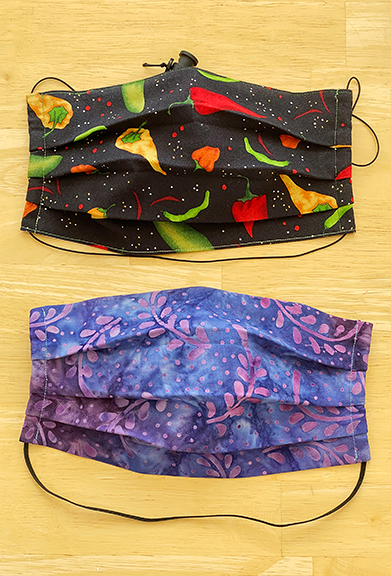 Our neck of the woods has enjoyed a string of cold, snowy storms between stretches of gorgeous sunny days. Instead of wishing for more powder days or wishing for clear trails, we roll with it and try to enjoy whatever the atmosphere has to offer. It's wonderful. All of our skiing is human-powered these days and I am loving it.
deliciously snowy views under a bright spring sun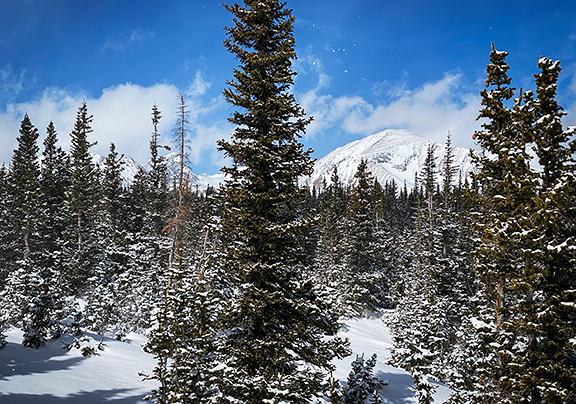 skinning up through the trees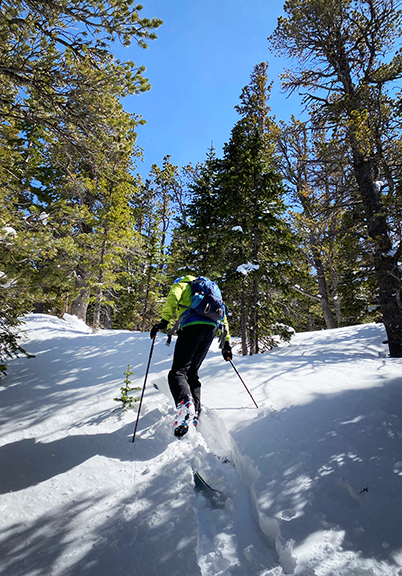 neva and yuki love barreling through the deep snow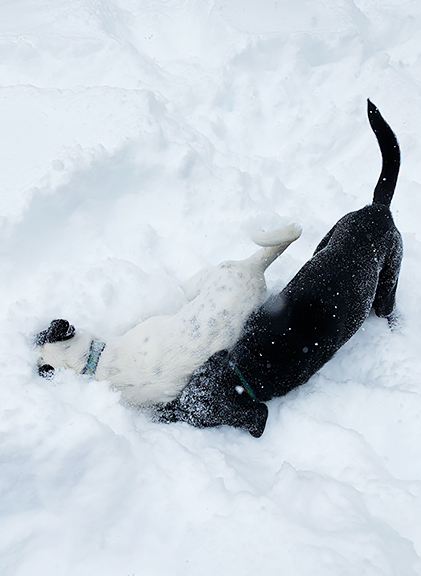 powder day wrestlemania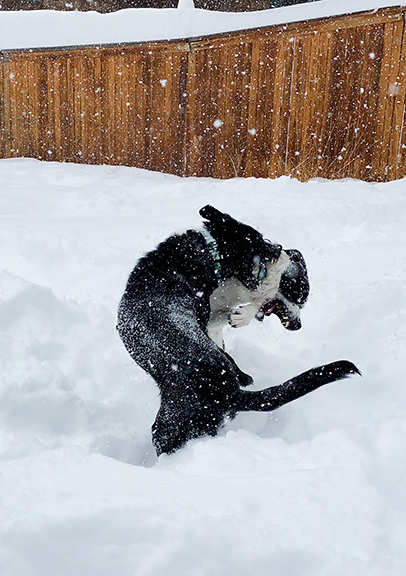 Our new backpacking tent arrived in the mail this week and we set it up in the living room for a trial run (to make extra sure we want to hike into the backcountry with Wingus and Dingus and sleep in a confined space with them). It's spacious enough to fit all of us in theory, but in practice we are going to have to tell the dogs where to sleep. Our overnight resulted in Yuki hogging the center of the tent and Neva restlessly resettling herself all night on our legs because she was too scared to snuggle up against Yuki. We'll figure it out!
curious pups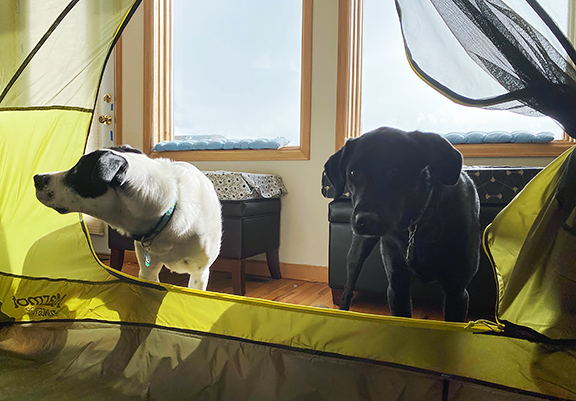 they decided they liked it well enough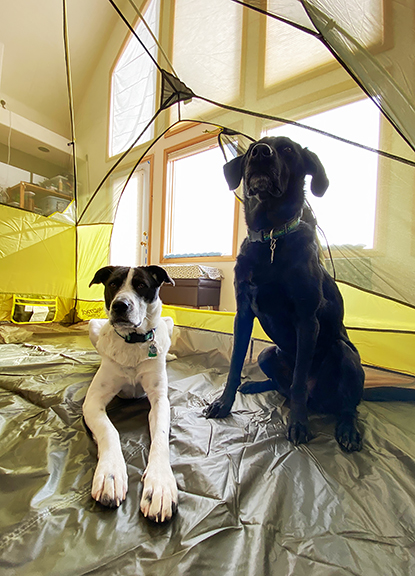 At the start of the shelter-at-home order, we went to town for groceries once a week. None of the stores had established good protocols yet. We found it quite stressful to wait in crowded lines next to people who were coughing and close-talking and acting like everything was fine. Businesses eventually implemented good practices (some faster than others) to streamline the process while we quickly figured out how to reduce to bi-monthly trips. Aside from planning our menu and having a good inventory of our food, I use the more perishable produce the first week, and prepare produce that has a longer shelf life (in the refrigerator or in the dark, cool basement) for the second week. Sometimes cooking vegetables that are on their way out will buy you a few more days in the refrigerator.
Cauliflower, like most vegetables in the Brassica family, can last in the refrigerator for more than a week. Sometimes it will start to get light brown spots, but those are fine. You can scrape or cut the brown parts off, or eat them. The browning is due to oxidation. If the spots turn dark or black and the flesh becomes soft, you are looking at rot. For small sections, cut them away. If the entire head or floret has succumbed, then it's time to send the cauliflower into the compost. But let's say your cauliflower is just fine. There are so many ways to enjoy this nutritious and high-fiber vegetable. I recently tried it as karaage cauliflower.

potato starch, cauliflower, garlic, ginger, sugar, sake, and soy sauce
This is the same recipe that I use for
chicken karaage
but without the honey sriracha sauce. I really love the subtle nutty-earthy-slightly-bitter-and-sweet flavor of cauliflower and didn't want to mask or overpower it with sriracha. I wasn't convinced that the marinade would come through, but it does so nicely. To make the recipe gluten-free, just substitute tamari for the soy sauce.
grate the fresh ginger
stir the soy sauce, sake, and sugar with the ginger
toss with the cauliflower and marinate for 30 minutes
**Jump for more butter**