Ooh! Kell turned the artichoke dip recipe (hello everyone, I have to tell you that it isn't MY recipe… I got it from the Etiquette Grrls web site a long time back) into PASTA. What a brilliant girl! She has inspired me to consider making something akin to a savory baklava, but more like spanikopita… I figure we'll layer the phyllo dough the way you do in baklava (lots of layers) rather than the way you do in spanikopita (one giant filling in the middle). The filling will be coarsely ground artichokes, pine nuts, parmesan cheese, garlic paste and…??? It may very well suck, but I doubt it.
This evening we reviewed Japango, a sushi bar in Boulder. Sushi is great in summer (it's great anytime, really). There are a lot of sushi bars for the size of Boulder, which says something about the population here – they love sushi. The trick is filtering out which ones are lousy and which ones are great.

japango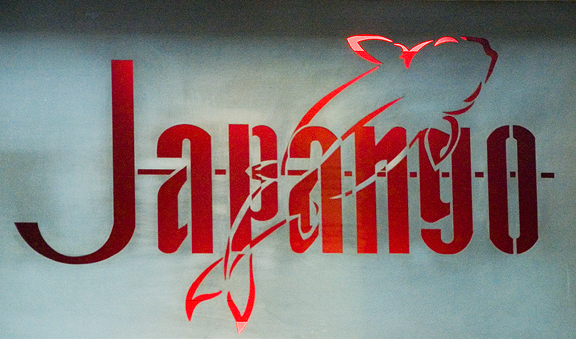 Japango can be found on Boulder's Pearl Street Pedestrian Mall. The interior decor is more modern than Japanese. The bar seats about a dozen and there are several tables for patrons as well. When we went, the music playing was easily categorized as Annoying 80s Pop. Our chef was polite, quiet, skillful, but… no Fumitosan. The service from the wait staff was fine. We managed to hit the Sunday happy hour (5:00 – 6:30 pm). This was our first sushi bar review because sushi is hard to compare to standard restaurants and because we're spoiled rotten from dining at the best sushi joint in Los Angeles for over a dozen years.
the bar was more than half full during sunday happy hour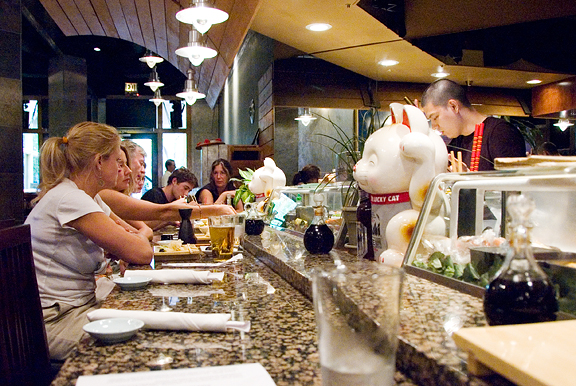 The hostess seated us at the bar and a waiter promptly delivered two oshiburi (hot towels) and a small complimentary bowl of edamame (given during happy hour). The pods were lightly salted and the beans were sweet. Perusing the menu we noted a large selection of vegetarian and non-vegetarian fare. The kitchen items offered a vast selection of japanese with a modern twist. Ordering a token item from the appetizers, we promptly moved on to examine the sushi menu. We took our time.
edamame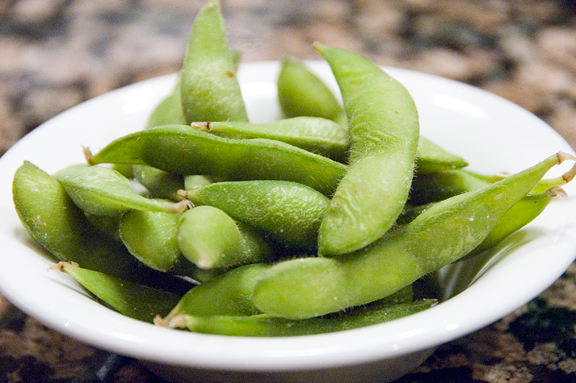 It's hard to balance what you want to try with what you think is a good standard to measure a sushi bar by (not that we would know…). One thing I've observed over the years (and have been informed of from chefs and Japaniacs alike) is that sushi in Japan is very traditional, sushi in California has more creativity and zing, and now – sushi in Boulder is like sushi on crack. It's got more sweet, spicy, salty, fried, mayo'd combinations than you can shake a stick at. It's good, but it's a tad overwhelming. Our chef started us with some seaweed, cucumber, and random sashimi bits salad with our wasabi and gari on the geta.
seaweed and cucumber salad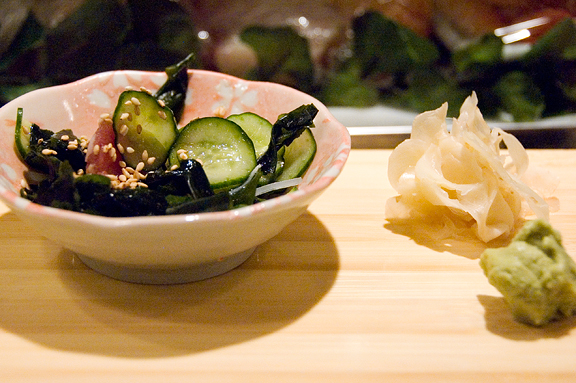 Our order from the kitchen was atsuage tofu ($4.50) because I thought we should try something new. Next time, I will stick with the old – my preferred agedashi tofu. The atsuage is a deep-fried and then grilled tofu drizzled with soy sauce and ginger. I was underwhelmed. The texture was alright, but the flavor was barely there. I like tofu. I'm Chinese. I have eaten many forms of tofu. This dish did little to stir the tastebuds.
atsuage tofu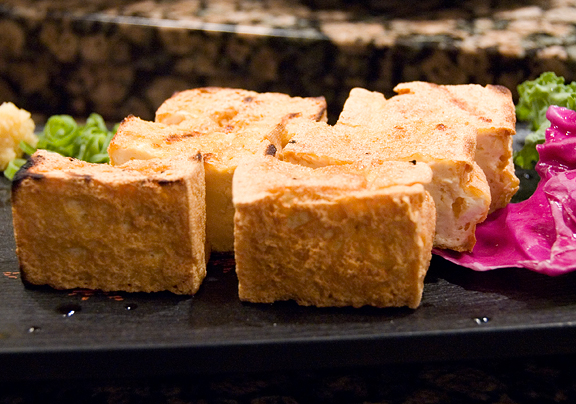 Assortments are a great way to get an overview sampling of what a sushi bar has to offer. But the standard sashimi or sushi assortments are disasterous, in my opinion. These are sometimes pre-sliced for convenience because it is a very popular order (much like California rolls). The Sashimi Utopia ($25) is an assortment that is the chef's choice. This not only ensured fresher choices, but also tested the creativity of the chef. A bowl of miso soup came with the order. Jeremy said it was fine.
In the martini cup was more of the seaweed salad, topped with a quail egg. We got hamachi, albacore tuna, seared tuna, saba, tamago, a type of white fish, and a heavenly roll made with crab, avocado, tuna, masago, and wrapped in cucumber. The tamago was different from what I am used to. Usually the egg is mixed with seasonings and fish. Here, the fishy ingredients were in the center and surrounded by egg – delicious. Our chef torched the saba (mackerel) and tamago before serving. All of the fish was good and fresh. The hamachi was decent, but hardly the melt-in-your-mouth standard we were accustomed to at Ai in South Pasadena. The presentation was lovely.

sashimi utopia: chef's choice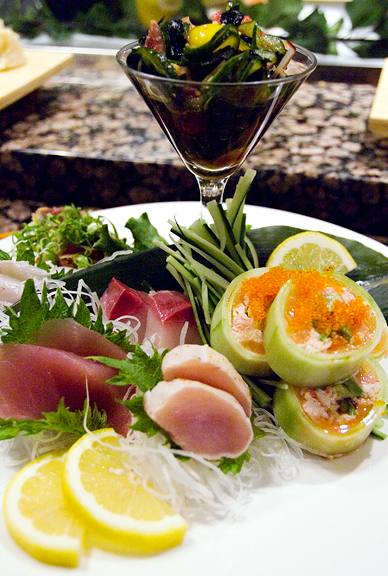 I knew we were ordering a lot of food when the Washington DC roll ($7.80) arrived as we began our sushi utopia. The DC roll is a softshell crab roll with asparagus, gobo (burdock root), avocado, cucumber, japanese mayo, masago (flying fish roe), and shizo (green leaf). The whole roll was drizzled in the sweet kabayaki sauce usually served over unagi or anago (eel). The portions offered on the cut rolls are generous. We both liked the DC roll – what many places call the Spider roll.
washington dc roll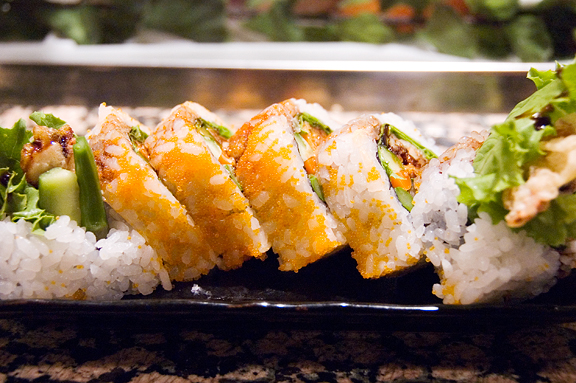 The Japango roll ($6.70) is slightly smaller than the DC roll. It is a combination of spicy shrimp, tempura, and avocado, topped with masago. This was an underwhelming roll for me. I didn't think it was that spicy and the mix of tempura was not nearly as satisfying as something that had been tempura fried. It was an okay roll and it didn't taste bad per se. Just personal preference, but not something I would order again.
japango roll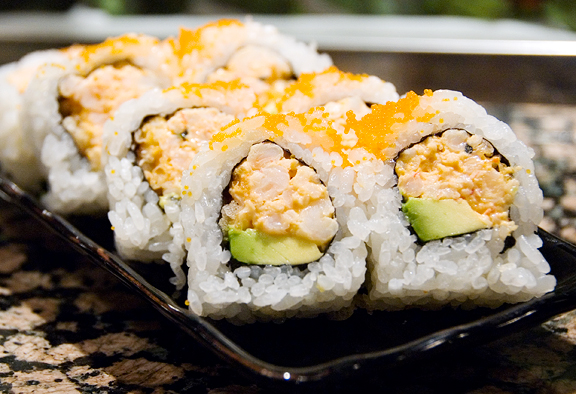 The Las Vegas roll ($9.50) was by far the most intriguing of the selection. It has apple and grapes, which is something I've never tried before. They also manage to cram in masago, gobo, avocado, asparagus, yellowtail, tuna, salmon, and shrimp. I can't honestly tell you if all of the fish got in there or not. The roll is then tempura fried and served with a vat of kabayaki sauce. I wasn't sure about the sweet fruit, but the Vegas roll turned out to be one of my favorites. I don't think it is worth $9.50, but I did like it.
By now, other patrons had been seated near us and we saw why Japango's handrolls are so cheap (at least during happy hour). There is little to them – very spartan. I think the cut rolls are the big deal. The handrolls are rice, the ingredient, and that's pretty much it. Sometimes cucumber or avocado to accompany. I like my handrolls bursting with vegetables, roe, fish, and rice.

las vegas roll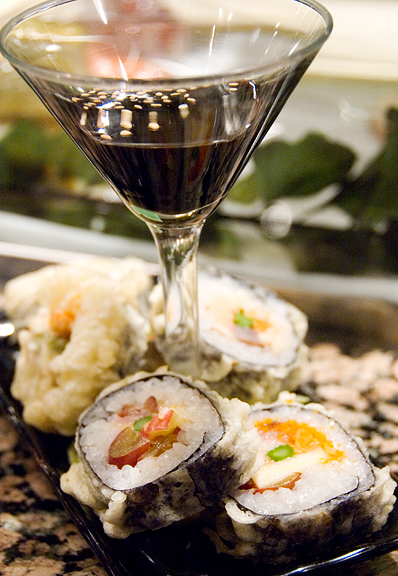 We ordered too much. The Boulder roll ($6.80) packs albacore tuna, avocado, and cucumber in seaweed, rice, and tops it off with anago (bbq eel) and kabayaki sauce. The roll was tasty and one thing I noticed is that our chef packed in a good deal of fish in every cut roll he made. This one was good to try and in my opinion, the best deal.
boulder roll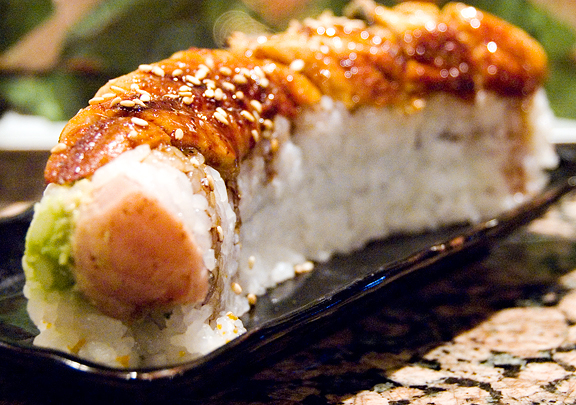 Too full for dessert, I figured ama ebi (sweet shrimp) ($5.95) would be a good ending. The shrimp ngiri was sweet and tender. Very fresh. The heads were enormous, and come to you fried. Every place I've been, the fried heads were done with minimal batter. These heads were overly battered for my tastes.
ama ebi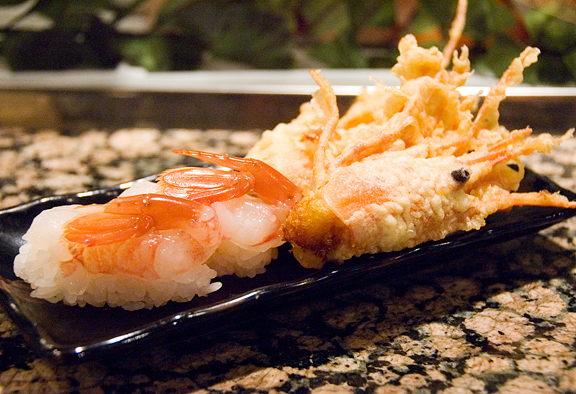 Overall, I think Japango serves up a good deal for the money you pay. It is not going to be an authentic Japanese experience (or even come close to it), but the food is good. The atmosphere is more of a young urban hipster ambiance than a sushi bar. Oh, and my lemonade ($1.75) and water were re-filled regularly.
Japango
1136 Pearl St.
Boulder, CO 80302
303.938.0330
June 18, 2006
Sushi/Japanese
$87 including tax (not tip) for 2 diners
Rating: 83/100 (B)