Two weeks ago, Erin and I had exchanged emails about their celebration venue and the weather. She said that it was unfortunately, forecasting rain. I promised her that 15 days out means very little and that it could very well change 180. Indeed, by the following week it changed from rain to just overcast. Then Saturday morning, we discovered that Seattle was going to deliver full on sun with a few Simpsons style clouds for extra pretty in the mix. The weather was incredible. In fact, every time we've been to Seattle, we have enjoyed sunny and gorgeous weather. Not too hot either – low 70s. *gushing*
What do you call this event… a celebration really says it. It wasn't a commitment ceremony as I had thought because Erin and Caroline exchanged rings the week before in the Olympic Mountains and made their promises to one another in a very private ceremony (just them and their photographer friend).
Jeremy and I generally loathe weddings, but this – this we felt we had to go to for two reasons… okay three reasons. 1) We absolutely adore both Erin and Caroline because they are not only loving and generous, but they stand for many things we believe in 2) it's in freaking SEATTLE (LOVE IT!) and 3) we wanted to support this union because we knew some people had issues with the lesbian relationship.
But the fact that about 100 friends and family came to support these two incredible women spoke volumes about the love felt by all. Oh, I'm jumping ahead of myself here.
Jeremy and I arrived an hour early to discuss some logistics and to photograph the family when they arrived. Olympic Sculpture Park was the perfect setting with a view of the Puget Sound and the Olympic Peninsula to the west, tons of large sculptures scattered about the lovely grounds, and a glass pavilion where the reception took place. Cocktails and appetizers were served on the patio. I talked some shop with the head of catering and was totally impressed with their work (all local and organic – incredible food).

oh ho ho mojitos!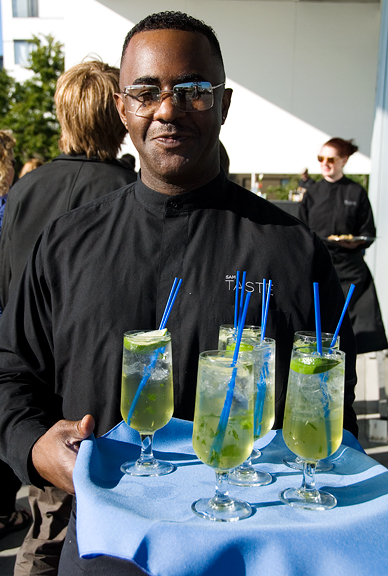 Erin and Caroline are two classy ladies. They have terrific taste, but understated and always tied in some way to nature in a respectful yet carefree way. OSP was a culmination of art, nature, curiosity, and play. They also paid to offset all of the carbon emissions associated with guests traveling to the celebration. So cool!
table assignments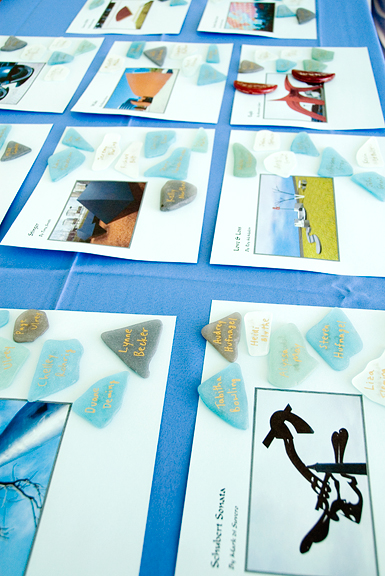 a spread of cupcakes looks more appetizing than a wedding cake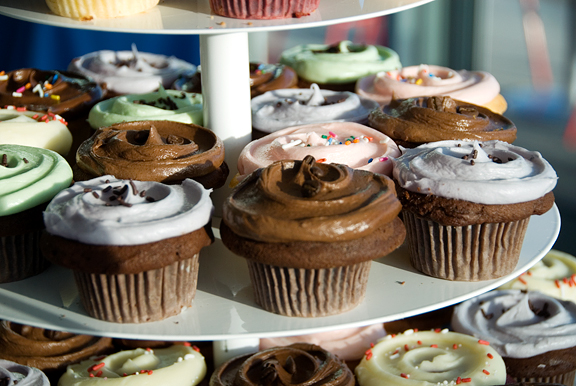 caroline's two-year old twin nephews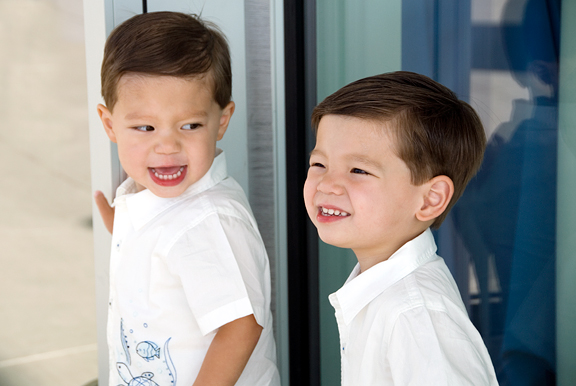 The sun was bright. I don't think it has been this bright in Seattle since the Cretaceous, but I tried my best with family group shots. Thankfully the sun began to diffuse a little behind this thin veil of clouds around 7:45 when we did the entire group shot. Sunset was at 9:11, so no chance of waiting until then.
erin and caroline after the group photo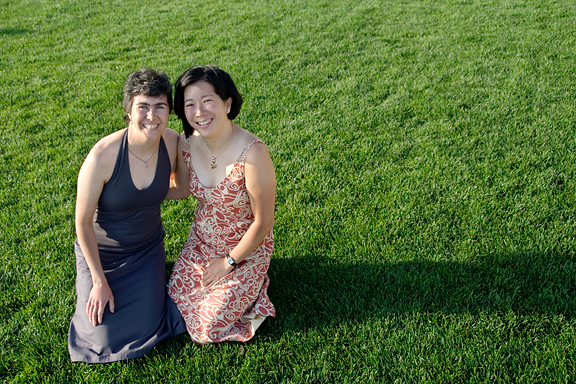 walking back to the pavilion: dig caroline's racer back tan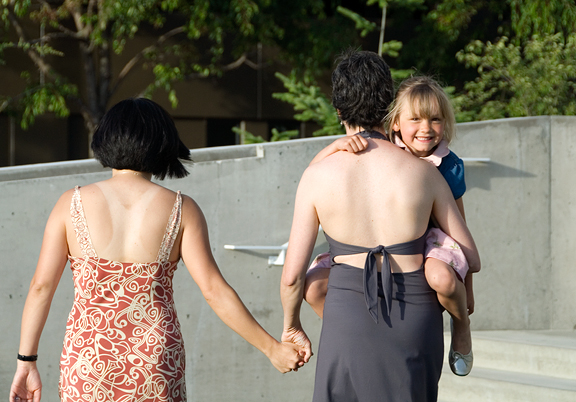 thanking their friend for the secular blessing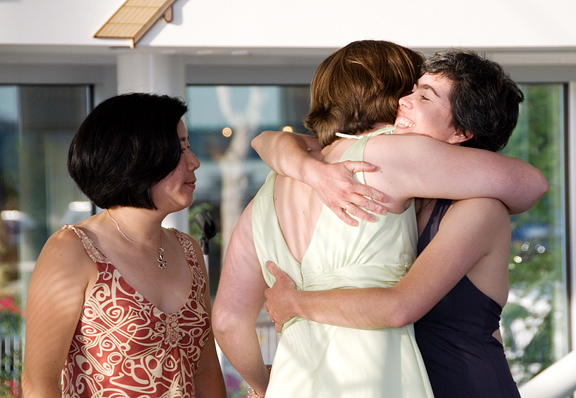 Luckily, we also sat at a table with Chris (whom we met in Boulder when she and Erin came to a friend's wedding) and got to meet her partner, Jen. We are quite fond of those two. They live in Bellingham in the woods/mountains and are a vibrant and intelligent pair of women – hilarious too. Sometimes you just click with the right people and you feel as if you've made friends for life. I also got to meet the parents. Caroline's mom asked me if my husband is Taiwanese and Caroline said, "No Mom, Jeremy is over there," and pointed in the distance to where Jeremy was having his third cup of delectable organic coffee. Her mom said, "Oh! I thought he was your assistant!" and we all started laughing. Jeremy, my assistant? Never. He is my enabler. He may do things like set strobes and prep the kitchen, but he isn't my assistant or sous chef – he's most definitely my enabler.
sunset over puget sound, venus graces the festivities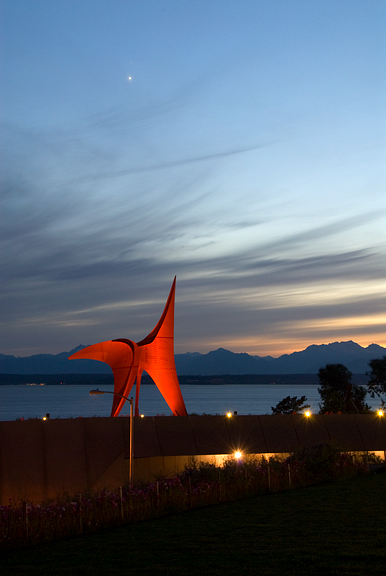 i wish you both every happiness