Recipe: argentine empanadas
Four weeks in Argentina as a field assistant on a GPS campaign is enough to know when you are in love with a cuisine. The Argentines know how to cook (they're all Italians, for crying out loud) and dance and drink and smoke and drive like maniacs and look beautiful. I have some favorite foods from what we sampled in restaurants, from the grocery stores, and in the homes of so many kind hosts. The best part was the asados – argentine barbecues that literally had 7-8 courses of MEAT. First we start with morcillas (blood sausages) and chinchulines (organ meat sausages) and then various cuts of beef like lomo and bife de chorizo at the end. You work yourself up to the best cuts, but of course by then I was drunk from all of the flowing red wine and probably had colon cancer to boot. I also loved the morning dose of dulce de leche on tortas warmed over the parilla in camp in the morning.

a sliver of the moon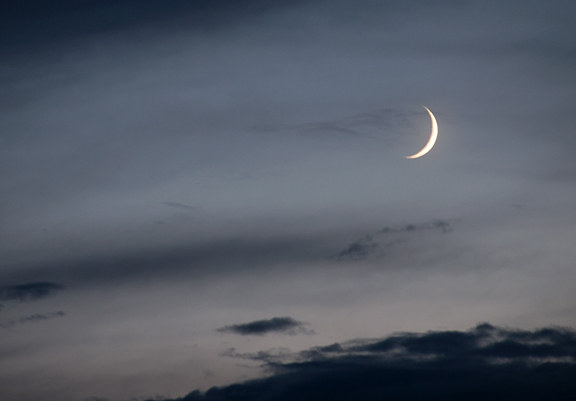 And then there were the empanadas. I know many countries have their versions of empanadas and let me just state right here that I don't care for the Chilean rendition of an empanada, no matter how nice their people are. Becky and I were driving outside of Mendoza with the picturesque, snowy Andes as our backdrop when we finally came upon a small town. Nothing was open. It was siesta and we were starving with only 30 minutes to stop for food before we had to head to the next site to set up and make camp. Becky walked into a restaurant where two women were quietly talking over the remains of their lunch. She asked if the owner was around and one of them said, "Oh, he's asleep – I'll go wake him for you." The proprieter came out drowsy-eyed and asked what Becky would like. He deep fried some fresh empanadas and tossed a dozen into a brown paper bag.
Un peso.
Becky gave him three. When she hopped into the truck and tossed me the bag, it was burning hot and oily. Those empanadas were pure heaven to eat. Tiny, golden, hot, and delicious. It wasn't a one time thing either. Everywhere I went in Argentina, the empanadas were sheer pleasure.
I found this recipe in Saveur years ago and held on to the article because it's all about Argentina. I've posted it before for Sheri, but I never tried it myself until today. I wasn't planning on baking anything, except that when I looked around at all of the sweet things in the house, I had no appetite. I like savory and for some reason I thought of empanadas. I had what I needed.
The recipe is pretty straightforward and simple. I omitted raisins in the filling because I never really liked them and most of the best empanadas I had didn't have them either (although it is indeed, authentic). I also omitted the bell pepper because I didn't have one.

an easy buttery dough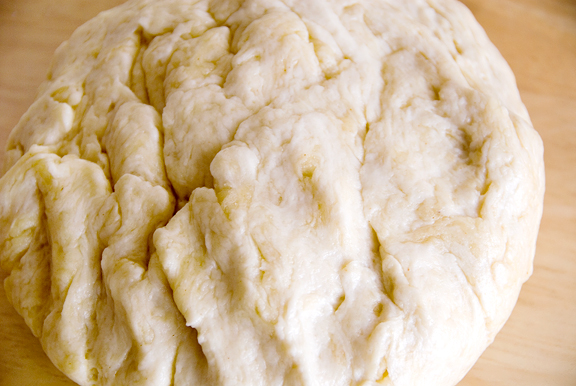 filling: beef, potatoes, onions, egg, scallions, olives, spices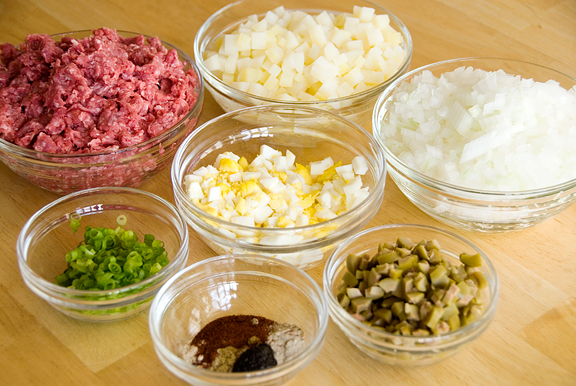 mixing the scallions, egg, olives, and potatoes into the cooked beef, onions, and spices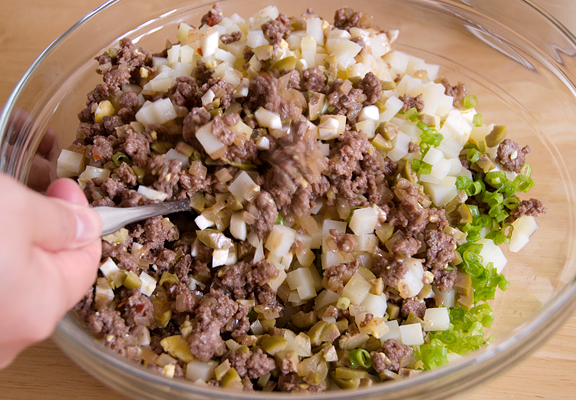 The dough is super easy to make, but requires a couple of hours for refrigeration. You definitely won't want to skip that step or else you'll have a gooey mess and, if you're anything like me, a lot of swearing. The prep for the filling requires a little time to boil the eggs and potato. Just do your mise en place and it will be a lot less hectic. I subbed beef bouillon for the chicken bouillon and instead of diced beef shoulder I used organic ground beef – just what was handy at the time. The recipe said to divvy up the dough into about 12 golf ball sized rounds. I had 26 rounds and still about 20% leftover filling.
roll the rounds into 5-inch discs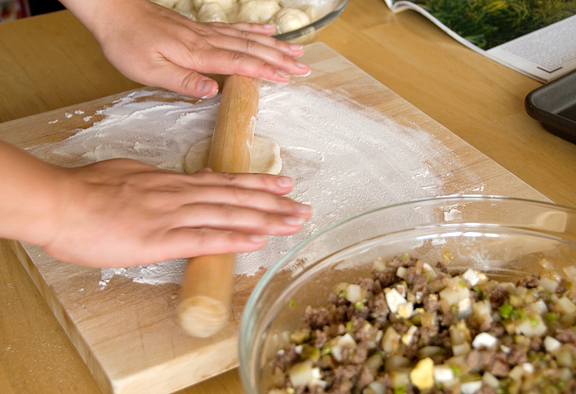 add a heaping spoonful of filling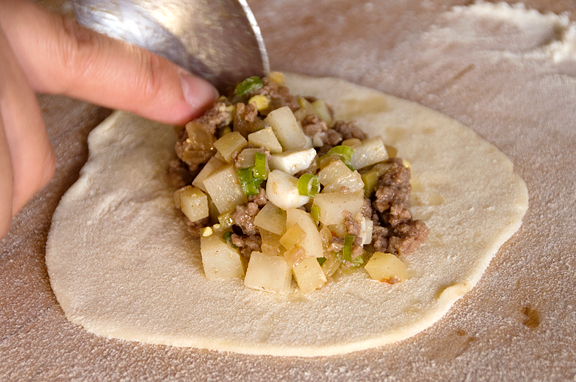 fold the dough over and rope pinch the edges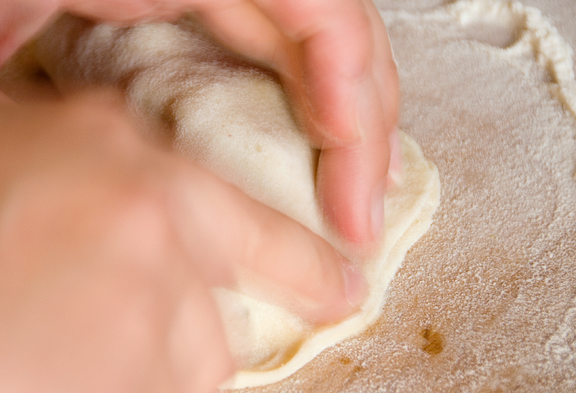 ready for baking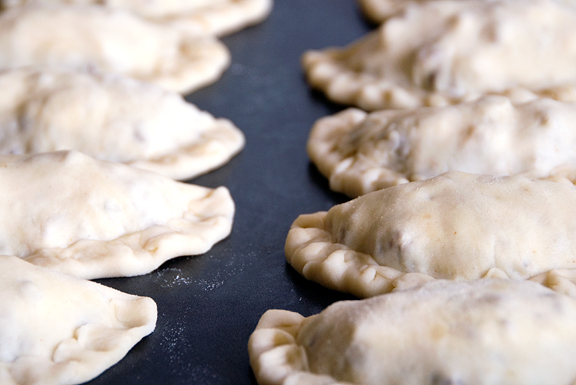 They baked up very nicely considering they were baked and not deep fried. I alway have this struggle between authentic recipes and slightly more healthy versions. For instance, true empanadas are deep fried in lard. In fact, the recipe calls for lard, but I used butter which in some odd way seems healthier? Maybe not. I just can't bring myself to purchase a block of lard – not yet anyway. The filling is flavorful and spicy, but not chemical hot spicy because Argentines fear spicy. You should have seen the Argentine grad students during our annual chili cookoff…
argentine empanadas with a fruity shiraz
que rico!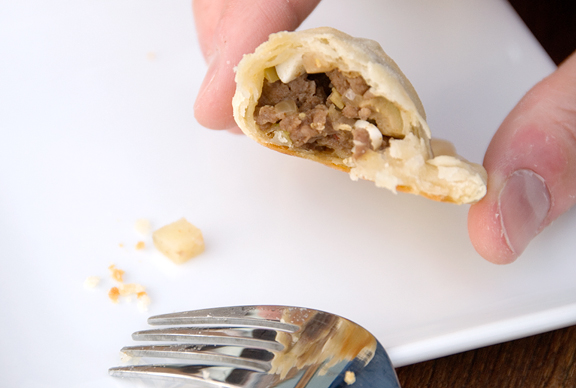 Empanadas
[print recipe]
from Saveur May/June 1999 #35
dough
1 cup water
3/4 cup lard (I used butter)
2 3/4 cups flour
2 tsp salt
pinch paprika
filling
3 tbsp olive oil
1 small yellow onion, peeled and minced
1/2 small red bell pepper, cored, seeded, and finely diced (I omitted)
1/2 chicken bouillon cube (I used beef bouillon paste)
1/2 tsp paprika
1/2 tsp red pepper flakes
1/2 tsp ground white pepper
1/2 tsp ground cumin
3/4 lb. boneless beef shoulder, finely diced (I used ground beef)
salt
1 small russet potato, peeled, finely diced, and boiled (I used 2 yukon golds)
1/3 cup raisins (I omitted)
8 green Spanish olives, pitted and chopped
3 scallions, trimmed and chopped
1 hard-boiled egg, peeled and chopped
For the dough: heat water and lard (butter) in a medium saucepan over medium heat until lard (butter) has melted. Mix flour and salt in a large mixing bowl and make a well in the center and sprinkle a pinch of paprika in the well. Pour a little of the warm liquid in and stir with fingertips to make a wet paste. Pour in remaining liquid and work the flour into the dough with your hand until you get a wet, oily dough. Wrap the dough in plastic and refrigerate for at least 2 hours.
For the filling: Heat oil in a large skillet over medium heat and cook the onions, bell peppers (omitted), bouillon, paprika, red pepper flakes, white pepper, and cumin, and cook until onions are soft. Add beef, season to taste with salt, and cook until beef is browned. Place filling in a large bowl and when cooled, add potatoes, raisins (omitted), olives, scallions, and egg. Mix.
Preheat oven to 400F. Tear off pieces of dough to roll about 12 (24) golf-sized balls. Using a rolling pin, roll out dough balls on lightly floured surface into 5-inch circles. Place 3 tbsp of filling in the center of each dough circle. Fold over and press edges firmly to seal. Rope pinch the edges tightly. Place empanadas on cookie sheet and bake until golden brown, 15-20 minutes. Makes one or two dozen (depending on the size you make).