Recipe: beet salad
I love beets. I mean *love* beets. I rarely think to cook them since Jeremy is the limiting factor on the range of foods we eat (he's getting better – you should have seen him at the tender age of 19 when we met). But while I was walking through Whole Foods the other day, I was dazzled by their produce section. That's why they put it right in front of the doors – so parrots like me will make a beeline for the rows of beautiful produce stacked perfectly enough to make you forget you are paying Way Too Much. I always find it amusing (or downright aggravating, take your pick) that we pay extra money for foods without chemicals and other things that Monsanto likes to add to our foods. Where was I, oh yes, in the beets aisle. I grabbed a bunch of gold and regular beets.
I'm a beet novice and didn't realize you could cook the greens too. By the time I read about this wonderful use for the tops, I had already sent them to the compost bin in my over-eagerness to cook and clean up at the same time. Damn me.

topless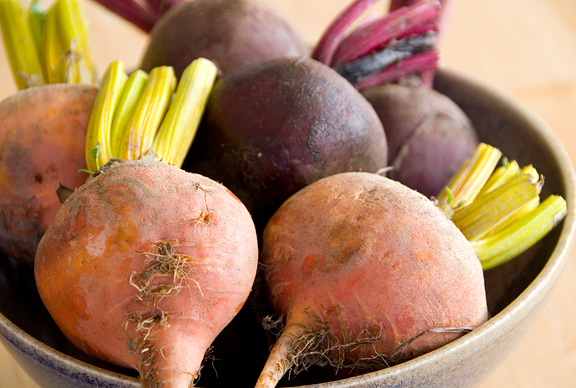 Some instructions suggested peeling the beets while others left the skin on. I peeled them. Here's a neat tip: don't wear a white anything while peeling red beets. I cut them into eighths, wrapped the pretties in foil and popped the mess into the oven.
naked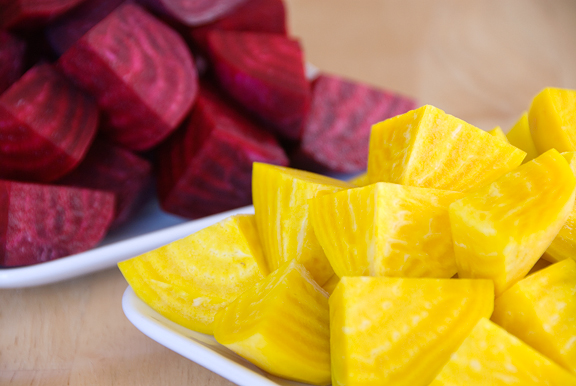 Surprisingly, Jeremy enjoyed the salad. That was pretty delish. I finished the salad this afternoon for my lunch. I forgot about the reminder that you've eaten beets when you visit the loo. Sort of like asparagus revisited with that pungent odor of asparagus pee – except beet poop is very startling and usually prompts me to gasp and say, "I have colon cancer!" Isn't food science fascinating?! Love it.
dressed up
Modest Beet Salad
[print recipe]
4 beets, peeled and cut into 8ths
2 oranges, segmented
2 oz. goat cheese
wild greens (as much as you like)
1/3 cup balsamic vinegar
1 clove garlic, mashed to hell
salt
pepper
1 tsp sugar
2/3 cup olive oil
garlicky croutons (optional)
Roast the beets in a sealed foil packet at 400F for 40 minutes. Remove from oven and let sit sealed for another 10 minutes. Remove from foil. Spread the beets, oranges, and crumbled goat cheese over the greens. In a bowl, whisk together the vinegar, garlic, salt, pepper, and sugar. While whisking, slowly drizzle in the oil to make an emulsion. Dress the salad and serve. I like to add some crunchy, garlicky homemade croutons.