When Kell asked me what I would want for a last meal, sushi was my immediate answer. I love sushi – California style. That is, not in the traditional Japanese sense only because I haven't been exposed to the traditional except in New Zealand (go figure). The Chinese are notorious for bastardizing sushi by dousing it with Sriracha and then dunking it in wasabi with a dash of soy sauce. *raises hand – guilty*
Jeremy and I had it good for almost a decade. We had a favorite sushi bar Ai, in South Pasadena. Fumito is the head chef there and he not only treated us to the best sushi, but he became our friend – teaching us to distinguish Good from Bad, sushi. When we moved to Colorado we discovered a handful of decent sushi joints in Boulder, but… price and quality just couldn't compare to So Cal. They just can't. We'll dine out for sushi on occasion in town, but we will more likely make our own at home.
I have a favorite roll from Ai, the Not-So-Special Roll. Fumito has a Special Roll on the menu which is spicy tuna and spicy scallop with avocado, masago, and sometimes cucumber or daikon sprouts all crammed into a cut roll wrapped in halibut… or maybe snapper? I can't recall because the Not-So-Special Roll omitted the outside fish (just because it got to be incredibly filling). That was my brain child and Fumito was happy to oblige. And that is what we create at home when we start to miss Fumito and all of the regulars at the sushi bar – except Hector and Eddie, those two made me laugh so hard I almost snorted my drink out my nose.
After spending the morning prepping our doors for the winter onslaught and then noodling around the hardware store for Things That Don't Exist, we swung by Whole Foods to pick up some sea critters. We started with scallop carpaccio, something akin to a small plate I enjoyed with Kell and Jerad at Fish Face in Sydney (awesome place to eat if you're ever there). I am a sucker for ponzu.

scallop carpaccio with ponzu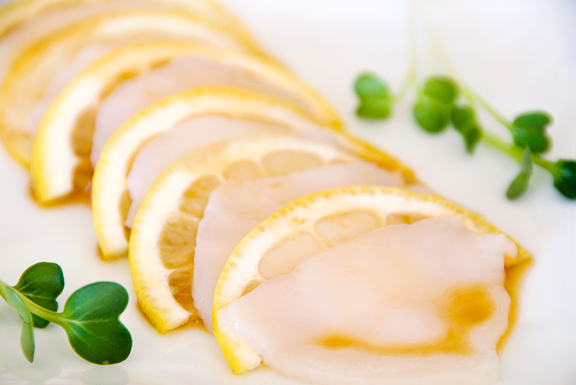 I prepped the sashimi, spicy tuna, and spicy scallop while Jeremy mixed the sushi rice. In a tribute to Fumito, Jeremy made a couple of Not-So-Special rolls. I wrapped a few handrolls and before we knew it, we could barely move from the table for the state of food coma we were falling into.
sake and maguro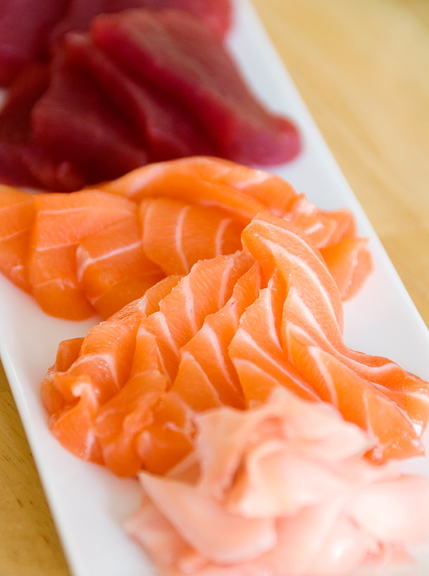 temaki-zushi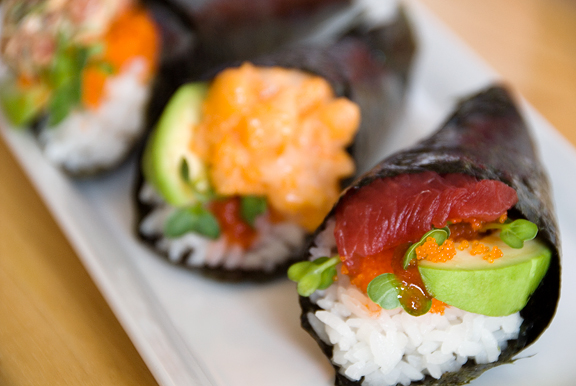 not-so-special #1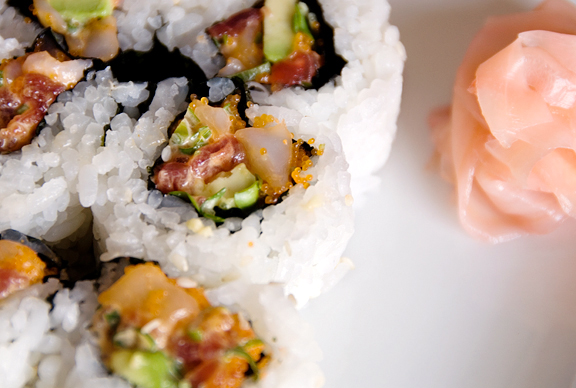 not-so-special #2