Recipe: braised napa cabbage with mushrooms
This morning I was working on a blogging event project and thought making meringues would be a nice component to my creation. It would also be a good way to use up some egg whites leftover from making (far too much) ice cream. Color is as important here as texture, and my intention was to have a white topper. Well… damn it, Donna. I love Donna Hay's books because the pictures are beautiful and white and – and why the hell doesn't that meringue recipe of hers ever come out white? I suppose I should reduce the heat? Or maybe try a different recipe (hers includes vinegar and cornstarch – probably for stability)?

i want a white meringue, not tan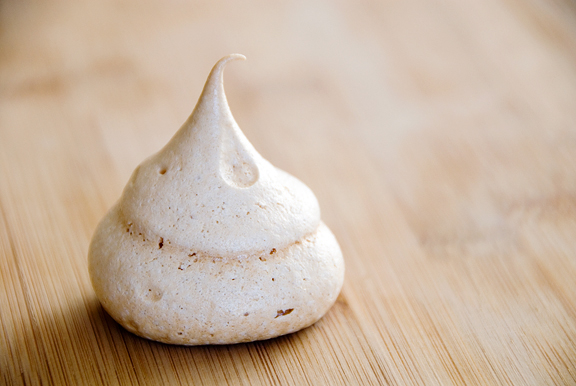 So much for that and now we move to plan B. That would be B for Boulder. I went into town to meet with my friend for lunch. Before I left, I grabbed some petits fours and meringues to unload on her since we have far too many sweets in the house and we'll be out of town over the weekend. At the restaurant, Beth wanted to take a peek at the petits fours before lunch arrived, so she pulled them out of the bag and unwrapped them from the foil. The woman at the neighboring table gushed over them while Beth couldn't help sampling one. Beth is such a sweetheart that she turned to the woman and offered her one. Our neighbor split it with her dining companion. Everyone enjoyed the tiny morsels and I think this is one of the main reasons I love to cook. Sure, the creativity and love of food is a driving force, but I don't think I would cook much if I couldn't share it with people and see that it brought them some sort of joy. I look at food as a gift – something that I create and (try to) make beautiful and give for the purpose of feeding and bringing delight. It's very personal. It's incredibly gratifying.
This evening I tried a recipe for otsu that I found on Herbivoracious last week. It just looked so good that I have had it on the brain, following me around for a week. It's awesome. Perhaps better suited for a warmer season than Colorado's high country in October, but I love it and so did Jeremy. I added sprouts and omitted tofu (because I didn't have any). Thanks for a great dish, Michael!

delicious otsu (sesame soba noodles)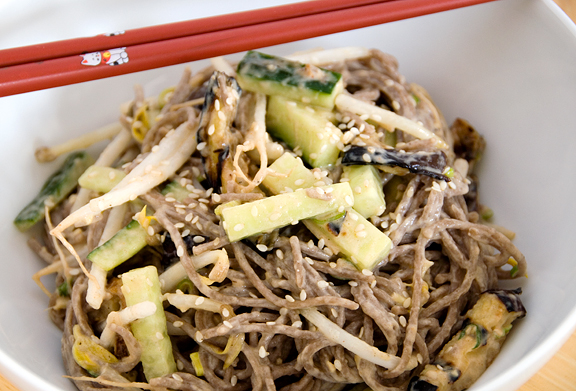 Ever since I took my pastry skills course (my reward for defending my doctorate) this spring, I noticed that several of my dessert experiments have grown into multi-component plates. Because of that, our refrigerator and freezer are filled with random mousses, ice creams, pastry cream, buttercreams of all flavors, chiffon cakes, fruit purées, soaking syrups, nut pastes, chocolate glazes, ganache, doughs, and anything else that goes into, onto, or around a dessert. I wonder if Jeremy thinks this is a Good or Bad thing… Well, tonight I figure he's chalking one up for Good because I served him a little trio of tiny bites from various projects in progress.
chocolate-hazelnut petit four, chocolate ice cream, strawberry mousse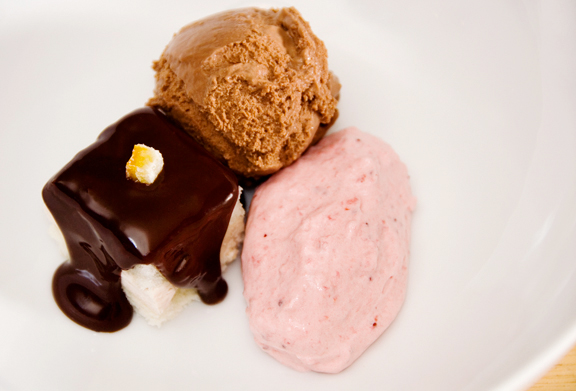 I don't know why I love small servings so much, but it's becoming an obsession. And I'm already forgetting how much I hate to make petits fours glacés. I guess they represent a complete bite of a nice cake in a lovely little package – they look like presents.
Okay, enough yammering. I do have an actual recipe to share. It's a modest one – something you will likely find in a Chinese home rather than a restaurant. I rarely use an entire head of Napa cabbage for any single recipe and this is a good way to finish it off.

napa leaves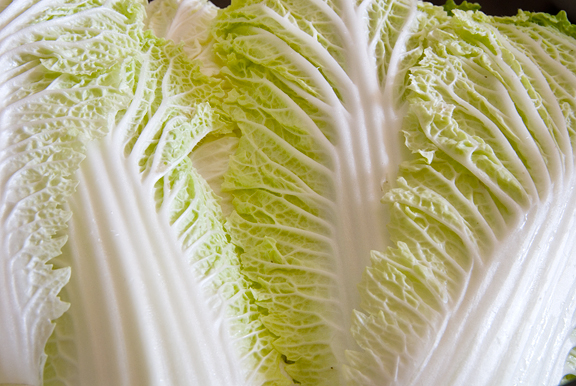 chopped leaves and slices shitake mushrooms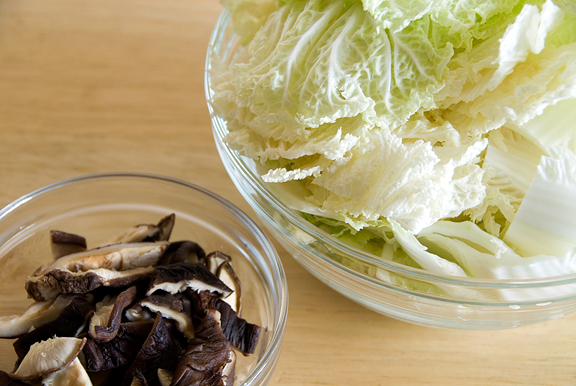 I like this dish in cooler months because the sauce retains heat pretty well. The flavor is mild and pairs nicely with any other Chinese dish. It's a flexible recipe too, because you can add all sorts of ingredients to it as you see fit.
first sauté the cabbage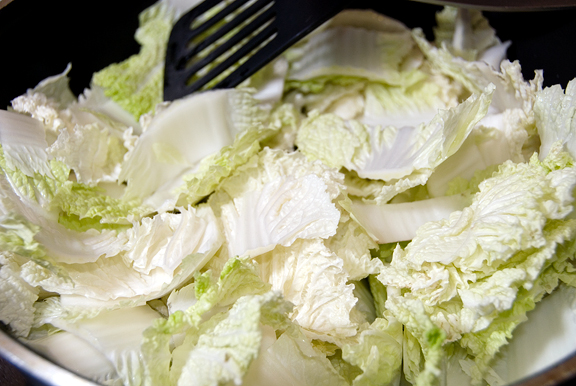 add shao xing and some broth (chicken or otherwise)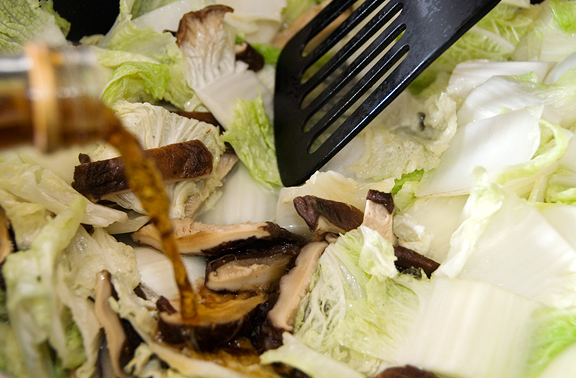 I didn't know what braising was until this year. I had heard of it, but I wasn't sure what the process was. Turns out braising is a common step in many Chinese dishes and I've done it a lot. How embarrassing. I guess you would call this dish braised Napa cabbage?
a nice light side dish
Braised Napa Cabbage with Mushrooms
[print recipe]
1/2 head (or more) Napa cabbage
1-2 cups shitake mushrooms, sliced
2 tbsp vegetable oil
1 cup chicken broth (or vegetable broth)
3 tbsp Shao Xing (Chinese cooking sherry)
1 tsp salt (or to taste)
1 tbsp cornstarch
3 tbsp water
Cut the base of the cabbage head and peel off the leaves (they shrink in volume to 1/2 of original). Wash the leaves thoroughly and chop into 2-inch pieces. Rehydrate mushrooms (if they are dehydrated) and rinse clean of sand and grit. Remove stems and slice thick. Heat oil in a large frying pan on high flame. When oil is hot, add cabbage and sauté until wilted. Toss in mushrooms and broth. When broth begins to boil, reduce to simmer and partially cover until the cabbage is completely cooked. Mix the cornstarch and water together. Remove the lid and add the cornstarch mixture and the sherry. Stir and let the sauce return to a boil. Serve hot.