Recipe: tamales, new mexico style
There is a certain class of food that makes its way across cultures. It involves taking some sort of starch and wrapping it around another ingredient or ingredients, cooking it, and passing into bliss as you eat it. These foods are best when homemade and I have made it one of my many small missions in life to learn to make each of these before I die.
So far, I have managed Chinese potstickers, Argentine empanadas, and as of today, tamales. Others on the todo list include, but are not limited to: samosas, ravioli, tsa-tsao bao (Chinese bbq pork buns), tsong-tse (think Chinese rice tamales). If you can think of other delicious homemade delicacies that I'm overlooking, be sure to let me know!
My whole motivation for making carne adovada a few days ago was to ultimately try my hand at homemade tamales. On our road trip back home from New Mexico a few weeks back, I procured some corn husks along with those beloved dried New Mexican reds. I'm sure I could have found them locally in Colorado if I had looked, but that's the thing about where I live – you have to LOOK pretty hard to find certain ethnic foods and it makes me insane. I hate shopping. I like cooking.

corn husks, to lovingly wrap that tamale goodness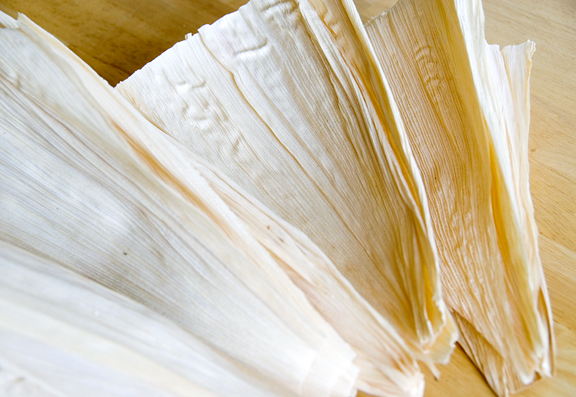 I soaked the corn husks in hot water for 30 minutes. The ones on top floated above waterline, so I weighed them down with a pot lid to ensure they were all softened. Per the instructions on the recipe, I rinsed the husks after they soaked because there was some silk and dirt that still clung to them. I prepped my masa while the husks were soaking. Totally easy, really. Just remember to give it a quick manual mix before turning on the Kitchenaid paddle or else you'll get a big blop of oil, water, and masa jumping the work bowl like I did.
stir to a soft cookie dough consistency
I made my
carne adovada
earlier so I wouldn't make myself insane trying to cook everything in one day. I thank myself from a few days back for this flash of consideration.
oh nellie, i love me some shredded pork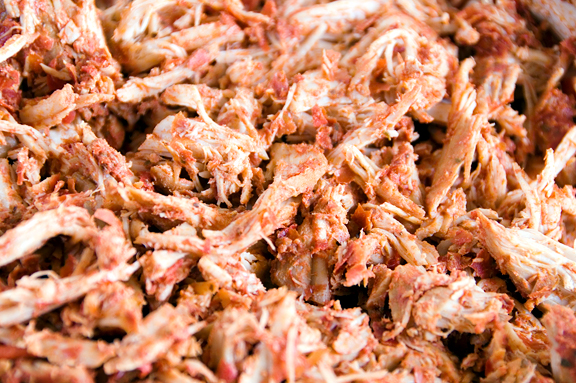 It took me a couple of hours to make 2 dozen tamales. I'm probably much faster now that I know what I'm doing! The whole point is to have a layer of masa and encase it around some of the filling, and wrap it nicely in the husks and secure the husks shut so they don't fall apart when you cook them. Sounds easy enough.
smoothing out the masa
set some filling down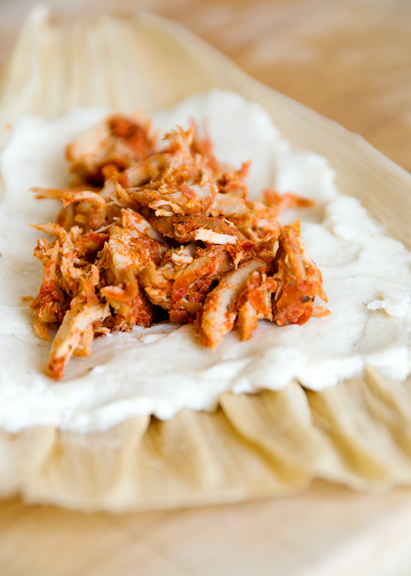 The folding was the trickiest part. There are several ways to fold a tamale. Consider the husk, which is wide at the top and tapers down to a point at the bottom. You can fold the sides in and the skinny end up and tie around the middle, or you can fold the sides in and pull the skinny end up so it's even with the top and tie it off at the top, or you can do what I did – the tootsie roll style where you tie it off on both ends. String or twine is good for tying off. I used strips of corn husk which looks nice and authentic, but will make you swear like a sailor when they break (a lot). I'm not a very delicate individual, so perhaps that was my problem (among others).
when you fold the sides, you want at least an inch of overlap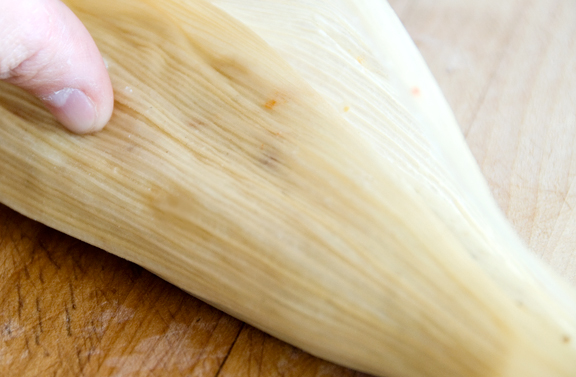 tying the ends securely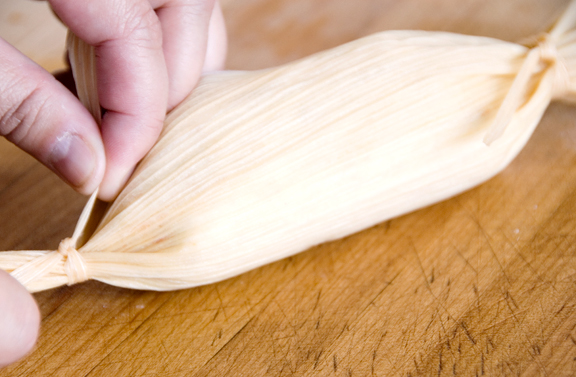 The husks can be pretty sturdy, as in, they don't bunch together nicely on the wide end. I found pinching the cinch point in helped a lot while I was trying to tie the ends off. Now the recipe I used called for 1 1/2 pounds of pork for the filling, but I wound up using about 3 pounds of my carne adovada which matched the dough recipe they provide. I think their math is just a tad off, but I'll discuss that in the recipe below.
now they are ready for steaming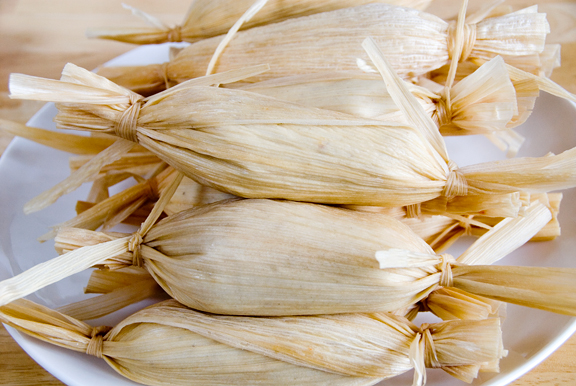 I steamed the tamales for an hour. You need to cook them until the masa holds together firmly and pulls away from the husk easily. Meanwhile, kids were beginning to come by the house for their Halloween looting festival. I love Halloween – what other holiday do people actively go out in hordes to buy candy for the sole purpose of giving it away to all of the children who come by their house?! Love it.
I would have shot the tamales last night, except we were stuffing our faces and manning the door for trick-or-treaters. Mmmm, homemade is GOOD. The resident native-son-of-New-Mexico gave it the thumbs up, and he says it wasn't just because we are married…

serve hot with some red or green sauce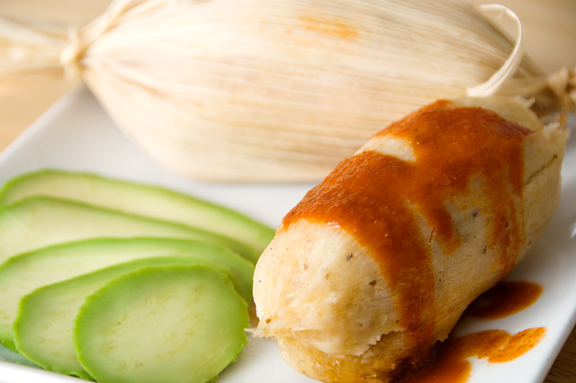 even better in cross section
Carne Adovada Tamales
[print recipe]
adapted from The Border Cookbook's Red Chile Pork Tamales, Nuevo Mexico Style
3 lbs. of carne adovada, shredded
approximately 6 oz. or 24 dried corn husks
red or green chile sauce (optional)
dough
6 cups masa harina
1 2/3 cups vegetable oil
5 cups water
2 tsps salt
Cover the husks with boiling hot water in a large bowl. Cover the bowl and let sit for 30 minutes. Meanwhile, prepare the dough. In a large bowl, combine all dough ingredients and mix by hand or use paddle attachment on stand mixer and stir until smooth. Should resemble a moist cookie dough. Separate the husks and rinse them off as needed to remove any grit or brown silks. Keep them covered with water until you are ready to use each one.
*Now the recipe says to use 2 tablespoons of filling and 2 tablespoons of masa to make a 4 ounce tamale. Unfortunately that doesn't add up to 4 ounces AND it's an incredibly tiny tamale. So I suggest you do what I did…
To assemble: Place corn husk on work surface and spoon two heaping spoonfuls (something like 6 tablespoons or more) of the dough onto the husk. Some husks will be too small, so you can overlap two smaller ones and treat it as one. Spread dough evenly over the husk, but not to the edges. If you choose to tie both ends, leave about 2 inches of margin at the top and bottom. Line some filling in the center. I put more at the wide end of the husk and less at the narrower end. Then fold the husk's sides in so that the dough meets. Here is where I press the dough together with the husk sides and use my fingers to press the dough on the ends so they encase the filling completely. I'm sure the pros don't do it this way, but I'm OCD. Fold the husk's sides so one overlaps the other and then tie off the ends with string or strips of rejected corn husks. Repeat ad nauseum.
Place the tamales in a steamer, packing loosely in crisscross direction or standing them on end. Allow enough space between them for the steam to rise effectively. Cover the pot and cook over simmering water for 1 hour to 1 hour and 15 minutes until masa is firm and no longer sticks to the husk. Serve warm (remove the husks before eating).