When I saw my grandma at Elena's house a few weekends ago, she made some interesting Chinese dishes. I was familiar with all of the ingredients except for one. She called it a Chinese potato (or a Japanese potato). I thought, "What on Earth could a Chinese potato be?" Well, she showed me, and prepped it, and I ate it – it's delicious!
On our drive home, we passed through Super H Mart where I used that matching function in my brain – the one that says, "this image in your head is the same as that image before you now". I found the potatoes! They were labeled as Japanese potatoes. Upon some quick research, I found that these are in fact called Okinawan Sweet Potatoes.

i think they look more like sweet potatoes than potatoes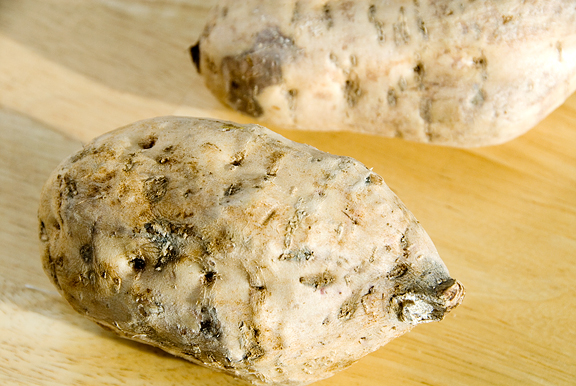 I must confess something… my obsession with these sweet potatoes has little to do with the flavor and far more to do with the appearance. You see, these unassuming tubers are purple on the inside. Have a looksee.
what a surprise, no?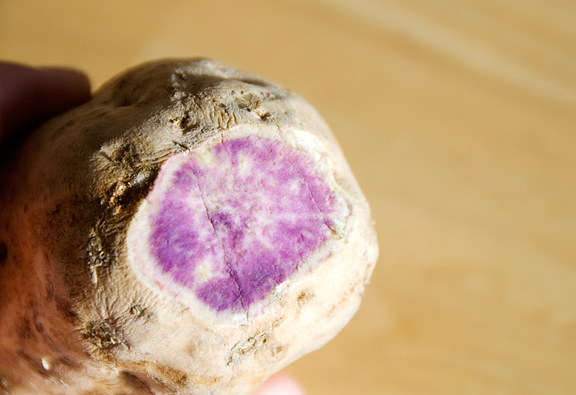 I had to try it out for myself. It's part of my redemption for not being able to read Chinese. My mom's reaction was, "Haven't you ever had that before?" And this is why I choose to document everything – because between my mom and Grandma, there are a gazillion recipes and foods that I don't know about. I'm not sure if it's generational or not, but they always seem surprised that 1) I just discovered something they grew up eating and 2) I didn't know it existed beforehand. Honestly, their reaction is a combination of amusement and disbelief at my lifelong ignorance.
Mom said I could boil or steam the potatoes. Grandma prepared them steamed with these lovely Chinese ribs on top. My web research came up with sweet potato pie (a purple pie!) and tempura sweet potato (purple tempura!) and mashed sweet potatoes (purple mashed sweet potatoes!) and sweet potato gratin (purple sweet potato gratin!) and… you get the point. Since I only dared to buy two for fear of screwing up a recipe and wasting food, I thought I'd just peel, boil, slice, and try them straight. The water turned blue.

as pretty to behold as they are tasty to eat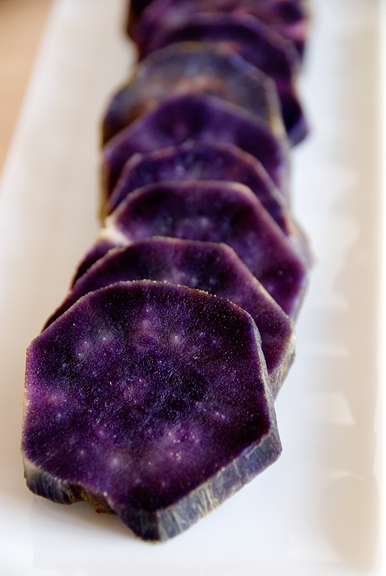 These sweet potatoes are good for you. I read they are full of vitamins A, B6, and C. They taste like… sweet potatoes,
but they are purple!
Purple!
I just love that.

purple!