Recipe: lemon mousseline torte
Like I said earlier, my in-laws were visiting this weekend and there was much cooking going on at our house. It was my MIL's birthday on Sunday, so I thought I'd bake a cake in celebration. My FIL is a huge fan of chocolate – one of those types who won't actually eat desserts that don't have chocolate. My MIL likes chocolate, but she loves custards, citrus, fruits, and other non-chocolate desserts too. It was a good excuse to make a non-chocolate dessert. Ever since I completed my pastry course this past spring, my MIL has been wanting to bake with me to learn some techniques and a recipe. I chose the Lemon Mousseline Torte because I never actually made it in class (my partner and I made the Zebra Torte for that lesson).
I altered the recipe slightly because we didn't have time to make the pâte sucrée cookie base. The lemon chiffon cake had a terrifically lemony-tart flavor. I used a 9×2 inch round pan, but one day would like to get my hands on a pair of 9×3 inch rounds because the chiffons rise beautifully in those pans, allowing for more or thicker layers from each cake.

brushing the first layer with limoncello simple syrup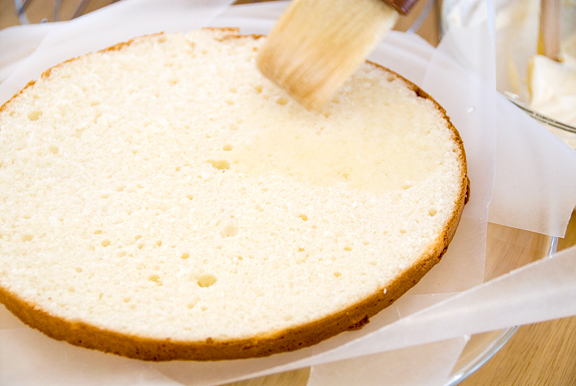 In the original recipe, the instructions say to lay the pâte sucrée base and spread one layer of orange marmalade on it and then stack the cake layers. In this version, I just spread orange marmalade on each cake layer after the soaking syrup had been applied.
spread a thin layer of orange marmalade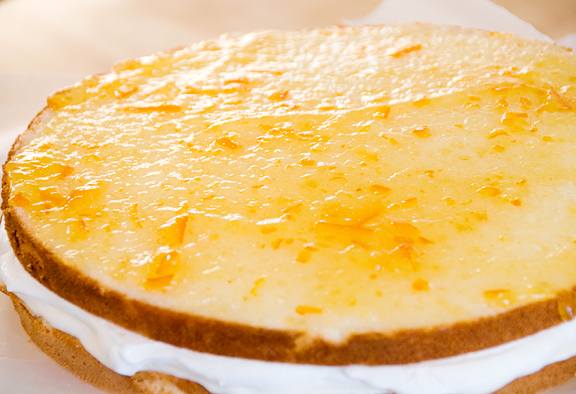 Oddly, the mixture of lemon curd and whipped cream produced about half the volume I recalled from the Lemon Mousseline Tortes in my class. So I doubled the amount. It should be a fairly thick layer and it has good structural integrity (better than pastry cream!).
layer the lemon curd filling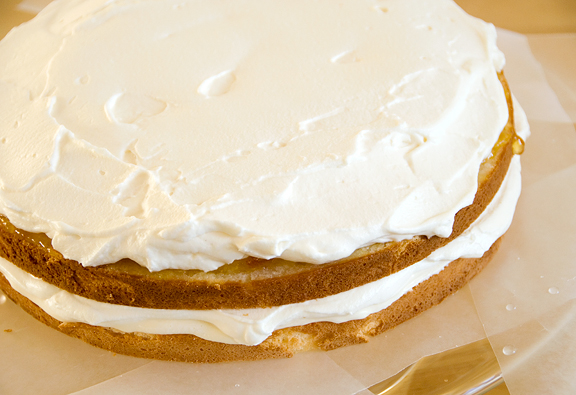 In class, the cake was wrapped in acetate within a 9-inch ring mold. In my kitchen, I don't have acetate (yet!). It's something I have to order online in quantities like 100 sheets. Apparently few of the cooking stores are even aware of what acetate is (they think it's a powder, a chemical, a liquid…). Acetate is like a transparency sheet and is used in pastries and for other arts and crafts. Anyway, it is meant to help keep everything in a nice and manageable shape. Instead, I just cleaned up the edges with a spatula as best I could.
fill in the gaps and smooth out the lumps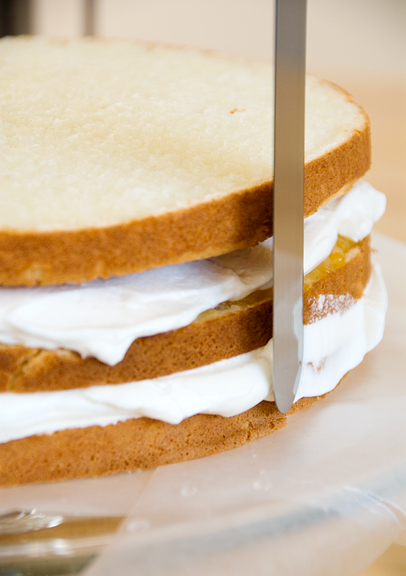 Some of you may already know that Swiss meringue buttercream frosting is my favorite buttercream recipe. It's stable, easy to clean up, and silky smooth. The torte calls for Swiss meringue to be piped all over the cake. I rather like the free form spikes and opted to spread a thin crumb coat and then slather on the meringue. I probably should have waited to make the meringue right before using it, but I forgot that it would lose it's stiffness while waiting for the cake to cool and assemble.
frost with meringue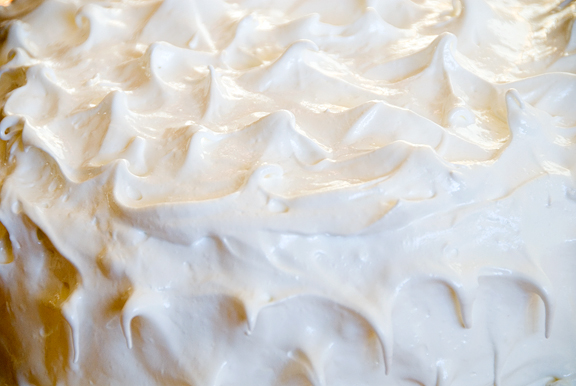 torch it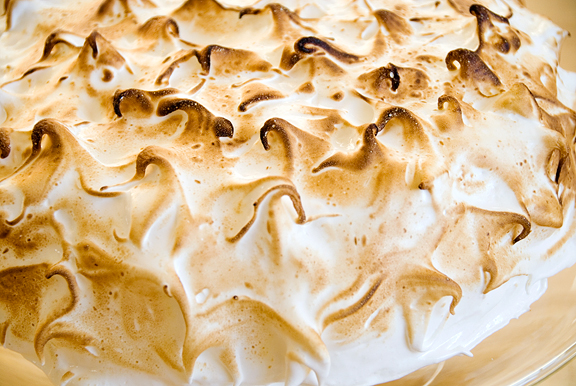 This is a lovely, tart and sweet cake. I think I'm going to try a smaller version to see how it plates, although the large cake gives up some beautiful profiles in the slices. And next time I'll include the pâte sucrée. I also think freezing the ensemble for a little bit before applying the meringue might be a good way to firm it up.
mother-in-law's birthday cake
Lemon Mousseline Torte
[print recipe]
1/2 recipe lemon chiffon cake
8 oz. heavy cream, whipped to medium peaks
12 oz. lemon curd
4 oz. orange marmalade
6 oz. simple syrup flavored with 2 oz. Limoncello (make syrup first and then add Limoncello)
1 recipe Swiss meringue
lemon chiffon cake
makes 2 11×17-inch sheets or 2 9×3-inch rounds (you need only one round)
this recipe originally intended for baking at 5300 ft.
14.5 oz. cake flour
8.75 oz. confectioner's sugar
6.75 oz. whole milk
6 oz. canola oil
3.25 oz. eggs
4 oz. lemon juice
0.5 oz. baking powder (may want to add more for sea level)
13 oz. egg whites
9.5 oz. granulated sugar
1 tsp vanilla extract
Oven 375°F. Prep pan by buttering bottom and sides. Place parchment in pan and butter the parchment. Sift dry ingredients (except granulated sugar) into a large bowl. Mix all ingredients (except the 13 ounces of egg whites and granulated sugar) in the large bowl until combined. Whip whites and granulated sugar to medium peaks. Fold into batter gently in thirds and make sure the mixture is uniform or you may end up with separation during baking. Bake until set, about 20-25 minutes. Remove from oven and remove from pan. Let cool on a rack. When cake is cooled, remove the rounded top and cut into 3 layers.
simple syrup
4 oz. sugar
4 oz. water
Combine in saucepan and stir over medium heat until sugar is dissolved. Bring to boil and remove from heat. Let cool.
swiss meringue
8 oz. egg whites
16 oz. sugar
Combine egg whites and sugar in a Kitchenaid mixing bowl. Whisk constantly over a bain marie until 140°F is reached. Place on mixer with whisk and whip until stiff.
Assembly: Whip the whipping cream to medium peaks and fold into the lemon curd. Place one layer of cake on cake circle or on serving plate/cake server. Brush layer with 1/3 of the soaking syrup. Spread a thin layer of orange marmalade over the cake. Spread half of the lemon curd mixture over the cake. Repeat the cake, syrup, marmalade, and lemon curd sequence. Top with last layer of cake and apply the remaining soaking syrup. Even the sides with a spatula and fill any gaps of lemon curd with extra lemon curd mixture. Set in freezer for an hour. Make the Swiss meringue. Remove the cake from the freezer and frost the cake with the meringue. You can pipe or spread the frosting as you like. Light a torch (I use a nice propane torch I got at the hardware store for $15) and carefully brown the meringue all around the cake. Serve.