Recipe: baklava
Hey everyone, my favorite hockey-playing baker in the whole world just moved into her New House! Not only did Peabody and Co. buy a fancay new abode, but she is throwing a virtual housewarming party potluck – and we are all invited! Sweeeeet.
And I do mean sweeeeet. If you follow Peabody's culinary forays, you know she bakes tons of beautiful pastries. Of late she has dazzled us with pumpkin, ginger, and all things that make us think autumn. Well, I decided to bring a dessert that is easy to share. It echoes those autumny sentiments as well as indulging in the decadence of delicate layers of flaky pastry: baklava. I hope she likes it.

walnuts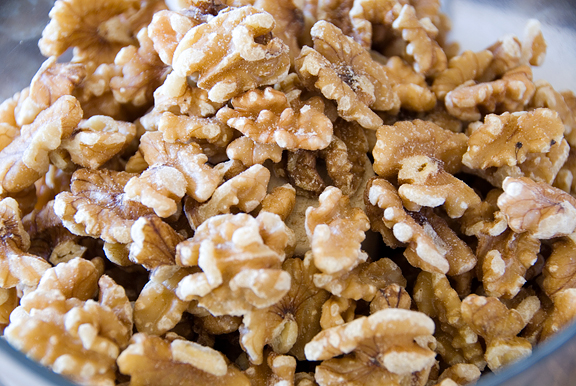 the filling: sugar, cinnamon, walnuts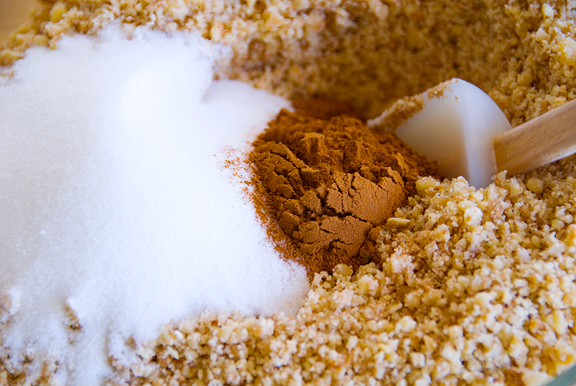 I learned to make baklava in fourth grade, if you can believe it. My local 4-H leaders included a chef who taught us to make baklava! I didn't actually remember the recipe, but I learned the tricks to handling phyllo dough so that when I made baklava in college, it was a cinch.
phyllo sheets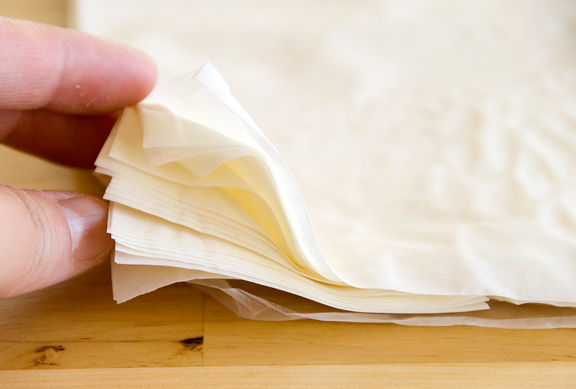 The trick is to first make sure you defrost it properly, either 24 hours in the refrigerator or several hours at room temperature. Next, it is important to keep the sheets covered with a damp towel whenever you are not removing a sheet. Be patient and gentle with the thin sheets of dough. And lastly, remember that with baklava, a few tears or folds will be barely noticeable.
keep a damp towel over the stack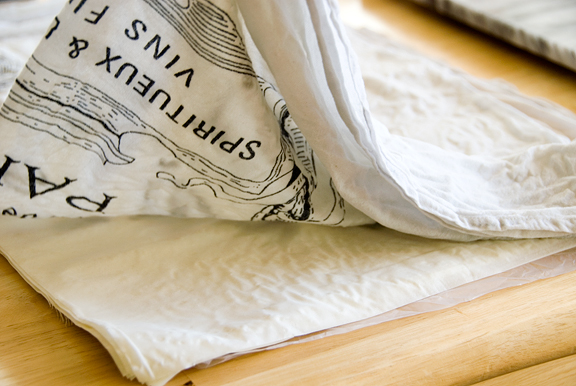 I generally prefer to work with my phyllo sheets on a marble board. Most of the packages I buy come in full sheets. That's not a big deal – each sheet represents two layers of phyllo and I just brush one half with butter, fold the other half over, and brush the top of that half with butter… two sheets. They fit into a 9×13 baking dish just fine. Don't worry over the rounded corners if you have them, because people will eat those too.
work quickly and brush with butter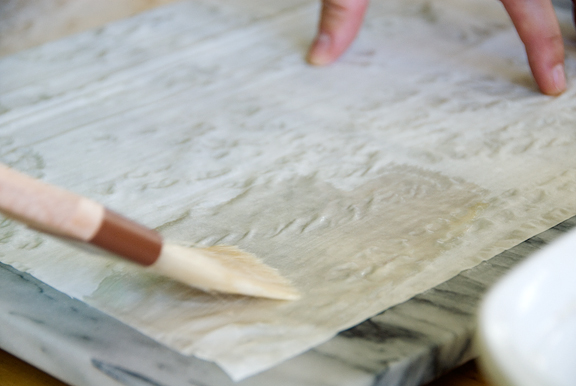 The filling is simply chopped walnuts, sugar, and cinnamon mixed together. When spreading the filling, it will look incredibly scant and you may worry that there isn't enough. Trust me, it's fine because there are about a thousand layers of phyllo and filling. It's quite a lot, really.
sprinkle the filling between phyllo layers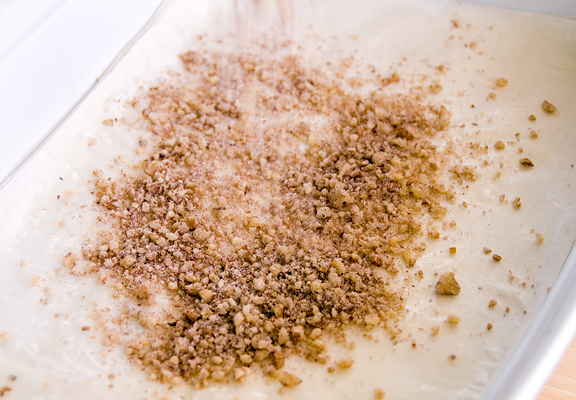 At the start and end of the baklava assembly, there are 8 layers of phyllo to be stacked – top and bottom. Probably the only place you might care about using a good (i.e. not torn) sheet is on the very top. Once that is done, find your sharpest knife in the kitchen and slice the baklava into the sizes you want to serve. Be sure to cut all the way through the bottom layers or they will be pesky to deal with later when serving. I cut mine into 16 rectangles and then cut those rectangles into 32 diamonds. It helps to hold the top layers of phyllo down with your fingers because they like to drag.
use a sharp knife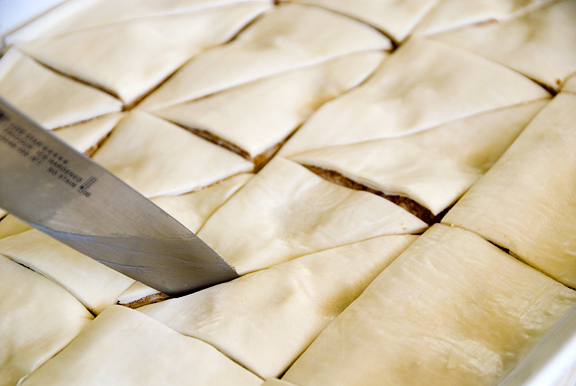 The baklava bakes for over an hour. While that is in the oven, you can get the syrup ready. Don't look at the picture below. I screwed it up because I didn't read the recipe, just the ingredients. You are supposed to boil the sugar, water, lemon and orange peels, and cinnamon stick for 15 minutes and
then
add honey, but I added the honey and heck – was too lazy to try again. It turned out fine, but I do prefer the proper method to my screw up method.
don't do this, follow the recipe instructions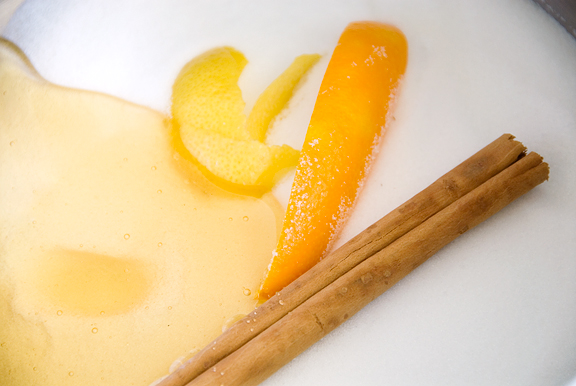 When I was in graduate school, I baked a lot because it was a stress reliever and well… there was a lot of stress. I always brought batches of cookies, whole cakes, or other sweets in for the geology department. In my department was a geophysicist from Syria – one of the nicest people I've ever had the privilege of knowing. Muawia would sample each treat and grade me on the overall quality. The first time I brought baklava to a party, he gave me an A- and said in a stern Syrian accent, "too sweet!" The next time I made baklava I was terrified of making it too sweet, so I reduced the sugar and Muawia's verdict, "A+". I know the recipe is now correct, because it has Muawia's stamp of approval. Amazing what you learn in grad school.
pour the syrup as soon as the pan come out of the oven
Yes, be sure to pour the syrup over the baklava when it is hot. I love the sound, smell, and vision of the sizzling syrup as it gets sucked into the layers of the pastry. Spread it evenly over the whole pan. It's easy enough to leave everything in the pan and bring it as is. I prefer to put each piece in a dessert paper ruffle (like muffin papers) if it isn't an intimate gathering – and it looks like Peabody invited the WHOLE food blogging community to this shindig!
Happy Housewarming, Peabody. I see you have already made good use of the kitchen :)

sprinkled with ground pistachios
Baklava
[print recipe]
Muawia approved
1 lb. phyllo pastry, thawed
1 cup butter, melted
4 cups walnuts (first measured, then fine chopped)
1/2 cup sugar
1 tbsp cinnamon
syrup
3/4 cup water
1/2 cup sugar
1 stick cinnamon
2-inch slice of lemon peel
2-inch slice of orange peel
3/4 cup honey
Preheat oven to 300°F (I don't preheat until I'm almost done with the assembly). Brush bottom of a 9×13-inch pan with butter. Layer phyllo then butter so that you have 8 sheets/layers. If your sheets are twice the size of the pan, then butter one half, fold the sheet over the buttered half and butter the top half. That counts as two layers. Mix the walnuts, sugar, and cinnamon together. Sprinkle 1/3 cup of mixture over the phyllo in the pan. Set down two layers of phyllo/butter. Sprinkle with 1/3 cup of mixture. Repeat two layers of phyllo/butter and 1/3 cup of mixture until you finish with 8 layers of phyllo/butter on top. Cut slices in the pan with a sharp knife – either diamonds or squares/rectangles. Bake for 1 hour and 25 minutes. Meanwhile, boil the water, sugar, peels and cinnamon stick for 15 minutes. Add the honey (careful that it doesn't boil over) and let boil for 2 more minutes. When baklava is done, pour the syrup over the hot pan. Cool. Serve.