Happy Thanksgiving everyone! I suppose people have completed their festive meals, had their family brawls, drunk too much, and are ready to pass out by now? Ahhh, the good old days. Jeremy and I try not to travel over the Thanksgiving holiday. Driving or flying with potential delays, death, or dismemberment due to weather or stupidity or both can really take years off of your life. We really do cherish our sanity. This year we turned down a few invitations and opted for a quiet meal at home.
As expected, I ditched the notion of a turkey dinner in favor of something easier and in my opinion, far tastier. Rather than one ginormous blowout meal, we grazed through three courses starting at noon. My original plan involved surf and turf, but driving home from the grocery store earlier in the week, I came to the conclusion that I was planning an obscene amount of food for Thanksgiving. Thus we had surf and surf and surf… Turf got booted to tomorrow.
In the morning I prepared parts of dessert and made some treats for my pup. I cook all the time, so much so that the dog will snooze under the kitchen table as I work or wander into the great room to soak up all of the sunlight striking the Earth's surface. She knows better than to beg while I prep. Somehow, she clues in when I am making something for her and she'll come around sniffing at the edge of the table or she'll plant herself squarely in front of me, waiting ever so patiently…

kaweah loves squirrels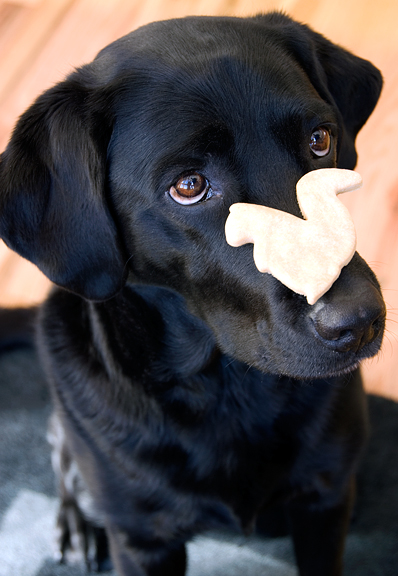 Jeremy and I started off with scallop carpaccio in ponzu sauce and some Japanese cucumber salad. Raw scallops are better than butter.
start light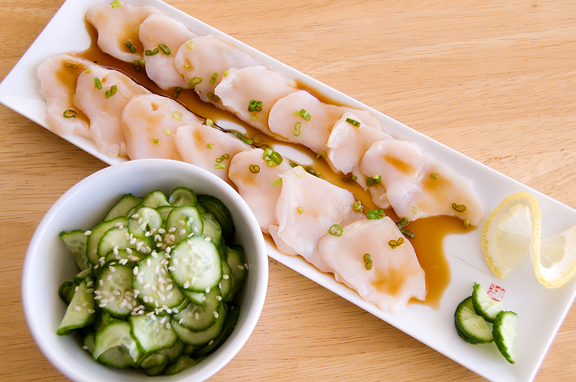 An hour later, we sat down for a bowl of steamed Alaskan King crab legs. I am crazy about crab – much more so than lobster. My favorite crab ever is the Chesapeake Bay Blue. I grew up catching and eating them every summer. My family would steam huge piles of the blue crabs, peel and eat them dipped in red wine vinegar and ginger. Sooo good.
king isn't such a bad substitute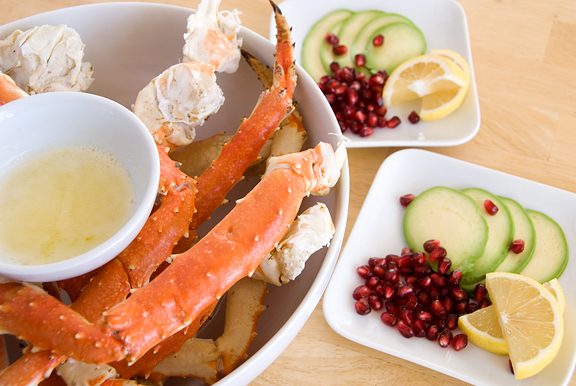 That was a lot of crab. We gathered the dog and went to a local trail to walk off the drowse and breathe the lovely cold air. We actually received some snowfall the previous day – a few inches… not quite the few feet all itchy Coloradan skiers are hoping for right about now. Our nights have been chilly though, -5F for tonight. The dog had a blast running what little brains she has out. The lake was frozen, but not hard enough for the hockey players to come out yet.
frozen lake in late day sun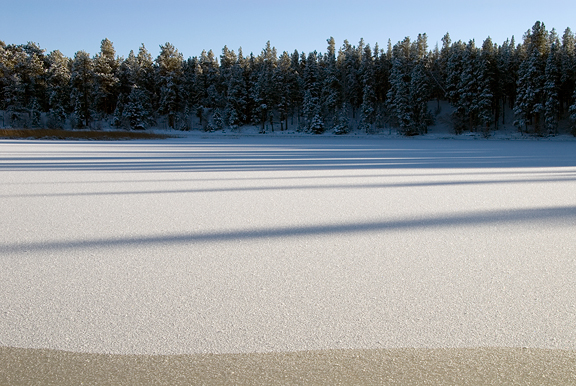 Walking along the edge of the tiny lake I noticed beautiful ice formations dotting the surface. It's just ground frost, but it had developed enough structure to be more complex than usual. I love living here because I get to observe natural phenomena that really get a geek like me going.
a garden of ice blossoms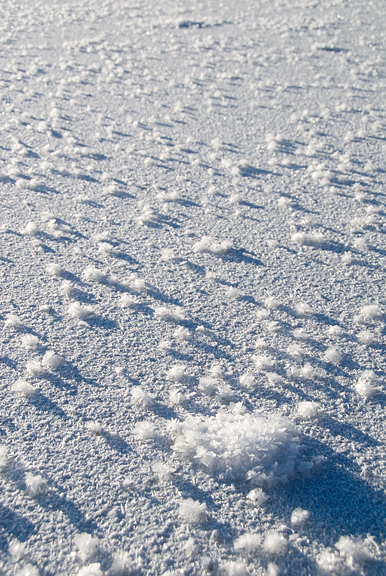 Feeling invigorated after noodling around in the snow, we returned for our main course: lobster. I don't cook lobster often because it is expensive and I'm always afraid of screwing it up. I consulted with my dad about the lobster. He is a great cook and loves to experiment with all manner of food. He suggested a fairly easy and no nonsense method which turned out beautifully – on the grill no less! It paired well with a generalist Louis Jadot French Chard which we had been sipping along with all of the courses. A bit much with the scallops, but just fine on the crab. I would have preferred a lighter and fruitier white with the scallops, but then I'd be too drunk to type now, wouldn't I?
8 minutes: grilled asparagus and grilled lobster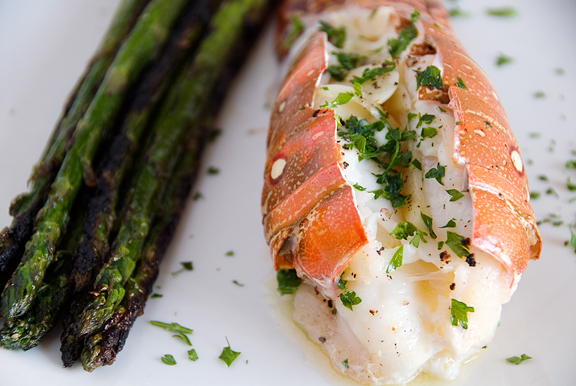 After watching a DVD and digesting our staggered meal, we went in for the kill. I really love me some pumpkin pie like nobody's business. Forget about the crust and the fixings – the pumpkin filling part of the pie will do me just fine. But I didn't make pie this year, I made pumpkin mousse… and we both loved it. I didn't love the top layer of pumpkin jello, but the pie crust base, the whipped cream, and especially the crystalized ginger worked wonderfully together. Even the dark chocolate drizzle added an extra dimension to the ensemble. Recipes to follow later.
pumpkin mousse with crystalized ginger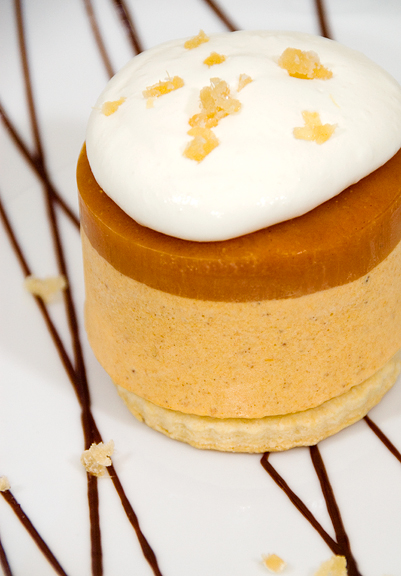 Of course, this holiday isn't solely about the food. It's about giving thanks. Maybe you're thankful for the food or perhaps you're thankful for the stuff you own or thankful for your health… Me? I have had to think about this a lot lately and it really boils down to two things. Not a day passes that I am not grateful for the wonderful and amazing people in my life: family, friends, my pup, and even random strangers. Not a day. And I'm thankful that I recognize it and can express to them how much they mean to me. Happy Thanksgiving.