Welcome to 2008 everyone! Gong Xi Fa Tsai! I hope folks were able to start the new year off properly and in good spirits. I was pleased as punch this morning despite the 4F reading in the parking lot (that's -15.5C for those living metric). I can take the frigid temps though, because everyone knows that women who tele are hot. ;) My arm is nearly normal and it didn't bother me at all!

a little warm up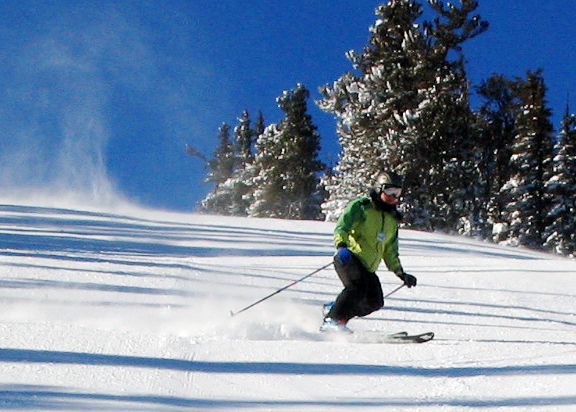 What I love about skiing our local hill is that I can be home in 15 minutes. That's great for days like New Year's Day when there are certain foods I have to make… Actually, it's Chinese New Year that gets me all panicked about preparing the right foods to eat for luck, health, fortune, this, that, and the other. My grandma and mom have scared it into me! But I tend to do a watered-down version during the western new year, because they scared *that* into me as well. I suppose they figure if you hit the traditions on both of the new years, then you've got all of the bases covered, right?
I am a consummate slacker… Last night we had Chinese hot pot for dinner, but I didn't put ALL of the special ingredients in (for health, luck, fortune, etc. etc.). And on the first of the year, you are supposed to eat something sweet first thing in the morning so sweet things come out of your mouth all year [insert several jokes about my potty mouth here], but we snarfed a couple of cookies before dashing out to ski instead. I didn't have any of the Chinese rice cakes or make any of the sweet soups or sweet buns… besides, I would end up finishing it all because Jeremy is not a fan of Asian desserts. Not.A.Fan. And this afternoon, it was a pretty impressive feat that I could muster the energy to roll out Chinese dumplings – the steamed version of Chinese potstickers, for dinner.

set upon napa cabbage leaves (it was the end of the head, so the leaves are teeny)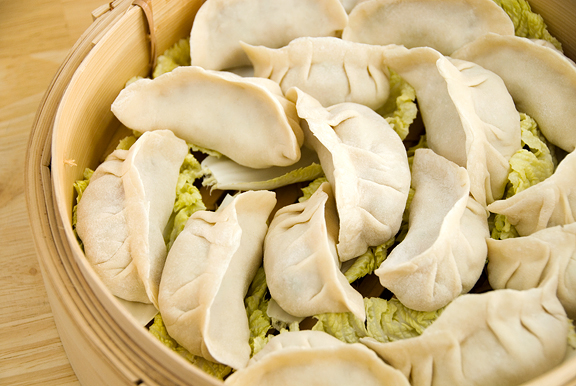 My mom always made us eat Chinese dumplings because she said it represented money. A few years ago I was searching the web for information on what certain foods represent during Chinese New Year celebrations and I read that Chinese dumplings translated into "sleep together and have lots of sons"! *gasp* Apparently, eating dumplings will translate into whatever you want… I dunno – want flannel sheets this winter? You got it. I eat them. End of story.
i know one thing – dumplings guarantee a happy tummy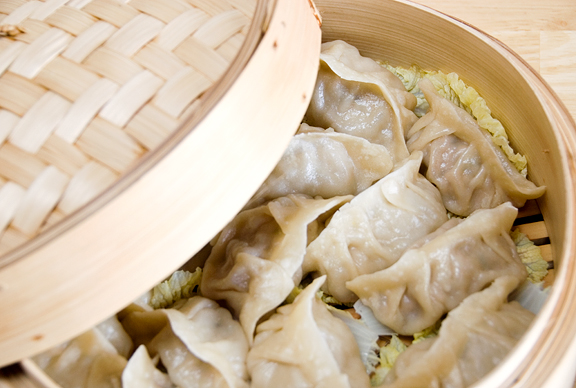 2008 already promises to be an interesting year for me. It might get downright tough at times, but I am always up for the fight. Just want you all to know that your friendship and love of food make my life all the sweeter and I thank you for it. xxoo