Recipe: crawfish phyllo triangles
I've had this recipe in the back of my head for well over ten years. Jeremy and I were driving from Ithaca, New York down to Virginia to visit with my parents way back in the late 90s when we stopped by my friend's house in Washington DC along the way. I lived in northern Virginia for one year during high school and became close friends with Emily. It was nice to see her parents again (I love them, they are the sweetest people) and introduce them to Jeremy for the first time. While we chatted, Emily's mom – the consummate hostess – presented us with a platter of hot, crispy phyllo triangles filled with… crawdads. Crawdads (crayfish) are these delicious freshwater critters that look like small lobsters and are practically religion on the Gulf. Mmmmm, mmmm, good.

crawdads, onions, celery, and spices, parsley and green onions
I never did get a recipe, but this sort of thing isn't too hard to throw together – if you have crawdads. I found some frozen cooked crawdad meat in the store the other day. This was about as close as I was gonna get to it out here in the Rockies. I instinctively grabbed the package and chucked it into my basket. Crawdad phyllo triangles would be perfect to round out our holiday menu of maritime indulgences.
sauté onions, celery, and spices in butter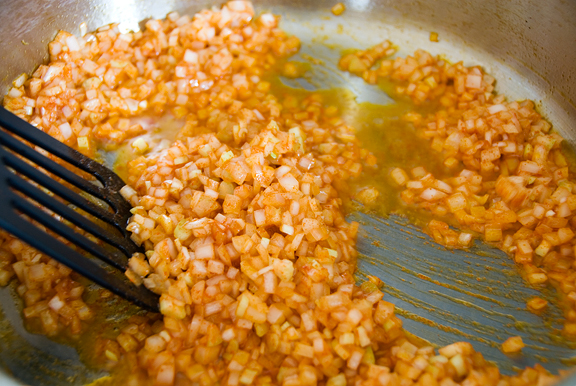 add the crawdads and greens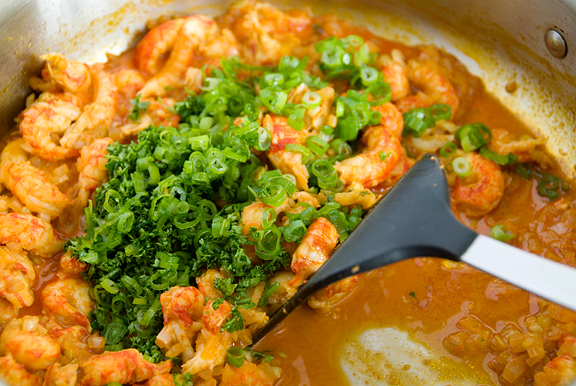 To be perfectly honest, I would be happy to stuff any sort of seafood (well, almost any sort – I've tried sea cucumber and believe that is an acquired taste) into buttery layers of phyllo dough. They are great for entertaining, except on Christmas day, we were entertaining ourselves and no others. More for us – hee hee.
brush butter and fold, brush more butter and fold again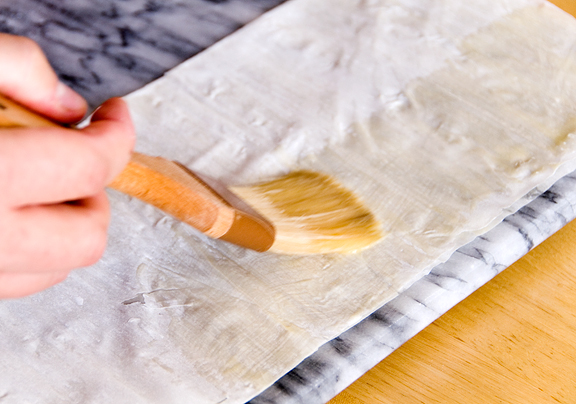 Once you get the hang of phyllo sheets, triangles are pretty easy to master. I butter half of a sheet, fold it on the long axis, then butter half again and fold it on the long axis once more.
ready to roll, er – fold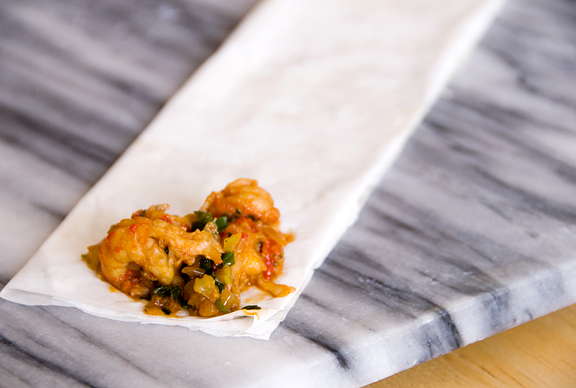 You fold triangles up like a flag or like those paper footballs that 8th graders invariably made in the classroom. It's a forgiving fold too – because any bits that squish or ooze out can be tucked in and folded over and covered up. I usually drop a tablespoon of filling on the corner.
fold up the precious goodness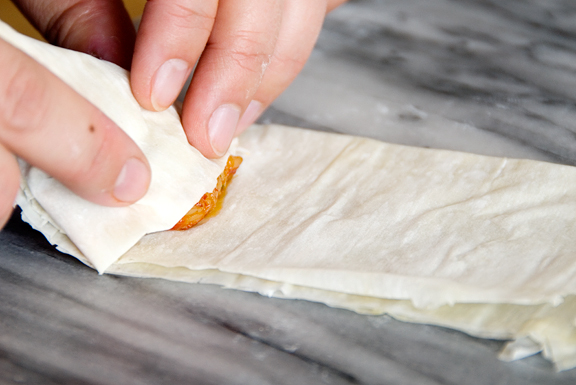 all set to go into the oven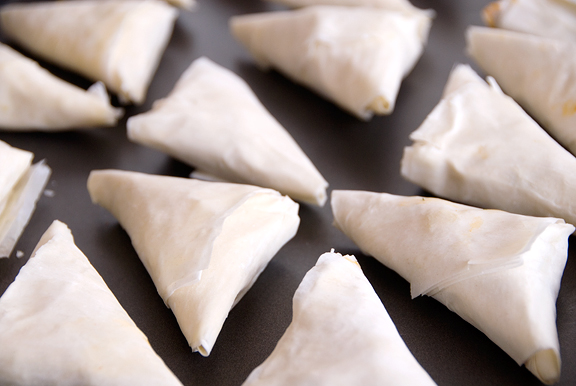 This batch yields approximately 26 triangles. While we both enjoyed the triangles, there was a part of me that felt the filling was wanting for… for more heat or tang or umph. I based the filling on a crawdad turnover filling from Emeril's
Louisiana Real & Rustic
. Having grown up on the Chesapeake Bay, I suspect that what I wanted was Old Bay Seasoning, something that blesses all good steamed Chesapeake blues (crabs). Perhaps next time I'll put a Chesapeake spin on it.
serve hot and crispy
Crawfish Phyllo Triangles
modified from Crawfish Turnovers in Louisiana Real & Rustic by Emeril Lagasse
[print recipe]
1 lb. crawfish tails, peeled and cooked
1 cup onions, diced
1/2 cup celery, chopped
1 1/2 tsps salt
1/4 tsp cayenne
3/4 tsp paprika
1/2 stick butter
3 tbsps parsley, chopped
3 tbsps green onions, chopped
2 tbsps Worcestershire sauce
1/2 lb. phyllo dough sheets, thawed
1 cup butter, melted
Mix the onions, celery, salt, cayenne, and paprika in a bowl. Melt the butter in a sauté pan over medium-high heat. Sauté the seasoned vegetables until soft and brown. Add the crawfish and cook for about 5 minutes, stirring occasionally. Remove from heat. Add the parsley, green onions, and Worcestershire sauce and stir well. Let cool. To make each triangle, set one sheet of phyllo on a clean work surface and brush melted butter on half of the sheet lengthwise. Fold the phyllo on its long axis in half. Brush melted butter on half of the phyllo lengthwise again, and fold on the long axis once more. You should have a long narrow strip of phyllo with 4 layers. Place a heaping tablespoon of filling on one corner of the strip and begin folding the dough over the filling like a flag. Continue folding until the dough is completely wrapped around the filling. Brush a little butter on the end to seal it down. Place triangles on a baking sheet so they are not touching one another. Bake at 375°F for 18-20 minutes. Serve hot.