Recipe: lentil soup
Congratulations to Reema T. Bhakta! You've won the Menu for Hope raffle for the prize offered here on Use Real Butter! If you are Reema, you need to send me an email so we can discuss your choice of prize and where the heck you are so I can ship it to your hot little hands pronto! Thanks to everyone else who bid for such a terrific cause. If you really had your heart set on a print, drop me a line and we can make arrangements.
This morning a kind, portly dude knocked on the door at 7:55. I was in my bike shorts, ready to ride for an hour because these guys weren't scheduled to arrive until 10 am to 2 pm. But here they were, not necessarily bright-eyed and bushy-tailed either. It was snowing, and the fellows in Denver aren't too keen on the lovely mountain weather I cherish.

from my office perch – the snow conditions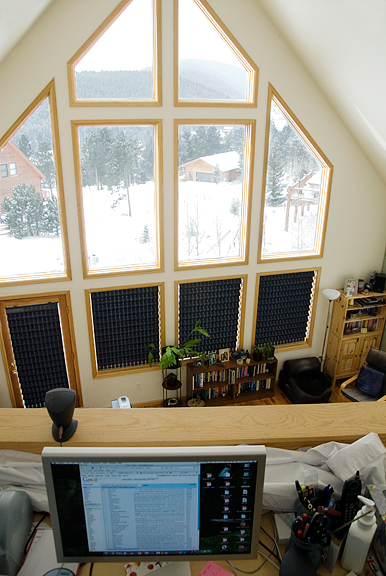 The package is a new treadmill I've been contemplating for several years now. We found a great deal on a heavy duty model because I can't stand those little flimsy wimpy home-version treadmills that fall apart the minute you hit a decent clip. I want to
run
, not jog on my treadmill. I'm a big fan of the commercial treadmills at gyms, but my doc advised me to keep away from public gyms for a while. So this is what we have. It rounds out my personal gym nicely. I call it my gym because Jeremy's too tall for my bike frame and he's rowed all of 15 minutes on my rower, ever. He tells me he will run on the treadmill. Yeah, whatever ;)
floor plan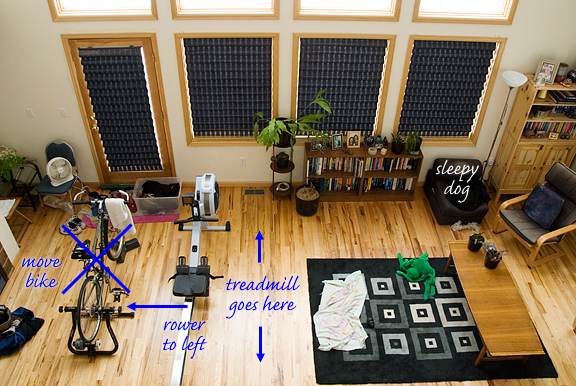 Pardon the mess. Not sure where to put the bike. I like to look out the window when I ride because we don't own a brain rot box (tv). The beauty of the rower and the treadmill is that they can both be folded and moved. Anyway, the treadmill is downstairs because the delivery guys looked scared when I said I planned to put it on the second floor. I let them off the hook and told them Jeremy and I would move it ourselves – all 280 pounds of it. They were like, "you?". Yeah guys, me – strong as a horse. I'm so stoked! Now I can enjoy my favorite season AND run, bike, row, which ice, wind, and freezing temps render practically impossible outside.
It really is soup weather here and I finally got around to making a soup I love. There is no good reason why I haven't cooked much with lentils other than I never knew what lentils were until I went to college. Lately, I've seen pictures of lentil dishes and I find myself craving lentils. What's up with that?

green lentils, green french lentils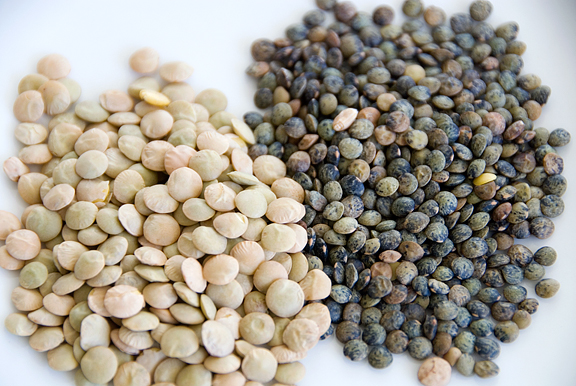 I am lentil stupid, as in I have never gone and bought them from the bulk section. I knew I needed green lentils. I found lentils that looked green. Turns out those were green French lentils and I'm not sure if there is much difference between those and the regular green lentils, but I went back and got the proper kind. I was also unaware that they had to soak overnight (sort of like the time I decided to make Panettone at 11 pm and didn't read that it had to rise, three times). What does it mean to pick over lentils, anyway? I found nothing that shouldn't have been there…
soaked green lentils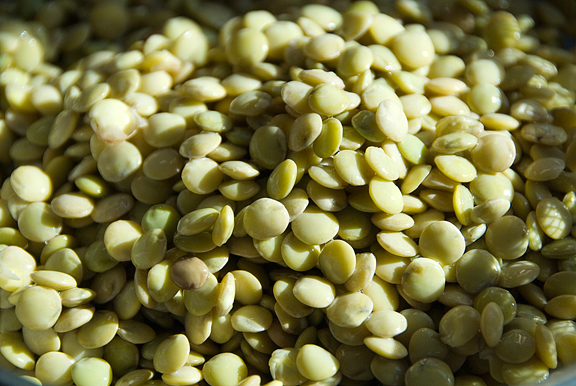 Once the lentils were ready (the next day) I was jazzed to get going. There is a terrific Lebanese restaurant in Alhambra, California, Wahib's Middle East Restaurant, that we used to frequent. This soup was one of my favorite ways to start a meal. I found a recipe for it in Christine Osborne's
Middle Eastern Cooking
.
sauté onions in butter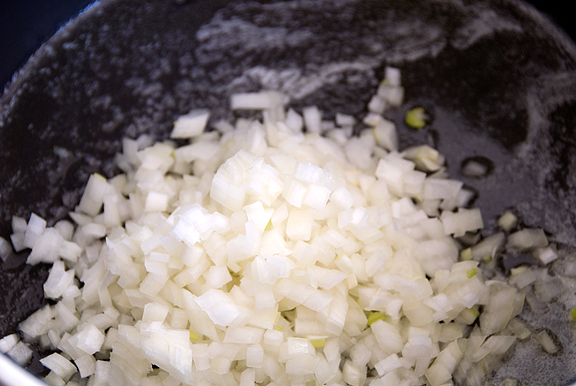 add the drained lentils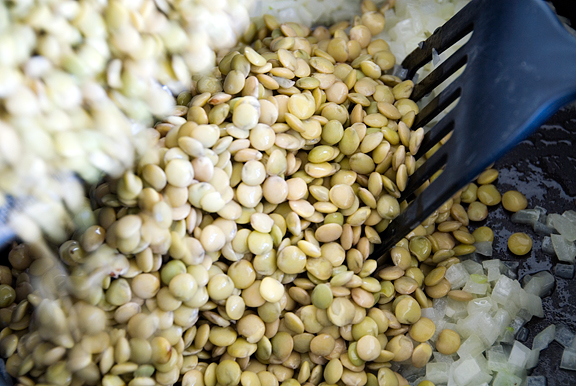 Once the lentils are added, seasonings and broth go into the pot. The recipe calls for homemade beef broth. Homemade beef broth is amazing and nothing like the store bought versions, but I just don't have that on hand (chicken broth is another story entirely – I always have homemade chicken broth in my freezer). I used Better than Bouillon beef stock concentrate paste and it didn't detract from the end product. Now since my pal, Liz, just got a crock pot, this is when you could crock pot the whole ordeal until soft, or if you're impatient like me, cook on the stove top for 1.5 hours at a simmer. When the lentils were soft I scooped about 2 cups' worth into my food processor.
ready to purée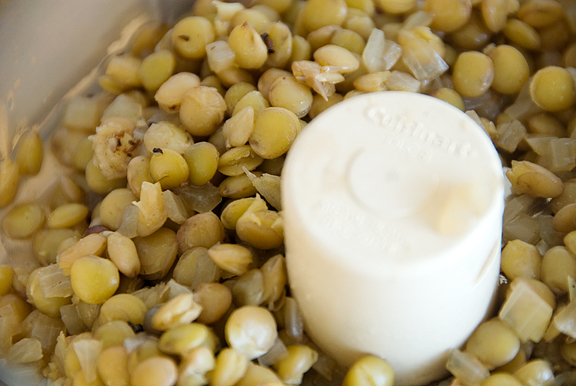 The recipe says to wait until the soup cools before blending the lentils – and she blends them all, but… I didn't wait. I don't think it hurt the soup. You can blend it to a fine paste or a chunky paste, whatever you like. This gets stirred back into the soup to create a thicker body. Next time I might should blend 3-4 cups, but I still like having whole lentils swimming in my soup.
pour and blend into the soup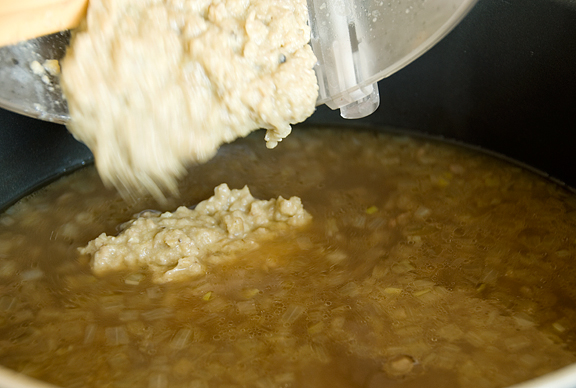 add lemon juice and olive oil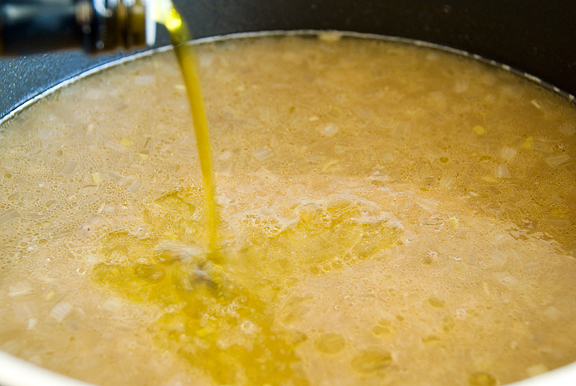 Once blended, I was supposed to reheat the soup, but mine was still hot. I stirred in lemon juice and olive oil, then ladled it into a bowl. Serve it up with a garnish of croutons and chopped parsley. I love this soup.
soup to warm the heart and soul (and tummy)
Lentil Soup
[print recipe]
Middle Eastern Cooking by Christine Osborne
1 onion, finely chopped
4 tbsp butter
1 cup lentils, soaked overnight and drained
5 cups homemade beef stock
1 tsp ground cumin
salt and freshly ground black pepper
3 slices white bread, crusts removed, diced
1 clove garlic, crushed
2 tbsp olive oil
3 tbsp lemon juice
finely chopped parsley, to garnish
Sauté the onions in 2 tablespoons of butter until they are translucent. Dump the lentils into the pot and combine with the onions. Pour in the beef stock (I use bouillon) and add the cumin, salt and pepper. Cook on a low simmer for about 2 hours or until the lentils are falling-apart soft. Remove from heat. When the soup has cooled, you can purée the whole soup or, as I prefer, only purée half and leave the other half of the lentils intact. Melt the butter in a sauté pan and toss in the garlic. Stir the garlic around until it is fragrant and then add the bread cubes and fry until they are crisp and gold in color. Reheat the soup. Just before serving, add the olive oil and lemon to the soup. Top each serving with the croutons and a sprinkle of the parsley.