Recipe: rui tsai (lucky ten ingredient vegetable)
Chinese New Year fast approaches and it is time to prepare for the festivities which almost always revolve around food. When I was growing up in Southern Virginia, I hated being Chinese because I looked different from everyone else. We ate food that was completely foreign to my friends. My parents spoke to (yelled at) me in Chinese in front of my friends and I just wanted to disappear. I endured plenty of teasing and bullying because, well… kids are assholes. I did everything in my power to avoid being seen in public with my parents. I wanted so badly to be Not Me.
I won't bore you with my path to accepting my identity, but once I was there and donned my status as an ABC (American Born Chinese) you couldn't stop me. Happiness comes from within and baby, I got it. That's not to say that living the balance between western and eastern cultures is easy, but I've come to embrace what I used to reject as a child. Okay, I could do without the constant *guilt* in the never-ending quest to be a Good Chinese Daughter, but otherwise I have to say my Chinese culture enriches my life and I'm glad for it.
Which leads me to the food and superstitions and traditions. There is a veritable boat load of foods you eat for the Lunar New Year and each one means something! I am probably familiar with a mere fraction of them. My family does a giant hot pot filled with ingredients that all signify good things: money, health, happiness, luck, promotion, success, more money… You get the idea. Dumplings, as I've mentioned before, are supposed to represent money and in some instances having sons, but let's not go there. Tofu is luck. Rice cake means a "higher" (better) year. A whole fish means happy starts and endings (head and tail, get it?). Eat something sweet first thing on New Year's Day so sweet things come out of your mouth all year (I can hear the guffaws of all of my friends…). And there is a lucky ten ingredient vegetable dish called rui tsai. Ten is the lucky number. Eat this dish and all good things will come to you in the new year.
My mom has been making her rui tsai for years. She would bag some up and mail it to me each year before Chinese New Year. Of course, she is Chinese so there is no way she's going to pay to ship it express. She sent it each year via our crappy US Postal Service and it usually ended up arriving anywhere from 3 to 10 days later. I'm a scientist by training and I happen to understand a lot about food safety. Each year this little package arrived in my mailbox, I felt as if I was playing Russian Roulette. See, under normal circumstances I would toss it in the trash, but my mom put so much effort into making the dish and "mailing" it to me so that I would have "good luck" all year… I felt this strong obligation to have a nibble in spite of potential hospitalization. Jeremy would always stand there watching me with my internal struggle while my chopsticks were poised over the gaping maw of the Ziploc bag. The vegetables were lovely and smelled not toxic, but – I was afraid. Obviously, I have lived to tell the tale year after year.
After last year's repeat of fearing for my life eating week-old "lucky" ten ingredient vegetable, I swore that I would make the damn dish myself and be done with this ridiculous ritual.
But first, there is another tradition in my family of eating long noodles (not broken) on your birthday for long life. My birthday was in September. In mid-September I found a little lump in my left breast. I have neither lumpy nor huge boobies, and so it was quite obvious. I waited a few weeks to see if it would go away or if I should see my doctor. In the meantime, I completely forgot to eat noodles on my birthday. I panicked the next day when I realized I had forgotten, but the logical part of my brain (90%) said it was okay – calm down. The 10% was saying, "You are so boned!" My doctors were sure I was fine, I'm 36 after all, healthy, no prior medical problems… "Sure, go ahead and sign up for your ski program." And then one evening in November, my surgeon called to tell me that my results were positive for cancer. Thus began this curious road I find myself on today. I know it has nothing to do with those damned noodles, but you see what these ridiculous superstitions can do to a person, or to me.
That is another reason why I decided to make rui tsai this year. My chemotherapy has rendered me immuno-compromised among many other things. Eating week-old rui tsai from my well-meaning mother is Out.Of.The.Question. She was so desperate that she even offered to FedEx the vegetables to me. Wouldn't it be hilarious if after all of this, the thing that does me in is stir-fried "lucky" vegetables? I was worried though, because my first ten days after chemo were pretty narsty (for those who only report nausea – that's great, have a lolly) and for a couple of days I couldn't nibble a cracker without racking my insides. How could I possibly get the groceries and cook for the New Year? Luckily, I seem to have bounced back just in time for the Chinese New Year (and for my ski program!). At first I thought I was making the rui tsai because of that 10% of my brain, but really, I think the 90% agrees that the best thing to do is go on living life and kicking ass when you can.

count em, ten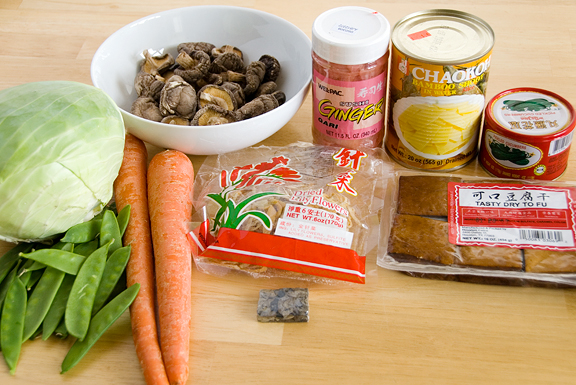 It isn't really ten vegetables, but ten vegetarian ingredients because tofu is one of my ingredients. I'm missing soybean sprouts, which are some of my favorites. No one in Boulder carries them and my best bet was to drive into Denver, but… the beauty of the ten ingredient dish is that you can substitute another vegetable. I asked my mom if green onions were okay as I had recalled seeing them listed in other versions and she said no. For some reason, according to my grandma, green onions are not okay. I should have known better than to ask why. She said it's because green onions are hollow (
kong
) which is bad luck. So I countered that tiger lily buds are hollow. "No they're not," my mom replied. "Yes they are." "Just don't use green onions." I bagged on driving into Denver for soybean sprouts and opted for some mediocre looking snow peas from Whole
Paycheck
Foods. My ten ingredients: Chinese mushrooms, tree ears, bamboo shoots, Chinese pickled cucumbers (slightly sweet and salty – not like dill pickles), dried tofu, tiger lily buds, shredded carrots, cabbage, snow peas, and pickled ginger (I used some Japanese gari – what you eat at sushi bars – unless you are
Graeme
).
dried tree ears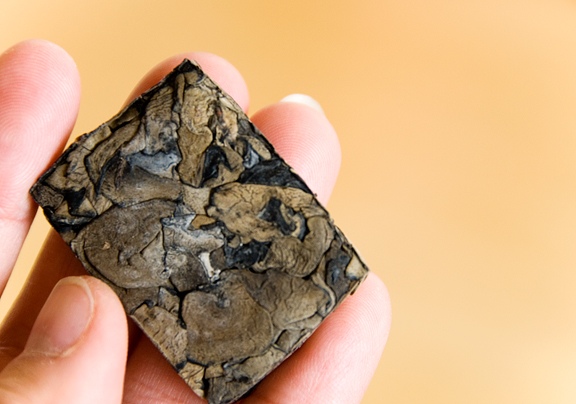 The tiny black square in the first picture is an amazingly compact package of dried tree ears. This photo is really for
Christine's
benefit. Most of the time when you buy dried tree ears (wood ears, tree fungus, whatever you call it) they are loose in a bag and full of sand and tough woody segments. Pain in the butt to clean after rehydrating. But my grandma buys a certain brand (I think it may be Vietnamese?) that is not only incredibly compact, but when the tree ears are rehydrated, they blossom into lovely whole ears with nary a speck of dirt or woody undesirable parts. One day I will identify the brand.
beautiful tree ears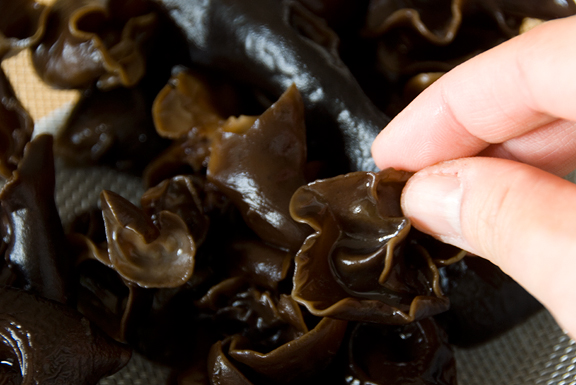 The first step is to rehydrate whatever dried ingredients you are using. In my case, I had Chinese black mushrooms, tree ears, and tiger lily buds. Once those are under hot water, you can address the carrots. Part of the time-consuming nature of this dish is my mom's treatment of the carrots. She doesn't like the shredded carrots to get soggy, so after shredding the carrots, she sprinkles about 1/2 teaspoon of salt over them and lets them sit for 5 minutes. Then she squeezes out as much juice as she can and sprinkles the carrot shreds onto a baking sheet. She told me to do this, so I did.
shredded, salted, squozen carrots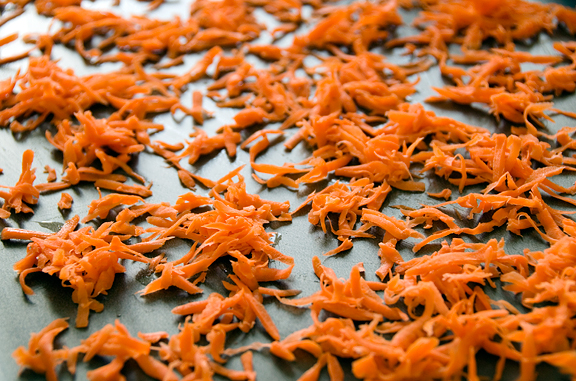 I baked the carrots in a 350F oven and stirred them about every 5 minutes. The first try of 15 minutes was too long and I got crispy carrot fries. The second try of 10 minutes worked just fine, preserving the lovely orange color. While you are waiting for drying carrots or rehydrating ingredients, you can start slicing the other items. Since everything is getting julienned I would recommend having a really good and sharp knife. Some good motor coordination helps too.
my sharpest knife makes lovely slices of the snow peas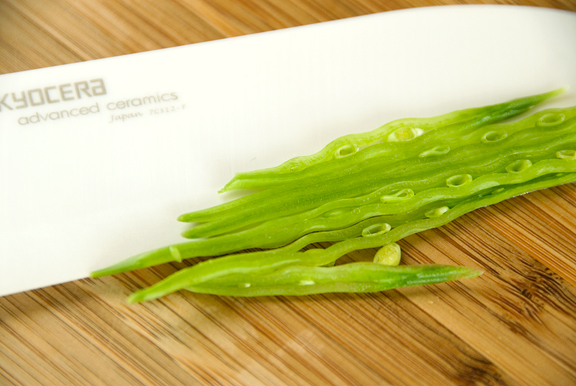 This Kyocera ceramic knife was a gift from my parents. They called me
three
times to rave about it before they shipped it to me and requested a
photo of it in use on a tomato
. Turns out they got a big one for themselves and this mid-size for me. I love it. It is soooo sharp and works like a dream. Very dangerous. Also very fragile (brittle). Not to be used as a cleaver, 'kay? When the dried ingredients are ready, wash them and squeeze them as dry as you can. The tiger lily buds have a woody end that should be cut off.
remove the woody end of the tiger lily buds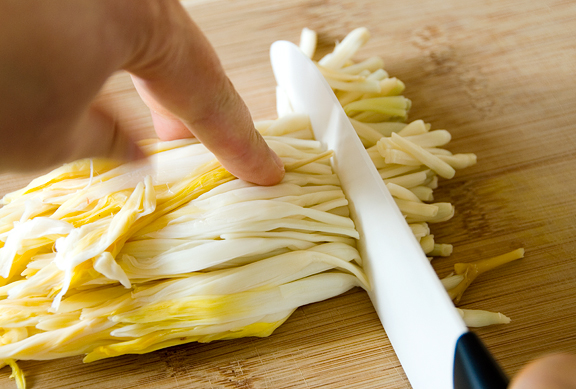 The dried tofu cakes can be found in most Asian markets. I like to slice them into thirds, like a layer cake, which requires a sharp knife. Then I stack them and slice them into strips.
dried tofu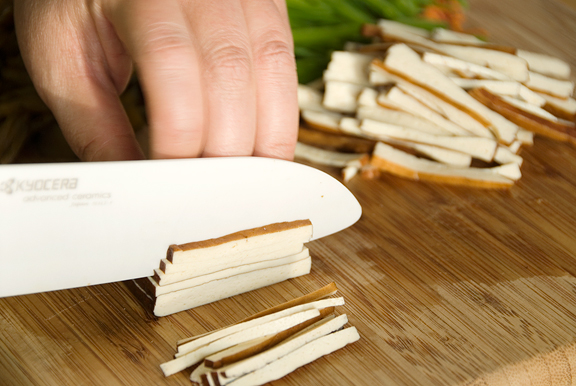 My mom didn't give me any measurements, but my general guideline was about 1/2 to 1 cup of everything. The pickled ginger and pickled Chinese cucumber were closer to 1/2 cup and the cabbage was almost 1 cup since it shrinks so much during cooking.
the mise en place takes the longest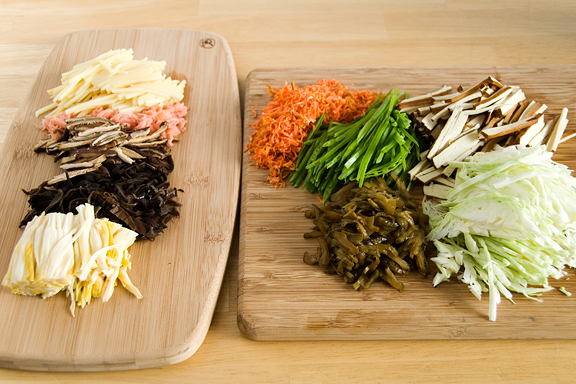 When you are done slicing everything, each ingredient is supposed to be sautéed in a little vegetable oil and a shake of salt – separately. So I had a large bowl next to my sauté pan and stir-fried each ingredient and dumped it into the bowl until they were all done.
stir-fried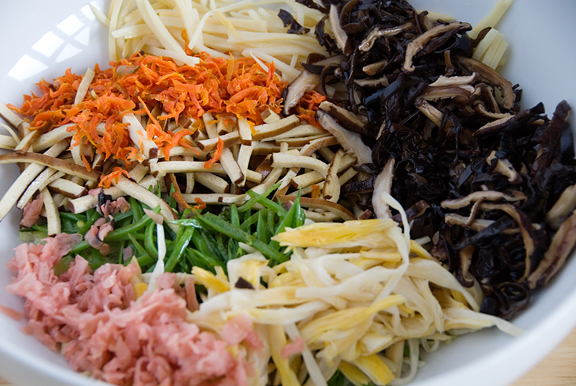 mix the ingredients together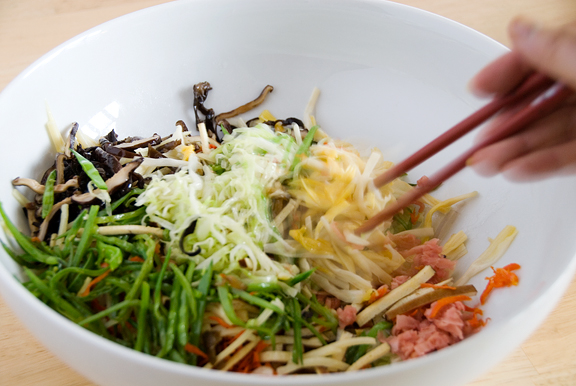 It's a really refreshing and crunchy vegetable dish regardless of the implications for the Lunar New Year. Slightly gingery and tangy, it is satisfying to eat. I do prefer the soybean sprouts over the snow peas, although the snow peas lend a lovely bright green color to the dish. Maybe I could trade out the cabbage for the sprouts. In any case, it's done and so I'm hoping I have my bases covered for the year of Rat!
rui tsai : everything your heart desires
Rui Tsai (Lucky Ten Ingredient Vegetables)
[print recipe]
1/2 cup Chinese black mushrooms, stems removed and julienned
1/2 cup tree ears, julienned
1/2 cup tiger lily buds, cut into 2-inch strips with woody stem removed
1/2 cup bamboo shoots, julienned
1/2 cup dried tofu, julienned
1 cup carrots, shredded
1/2 cup snow peas, julienned
1/2 cup pickled ginger, squeezed dry and julienned
1/2 cup pickled cucumber (Chinese style), squeezed dry and julienned
1 cup cabbage, shredded (although I prefer soybean sprouts)
Preheat oven to 350F. If your mushrooms, tree ears, and lily buds are not fresh, then place the dried ingredients in separate bowls and cover with boiling water and let sit until soft (about 30 minutes). Wash them of any sand and squeeze the water out. Trim stems as needed and slice into strips. While waiting for the dried ingredients to rehydrate, shred two carrots. Sprinkle 1/2 tsp of salt over the shredded carrots and let sit for 5 minutes. Squeeze the liquid out of the carrots and the sprinkle them over a baking sheet. Bake for 5 minutes, stir the carrots around, and then bake another 5 minutes. Remove from oven and set aside. When all of the vegetables are sliced, heat a teaspoon of vegetable oil in a sauté pan and stir-fry one of the ingredients with a dash of salt. When it is cooked, remove it to a large bowl. Repeat for each ingredient, adding each to the bowl. When all cooking is done, toss the vegetables together and serve at room temperature.