Recipe: doughnuts
How many of you woke up one recent morning and said, "Time to make the doughnuts"? Because if you haven't yet, it is most certainly time to make the bleeping doughnuts! Peabody and Tartelette are hosting the Time to Make the Doughnuts event due to them by tomorrow (Feb 12). Well, to be honest, I didn't actually sit bolt upright in bed Saturday morning and declare I was going to make doughnuts. First I looked at the ski conditions and when I realized the mountain was a ground blizzard I opted for doughnut baking :)
I've never made doughnuts before. Sure, I've fried dough, but I'm talking about making doughnuts as in going after it with the intention of producing something on par with my white trash youth memories of Dunkin Donuts runs with my best buds. Never eat doughnuts alone. Here was my dilemma: I wanted to make chocolate cake doughnut holes – essentially the munchkins from DD. My dear man is never so rude as to demand anything of me, but I know that his all time favorite doughnut is the yeast-variety, filled with chocolate creme. It is not cream or anything so sophisticated as crème, the creme is the kind of frosting that makes you blind because it's so bloody sweet. Rather than choose between my curiosity and his favorite doughnut, I endeavored to do both. Someone please smack me if I ever try to do that again.

dry ingredients for the chocolate doughnut holes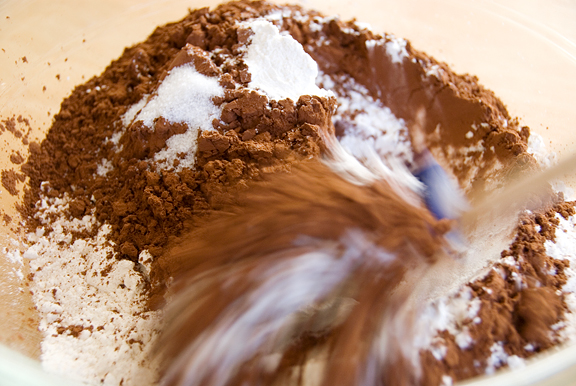 wet ingredients for chocolate doughnuts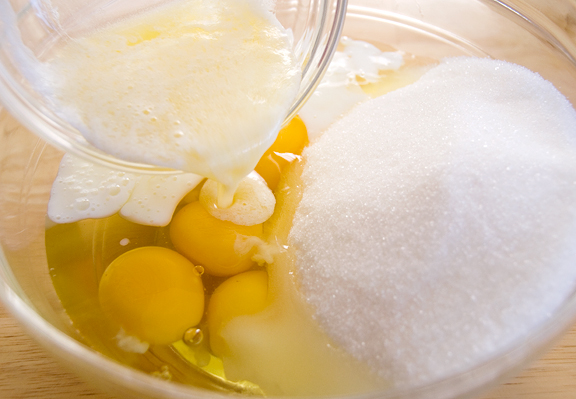 chocolaty dough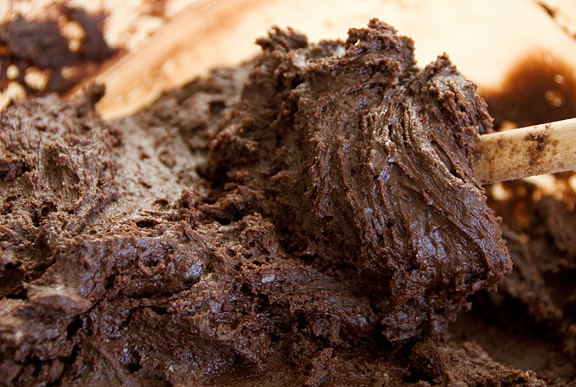 Confession time. I don't own round cookie cutters. I have squirrels, cats, bats, hearts, brooms, dogs, flowers, stars, and even moons – but nothing round. [Recalls Raising Arizona where one of the brothers asks if the old man has any funny shaped balloons and the elderly fellow replies, "Not unless round's funny."] Okay, I do have fluted biscuit cutters which are round. I used those for the filled doughnuts, but the smallest cutter was too big for a doughnut hole. I wound up using a little 1-inch decorative cutter.
expansion during frying should render a somewhat round shape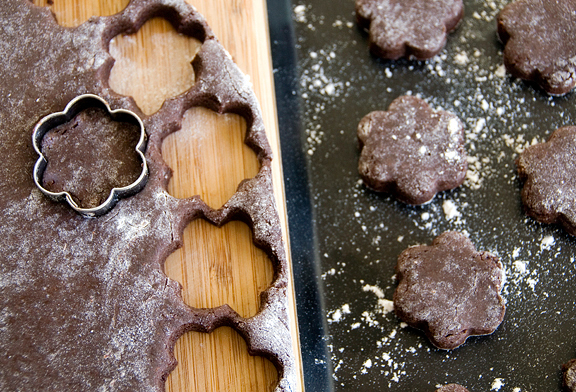 more or less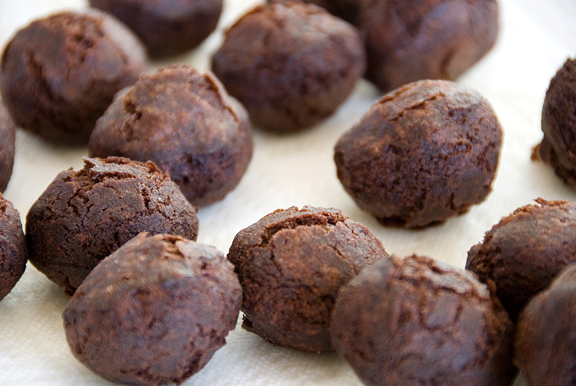 The frying was the hardest part for me. I consider myself competent enough in the ways of deep frying. I set up a large pot and filled it with canola oil, slapped the candy thermometer on the side, and got it to the right temperature (375F for the chocolate doughnuts). I dropped a dozen of the little dudes into the oil and they began to bubble and bobble. Good. Here was where I ran into problems… I would flip one and it looked just like all of the others. After a point I couldn't tell who had flipped and who hadn't and they just kept bobbing about and there was no way to see if they were too brown since they're ALL dark brown to begin with. *sigh* Only a few were a tad overly browned (read: burnt).
glazing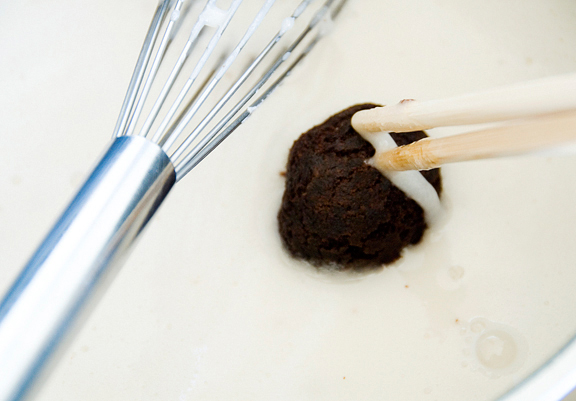 sugar-coated nibble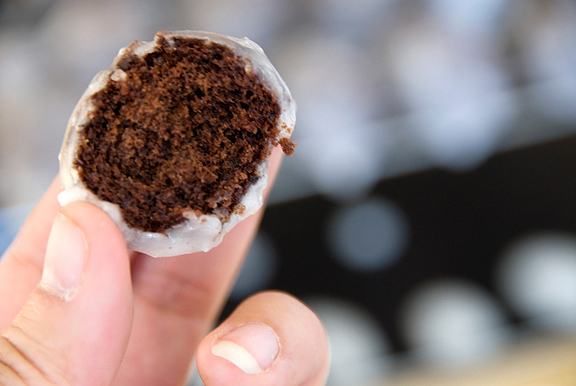 The sugar-glazed doughnut holes didn't elicit memories of Dunkin Donuts munchkins. Rather, it reminded me more of this cake-like cookie dipped in a marshmallowy white coating… like those SnackWells devil's food thingies. I goofed on the glaze and used a whole packet of gelatin instead of half. So it got a little goopey as the glaze cooled, but I only dipped half of the doughnut holes in the sugar glaze. The rest were destined for a mocha glaze.
it's not oil, but chocolate and espresso that drive civilization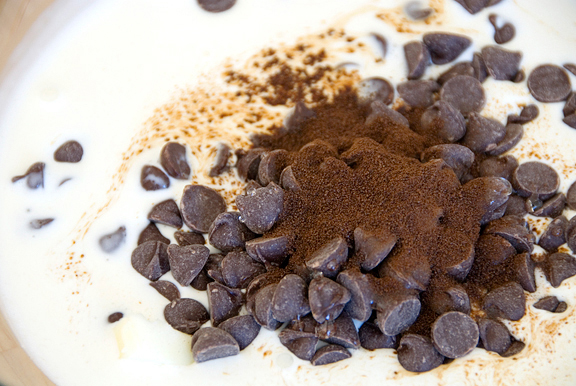 shiny, rich, smooth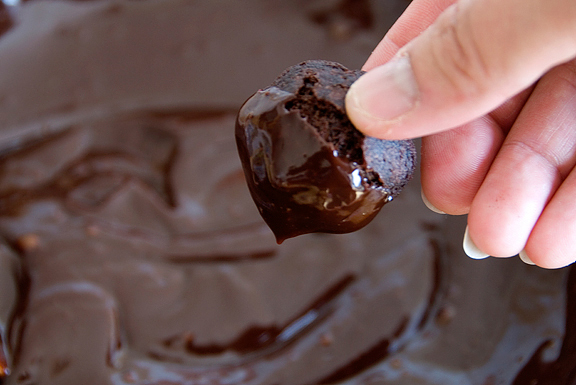 For the filled doughnuts, I used a copycat Dunkin Doughnuts recipe. In the frying frenzy, I didn't read through the recipe as carefully as I ought to have and failed to notice that this one doesn't have a kneading step after mixing the dough. What that meant was my doughnuts had a short strand instead of the lovely long bready filaments. Dang. Be ye warned and give that dough a few minutes of good kneading before the first rise.
start with yeast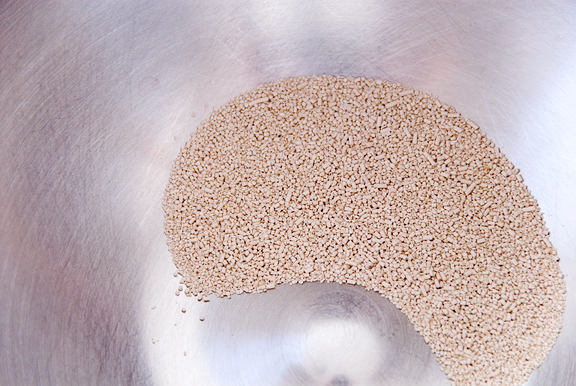 let the dough rise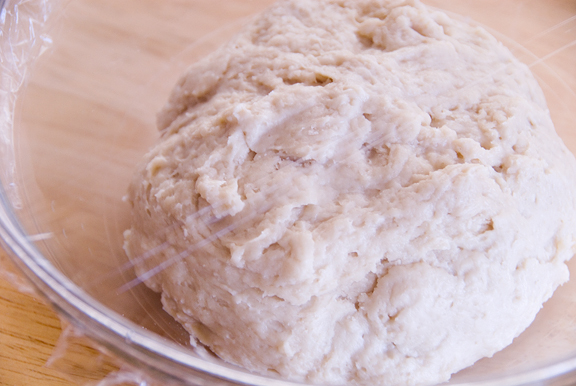 I used my fluted, round biscuit cutter (3-inch) to eek out a baker's dozen. After the second rise, you could barely tell they were fluted. But one day, I'll procure myself some decent
round
cutters. These doughnuts were far easier to fry up (at 350F) since I could watch them turn a lovely golden color within one or two minutes.
second rise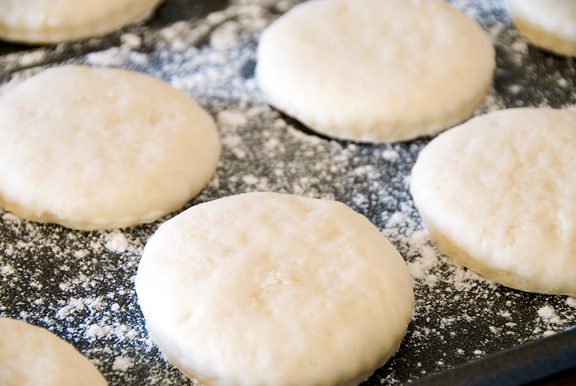 mmmm… fry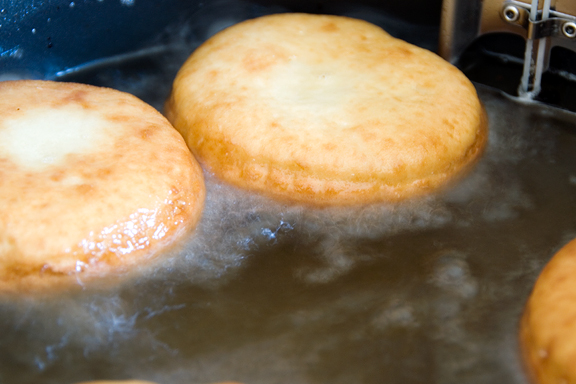 While the doughnuts were cooling/draining on paper towels, I attempted the frosting filling. I had suggested a nice buttercream, which while still gross to me, was lighter and smoother. But no, Jeremy said the shortening-based frosting was more on par with the original. Okay. I mixed it up and took a taste and it made my jaw ache – that's how sweet it was. Blegh. I asked Jeremy to check the frosting and his eyes fluttered with joy as he nodded approval. Whatev.
chocolate frosting that will make you blind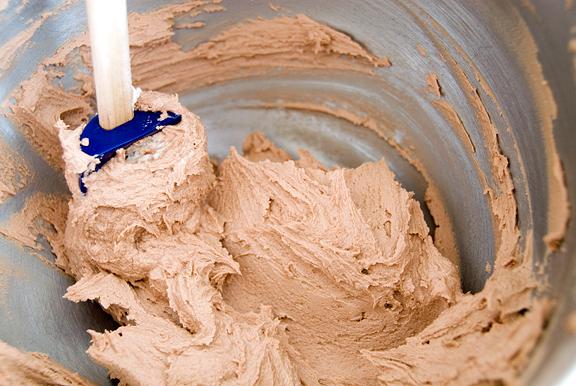 When the doughnuts were cool, I poked a little hole in the side with a chopstick and then carefully swept out a little cavern for the filling inside. Using a pastry bag, I inserted the tip and squoze as much filling as I dared. With two left, I decided to indulge myself and fill the pair with some lovely homemade mulberry jelly that Joyce had made and shipped to me.
i don't skimp on the filling – this is my kitchen, not corporate america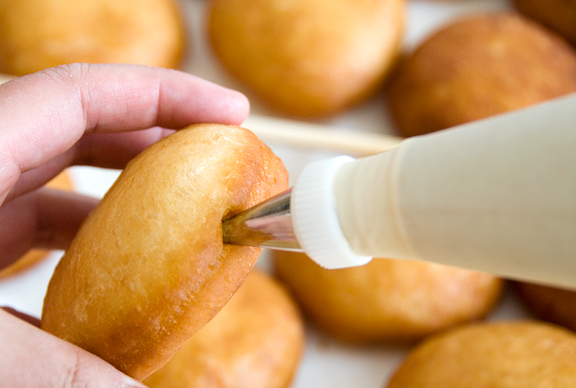 I didn't dust the chocolate doughnuts with powdered sugar as Jeremy informed me that there was plenty of sweet in that doughnut already. Overall, the holes weren't as moist as I would have liked (I blame the frying conundrum), but they are quite good. I think the filled doughnuts were pretty good, but I would have been much happier with a better developed structure in the dough. Jeremy says the sugary-chocolate-frosting-monstrosity doughnuts are really nice warmed up with a cup of dark roast coffee. Our neighbors gave them the thumbs up too. Big thanks to Peabody and Tartelette for getting me off my arse and doing something that's been on my long list of things to try. Love you guys!
happy family of doughnuts
Chocolate Cake Doughnuts
[print recipe]
from Diana's Desserts
2 1/2 cups all-purpose flour
1 cup unsweetened Dutch-process cocoa
2 tsps baking powder (I reduced to 1 1/2 tsps for elevation)
1/2 tsp salt
4 eggs
1 1/2 cups sugar
1/3 cup buttermilk
3 tbsps butter, melted
6 to 8 cups vegetable oil for frying
In a bowl, mix flour, cocoa, baking powder, and salt. In a small bowl, whisk eggs, sugar, buttermilk, and melted butter to blend. Stir into dry ingredients until well blended. Chill until cold, at least 1 hour or up to 3 hours. Scrape dough onto a generously floured surface. With floured hands, pat dough out to about 1/2 inch thick. With a 3-inch doughnut cutter, cut out doughnuts. Pat together scraps of dough and cut again. (Alternately, shape dough into ropes about 5 inches long and 1/2 inch thick; join rope ends to form doughnuts.) Place doughnuts on a well-floured baking sheet. Meanwhile, fill an electric deep-fryer to the fill line or pour about 4 inches of oil into a 5- to 6-quart pan; heat to 375°F (190°C). Place one doughnut at a time onto a wide spatula and gently slide into oil, frying up to three at a time. [Jen's Note: I dumped 12 of the little "holes" in at a time.] Cook, turning once, until puffy and cooked through, 3 to 4 minutes total (to check timing, cut first one to test). With a slotted spoon, transfer doughnuts to paper towels to drain. Repeat to fry remaining doughnuts. When cool enough to handle, dip the top half of each doughnut in warm mocha glaze or dip completely in sugar glaze. Cool on cookie rack. Let stand until glaze is set, about 5 minutes [Jen's Notes: it takes more than 5 minutes to set well enough for transport – more like a few hours]. Makes approximately 4 dozen 1.5 inch diameter doughnut holes.
Sugar Glaze
from Recipezaar
1/2 envelope unflavored gelatin (oops, I used a whole packet)
1/2 cup boiling water
2 tbsps cold water
1 lb. powdered sugar
Soften the gelatin with 2 tablespoons of cold water. Add boiling water and stir. Stir in the powdered sugar until smooth.
Mocha Glaze
from Diana's Desserts
6 oz. semi-sweet chocolate, chopped (I used Guittard chips)
4 oz. cup whipping cream
1 tbsp butter
2 tsps corn syrup
1 tsp instant espresso powder
In a heatproof bowl, combine all ingredients. Bring a few inches of water to a boil in a pan. Reduce to simmer and set bowl over pan. Stir until all ingredients are smooth and combined.
Filled Doughnuts
from Epicurean.com
1 pkg (or 2 1/4 tsps) regular or quick-acting yeast
1/8 cup warm water (105-115°F)
3/4 cup lukewarm milk, scalded then cooled
1/4 cup sugar
1/2 tsp salt
1 egg
1/6 cup shortening
2 1/2 cups all-purpose flour
Dissolve yeast in warm water in mixing bowl. Add milk, sugar, salt, egg, shortening and 1 cup of flour. Beat on low speed scraping bowl constantly, 30 seconds. Beat on medium speed, scraping bowl occasionally, 2 minutes. Stir in remaining flour until smooth. [Jen's Notes: this recipe says nothing about kneading the dough, but after I was unsatisfied with the crumb I looked at several other similar recipes that have a "knead the dough" step. So knead the dough until smooth for a few minutes before placing in a greased bowl to rise.] Cover and let rise in warm place until double, approximately 50-60 minutes. Turn dough onto floured surface. Roll dough 1/2-inch thick. Cut with round cookie cutter. Cover and let rise on floured baking sheets until double, 30-40 minutes. Heat vegetable oil in deep fryer or Dutch oven to 350°F. Slide doughnuts into hot oil. Turn doughnuts as they turn golden brown, about one minute on each side. Remove carefully from oil taking care not to puncture the doughnuts and drain. When cool, make small hole to insert vanilla frosting . Take a sharp narrow knife and carefully make a large cavity inside of the doughnut to hold the frosting. Fill the doughnuts generously with frosting, jelly or custard and dust heavily with powdered sugar. Makes a dozen doughnuts.
Chocolate Frosting
adapted from Epicurean.com
1/4 cup solid vegetable shortening
1/4 cup butter
1/2 tsp vanilla extract
2 cups sifted confectioners sugar
1 tbsp milk
2 tbsps Dutch process cocoa powder
Cream butter and shortening. Gradually add sugar 1/2 cup at a time. Add milk and vanilla, beat until light and fluffy. Beat in cocoa powder. Will keep for 2 weeks in airtight, refrigerated container.