Recipe: fondue
One of the joys of my heathen ways is that Christmas and Easter are typically empty slope days for a ski whore like me. Jeremy and I had a nice morning of fast corduroy, sunny skies, and the mountain practically to ourselves. I would have posted a picture, except Jeremy's POS point-and-shoot craps out when the temperature is below 20F. All you need to know is that it was good and I skied it.
The other day when I met Beth for happy hour in Boulder, Jeremy couldn't join us because he had a meeting with one of his graduate students. When he saw the fondue on the blog, he made a barely audible whimper at having missed out. So while we were running through the grocery store on Friday to pick up some raspberries, I whipped out the iphone and looked up a quick recipe for gruyère fondue: gruyère (of course), a baguette, some sausage, apples, and then some white wine. This being Colorado with antiquated liquor laws, we had to find a liquor barn to purchase wine. This being Colorado with antiquated liquor laws, we had only to walk next door as every grocery store in the state literally has a liquor store within 200 feet of its doors.

let's have fondue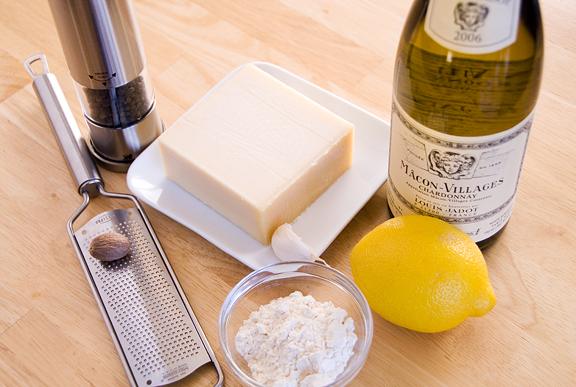 It was the perfect excuse to use my new saucier pan too. I had a fondue set that was gifted to me by someone I don't even speak to anymore (aka Bridezilla, if that tells you anything). The bowl broke from the heat of a candle – wtf?!? Sort of indicative of the relationship which had its fair share of wtf moments.
toss the shredded cheese with flour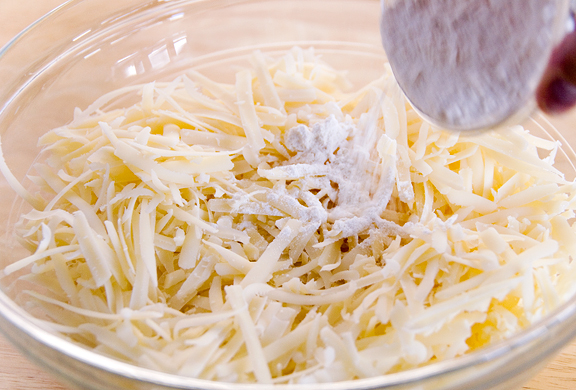 add lemon juice to the heated white wine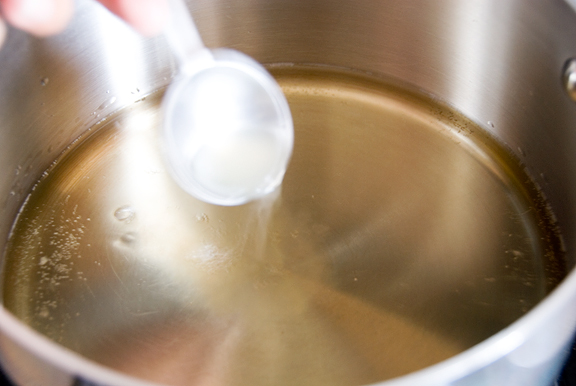 This is a fast recipe. Each handful of cheese melts quickly and smoothly while you stir it in. The flour helps to prevent separation of the cheese (as does the acidity of the lemon juice and wine).
season with pepper and nutmeg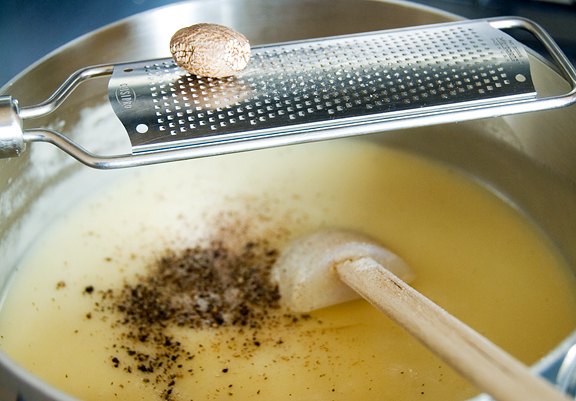 Taking a cue from happy hour, I cut up some apple (fuji), crusty baguette, and chicken sausages. The chicken sausages were 1) chicken and apple and 2) chicken, spinach, and garlic. I have to say I liked the punchier of the two (the spinach-garlic), but would prefer a spicier sausage to both of these. Just saying…
for dipping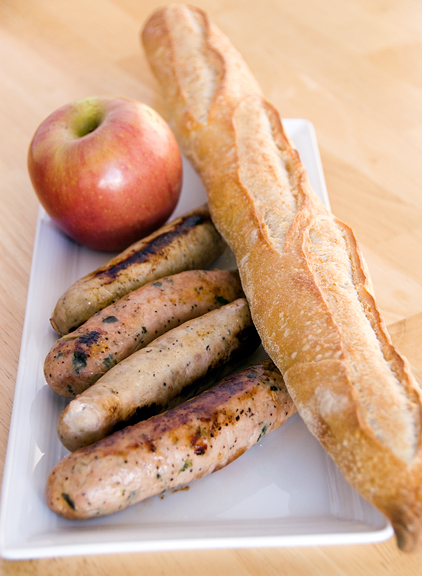 bite size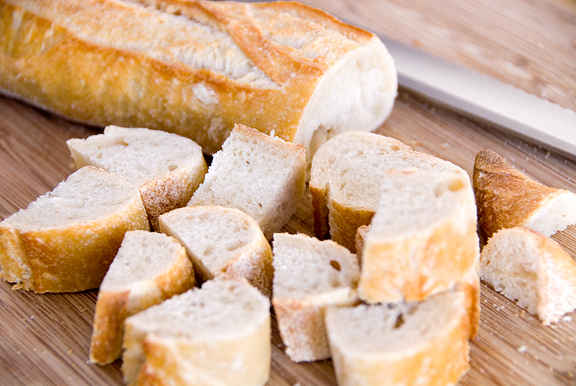 Fondue was the perfect après ski this afternoon. Love that heady wine and gruyère combination! Kaweah helped me finish the apple chunks :)
fun do!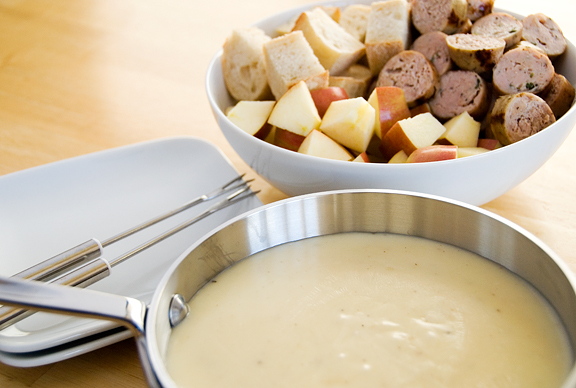 worth every calorie
Traditional Fondue
[print recipe]
modified from about.com
1 lb. shredded Gruyère (it says 1/2 lb. Gruyère and 1/2 lb. Emmental, but I got lazy)
1 clove garlic
1 1/2 cups dry white wine
1 tbsp lemon juice
3 tbsps flour
pepper and nutmeg to taste
for dipping:
1 baguette, cut into cubes
1 apple (granny smith or some tart/sweet thing), cut into chunks
1 lb. cooked sausages, sliced thick
Toss cheese and flour together; set aside. Rub the inside of the pot with the cut side of the garlic clove. Pour wine into the pot and heat until warm, not boiling. Add the lemon juice. Add cheese by the handful to the wine, stirring constantly until melted and creamy. Add pepper and nutmeg to taste. Let the mixture come to a boil once and remove from heat. Set over flame so the fondue bubbles lightly. Spear the bread, apple, or sausage and dip in the fondue.