I've been on puke watch all day since 4 am.
No, not for me. Chemo has done everything else to me including making me feel like I want to puke, but so far I can report no hay pukeage para mi. Let's be thankful for the little things.
Someone in our household engaged in some Unsupervised Dietary Indiscretions… Take a guess.

huh?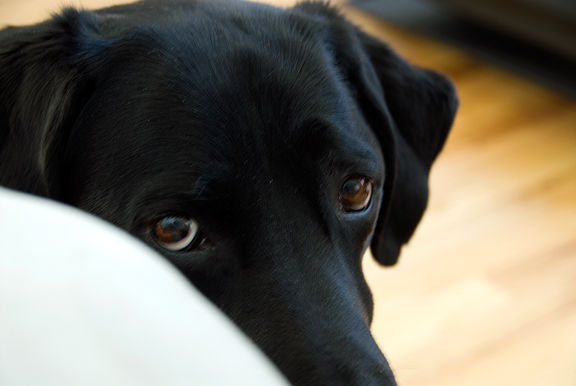 I think she's on the mend now. The interesting thing is that Kaweah is such a creature of the moment that when she pukes she's sad and traumatized, but then after she pukes her reaction is, "w00t! Someone left food on the floor!" If only life were that simple.
Yet some things in life are almost that simple. Over ten years ago, in the little college town of Ithaca, New York, Jeremy and I acquired an ice cream maker for $30. Living just above the poverty line in the name of Science, we figured it was high time to start making our own Coffee Heath Bar Crunch ice cream instead of paying $3 for a pint of Ben and Jerry's. We even bought their recipe book. This was mostly Jeremy's scheme since I don't typically touch the stuff – it makes me spastic, as does all caffeine. He made a few batches. He said it was "okay". We calculated the cost of making it ourselves and decided it was about the same as dealing through the Boys of Vermont… and their ice cream was better in quality, so we gave up.
But last summer I blew the dust off of Ye Olde Ice Cream Maker and tried some new recipes via The Lebovitz… David, that is. His custard-based ice creams really won me over. When I made his coffee ice cream recipe, Jeremy fried a circuit gushing over how rich, creamy, dense, smooth, and coffee-y it was. Good stuff, kids. Pure joy.
Fast forward to last week when Jeremy and I were cruising the aisle for after-Easter sale candy. I mentioned that I had some egg yolks to use up after the Daring Bakers Challenge and what flavor ice cream would he like me to make? He replied coffee (because he already had chocolate in the freezer that I made earlier). Sure, coffee. Why not put some Heath Bar in there while we're at it?

why not?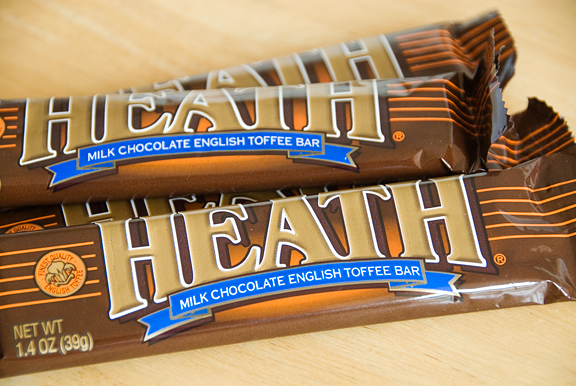 Take care when smashing up the toffee because it can become powder in no time flat. Or maybe it's that my superhuman strength turns a simple rolling pin into…
the pulverizer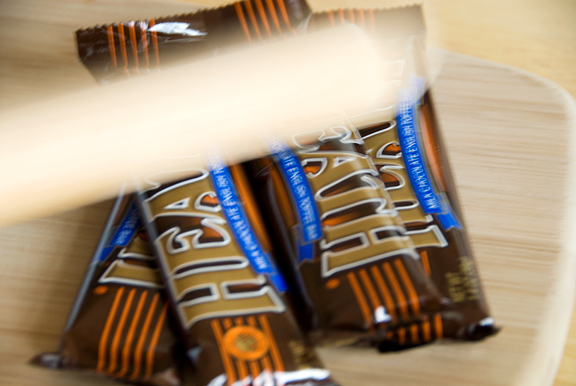 That was fun. I was sure to leave plenty of large chunks of toffee for Jeremy's snacking pleasure. So once the ice cream custard was cooled and I ran it through our ice cream machine for 30 minutes, it was the right consistency for adding the goods.
mix quickly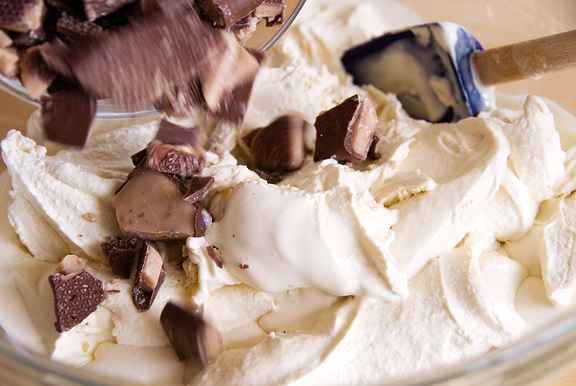 The yield is a quart and some change. I don't actually know how much it costs to make – probably comparable to B&J's prices… The difference is that this version is way the hell better than Ben and Jerry's. The coffee flavor is stronger (I use dark roast beans) and the ice cream is richer and creamier. Jeremy friggin' loves this stuff. It's his new best friend. I had to pry the tupperware from his arms when he went to bed the other night, he loves it so much… Shazaam!
mission accomplished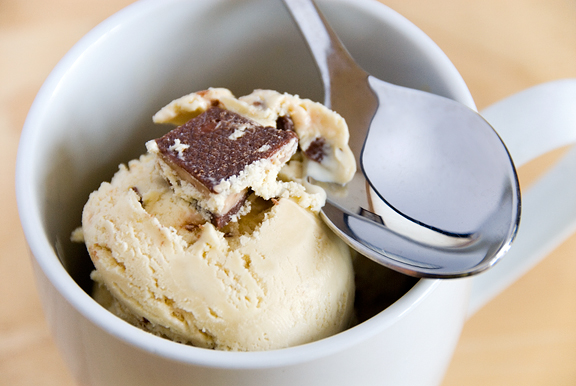 You can get the recipe for the coffee ice cream
here
and mix in 4 crushed Heath Bar candy bars after turning in the ice cream maker, but before freezing.