Recipe: raspberry cream cheese cookies
Happiness is getting another day of skiing when you thought your season might be over. We hit the local hill this morning and played around working on form, balance, technique. Another gorgeous bluebird day!

tele gurl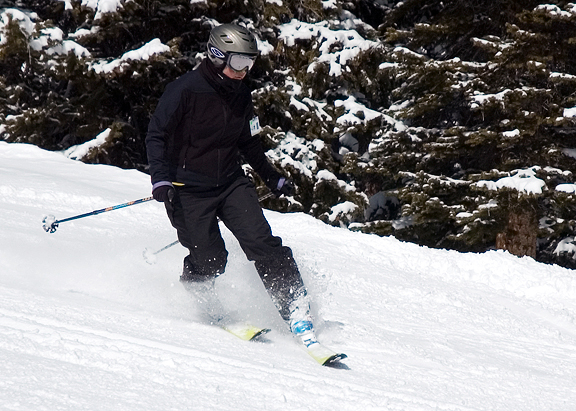 jeremy working on form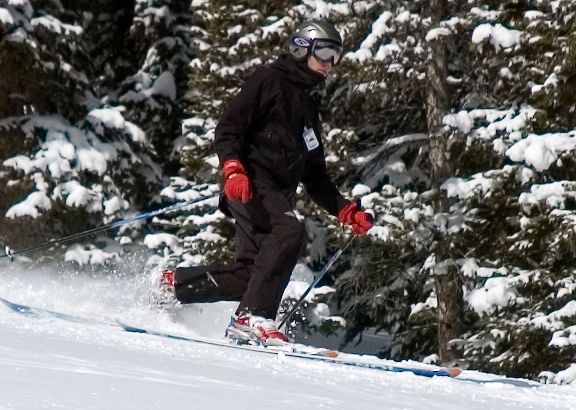 practice practice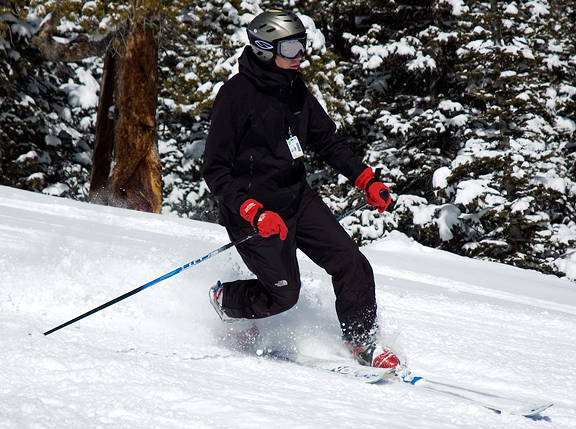 A couple of weeks ago I made a bunch of cookies to send to my MIL's quilting groups to thank them for the awesome ice cream cone quilt they made for me. With memories of those incredible melt-in-your-mouth cookies that Anita had sent to me from Miette, I searched for a cream cheese cookie recipe in an attempt to reproduce that kind of joy. I found a recipe in one of my old cookie books that looked pretty similar.

cream together the butter and cream cheese
The book suggests using full-fat cream cheese to maximize the tenderness of the cookie. Because the dough needs to be refrigerated, this isn't one of those recipes that lends itself to last-minute rush jobs.
EDIT:
Dough refrigeration is necessary, but not for as long as the original recipe suggests. I make edits in the recipe below.
i used a 2-inch biscuit cutter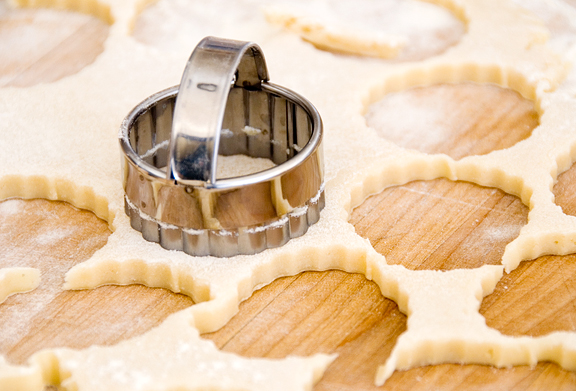 The dough is pretty well-behaved and rolls out easily without too much sticking. Sticking is annoying because it will shear the cookie dough if you have to pull it from the work surface, resulting in an ellipse instead of a circle. I'm not ellipse-ist, but my general preference is for circles in this instance.
EDIT:
I now roll the dough out between two sheets of wax paper or parchment paper. Once it is the desired thickness, I place the dough and papers on a baking sheet in the refrigerator to chill (about an hour).
pressing indentations in the center of the dough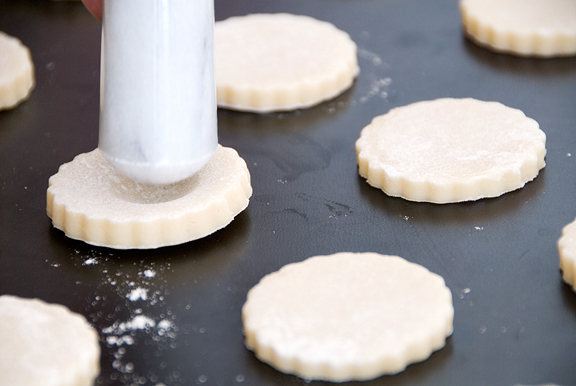 I used a little marble pestle for the indentations because my thumb isn't symmetric. Take care not to press indentations too enthusiastically. I pushed a few too far and wound up with leaking jam. The recipe calls for a honey-nut filling, but I was having none of that. I wanted raspberry jam – just like the cookies Anita had sent. You can leave the seeds in or sieve them out. Running a jar of preserves through a fine mesh sieve is a good way to make yourself insane, though. I sieved them the first time and have since decided it is worth leaving the seeds in.
a dollop of raspberry jam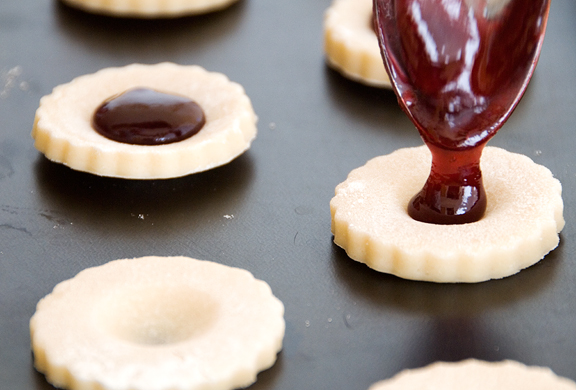 One problem I encountered with my cookies was that I probably didn't cook them long enough. The dough was fine, but the jam took a long time to set if it did at all. I suspect a few more minutes could have solved that issue. Everyone who received these cookies in the post probably had some nightmarish sticky mess to deal with. At least the reports came back that they were delicious, mess or no.
My verdict: the cookies were nice and soft with a mild and sweet tang to the dough from the cream cheese. The jam is a perfect pairing with it. However, they aren't quite the delicate and magical cookies that Miette cranks out. So be it – all the more reason to make a pilgrimage to San Francisco to visit that shop! Meanwhile, this recipe is a keeper.

cookies to say thanks
updated cookies in whimsical mushroom form
Raspberry Cream Cheese Cookies
[print recipe]
modified from The Joy of Cookies by Sharon Tyler Herbst
2 cups all purpose flour
1 tsp baking powder
1/4 tsp salt
1 cup butter, softened
8 oz. cream cheese, softened
2/3 cup granulated sugar
1 tsp vanilla extract
1/4 tsp almond extract (optional)
4 oz. raspberry jam
In a medium bowl, combine flour, baking powder and salt; set aside. In a large mixing bowl, beat butter, cream cheese, sugar, vanilla, and if using, almond extract, together until light and fluffy. Mix in flour 1/2 cup at a time, blending well. Place half of the dough between two sheets of wax or parchment paper. Roll to 3/8-inch thickness. Set the dough sandwich (with the paper) on a baking sheet or flat surface and refrigerate for an hour up to 24 hours. Repeat for the second half of the dough.
Preheat oven to 350°F. Take one sheet of dough out of the refrigerator. Cut dough with cookie cutter (I used 2-inch round). Gather and re-roll the scraps between the wax or parchment sheets. Place rounds 1 inch apart on a baking sheet lined with parchment paper. Use thumb or other utensil to press a 1-inch wide indentation in the center of each circle. Return your baking sheet to the refrigerator and repeat the process for the other half of your dough.
Fill the divots of your first half with a teaspoon or more of jam, taking care not to overfill. Repeat for the other half of the dough. Bake 13-15 minutes (15 minutes for me) or until pale golden brown on the bottom. Cool on racks. Store in an airtight container at room temperature for 1 week or freeze for longer storage.
To make amanita mushroom cookies: Use mushroom cookie cutters. I pressed the mushroom cap indentations with the flat base of a 1 cm diameter handle. Use whatever works, but leave a 1/4-inch margin so the jam doesn't run out and over the cookie during baking. Fill the caps with jam. Bake the cookies the same as round cookies.
For the white dots you can apply white nonpareils sprinkles or pipe small dots of royal icing onto the cooled cookie mushroom caps.
royal icing
from New York Times Cooking
1 1/4 cup (150g) powdered sugar
1 (40g) egg white
scant 1/4 tsp cream of tartar
pinch salt
Whisk ingredients together until stiff and glossy. Use right away or cover surface with plastic wrap and store in airtight container in the refrigerator for a few days.
more goodness from the use real butter archives