Recipe: lemon petits fours
lemon petits fours glacés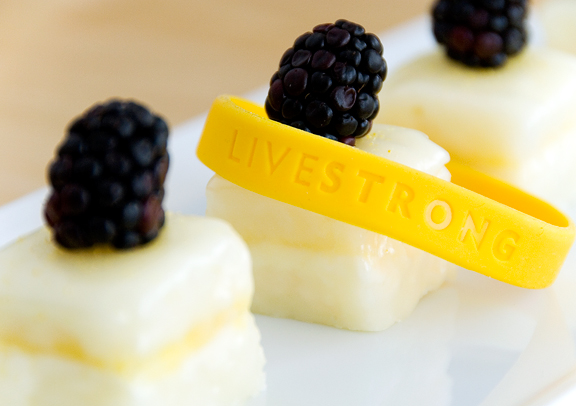 The last time I participated in a cancer-related food blogging event was for the
Boobie Bake Off
. I hate the color pink. I really do. All of my life I have fought the girly-girl look and pink was pretty central to being a girly-girl in my mind. But I could overlook that aversion for a good cause. What a hoot when a month after the Boobie Bake Off, I was diagnosed with… you guessed it – Boobie Cancer aka breast cancer at age 36. WTF, right?
WTF, indeed.
The news was more of a shock for others than for myself. Some folks reacted as if I had died while others assured me that I'd get through this, no problem. Still others said nothing and some said too much. The two best things I was told: "Love you. Anything you need," [Sam(antha)] and "We'll do this together," [Jeremy].

slicing the sheet of lemon chiffon cake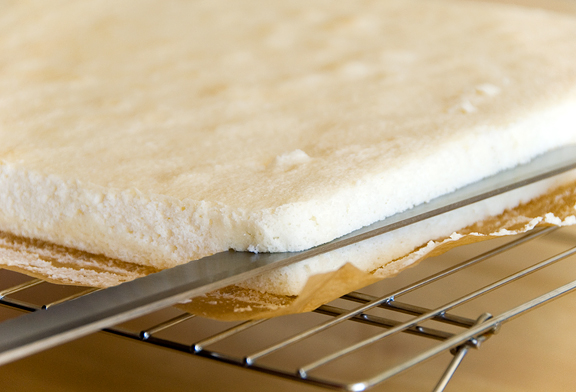 As my regular readers know, I am undergoing my chemo treatment now. My oncologist is a very sweet man who reminds me of Captain Kangaroo. He poisons me every three weeks – he even got me on Valentine's Day. But he tells me that I'm going to be okay. I would like to believe him.
I don't blame anyone. I don't pity myself. I don't want pity. Cancer blows, but I know there can be worse in life (um, my PhD comes to mind). Reading this blog, it looks like I've been a total ski whore during my chemo, but I fight hard for my good days. I put my carcass on the treadmill, the bike, the rower and work my ass off as soon as I can walk again after each chemo even though it hurts in ways I never knew I could hurt. I work to take back my body, keep my mind sane, and maintain a positive attitude. I bounce back and feel great and then I get hit again and it gets harder each time. I don't drag you guys through my personal hell because… it's mine and it's personal and you might stop reading :)

layering buttercream then lemon curd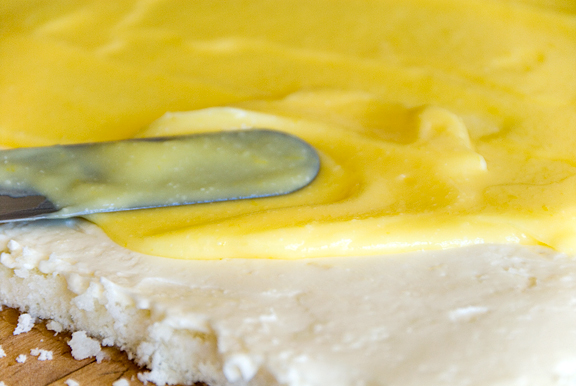 The first time I met with my surgeon to have the lump biopsied, he was sure it was some sort of cyst. I asked if I could sign up for a women's telemark ski program. He said to go ahead and do it. When he called me a week later to tell me the results were cancer, my mind wandered to the ski program. I'd have to withdraw. But eventually I decided not to. I decided I needed that program as long as I could physically participate. With the cooperation of my surgeon and anesthesiologist and oncologist, I missed only one out of six classes. One morning, while waiting for my advanced group to show up at the lifts, I was chatting with some of the ladies in the intermediate group. Someone, we'll call her Leslie, learned I had breast cancer and she said, "I have lumps in my breasts." Another woman chimed in, "I have lumpy breasts too." Leslie corrected, "No, I have lumps in my breasts." Turns out she's had these for years and she was too afraid to see a doctor because… because she didn't want to know. I wanted to cry. I wanted to take her by the hand and drive her to my surgeon and have him take care of her the way he took care of me. At the same time, I couldn't whole-heartedly recommend chemo (freaking chemo…) – couldn't tell her it's great and she'll be fine and it'll be worth it. I encouraged her to see a physician, to please see someone about the lumps.
Please.
I don't know if my words had any impact, but she thanked me before she got on the lift and I never ran into her again.
brushing limoncello simple syrup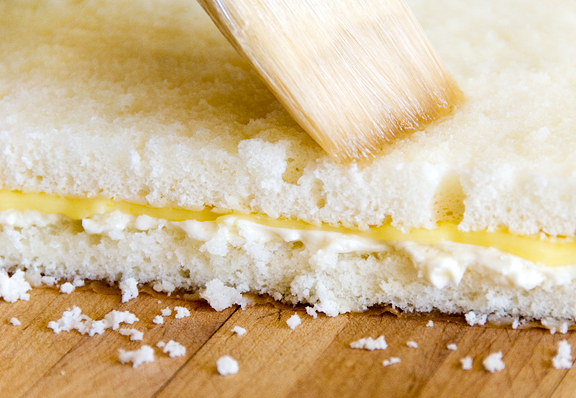 If I make it through my treatments, will I call myself a cancer survivor?
No. I'll not don the cancer survivor label because I don't believe in letting cancer define me as an individual. I know a lot of folks who were diagnosed with cancer said it changed their lives. I don't doubt that it did. Cancer has royally inconvenienced me, but I have been through tragedy boot camp before. I suppose that prepared me to deal with cancer better than I would have otherwise. So instead of calling myself a cancer survivor, I think I will say that I kicked cancer's ass. I accept that cancer could come back and kick MY ass. One way or another, one of our asses is getting wupped. I'm hoping medicine will get its act together in due time so that I will be the one to serve up the final can of Cream of Whoopass Soup should it come to that.

glazing with poured fondant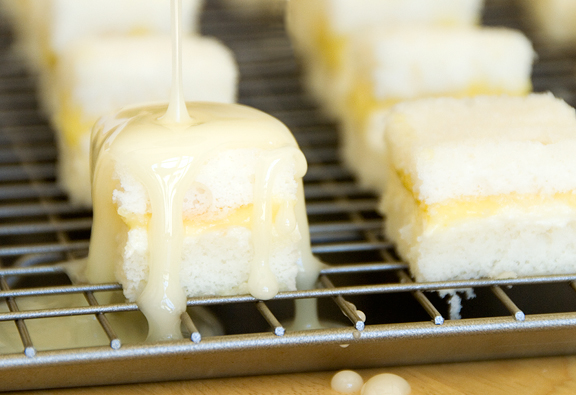 A Taste of Yellow
is an event hosted by Barbara of
Winos and Foodies
in support of
LiveSTRONG Day
which is on May 13 this year. I wasn't sure if I would be able to participate since the deadline was so close to one of my chemo days, but I managed to pull it off today. I'm not blogging this entry for me…
It took me all day to make these petits fours. While I folded the batter for the chiffon cake, I thought of Leslie. As the lemon curd thickened, I recalled the kind words of support from loved ones. Okay, I swore like a sailor when I glazed the darn things, but these tiny bites are made with hope, thanks, and love. These petits fours are for Leslie, for Jeremy, for friends, family, my doctors and nurses, my readers, for anyone touched by cancer. Live life. Live Strong. The Soup du Jour: Cream of Whoopass Soup.

a small bite with big meaning
Lemon Petits Fours Glacés
[print recipe]
1/2 sheet chiffon cake
2 cups lemon swiss meringue buttercream
1 cup lemon curd
1 cup limoncello simple syrup
poured fondant icing
blackberries and lemon zest for garnish
chiffon cake
makes 2 11×17-inch sheets or 2 9×3-inch rounds (you need only 1/2 of one sheet)
this recipe originally intended for baking at 5300 ft.
14.5 oz. cake flour
8.75 oz. confectioner's sugar
6.75 oz. whole milk
6 oz. canola oil
3.25 oz. eggs
0.5 oz. baking powder (omitted at 8500 ft.)
13 oz. egg whites
9.5 oz. granulated sugar
1 tsp vanilla extract
3-4 oz. lemon juice
Oven 375°F. Prep pan by buttering bottom and sides. Place parchment in pan and butter the parchment. Sift dry ingredients (except granulated sugar) into a large bowl. Mix all ingredients (except the 13 ounces of egg whites and granulated sugar) in the large bowl until combined. Whip whites and granulated sugar to medium peaks. Fold into batter gently. Bake until set, about 20-25 minutes. Remove from oven and remove from pan. Let cool on a rack. Cut one sheet in half. Wrap the other half and the other full sheet for other use. With a large serrated knife, cut the cake into two layers.
lemon swiss meringue buttercream
makes about 2 cups
4 oz. egg whites
8 oz. sugar
1/2 lb. butter, room temperature
1/2 tsp vanilla extract
3 tbsps lemon juice
Combine egg whites and sugar in a Kitchenaid mixing bowl. Whisk constantly over a bain marie until 140°F is reached. Place on mixer with whisk and whip until stiff. Turn down whip speed to 3rd and whip until cool to the touch (this takes a while – should be cooler than your hand). Change to a paddle and gradually add soft butter by tablespoon pieces. Mix to emulsify. Once desired consistency has been reached, add vanilla and lemon juice.
lemon curd
makes 3.5 cups
6 oz. fresh lemon juice, strained
9 oz. sugar
3 oz. butter
3 oz. heavy cream
6 eggs
1 tbsp fine lemon zest
pinch of salt
Boil lemon juice, sugar, butter, salt, and heavy cream in a saucepan. Place eggs in a bowl and whisk to loosen up the whites and yolks. Temper hot lemon mixture into eggs. Add mixture back into saucepan and bring to a boil over medium heat, stirring constantly until thickened and nappé consistency. It should be quite thick or else it will be too runny in the final product. Strain, add zest, and stir. Place plastic wrap directly on curd and cool over an ice bath. Refrigerate when chilled. Can be frozen for up to 4-6 months.
limoncello simple syrup
4 oz. sugar
4 oz. water
2 oz. limoncello
Heat water and sugar in a pot until sugar is dissolved. Bring to boil and turn off heat. Let cool. Mix in limoncello.
poured fondant icing
4.5 cups confectioner's sugar
1/2 cup water
1/4 cup light corn syrup
1/2 tsp vanilla
1/2 tsp lemon extract
drop of yellow food coloring (optional)
Combine all in double boiler except coloring. Heat until lukewarm. Remove from heat and stir in food coloring. Ladle over petits fours.
assembly
Set first cake layer on a sheet of wax paper on a cutting board. Use a pastry brush to apply the limoncello simple syrup to the layer. Spread a layer of buttercream frosting, then carefully spread a layer of lemon curd on top. Set the second layer of cake on top and brush with more simple syrup. Using a ruler and a good sharp serrated knife, cut the cake into 1×1-inch squares. Place the squares on a rack over a pan or wax paper (to catch the drips) with enough space between each square for glazing. Take warm glaze and pour over the squares. [A really helpful tip that works much better is to fill a squeeze bottle with the poured fondant and apply the glaze to the petits fours. That way you don't have nearly as much wasted fondant on the pan compared to if you used a ladel.] Garnish and serve.