Recipe: chinese scallion pancakes
I've been able to resume my cardio workouts this week and it feels great. It helps alleviate some of the lingering side effects. My body and mind are much happier for it too, albeit a little tuckered out. That's okay with me. I am a firm believer in the no pain, no gain mantra. Did I mention that I've dropped two sizes? Crazy – I know. My oncologist mentioned that I hadn't gained any weight as most of his chemo patients tend to. It's hard to gain weight when food 1) tastes like ass and 2) plays havoc on your insides. At least the endorphins from my workouts are flowing – w00t!
Jeremy made it home late this afternoon. Even though I don't get bent out of shape when he's on travel, it's always nice to see my best friend again. Some folks require time away from their partner, but we can get along 24/7 indefinitely and that's a good thing to know. Actually, we can work together 24/7 in adverse conditions – read: vacation. I literally trust him with my life (well, he used to be high-angle Search and Rescue).
It's now 1 am and Jeremy just woke up to operate that giant radio telescope… My astrophysicist is hot. [I was about to say astrophysicists are hot, but that is a totally untrue and completely laughable statement.]
This afternoon, I made a recipe I've been wanting to post for a while. I usually make these in small quantities when I need to use up leftover dough from Chinese dumplings. It's something my mom always used to do when I was little. I never learned how to make these outright from my mom – the technique just sunk into my head with all of my visual memories of my childhood. Same with the dumplings. To see how the dough is made, I'll refer you to the dumpling recipe.

chopped scallions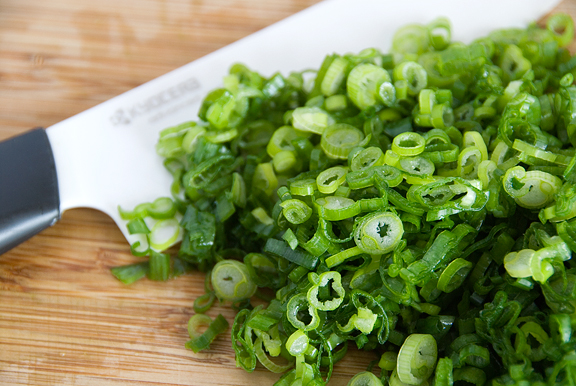 let the dough sit for 30 minutes under a damp cloth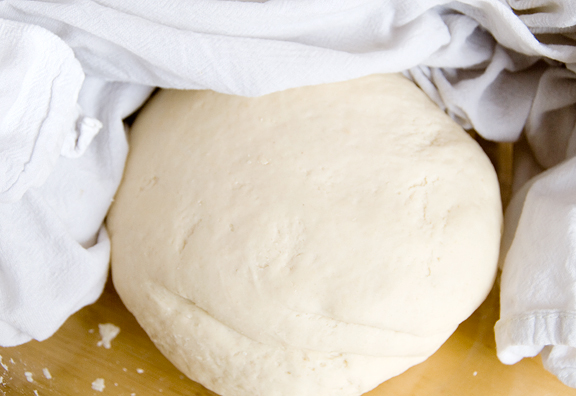 We never ordered scallion pancakes at dim sum because my parents could make them much better at home. I follow the same general philosophy to this day – if I can make something at home with competence, then I don't order it when dining out (because I'm usually disappointed).
shape the hunks of dough into racquetball-sized rounds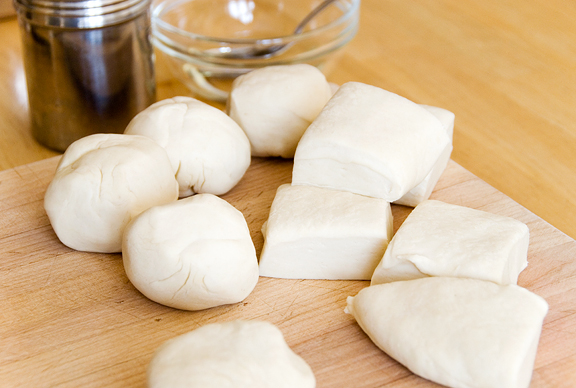 roll the dough out into a thin pancake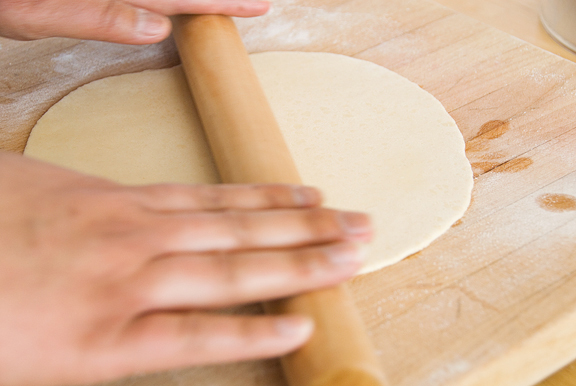 The scallion pancakes are an order of magnitude easier to make than the dumplings. They are also faster and far more forgiving of screw ups.
spread a thin layer of oil over the pancake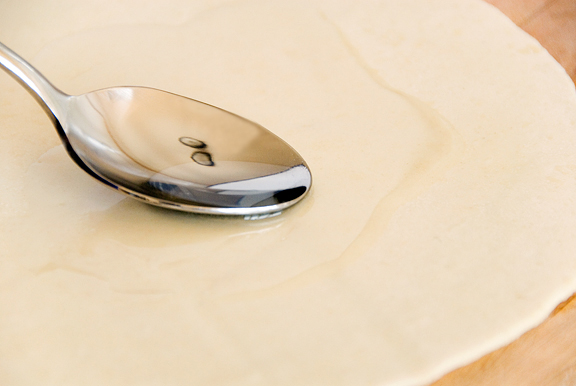 sprinkle salt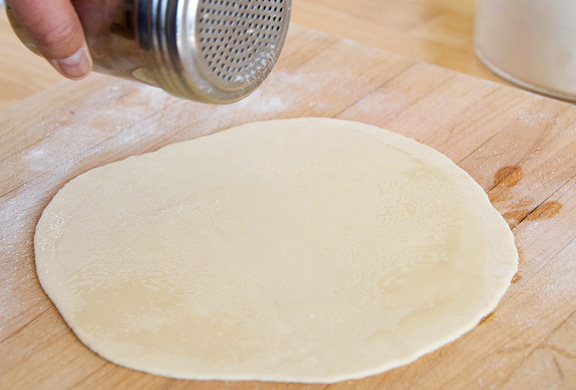 I discovered that I tend to underestimate the amount of salt needed in the pancake. I used to shake out what I thought was necessary and would realize it wasn't salty enough after all was said and done. Now, I typically add more than most others would. Your mileage may vary, so the first time you try this recipe, cook the first pancake and taste it so you can adjust the rest accordingly.
sprinkle scallions then roll the pancake like a rug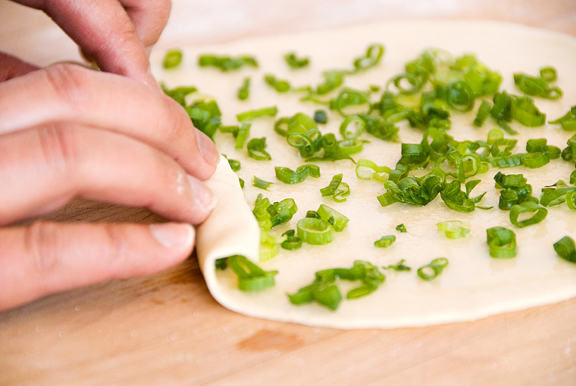 roll it up like a snail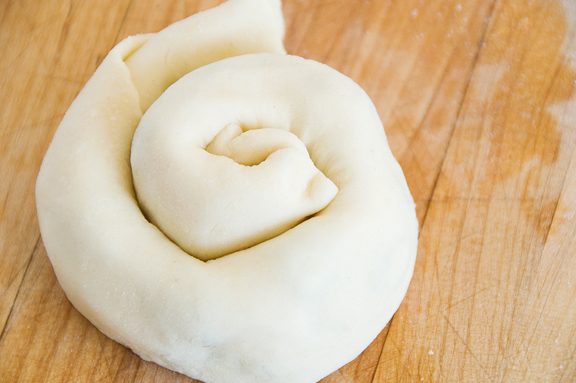 Rolling out the pancake can get a tad messy at this point because little pockets of air will burst and spew oil in the direction the pin is rolling.
roll out the pancake to 1/8th inch thickness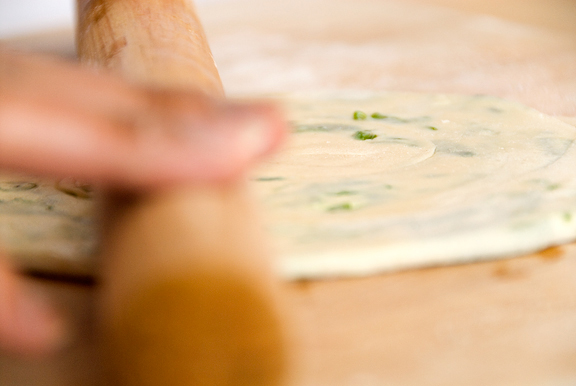 pan-fry in a little oil on both sides until golden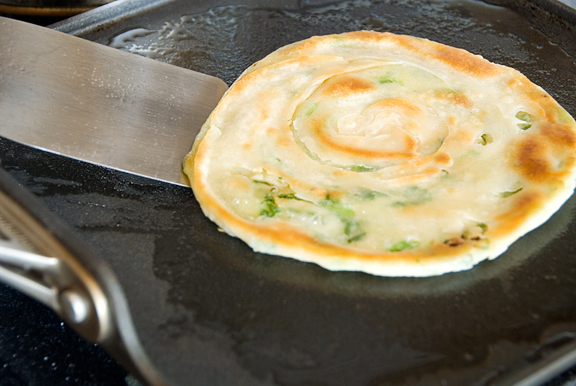 Frying the pancakes takes some time because I fry each side in about a tablespoon of oil over medium-low flame until crisp and golden. When they are done, you can serve them immediately or toast them up in the oven. Slice into quarters or eighths.
whole scallion pancakes
slice and serve
Chinese Scallion Pancakes
[print recipe]
2 cups flour
1/2 cup warm water
1 bunch scallions, finely chopped
vegetable oil
salt
Make the dough, Method 1: Place the flour in the work bowl of a food processor with the dough blade. Run the processor and pour the warm water in until incorporated. Pour the contents into a sturdy bowl or onto a work surface and knead until uniform and smooth. The dough should be firm and silky to the touch and not sticky.[Note: it's better to have a moist dough and have to incorporate more flour than to have a dry and pilling dough and have to incorporate more water).
Make the dough, Method 2 (my mom's instructions): In a large bowl mix flour with 1/4 cup of water and stir until water is absorbed. Continue adding water one teaspoon at a time and mixing thoroughly until dough pulls away from sides of bowl. We want a firm dough that is barely sticky to the touch.
Both dough methods: Knead the dough about twenty strokes then cover with a damp towel for 15 minutes. Take the dough and form a flattened dome. Cut into 5 or 6 pieces of equal size. Roll the pieces into balls.
Place a ball of dough on a well-floured work surface and roll out into a thin circle (about 1/16th inch thickness). Spread a teaspoon of oil evenly over the pancake (use more if needed). Sprinkle salt evenly over the pancake. Sprinkle 1-2 tablespoons of scallions over the pancake. Roll the pancake up from one end like a rug, then curl the roll around in a spiral and pinch the end to the roll so it stays wrapped. With the palm of your hand, press the roll from the top to flatten it. Roll the pancake out to 1/8th inch thickness. Heat a tablespoon of oil on a flat, wide pan over a medium-low to medium flame until hot. Set the pancake in the oil and let fry until the bottom is crisp and golden. Flip the pancake, adding more oil as needed. Remove from heat and serve immediately or reheat in the oven.