Recipe: cheesecake pops
The Daring Bakers strike again, this time with cheesecake pops!

we knead to bake
Elle of
Feeding My Enthusiasms
and Deborah of
Taste and Tell
are our lovely co-hosts this month and they selected this recipe from Jill O'Connor's
Sticky, Chewy, Messy, Gooey
.
beat the eggs into the cream cheese and sugar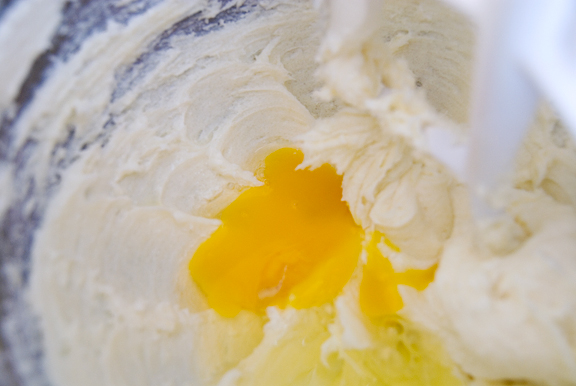 oven-ready batter, pre water bath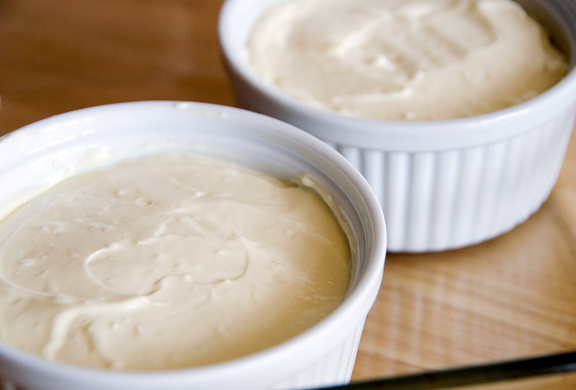 Seeing as no one in this house is a cheesecake fan and that I have trouble eating during my chemo, I almost bailed on this one. Yeah, I know… But math is my friend and I took a cue from Ashley of
eat me, delicious
who successfully reduced the recipe by a fifth. I mean, I was willing to participate, but not with 4 dozen freaking cheesecake pops… I baked the cheesecake batter in two small ramekins.
what a craptastic mess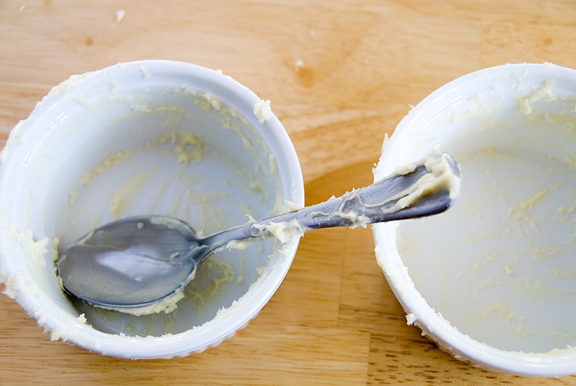 taking great joy in skewering these sticky bastards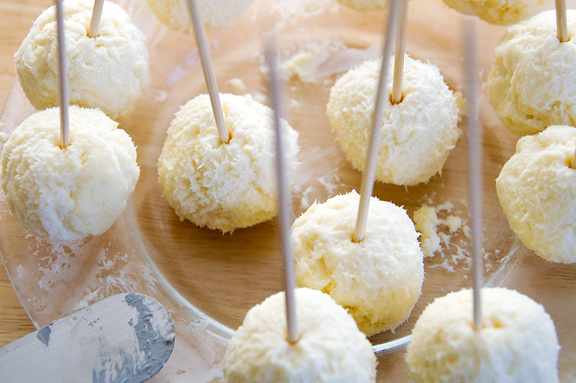 I started yesterday afternoon, the day before the deadline. I figured I'd be cutting it close with all of the refrigeration and freezing required. I let the ramekins cool in the fridge overnight. Then this morning at 4:30, I got fabulously ill and worried that I wouldn't be able to finish the pops this morning (well, I worried that I might suffocate in the night too). But I rallied, I swore a lot, and I made a huge mess in my kitchen. I don't know about you, but I don't think cheesecake was meant to be scooped, let alone stuck with a stick.
i used semi-sweet chips for the coating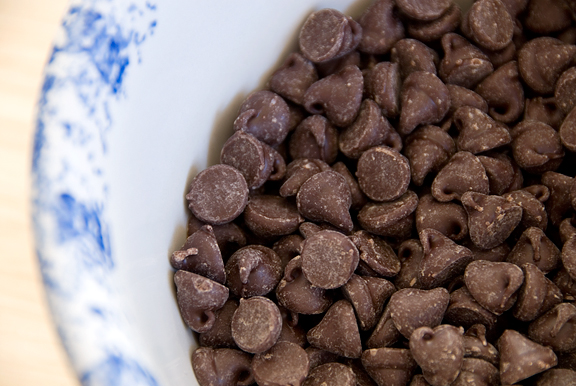 dippity dip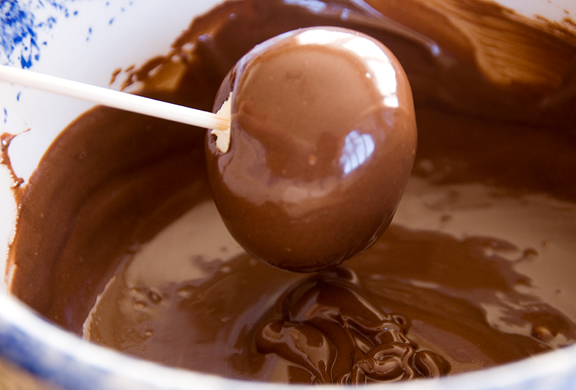 Normally, if it's a recipe I'm jazzed about, I'll go the distance and spring for Valrhona or some other lovely chocolate. Because I was not loving this recipe from the start, I bought generic Nestle semi-sweet chips for the coating and nuked it on half-power, stirring the shortening into the warm chocolate at the end. It's a thick glaze which sets up in about 5 seconds on the frozen cheesecake balls. Since I didn't want to purchase a bag of lolly sticks (I was pretty ornery about this one, wasn't I?), I used some bamboo skewers we had on hand.
there was one casualty – just too soft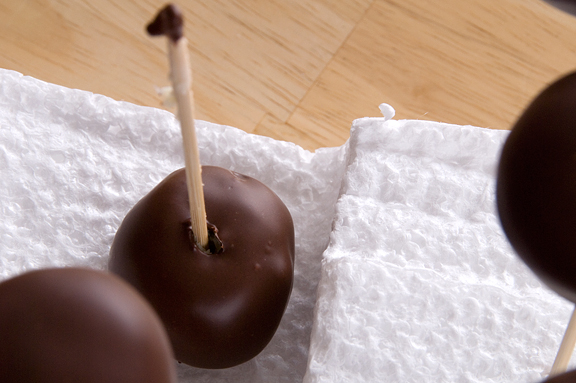 most of them held up just fine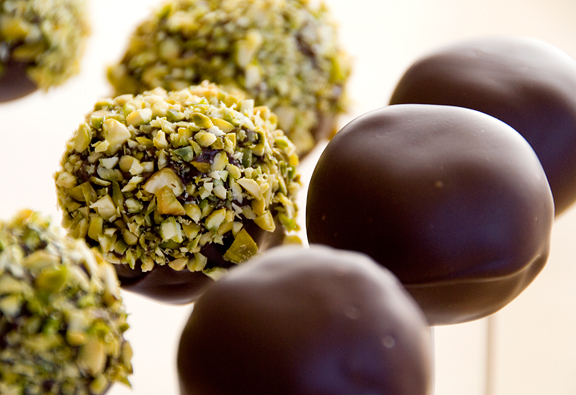 The nice thing about using skewers was that the sharp ends stuck nicely in my styrofoam base so the pops could set up easily. The bad thing about the skewers was that the sharp ends also stuck nicely into my hand at times… Since the chocolate firms up in no time flat, I had to work quickly on rolling a few in chopped pistachio nuts.
drizzled with white chocolate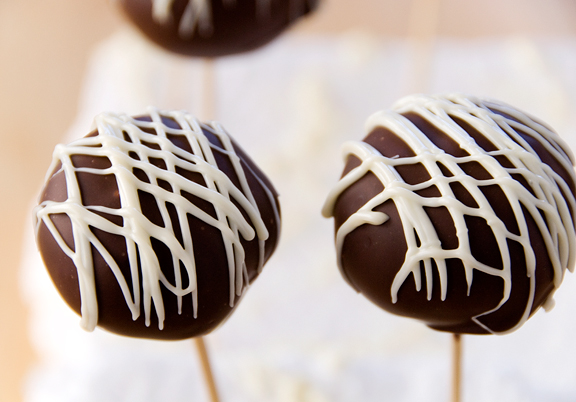 The end products are totally adorable and I hope my neighbors will dig on these because I don't want to see the pops ever again. That was fun, but definitely not my thing. I hope all of you DBers know how much I freaking love you guys because I was not wanting to finish this challenge this morning…
jolly little lollies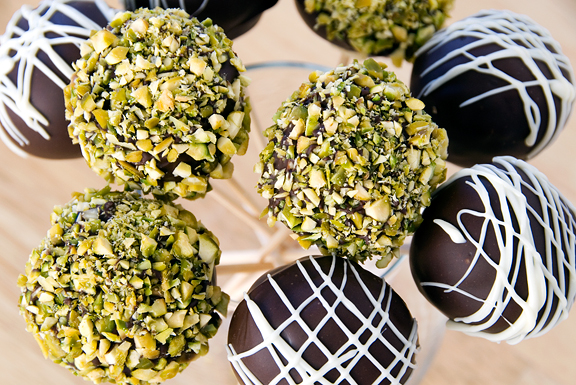 a bouquet for you… no really
To see the different cheesecake pops cropping up all over the foodblogosphere, check out the
Daring Bakers Blogroll
. I think we've reached something like a billion members now. I'd also like to thank
Lis
,
Ivonne
, Andy, and
Katrina
for the new and wonderful DB website which doesn't put me in the foulest of moods the way freaking Blogger did. Thank YOU!! xxoo
Cheesecake Pops
[print recipe]
Sticky, Chewy, Messy, Gooey by Jill O'Connor
makes 30–40 pops
5 8-oz. pkgs cream cheese, room temperature
2 cups sugar
1/4 cup all-purpose flour
1/4 tsp salt
5 large eggs
2 egg yolks
2 tsps pure vanilla extract
1/4 cup heavy cream
boiling water as needed
thirty-forty 8-inch lollipop sticks
1 lb. chocolate, finely chopped
2 tbsps vegetable shortening
assorted decorations: chopped nuts, colored jimmies, crushed peppermints, mini chocolate chips, sanding sugars, dragees (optional)
Position oven rack in the middle of the oven and preheat to 325°F. Set some water to boil. In a large bowl, beat together the cream cheese, sugar, flour, and salt until smooth. If using a mixer, mix on low speed. Add the whole eggs and the egg yolks, one at a time, beating well (but still at low speed) after each addition. Beat in the vanilla and cream. Grease a 10-inch cake pan (not a springform pan), and pour the batter into the cake pan. Place the pan in a larger roasting pan. Fill the roasting pan with the boiling water until it reaches halfway up the sides of the cake pan. Bake until the cheesecake is firm and slightly golden on top, 35 to 45 minutes. Remove the cheesecake from the water bath and cool to room temperature. Cover the cheesecake with plastic wrap and refrigerate until very cold, at least 3 hours or up to overnight. When the cheesecake is cold and very firm, scoop the cheesecake into 2-ounce balls and place on a parchment paper-lined baking sheet. Carefully insert a lollipop stick into each cheesecake ball. Freeze the cheesecake pops, uncovered, until very hard, at least 1 – 2 hours.
When the cheesecake pops are frozen and ready for dipping, prepare the chocolate. In the top of a double boiler, set over simmering water, or in a heatproof bowl set over a pot of simmering water, heat half the chocolate and half the shortening, stirring often, until chocolate is melted and chocolate and shortening are combined. Stir until completely smooth. Do not heat the chocolate too much or your chocolate will lose it's shine after it has dried. Save the rest of the chocolate and shortening for later dipping, or use another type of chocolate for variety. Alternately, you can microwave the same amount of chocolate coating pieces on high at 30 second intervals, stirring until smooth.
Quickly dip a frozen cheesecake pop in the melted chocolate, swirling quickly to coat it completely. Shake off any excess into the melted chocolate. If you like, you can now roll the pops quickly in optional decorations. You can also drizzle them with a contrasting color of melted chocolate (dark chocolate drizzled over milk chocolate or white chocolate over dark chocolate, etc.) Place the pop on a clean parchment paper-lined baking sheet to set. Repeat with remaining pops, melting more chocolate and shortening (or confectionary chocolate pieces) as needed.
Refrigerate the pops for up to 24 hours, until ready to serve.