Recipe: torta di ricotta
Here's a curious phenomenon revisited… One place I worked, which I affectionately refer to as Clusterfucks-R-Us, had a lot of questionable shenanigans going on. Like one of the married directors boinking his secretary and then moving her into my group for a job she wasn't qualified to do. Anyway, when things got quite ugly, I decided they weren't paying me enough to put up with all of their bullshit – so I tendered my letter of resignation with two weeks' notice. Two weeks. Two weeks of me walking around the company with a big "fuck you" grin on my snarky face. It's a good feeling. Teflon, I tell you.

crush the yolks like you would crush your enemies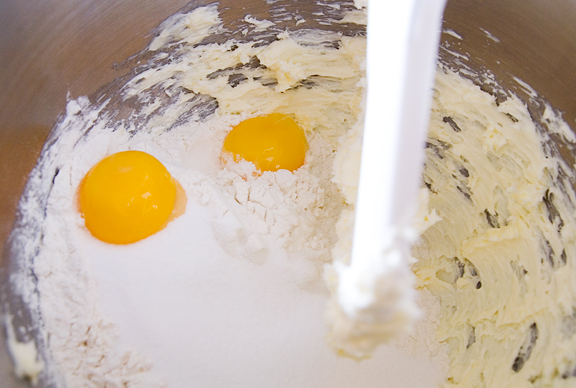 So lately, I realized I'm getting that "fuck you" syndrome again. Because when you're dealing with chemo and the whole cancer thing, there is a significantly reduced tolerance for idiots. And all of the people I patiently and politely put up with in the past… I've taken to blowing them off lately. The problem, which Jeremy posed to me this evening, is what to do when I'm coming back from the last chemo and returning to some semblance of a normal life? Yeah, I dunno. Not ready to think about that right now because I am very much enjoying not dealing with difficult individuals on a regular basis. I instructed Jeremy that upon my death I would like for him to read my shit list at my funeral, as in "Jen had a few parting thoughts to share. The following f'ers are on her permanent shit list. She really hated your freaking guts." Ah ha ha ha! Hey, it's my fantasy… You really have to achieve astounding levels of assholery to make my All Time Shit List and yeah, I do keep tabs.
don't drown your sorrows in marsala, you'll need it for the pastry crust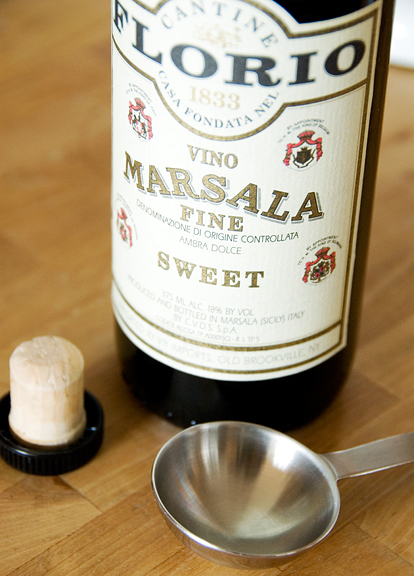 Since I'm not dead yet, here's that Torta di Ricotta recipe I had promised from our
chocolate tasting
the other night. After all, life is too short for mother f'ers and the withholding of good recipes.
press the pastry dough into a springform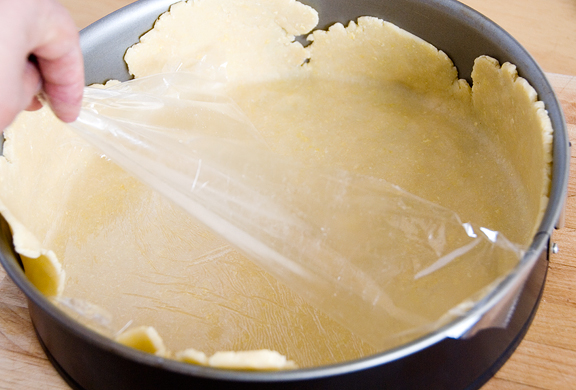 The original recipe instructed me to use 3/4 of the dough and press it to 3/4 inch below the rim of the pan. Lies. It shrinks a lot, so in the future I'm going to press the dough to the top and then it might actually shrink to the proper height for the batter volume. The other quarter of the dough is supposed to be cut into strips to make a lattice on top of the cake, but I nixed that in favor of the fruit garnish.
press the ricotta through a sieve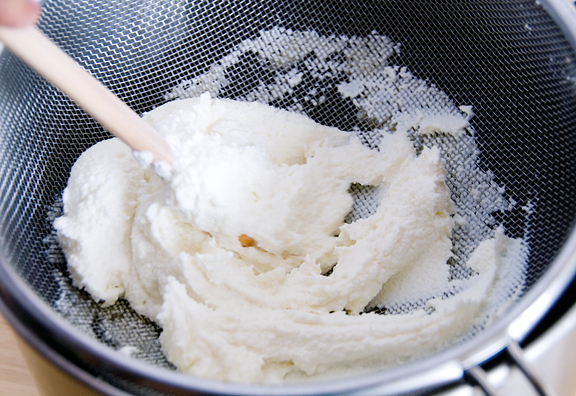 I've stated before that I am not a fan of cheesecake. A ricotta cheesecake is still a cheesecake, but this one feels lighter and the addition of the orange and lemon zests lends further to the illusion of a light and refreshing dessert.
citrus peel goodness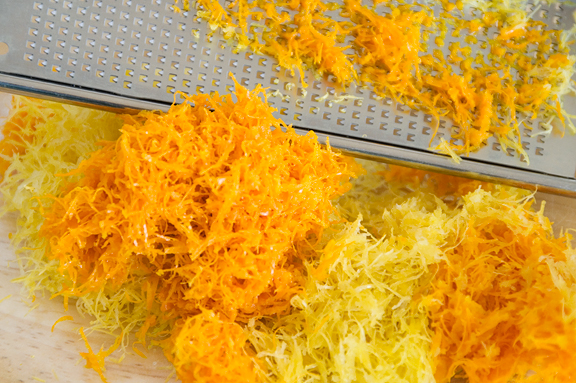 pour the batter into the baked crust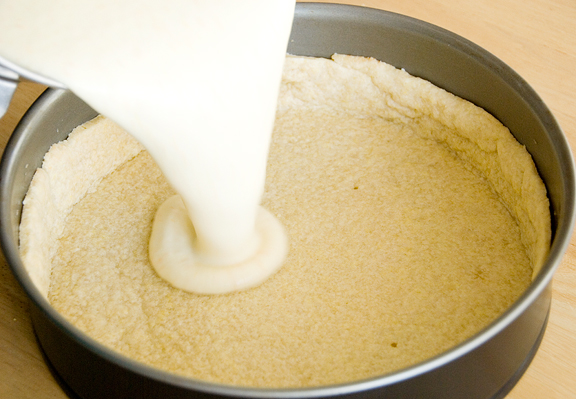 See how low that crust is? The batter tops out over the crust, but it all melds together in the end. However, I prefer the crust to be at least even with the cheesecake. Next time I'll use all of the dough to the top of the pan.
complete with rifting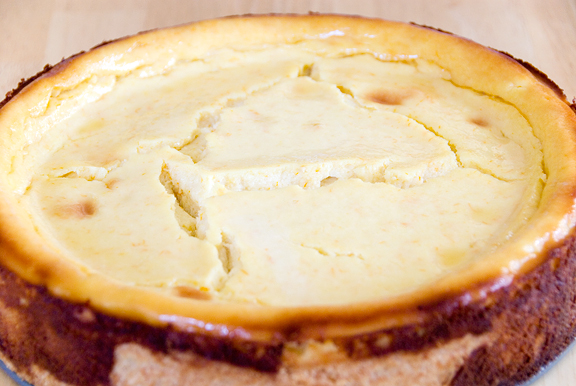 The original recipe doesn't call for this, but I suggest placing a baking dish of water on the bottom rack of the oven when you bake your cake. It helps to prevent the cracking. Of course, I didn't do this and got the cracking. Then again, I rather like thinking about free surfaces and fracture dynamics…
one way to cover up the cracking
I'm really not so pissy all the time or else I'd never be able to cook and bake. In fact, I'm very nice unless you're some sort of freak or jerk. Then all bets are off.
transport yourself to someplace good
Torta di Ricotta
[print recipe]
modified from The Good Housekeeping Illustrated Book of Desserts
pastry
2 cups all-purpose flour
3/4 cup butter, softened
1/4 cup sugar
2 tbsps dry Marsala wine
1/2 tsp salt
2 large egg yolks
filling
32 oz. ricotta cheese
1 cup sugar
1 cup heavy cream
1/4 cup all-purpose flour
1 tsp vanilla extract
1/4 tsp salt
6 large eggs
grated peel of 2 medium oranges
grated peel of 2 lemons
In a large bowl, beat all pastry ingredients together on low speed until just mixed. Shape dough into a ball and wrap in plastic. Refrigerate for 1 hour. Preheat oven to 350°F. Press dough into a 10-inch springform pan – on the bottom and up the sides. Bake the crust 15 minutes until golden. Cool in pan on wire rack. While crust is cooling, prepare the filling. Press ricotta through a fine sieve into a large bowl. Beat the ricotta on medium speed until smooth. Slowly beat in the sugar, scraping the bowl often. Add cream, flour, vanilla, salt, eggs, orange and lemon peels and beat until well blended. Pour mixture into crust. Bake for 1 1/4 hours (I suggest placing a baking pan of water on a lower rack to prevent rifting of your cake surface). Turn the oven off and let cheesecake remain in oven for 1 hour. Remove from oven and let cool completely on wire rack. Cover and refrigerate for at least 4 hours or until well-chilled. When cheesecake is firm, loosen from pan and remove to a serving plate. Sprinkle with confectioners sugar or top with fresh fruit.