Recipe: chocolate-dipped orange peel cookies
Cooler than most of you, anyway! We are nearly a week away from the summer solstice and it is snowing outside.

and this is why i live here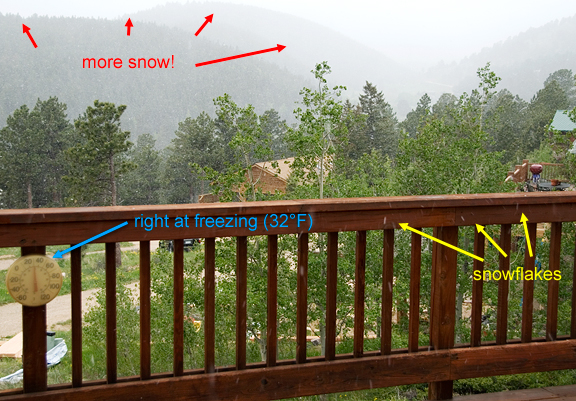 Perfect timing as I have a double batch of lentil soup simmering on the stove. All of the barbecue I've been making over the past few weeks has me craving non-terrestrial animal foods. I say non-terrestrial because I don't think I could ever EVER tire of seafood, our lovely, tasty, wonderful aquatic pals… We hit another sushi bar yesterday, but I won't post on that right now because I don't want to freak my dear
Graeme
out with too much fish.
these are not fish: chopped candied orange peel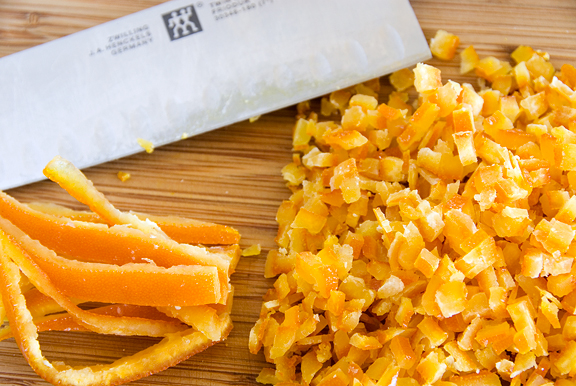 and some fresh grated orange peel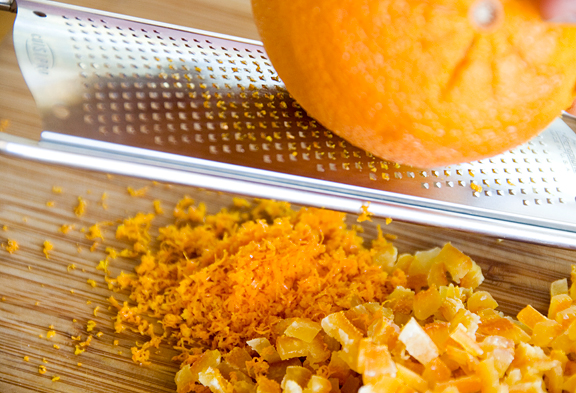 I was never a huge fan of the combination of orange and chocolate. After teaching a self-defense class one evening, all of the instructors and assistants got together for the post-class meeting and one of the assistants had brought a giant bowl of orange-chocolate mousse to share. I nearly gagged (and I am pretty sure it was good because she was seriously into pastries). Whenever Jeremy tucked into a Trader Joe's package of chocolate-dipped orange sticks I would try to like them – take a nibble and hand the rest of the stick back to him. It was only recently when I made some
chocolate-covered candied orange peels
that the flavors finally grew on me. It's not something I crave, but now I can at least appreciate it.
don't forget the fresh squozen orange juice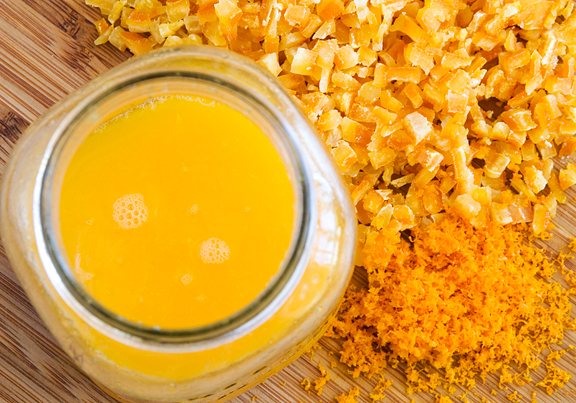 For some reason I've been mulling over high altitude issues and why some of my best and most reliable cookie recipes suck ass at our elevation of 8500 feet. I know
why
– it's the elevation. I want to know
how
to fix each and every one of the failed recipes which requires research and testing on each recipe (I have about 20 that I want to salvage). Oh, and butter-rich pound cakes – those chap my hide too.
mix the dough and chill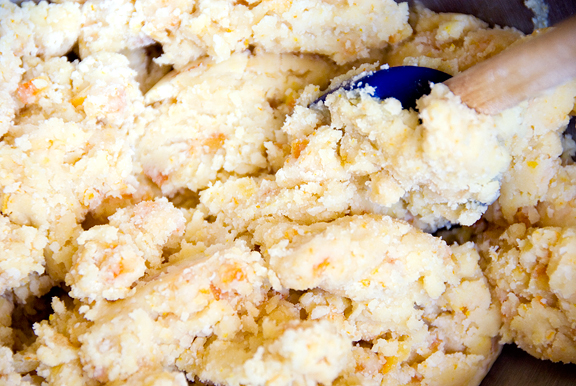 The last time I made
these ginger-lemon cookies
I thought there was too much spread when they baked. I referred to Susan G. Purdy's
Pie in the Sky
[hmmm, I just mistyped Sky and wrote Ski – where do you think my mind is right now?] for guidance. Taking a cue from her Highland Shortbread recipe, I substituted the granulated sugar in the ginger-lemon cookies with confectioner's sugar (powdered) and a few other adjustments. But instead of lemon and ginger, I went for an orange flavor.
slicing the chilled dough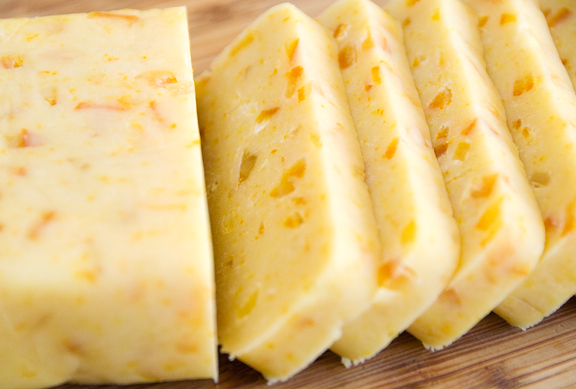 ready to bake
I used homemade candied orange peel, orange zest, and fresh orange juice to flavor the cookie dough. Although Purdy's recipe doesn't call for chilling, I did refrigerate the dough because that helps to limit spreading. It seemed to work better this time for me.
cooling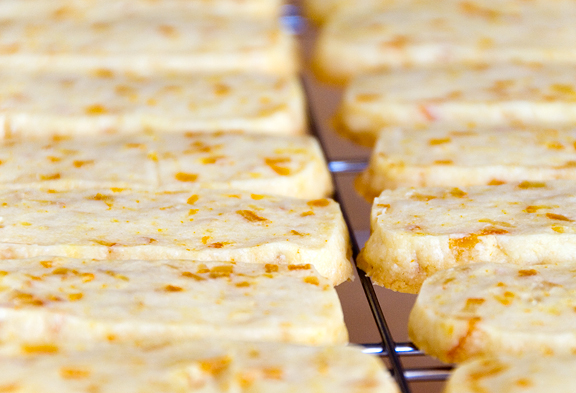 dipping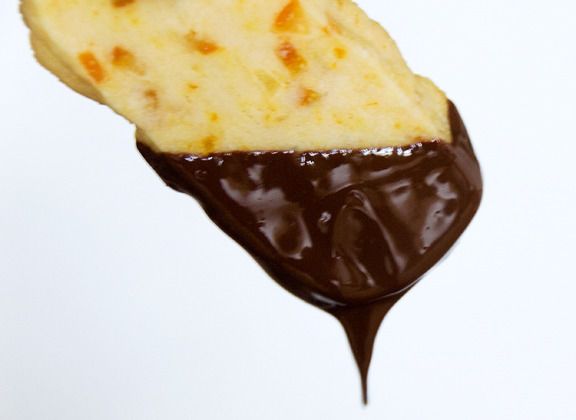 I couldn't resist that extra step of dipping the cookies in some good dark chocolate. Kind of a cookie version of the chocolate-dipped candied orange peel. The cookies on their own (no dipping) have a nice orange perfume to them and aren't too sweet. But dipped in chocolate…
waiting for the chocolate to set
They are fantastic paired with the dark chocolate. Jeremy did a little happy dance when I asked him to taste test the cookies last night. I'm rather pleased and I think at least I've solved one of my problems in dealing with shortbread cookies. So that leaves me with what? 19 recipes left to test.
excellente!
Chocolate-Dipped Orange Peel Cookies
[print recipe]
1/2 lb. butter, softened
1/2 cup confectioner's sugar
2 cups flour
1/2 tsp salt (heaping for 8500 ft.)
1 cup candied orange peel stored in syrup*, drained and chopped
1 orange, zest of
1 tbsp orange juice
1/2 tbsp vanilla extract
8 oz. semi-sweet chocolate, chopped
*People have had issues with the candied orange peel turning hard during baking. To remedy this, when you make your candied orange peel, store the peels in the syrup rather than drying the individual orange peel slices. You can dry the ones that you want to turn into orangettes, but for this recipe, keep them soft and moist in the syrup. This should help with the texture when baking.
Oven: 325°F (or for 8500 ft. preheat to 350°F and reduce to 325°F right as you put the cookies into the oven).
Beat the butter and sugar until creamy and smooth. Beat in the salt and flour until large clumps form. Add orange peel, zest, juice, and vanilla. Mix well and press the dough into a tight ball. Shape according to how you want your slices to come out (rectangles, squares, rounds, wedges), wrap in plastic wrap and refrigerate for a couple of hours. Slice the dough to 1/4 inch thickness and place on cookie sheet with enough space between for spreading. Bake 25-30 minutes or until golden (for 8500 ft. bake 20 minutes). Let cool completely on cooling racks. Melt chocolate gently (temper it if you will, but I am too lazy). Dip cooled cookies in chocolate or drizzle with chocolate and let cool until chocolate sets.
Makes about 42 1.5-inch square cookies at 3/8 to 1/4 inch thickness.