It was too hot to eat dinner while the sun was still up this evening. Wait a sec… *we* felt it was too hot to eat dinner while the sun was still up this evening. We didn't sit down to our meal until 9 pm and it was still light out (love that, actually). While I waited for the house to cool down a little, I stepped out onto the deck to admire the skies to the west and enjoy the cooling mountain air. I love clouds because they can form some incredible patterns, but I especially love clouds at sunset because the light can play some beautiful colors.

like a magic show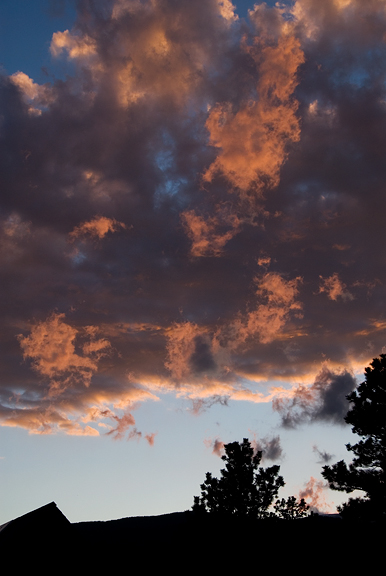 it almost looks organic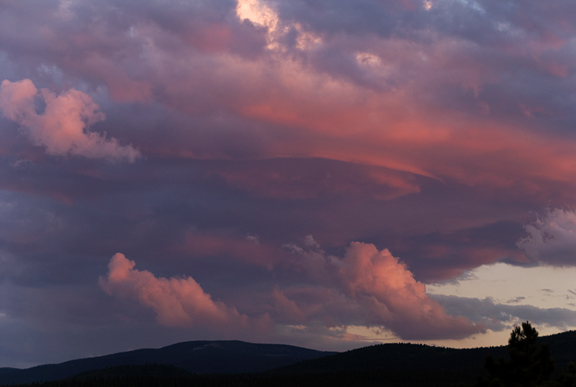 3000 feet lower in Boulder, the daytime temperatures are standing solidly in the 80s (F) and flirting with the 90s (F). What better timing then to continue our sushi tour? On Wednesday, we dined at
Amu
for dinner. Amu is situated next to and operated by Sushi Zanmai. Zanmai is a darling of Boulder and probably one of the venerated favorites. My experiences at Zanmai have always left me feeling that 1) I spent a lot of money 2) I got mediocre sushi for the price 3) the service suuuuuucks and 4) every damn YUH (Young Urban Hipster) and aging hippie flocks to the place making the wait all the more annoying considering what you get at the end of it all. However, my chemo nurse assured me that Amu was different and very good.
the sign is easily missed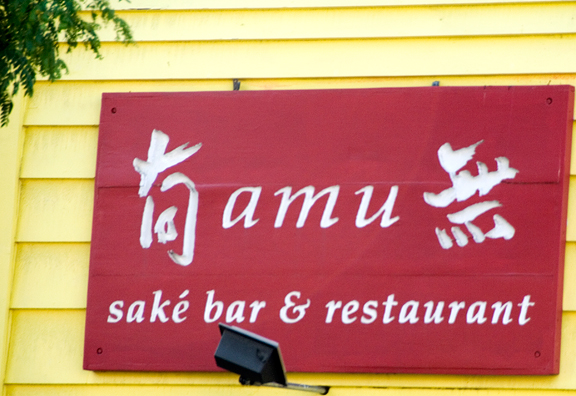 The interior of the restaurant is small and narrow. There was a table for 6, ten seats at the bar, and maybe a private room or two in the back. We were asked to remove our shoes before sitting at the bar.
enter the bar through a giant noren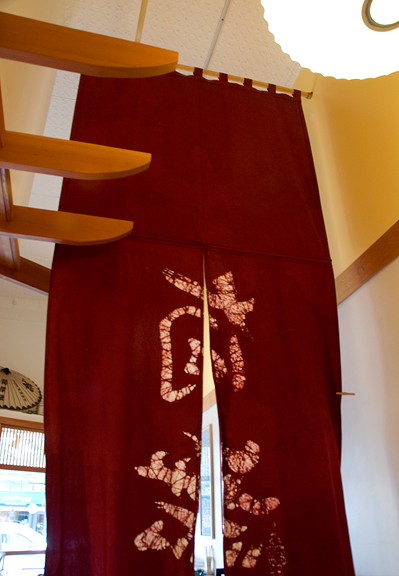 seats soon to be filled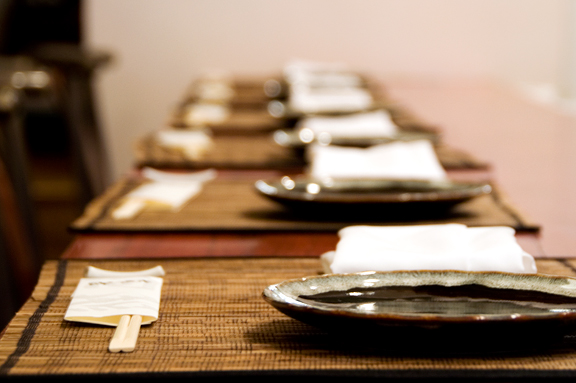 For those in search of California rolls or the generic assortment of sushi – that dog don't hunt. Not here anyway. This bar serves traditional Japanese fare and the menu has specials from the kitchen and sashimi from the bar. No sushi. If you want sushi, go next door and suffer the crappy wait staff at Zanmai (yeah, I really detest those blokes).
to start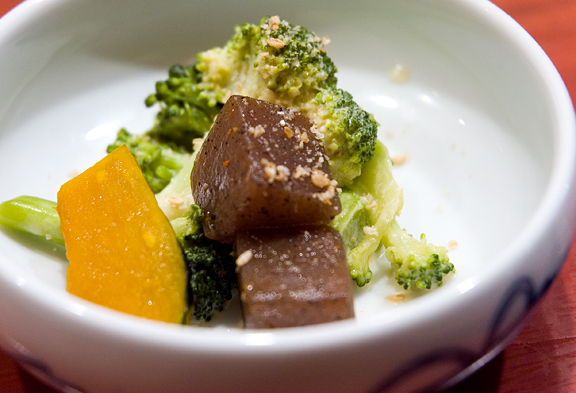 Our little dish of complimentary starter was a delightful cold "salad" of broccoli in a miso dressing with some kabocha (Japanese pumpkin) and what Jin tells me is konnyaku (part of the voodoo lily family – thanks, Jin!). I decided on an order of marinated seaweed because I thought I was ordering a seaweed salad.
mozuku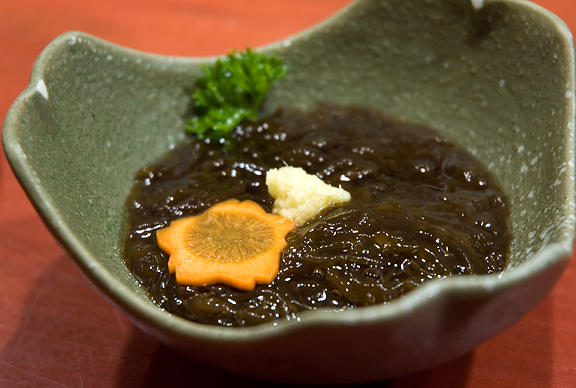 That wasn't quite the salad I was expecting. In fact, it was nothing like what I was expecting. However, mixed with the minced ginger, it was a tangy and savory almost noodle-like dish. I was lukewarm about it. Jeremy was not loving this one at all (the man frightens easily when it comes to certain foods), so I finished it. I mean, seaweed is supposed to be good for your hair… that is what Grandma tells me. It's about time my hair started to grow back, yeah?
sashimi assortment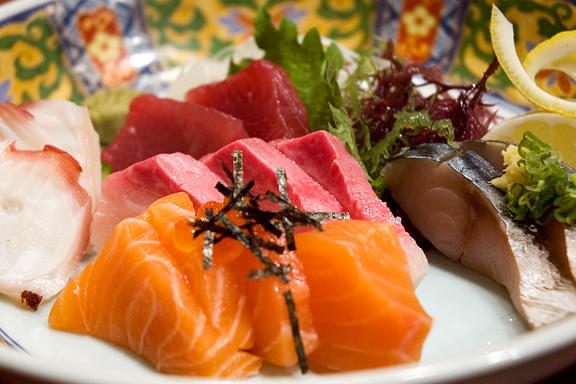 Enough screwing around though… it was time to get down to business, and that business would be gorgeous, buttery, melt-in-your-mouth sashimi. Why fill up on rice when you can enjoy protein in its loveliest form? If sashimi were a man, it would be a metrosexual because it is so pretty – and I would date the hell out of him. Oh yes… I would… All of the sashimi (sake, maguro, bonito, hamachi, tako) was fresh and tasted like a rich kiss in the mouth. Excellent quality.
binnaga tataki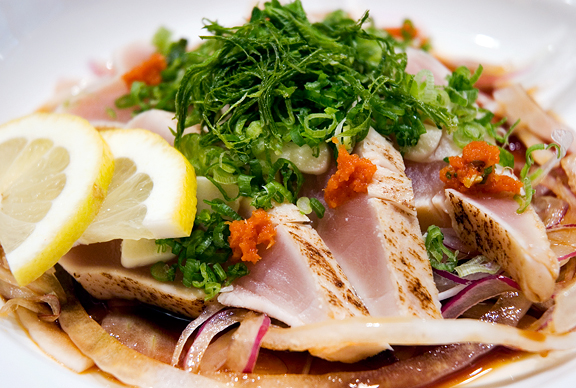 Next up: the seared albacore tuna. This delicate fish was dressed in a citrusy ponzu under a mound of shiso chiffonade, green onions, fennel, and garlic. The combination of vegetation was terrific and had a wonderful perfume (the shiso is so refreshing), but overpowered the subtle flavor of the albacore somewhat. I enjoyed the plate, although Jeremy was suspiciously generous about letting me finish it off.
halibut sashimi special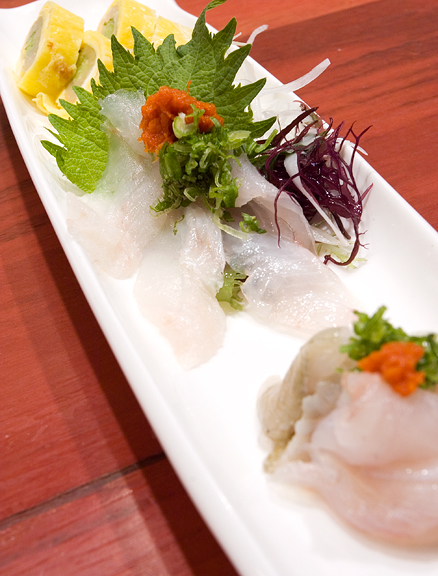 I watched with fascination while our sushi chef, Yuki, prepared a long fillet of halibut. That's right, folks – we had a female sushi chef. My first ever! And she was AWESOME. Yuki trained in Japan for 5 years and in Boulder for 13 years. Although she doesn't tele, she does ride at Vail, her resort of choice. *Sweet* Because if you live in a state blessed with powder, what the hell are you doing if you aren't skiing or riding?
Okay, back to the halibut. The sashimi was served with ponzu for dipping. It was fresh with a good, firm texture. Yuki also advised that we dip the little omelette rolls in soy sauce. Those little omelette rolls were amazing. She wrapped a thin egg sheet around slices of halibut with shiso and thinly sliced cucumber. The combination of the flavors and textures was *brilliant*.

ahhhhh, hamachi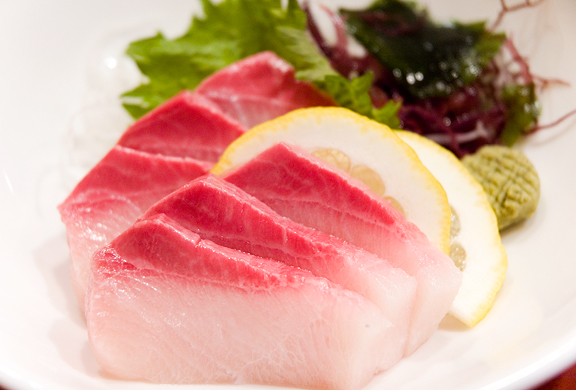 We ended the meal with a final order of hamachi sashimi. The hamachi was sublime and the pieces substantial. Our server asked if we wanted to order any dessert and I informed her that hamachi is essentially dessert to us. The service at Amu was the best of the sushi tour thus far. It's a little hard to compare with the others because it is so much more authentic (Japanese) and the style of the food is quite different. We certainly felt Amu was a good experience and it comes close to dethroning Tora, but… Sushi Tora is still #1 for us, by a hair. What we are discovering is that Boulder – in the middle of a landlocked state and over 1000 miles from the nearest coast – has a lot of great sushi to offer.
Amu
1221 Spruce St.
Boulder, CO 80302
303.440.0807
June 18, 2008
Sushi
$58.76 (including tax, not tip) for two diners
Rating: 93/100 (A)
1) Sushi Tora
2) Amu Sake Bar and Restaurant
3) Ai Sushi and Steak
I'm just so thrilled to be eating sushi again, and sushi this good. Yip!