Recipe: ispahan panna cotta
The longest day of the year just ended (well, the daylight part). I rather love the late light of the summer solstice. One year we were backpacking in Jasper National Park (Canada) on the solstice. I remember throwing disc with Jeremy in a huge field of wildflowers and green grasses that was littered with elk poop. Good incentive to NOT drop the frisbee. It was 9:30 pm and we didn't crawl into our tent until 11:00 pm. It was still light enough to see without a headlamp. Love that.
While testing a high-altitude conversion for a cookie recipe this afternoon, I exchanged several emails with my lovely friend, Helen, discussing people's manners – or rather the lack thereof. Face it, if you maintain a blog that gets a decent amount of traffic, you will inevitably encounter crackpot or inappropriate comments. Reminds me of the person who wanted a refund from Peabody for the cost of ingredients for a muffin recipe they got from her blog that they didn't like. Wha?! I guess it isn't just manners, but also an indication that the offender doesn't reside on the Plane of Reality. For some reason, because people don't have to say it to your face, they feel as if they can behave poorly and say stupid stupid things over the internet. So uncool.
The majority of my commenters are an incredibly funny, sweet, and caring group of people – they are so wonderful! And they respect me for the person I am. That means a lot because when you have cancer, plenty of people think this is an open invitation for their "advice" and I do use that term loosely. I appreciate how people have expressed their kind sentiments to me with, "I wish you well" or "I am praying for you" or "you are in my thoughts". I don't pray, but it's okay if someone else wants to pray. However, it is not okay for someone to tell me what to believe in terms of faith. That is not only rude, but hugely disrespectful.
So what did I manage to do with all of today's daylight? Here's a sampling, but you can visit the photoblog for the full rundown.

i shot this in my yard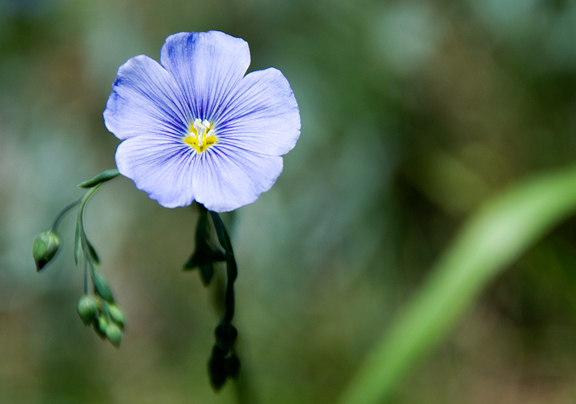 kaweah came over and licked the flower then stepped on it before settling down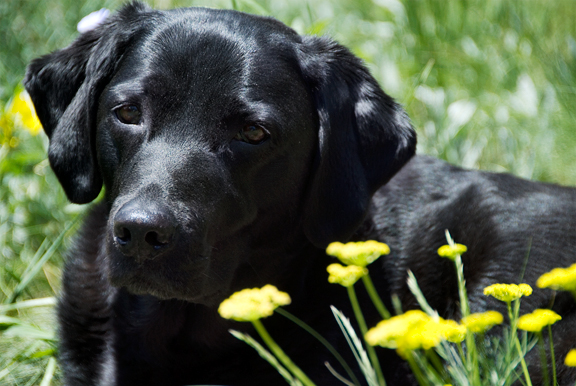 the cookies worked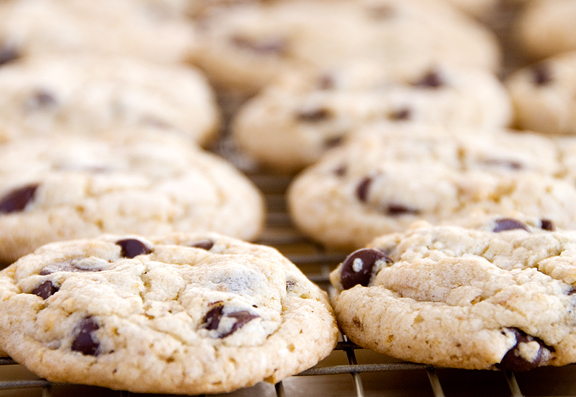 happy hour fare: duck crêpes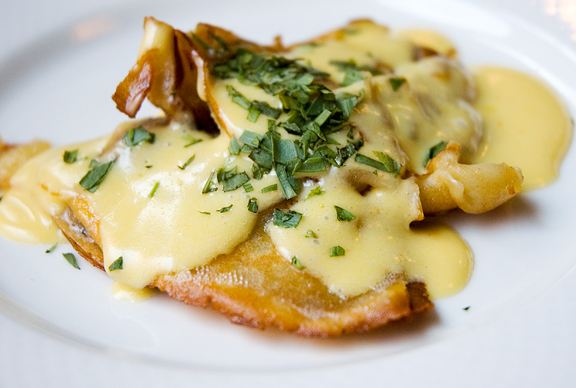 can someone identify this wildflower?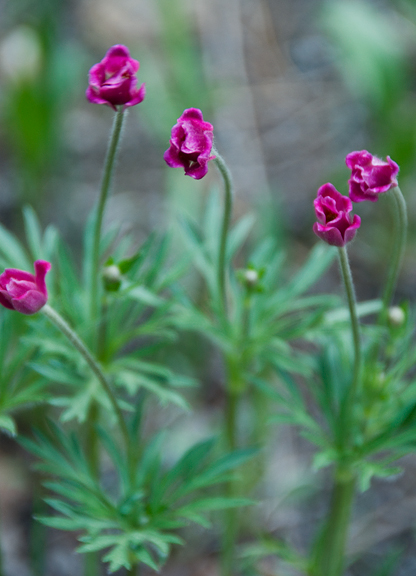 giant cumulus at sunset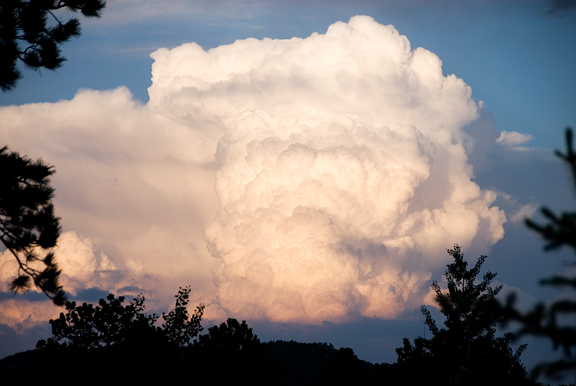 To usher in this delightful season that turns our mountain environment into a fleeting lush paradise, I made a panna cotta recipe based loosely on Pierre Hermé's ispahan macaron. The flavors include rose petal, lychee, and raspberry.
scraped vanilla bean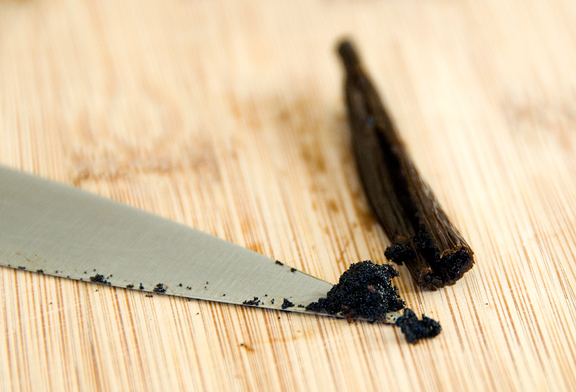 boiled cream, milk, and vanilla bean seeds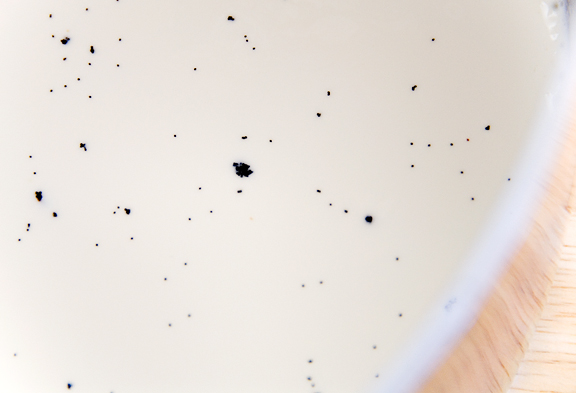 I had the intention of making my own rose petal syrup, but couldn't find any organic roses. So I made my syrup with rose flower water, which was more subtle and less rosy. The cream base was flavored with vanilla bean and the rose syrup. I've never used vanilla bean before and when I removed the whole bean from its packaging, I smelled orchids rather than vanilla. It was lovely and transported me back to my grad student days when I used to "babysit" an orchid greenhouse.
stirring in sugar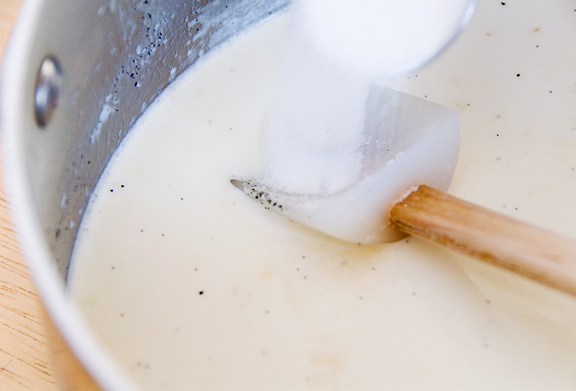 I set raspberries and a lychee (canned) in each glass and then poured the cream mixture over the fruit. The rose syrup had a weak scent/flavor to it, but when I fished the lychees out of their can, the perfume of the fruit inspired ideas. I will have to try a lychee panna cotta next, because I think *that* is the kind of fragrance and flavor I am shooting for.
placing the fruit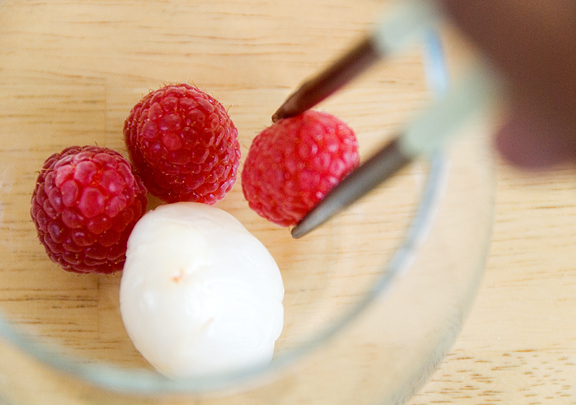 pouring the cream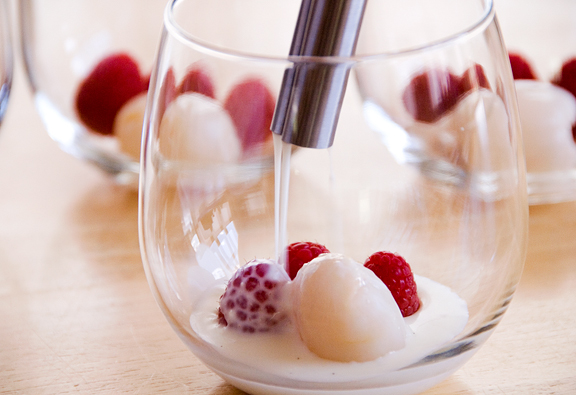 After letting the panna cotta set up in the refrigerator for a few hours, I poured some of the rose syrup (adding a touch of red coloring to give it a pink tint) on top before serving. I think the syrup is so delicate (i.e. weak) that I could do without it. Maybe if I get my hands on some bottled rose petal syrup, I might feel differently. However, the combination of the fruit flavors with the panna cotta was beautiful. It tastes like summery perfume, a flower garden with the texture of silk. Really enjoyable on this first day of summer!
a panna cotta based on a macaron
Ispahan Panna Cotta
[print recipe]
adapted from Creamy Rose Panna Cotta from Food & Wine
1 cup cream
1 cup milk
1/2 vanilla bean, split
1/4 cup rose syrup
3 tbsps sugar
1 1/2 tsps gelatin
2 tbsps water
1/4 cup raspberries
5-6 lychees
rose syrup
1 cup water
1/2 cup sugar
2 tsps rose water
1 1/2 tbsps lemon juice
red food coloring (optional)
Rose Syrup: Boil water and sugar together for about 10 minutes. Remove from heat and let cool. Stir in the rose water and lemon juice. Set aside 1/4 cup for the panna cotta. Add a touch of red food coloring (optional) to the remaining syrup to create a light pink tint.
Panna Cotta: Combine the cream, milk, and vanilla bean in a saucepan and bring to boil. Remove from heat and cover for 5 minutes. Sprinkle the gelatin over the water and let sit for 5 minutes. Discard the vanilla bean. Stir the gelatin, sugar, and rose syrup into the cream mixture. Place a lychee and a few raspberries in each serving vessel. Pour cream mixture over the fruit until almost covered. Refrigerate panna cotta until firm. Before serving, pour a little rose syrup over the panna cotta.