Recipe: grilled chilean sea bass
My energy levels have been wildly sinusoidal this week. After seven weeks of nuking my boob, my radiation treatment seems to have finally caught up with me. I held out for quite a long time, so I'm pretty happy that radiation wasn't worse. I have sporadic pain which isn't so bad, and then there is the sudden fatigue which comes on in seconds with no warning. That is more annoying than anything else and it has been forcing me to take full advantage of any time I am feeling good and alert.
The downside of feeling good was yesterday afternoon when I left radiation… I went to Whole Paycheck Foods to have a look at their seafood counter. I should have realized I was setting myself up. I was high energy and the brain began to think of things to eat this weekend. Yummy, delicious, wonderful things to eat. Since we were at Whole Foods, let's make that yummy, delicious, wonderful, expensive things to eat.
How about those scallops.
Anything else, ma'am?
And some shrimp.
What else can I get for you?
I like that wild Yakutat Sockeye salmon…
Then I saw the Chilean sea bass. Ever since I began shopping for seafood, Chilean sea bass has been a no-no in my book. Don't buy. It's overfished. But I knew that Whole Foods had been carrying Chilean sea bass for the past year or more and they wouldn't do this unless it checked out with their requirement for offering sustainable seafood to customers. In fact, they get their Chilean sea bass from a supplier who is certified by the Marine Stewardship Council. I went for it. I had never prepared Chilean sea bass and probably had it once or twice over a decade ago. I know people balk at the cost of say, organic beef tenderloin from Whole Foods, but they ought to step over to the fish counter some time if they want to get their panties in a wad. The total on my grocery bill would have been more fitting for a receipt of 20 items rather than 6, but the seafood is worth it.

just a little bit of lemon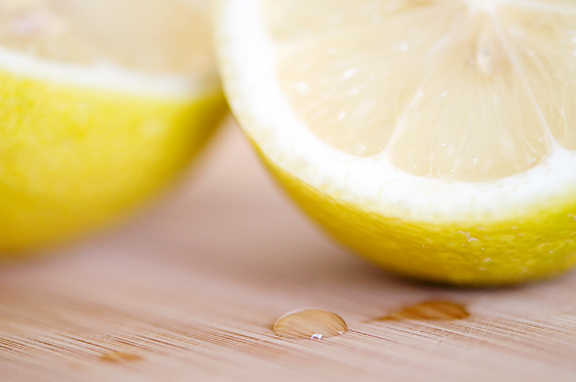 How to prepare the sea bass? I grew up eating seafood, lots and lots of fantastic seafood (the state tourism board likes to say Virginia is for lovers, but I like to think it is for seafood lovers). My favorite way to eat fish is obviously raw, as in sushi and sashimi. My second favorite way to eat fish is cooked simply. That means no crazy sauces or heavy marinades. I actually enjoy tasting the fish itself because fresh fish carries the show all on its own. When I unwrapped the fish at home, it smelled like seawater – fresh seawater. Bonus. I like a little lemon with my fish – not too much. So I let the sea bass sit in some lemon for about 20 minutes. Enough to accent the fish, but not enough to taste like lemon or to start cooking the flesh.
salt, pepper, olive oil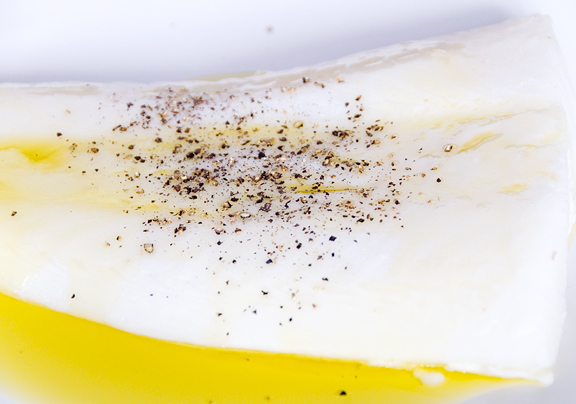 I patted the fillet dry and sprinkled some salt, freshly ground pepper, and olive oil over it. Tossed it into my fish basket and set it upon the grill where the veggies were already hanging out. My greatest nightmare when it comes to cooking seafood is that I will screw it up because seafood is delicate and really ass expensive around here. I'd much rather undercook it (which is easy to remedy) than overcook it (which I believe is a felony).
lookin' good: crispy edges, juicy flesh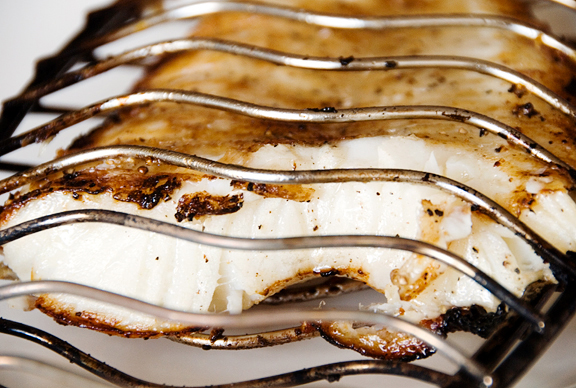 Eight minutes in total was just right for us. The edges browned so nicely. When Jeremy flipped the fish on the grill, the juices poured out onto the flame and caught fire. Fat. Delicious, lovely fat. That's why the sea bass is so amazingly tender and full of flavor. It has a juicy flake more akin to grouper and an almost buttery taste. Oooooh hooo hooo!!! Let the love affair begin. I feel as if a new door has been opened for me, and behind that door is a sexay piece of Chilean sea bass.
the star of a grilled dinner
Grilled Chilean Sea Bass
[print recipe]
1 lb. Chilean sea bass, fillet
1 lemon, juice of
1/2 tsp salt
1/2 tsp black pepper, freshly ground
2 tbsps olive oil
Set the fish in a container with the lemon juice for ten minutes. Flip the fish and let sit for another ten minutes. Pat the fillet dry and rub with salt, pepper, and olive oil. Place fillet in an oiled fish basket and grill on high heat for about 4 minutes. Flip the fish and grill for another 3 minutes (depends on thickness of the fish). Serve immediately.