Recipe: chocolate pistachio almond tartlets
I've had some thoughts milling in the back of my mind all weekend since I learned of Sherry's recent and sudden passing. I didn't know Sherry, but the food blogging community is pretty tight and news travels quickly. I know what it is like to lose someone you love very suddenly and let me tell you – it is a complete mindfuck. Since then I no longer assume that the people I love will always be there and so I try to make every moment count. When you get a cancer diagnosis, your mind undoubtedly lingers on your own mortality… but as I told my surgeon, it is a slow-motion crisis. I knew and still know that I could very well die in a car accident or some other random event, just like that – trivializing the whole cancer BS. And no matter what my own condition is, I also know that losing certain people in my life would be far worse than losing my own life. I don't take my time for granted and I don't take the people around me for granted. Lessons learned the hard way. While we all have our moments, pitching a fit over stupid little day to day minutiae that we turn into Major Drama, it helps to always keep that bigger picture in mind and remember what is really important. My heart aches for Sherry's loved ones who are left behind, missing the one they thought they'd never have to live without – at least not so soon. I wish them peace.

early morning stream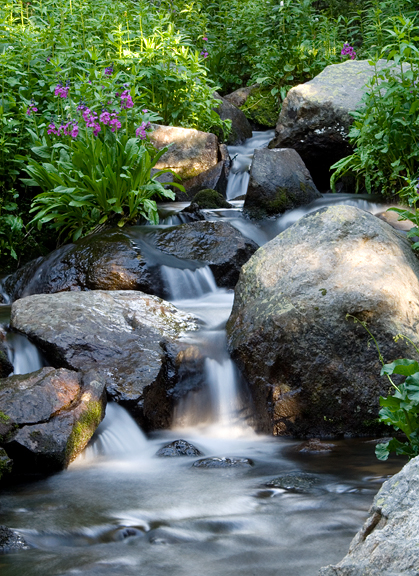 Jeremy, Kaweah, and I hiked to Pawnee Pass on the Continental Divide again yesterday morning, this time with a friend who had never been. The original plan was to hike Pawnee Peak at about 13,000 feet. I woke up feeling exhausted, which wasn't a good sign. Since I had hiked to the pass a week ago, I could gauge my progress. Above lovely Lake Isabelle, I began to experience shooting pains and fatigue – all expected side-effects from my treatment. At this point I told Jeremy and our friend to hike ahead because I wasn't sure how far I would get, but I wanted our friend to summit as I had been promising this hike all summer.
enjoying the quiet stream and flowers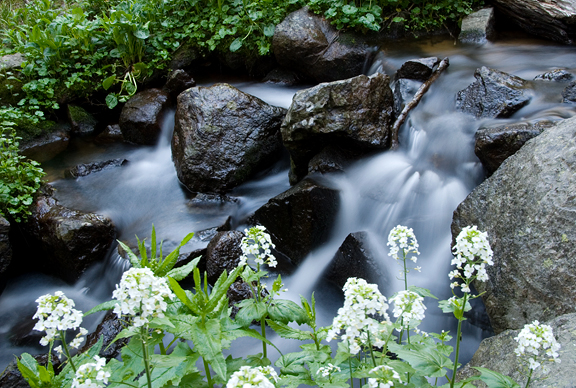 It did make me sad to see them forge ahead at their fast clip. Jeremy and I never hike apart, but I felt this was the best thing to do logistically. Kaweah stayed with me and we made our way after the others at half their pace. I let the pup play on the snow fields and eat the corn snow as it was already getting warm by 9 am. Hiking is a mental game for me when the slog is long. I was so excited to begin hiking this summer because my chemo had ended and I wasn't planning on letting radiation treatment hold me back. I have been a strong hiker in the past and on occasion I was getting my stamina and speed back. But things kept happening to knock me down and keep me in this constant state of trying to regain my old fitness. I think a year ago, I would not have continued hiking through the pain, knowing that I might not make the pass at all at such a reduced speed. I thought about this as I put one foot in front of the other, navigating the rocky trail or the slushy snow fields, breathing deeply and tracking the two dots ahead of me that were growing smaller and smaller with each passing minute.
storm clouds rolling in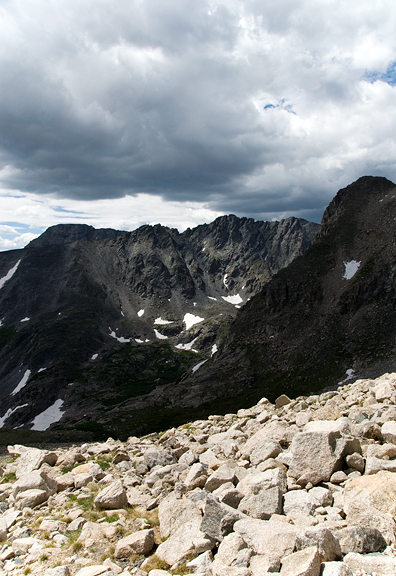 I have a different perspective now than I did last summer. My threshold for pain has shifted and I have a new appreciation for the opportunity to be "normal". Getting out to hike, even if it hurts, is way better than lying at home wasting away. I don't take for granted these things I love to do: hike, bake, eat, shoot flowers and pretty mountains, pet my dog, put my head on Jeremy's shoulder. I relished the soreness in my legs, the aching in my butt (yeah, work those glutes!), and the stiffness in my back as I slowly wound my way along the trail. I arrived at the Continental Divide just as Jeremy and M were approaching from the other direction after summiting the peak. They were astounded and thrilled to see me. I was happy that I hadn't let myself defeat myself.
A few weeks ago we sampled a terrific pistachio tart at Bra 1010. I'm crazy for pistachio. Crazy, I tell you! Ever since that delectable bite touched my lips, I had been plotting to make some myself.

for the dough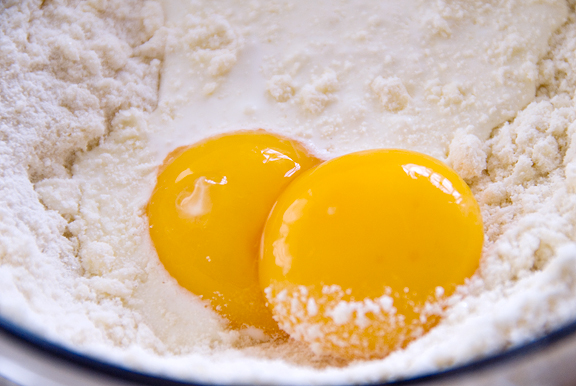 pressed and ready to bake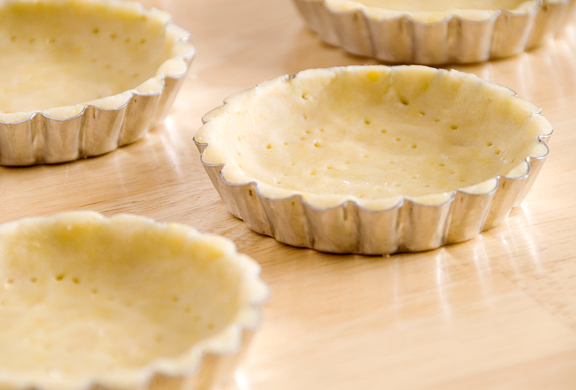 I fashioned my tarts after
this recipe on Epicurious
, omitting the apricots. There is a ton of butter involved. Plenty in the dough as well as the filling. I doubled the recipe as I wanted to bake 4-inch tarts as well as some petits fours tarts. Glutton for punishment? Yup.
pistachio, almond, sugar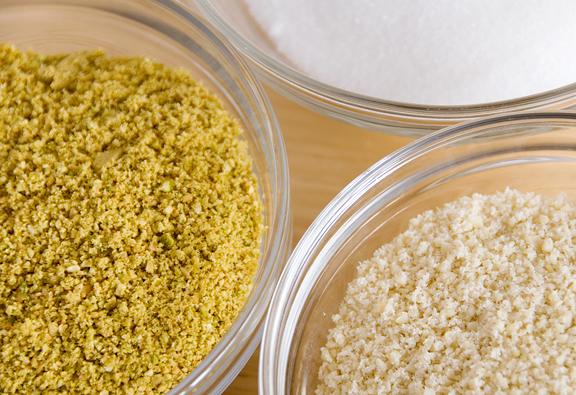 butter for the frangipane filling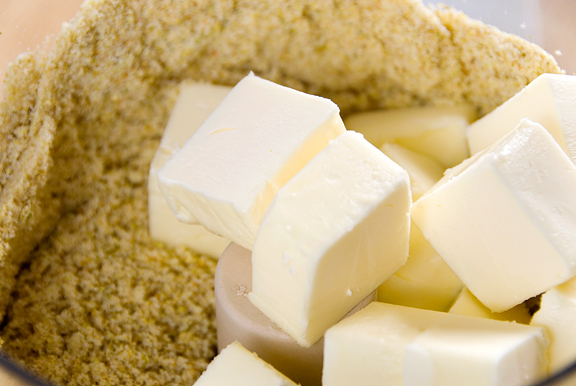 It was hot last week, when I made these tarts. For some stupid reason, I had my sights set on baking a ton of stuff (we have at least 7 different desserts/pastries in the kitchen now – to be distributed to friends and students). After I pressed the crust dough into the second tartlet pan, sweat streaming down my face, I admitted to myself that in these instances, a nice 10-inch tart wasn't such a bad idea. Swearing ensued. But onward…
baked crusts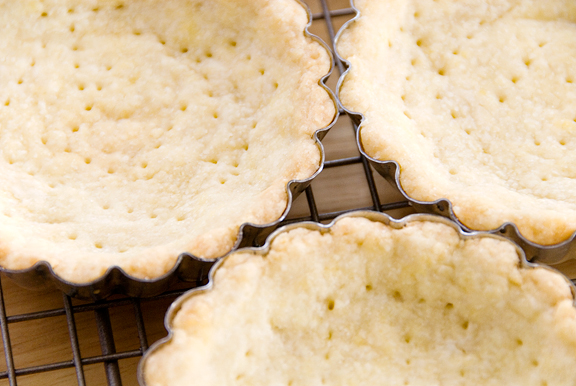 fill to the brim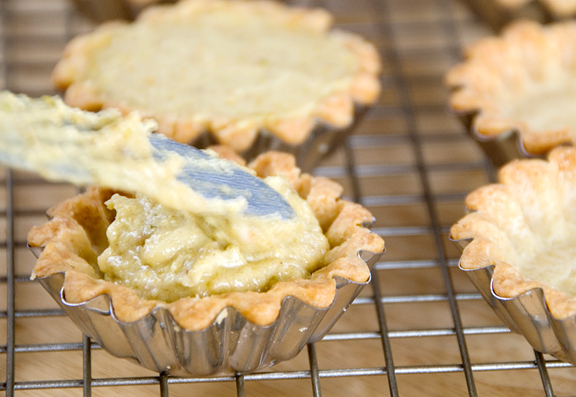 The 4-inch tartlet crusts baked and puffed. I flatted them down half-way through the baking time with a fork. To bake the petits fours tartlet crusts, I didn't poke holes in the dough the way I did with the 4-inchers. Instead, I pressed a second mold on top of each one and removed that second mold halfway through the baking time after the shape has set, to allow the crust to brown nicely. That's why I own 24 of those little buggers, so I can cuss a dozen times.
hot out of the oven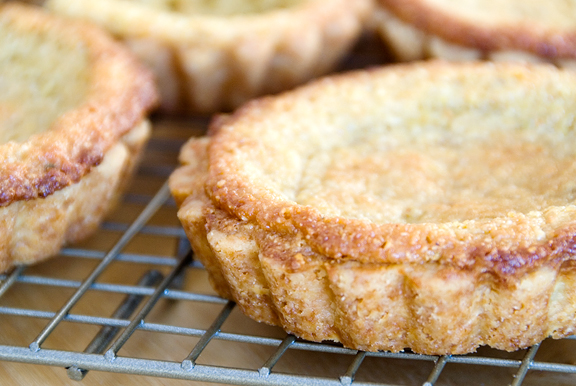 add some chocolate ganache, whipped cream, and raspberries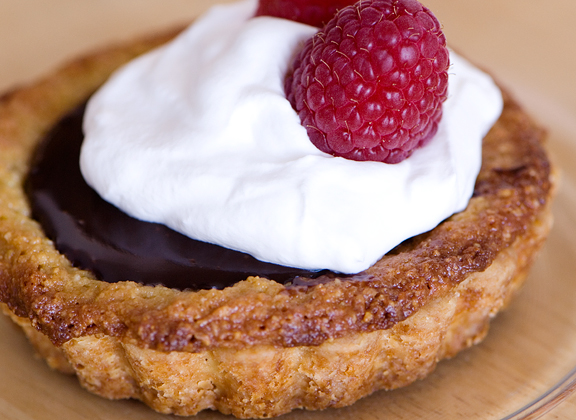 The filling bubbled up and in some cases, over, during baking. I observed this through the oven door and had some choice words for the tarts. That was frustrating. Even if it didn't bubble over, the filling had lost considerable volume in the oven. This wasn't what I had intended. I consulted with
my favorite pastry girl
and she suggested adding an egg to the filling. Okay, I will keep that in mind for future bouts of insanity and cussing. In the meantime, I filled the void with some extra chocolate ganache I had lying around. I figured it might be a little over the top, but my taste testers thought the combination brilliant. So perhaps it wasn't a disaster after all?
dig in
Chocolate Pistachio Almond Tartlets
[print recipe]
modified from Apricot Tart with Pistachio-Almond Frangipane at Epicurious
crust
1 1/2 cups flour
3 tbsps sugar
1/4 tsp salt
1/2 cup unsalted butter, chilled and cut into 1/2-inch cubes
2 tbsps chilled whipping cream
1 large egg yolk
filling
1/2 cup shelled natural unsalted pistachios (about 2 ounces)
1/2 cup slivered almonds (about 2 ounces)
1/2 cup sugar
1/2 cup unsalted butter, chilled and cut into 1/2-inch cubes
1 large egg (or 2 eggs, to give filling more body?)
1/3 cup heavy cream (to give more stability to the filling)
1 tsp vanilla extract
1/2 tsp almond extract
ganache
8 oz. dark chocolate, chopped
8 oz. heavy whipping cream
Crust: Combine flour, sugar, and salt in processor; blend 5 seconds. Add butter and pulse until mixture resembles coarse meal. Add cream and egg yolk. Pulse until moist clumps form. Gather dough into ball. Press over bottom and up sides of 10-inch-diameter tart pan with removable bottom, or into 6 4-inch tartlet pans, or 12 2-inch petits fours molds (you may have leftover dough, I don't know). Pierce crust all over with fork for tartlet pans. If using petits fours molds, press a second mold on top of the dough. Cover and refrigerate at least 1 hour and up to 1 day. Preheat oven to 375°F. Bake chilled crust until light golden, pressing any bubbles with back of fork, about 18 minutes. For petits fours molds, bake for 8 minutes, remove the top molds and bake another 7 minutes. Cool crust(s) on rack 15 minutes.
Filling: Combine pistachios, almonds, and sugar in processor. Blend until nuts are finely ground. Add butter and blend to paste consistency. Pulse in eggs and both extracts. Gently stir in the heavy cream. (Can be made 1 day ahead. Cover and chill. Let stand at room temperature 1 hour before using.) Spread filling evenly in crust. Bake tart(s) until filling is lightly browned and set, about 55 minutes for 10-inch tart, 30 min for 4-inch tartlets and 15 minutes for petits fours molds. Cool tart(s) completely on rack.
Ganache: Place chocolate in a medium bowl. Heat cream until steaming, but not boiling. Remove from heat and pour over chocolate. Let sit for a few minutes then gently stir the mixture until creamy and smooth. When tarts are cool, pour ganache into tart shells. Let cool completely before serving.
Serve with freshly whipped cream and fruit.