Recipe: cranberry oatmeal cookies
Four times a year, the first of the month is a special day for me. Of those four times, only one of those days is one that I had chosen and the rest were out of my control. March 1 is our wedding anniversary because MIL had wised up to the fact that although we had announced our engagement (as evidenced by my engagement mountain bike) mostly to appease the moms, we neglected to plan for the actual wedding. It was at 5 am in the ILs' living room right before we were headed for the airport that we pulled out a calendar and I selected the earliest first of the month that fell on a Saturday for our wedding date. The first, so that we wouldn't forget our anniversary as it would always coincide with when rent was due.
November 1 is our smoochiversary or "Happy I'm Glad I Met You Day" or the day that I "robbed the cradle". Jeremy is my junior and when I was "pursuing" him in the dorms, my friend Ernie leaned over and said, "Jen, if you hit on Jeremy any harder, you're going to knock him clear out of the cradle." This date means more to us than our wedding anniversary.
May 1 is the anniversary of my sister's death and August 1, today, is her birthday. Kris would have turned 42 on this day.

remembrance
When I was little, I used to tag along with my big sister everywhere she went. She hated it. We fought because I wanted to be with her and she wanted to not be with me. Mom and Dad made her let me tag along.
the dorkiness was evident at an early age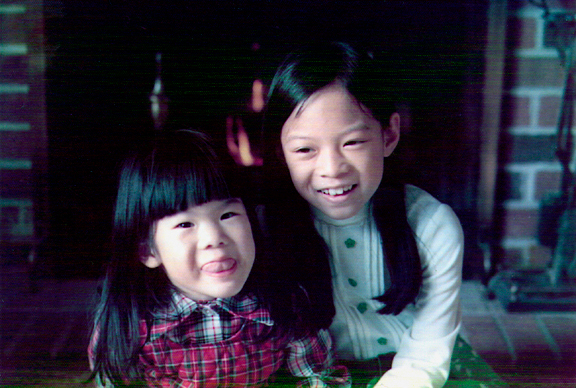 yeah no – she didn't catch it, she's just holding it up for a photo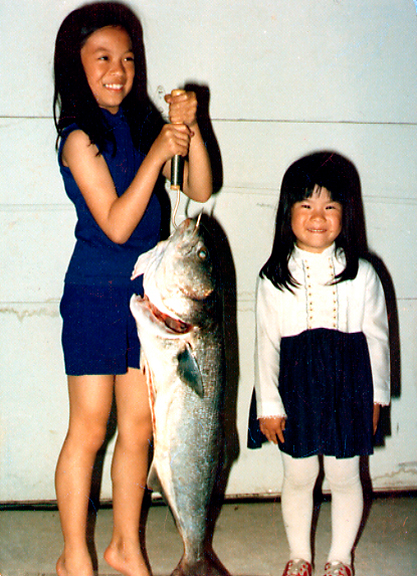 Despite our 5-year age difference, we grew incredibly close when she entered high school. We sailed competitively together, we confided in one another, we were best friends. Best friends
and
sisters. I always looked up to Kris even though I was taller than her by age eleven. She was this petite (size 0, sheesh!), pretty, and well-dressed teenager and I was a sloppy, tomboyish, bulldozer younger sister. Yet, we looked to one another for support and guidance. The day she left for college I felt like my heart would break from the sadness.
another good day for sailing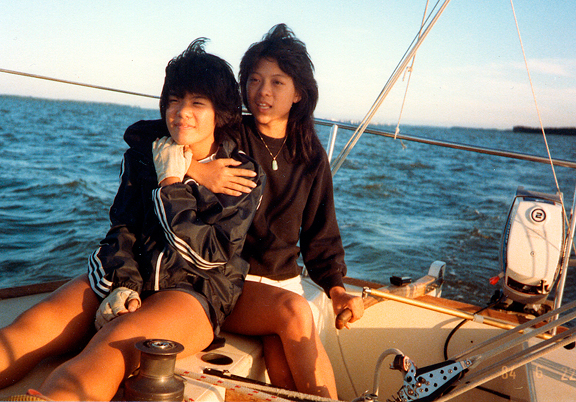 But we just grew closer and we always seemed to know when the other was in need of some cheering up or a care package or a listening ear or advice. One look and we would send each other doubled over in laughter. We shared far too many inside jokes which annoyed the hell out of most of our boyfriends. And we fought too, because two headstrong, type A, alpha females are going to butt heads from time to time. It never lasted long and usually ended with loud guffaws and more inside jokes.
it was the 90s and i didn't pick that tablecloth dress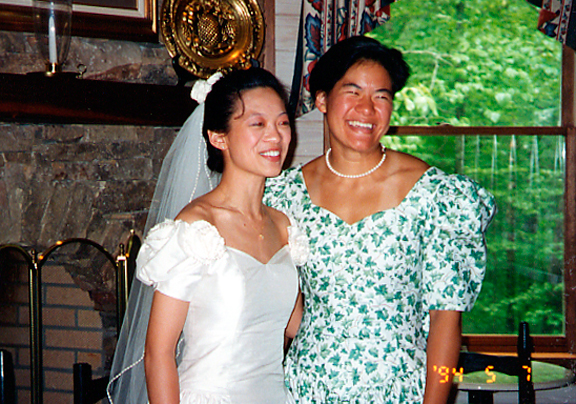 Of all the people in my life I never,
never
imagined losing Kris. The thought never crossed my mind. I worried about Grandma, Mom, Dad, Jeremy, even Kaweah. But Kris was always there in my future. I even figured she would be by my side when I, an old crotchety Chinese lady who swore at everyone, swore my last profanity. Then one sunny Saturday afternoon four years ago, out of the blue – my dad called to tell me Kris was gone. That day and those that followed were the saddest of my life.
August 1 is bittersweet, but I try to focus on the sweet as much as possible. So I'm posting a cookie recipe as my sister was a consummate size 0 snacker. I have been slowly addressing the high altitude issues in some of my favorite cookie recipes that I used to churn out on a regular basis at sea level. I think my sister would have liked these. Happy Birthday, Kris.

dried cranberries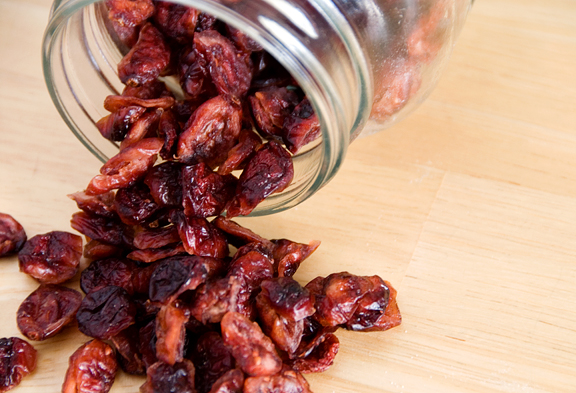 oats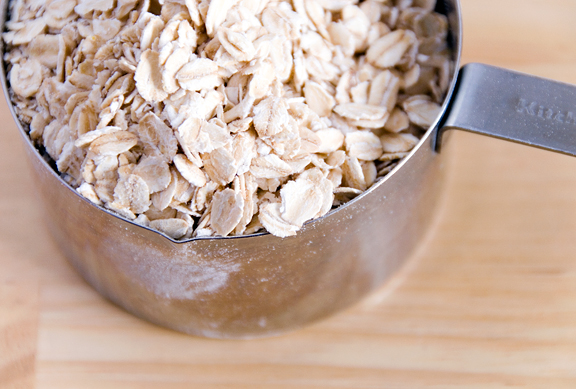 The dangerous part about this recipe is that I actually *like* cranberry oatmeal cookies. Almost all of what I bake is foisted on Jeremy, neighbors, friends… I might as well tape these cookies to my hips because I love me an oatmeal cookie, or two, or three.
dark brown and white sugars with butter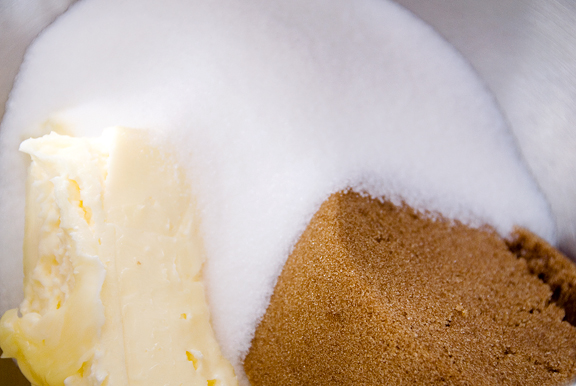 mix in the dry ingredients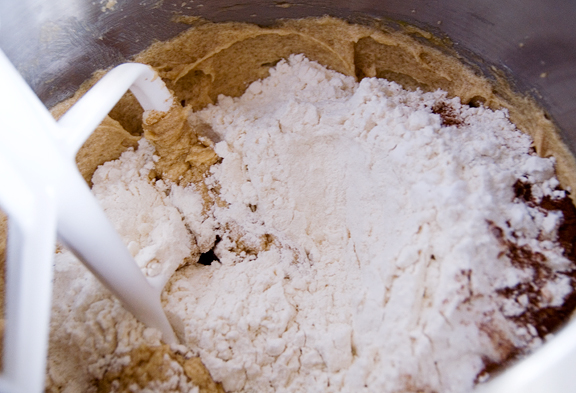 This recipe is based on Susan G. Purdy's Trout Dale Oatmeal-Raisin Cookies from
Pie in the Sky
. The only substitution was dried cranberries for raisins (because Jeremy fears raisins). What I find amazing about Purdy's recipes is that she tests them at sea level, 3000 feet, 5000 feet, 7,000 feet, and 10,000 feet and gives instructions for each elevation. Contrary to what one might assume, the adjustments are not linear with elevation and they get especially wankerish between 7,000 and 10,000 feet. Wouldn't you know, I live at 8,500 feet…
cookie dough soldiers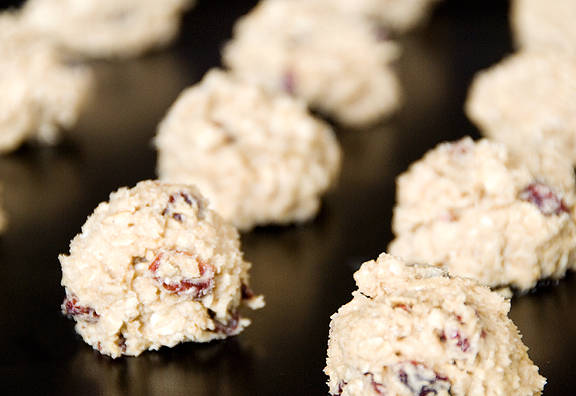 The end result was a chewy inner cookie with just enough of a crispy outside to call it perfection. Wait any longer than a day and it becomes a full-fledged soft and chewy cookie. I ate five in one day which is more cookie than I consume in a typical month. I gave the rest away to ensure that I could fit into my ski pants come the first snowfall (are you kidding me? it may be summer, but I think of skiing ALL year).
this is dangerous
Cranberry Oatmeal Cookies
[print recipe]
modified from Trout Dale Oatmeal-Raisin Cookies from Pie in the Sky by Susan G. Purdy
This recipe is for sea level, with elevation adjustments for 8,500 feet in parentheses.
1 1/2 cups flour (1 1/2 cups + 1 1/2 tbsps)
1/2 tsp baking soda (1/4 tsp)
1 tsp salt
1/2 tsp ground cinnamon
1/2 lb. unsalted butter, room temperature
1 cup sugar (3/4 cup + 1 tbsp)
1/2 cup dark brown sugar, packed
2 large eggs, room temperature
1 tsp vanilla (2 tsps)
3 cups old fashioned rolled oats
1 cup dried cranberries
Heat oven to 350°F. Whisk together the flour, baking soda, salt, and cinnamon in a medium bowl. In a separate bowl, beat the butter until soft and creamy, then beat in both sugars, scraping the sides of the bowl when necessary until smooth. Beat in the eggs and vanilla and scrape down the bowl again. Slowly mix in the flour mixture, then the oats and cranberries. Drop the dough by heaping tablespoon onto cookie sheet about 2 inches apart. Bake for 12 to 16 minutes (14 minutes at 8,500 feet) or until cookies are golden brown. Cool cookies on wire rack and store in airtight container.