Recipe: german roasted potato salad
With the exception of our dysfunctional ghetto neighbors to the east, the rest of our neighbors are truly wonderful people. One day as I was walking Kaweah past Marcus' house, I asked him how their vacation was. He replied from their deck, "It was great! But it's also nice to be home. I think that's what a good vacation is: feels good to get away, feels great to come back home." I would have to agree with Marcus 100%.

familiar fountains at denver international welcome us back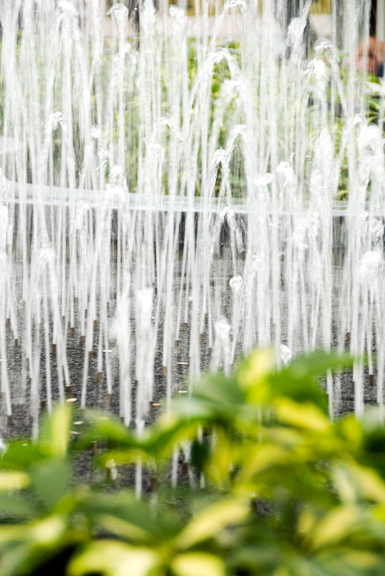 And it *is* good to be home because a cold spell has barreled through our region and it was down right chilly last night – near freezing. I can't tell you how happy that makes me, to think of crisp fall days and then… TELE SEASON! But I am getting ahead of myself here. It was chilly enough that we used warm water to wash Kaweah after picking her up from Camp Crazy (doggy camp). Yes, this dog who dives paws first into freezing ice cold alpine lakes slinks away from us when we use warm water for her bath.
not everyone was thrilled to get home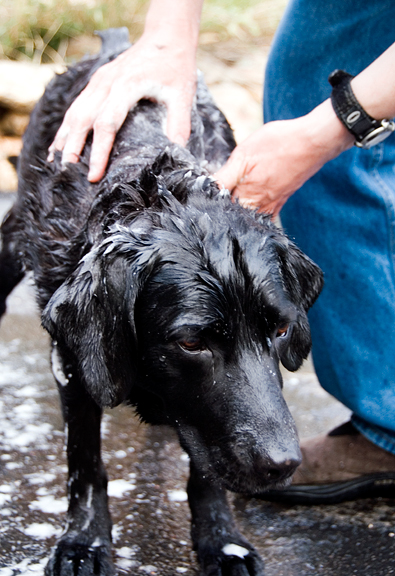 The final days of our trip were spent with my grandma in the bay area. We ate fantastic Chinese food and enjoyed QT with a spry 87-year old who puts the rest of us to shame. Her spunk, her mental acuity, her positive attitude and independence are a true inspiration.
awesome lobster e-mien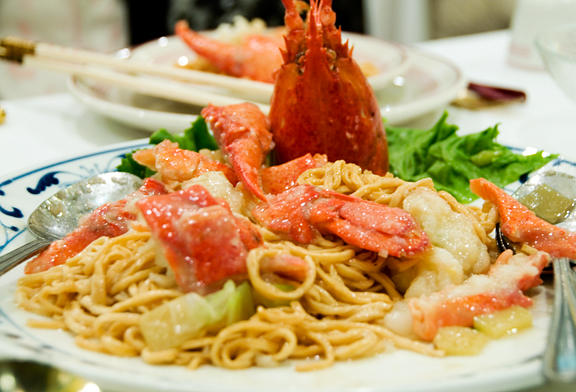 You can peruse photos from the trip on my photo blog. There are just too many to post here. Oh, and the Perseids were not a failure per se, but I wouldn't call them a success. I managed to capture 4 shooting stars out of 150 exposures and they are small ones, not the gorgeous streakers I happened to witness in quadrants that my camera wasn't pointed at.
the huntington gardens
todd and diane (white on rice couple), the kielys
piute pass (first backpack)
mono lake
thousand island lake (second backpack)
reno, tahoe, bay area
After we washed the dog and all of our incredibly stinky backpacking clothes, after unpacking, after getting ourselves situated back into "normal" mode, we crashed – exhausted. Vacation isn't vacation for me unless I'm totally spent. Jeremy sweetly asked me if I had a good vacation. Before I could answer he rephrased the question, "Did you meet all of your intended goals?" Yes. No snafus, no serious issues – it was mostly good.
and the oscar goes to…
I want to thank everyone for writing in to share your idea of the perfect vacation. I was totally entertained reading what different people enjoy doing. I have to say my favorite was Peabody's cage diving among Great White sharks because it was so original and because it suits her snarky personality! So Sunday night, Jeremy generated three random numbers in Python from 1 to 139 (sorry Liz, you didn't quite make it in time): 40 (Manggy), 35 (Mrs. Ergul), and 73 (Cindy in Canada). Then Monday morning…

three dog treats to choose from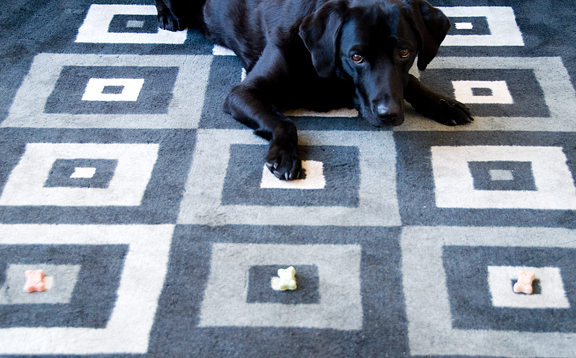 Each number was assigned a dog biscuit color: Manggy was red (pink), Mrs. Ergul was green, and Cindy was brown. Then we let the pup decide.
a beeline for green!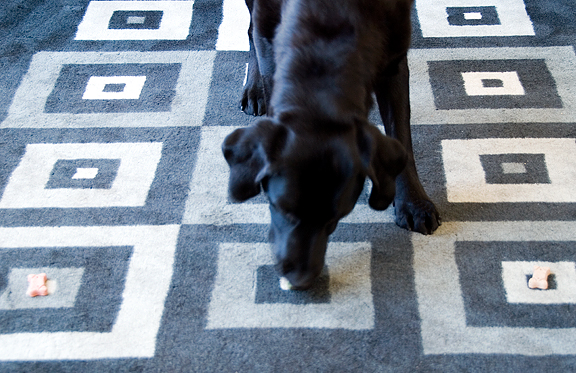 Congratulations Mrs. Ergul!
You have won a photo! Send me an email with your choice of photo and color of mat along with your mailing address. I will ship it out to you this week! Thanks to all of you for participating. More than anything, it was wonderful to get to know some of you through your candid replies. I hope you all get to experience your ideal vacation over and over again.
funny, as in ha ha?
Curiously enough, my dad informed me that he has begun to read this blog. While some people's parents are an intimate part of their lives, much of what I do passes under my dad's radar. It's nothing personal, he is busy doing his own thing and I really don't need someone following my every move as if they don't have a life of their own. I like that my parents have their own lives. I like that they don't dote on me or else I might become some self-obsessed, delusional ninny in constant need of reassurance and praise. If there is one thing I am grateful for that my dad has given me, it is learning to suck it up and deal with whatever life throws at you. He is one tough SOB and so am I. Okay, but here is the funny thing. He told me not to use the "f-word" in my writing. I laughed. I *like* the f-word, but I don't use it excessively, do I? Well, I'm still going to use it when I feel I need that extra special emphasis.
It looks as if that wonderous cold spell is leaving us. So perhaps another month of barbecue and salads before I can sink my hands into soups, stews, crock pot dishes, braises, and enjoy the beauty of slow-cooking a cheap cut of meat on a cold day – transforming it into the most tender of dishes. Right. I still have salads in my archives and on the brain! Nothing beats the fresh produce of summer.

main ingredients: yukon gold potatoes, bacon, parsley, and shallots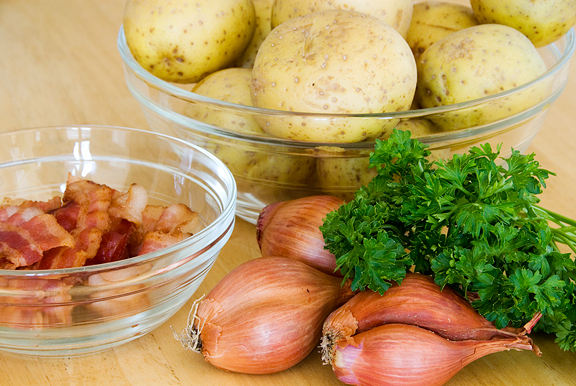 A while ago I had to alter a barbecue menu because one of my guests was allergic to soy, dairy, and chicken. I searched around and came upon a recipe for
German Potato Salad
. I tend to prefer vinegary salads over creamy salads, so I decided to give it a try.
mix potatoes and shallots with oil, pepper, and salt before roasting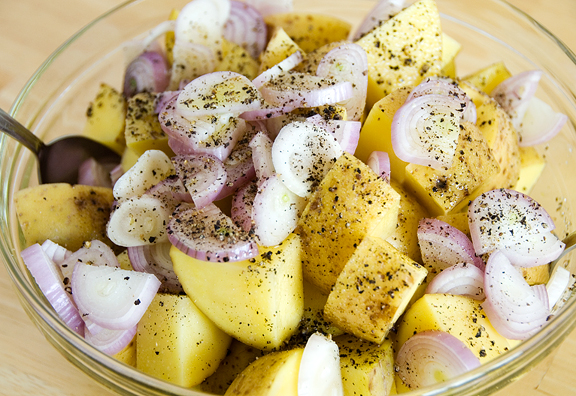 Instead of boiling the potatoes, I decided to roast them. One of the best salads I ever had was a roasted potato salad that my pal, Carrie, had brought over to our place many years ago. That was before I understood what the heck roasting was.
mmmm, bacon and parsley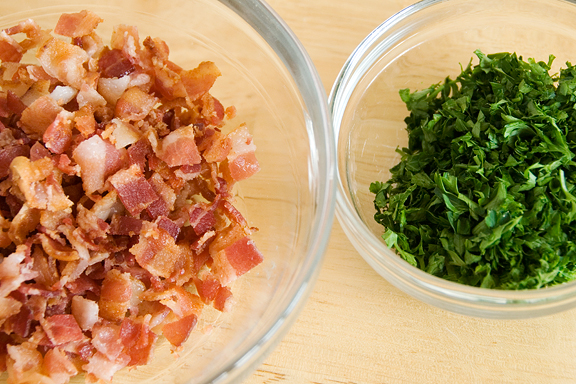 Of course, you can't go wrong with bacon. It makes a dish. It makes up for any flaws that may exist because of other ingredients. Bacon is like duct tape. Bacon is all powerful.
mix with roasted potatoes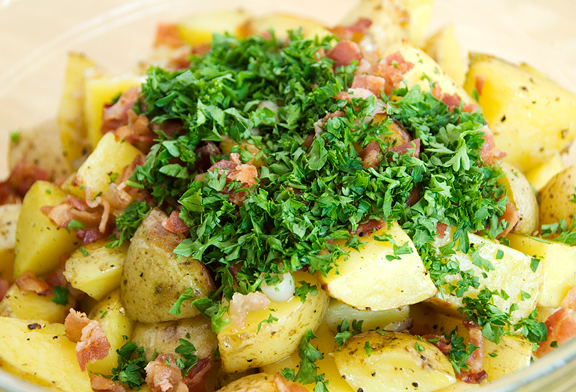 The salad went over well, although I probably could have roasted it longer (when juggling 6 dishes to serve together for dinner, I sometimes forget to check the doneness of things in the oven). It is best served warm.
mayonnaiseless goodness
German Roasted Potato Salad
[print recipe]
based on Authentic German Potato Salad
3 lbs. yukon gold potatoes, washed and cut into medium chunks
6 shallots, peeled and sliced
3 tbsps olive oil
salt
pepper
8 slices bacon, cooked and crumbled
3 tbsps chopped fresh parsley
1/4 cup white vinegar
2 tbsps water
3 tbsps white sugar
1 tsp salt
1/8 tsp ground black pepper
Preheat oven to 450°F. Toss the potatoes with shallots, olive oil, salt, and pepper. Pour the potatoes into a baking pan and roast the potatoes for 40 minutes (turn the potatoes every 12 minutes or so). Meanwhile, combine the vinegar, sugar, water, salt, and pepper in a pan and bring to a boil. Remove from heat and pour over the potatoes. Add the bacon and parsley. Mix together and serve warm.