Recipe: citrus almond salad
Did you know that this here blog, Use Real Butter (urb?), was born of surgery? I had a blog I started back in 2004 by the same name and it had everything in it: personal, rants, cooking, more rants, politics, life, more rants, work, funnies, rants, photography, relationships, and rants. Use Real Butter was more a directive on how to live life rather than how to cook – but it works for both. When I found myself wanting to participate in the food blogging world, I couldn't. I didn't want all of my personal baggage dumped into the public arena (I still don't). I split my blog into Siamese twins, so to speak, and this is how you are reading the public twin which retained the original name.
When I met up with Cindy (Katie and I call her Figs, and I discovered that they call me Butter, and now I wish I had named my blog Lady Deathstrike or Badass Ripchick…) we talked about blogs that suck. I mean popular blogs that we think are *yawn* boring. My own biased deduction is that the readers have no life, which would also explain why so many crappy movies and television shows have so many viewers. Then again, those readers could accuse me of having no taste.
So what makes a blog interesting enough to keep *me* coming back?
Content
I like reading insightful, informative, witty, and sincere blogs. Very few people cover all of those bases, but when someone does – it is usually a winner. This is the most important part of a blog for me.
Writing
Good writing is more than just mechanics, it is style. When skillfully-executed, it is a transparent vehicle to deliver the Content I refer to above. Writing is an art and this is the most commonly neglected aspect of a blog.
Images
Yes, it is true. I am a visual being. Good pictures are quite a draw. However, good pictures and crappy writing don't keep my attention for long. I'll be a devoted subscriber of a well-written all-text blog before I will waste my time on pictures with no real narrative (unless of course, it is a photography blog).
What is good photography? Well, that is subjective. I personally enjoy creative photographers who vary their shots. I even love snapshots that capture a story, an action, an emotion. It's the content of the image, not the frakking camera. It's the vision of the photographer, not the stupid lens. It's about the photography and not how much bloody money was spent on the shot.
[Sorry about that. People just don't shut up about photography. Folks obsess over purchasing *really expensive* cameras and lenses and equipment and software and props and… for blogging?!! Like good writing, good photography is not something you purchase and suddenly have. There is innate talent, but more importantly, there is practice – lots of it.]
Regularity
I'm not talking about Metamucil. Inactivity on a blog is much like a relationship where the other person isn't holding up his/her end of the bargain. I've had relationships like that before. No more!
Mechanics
I love going to a blog and not even noticing the mechanics, because well-designed functionality should be invisible. More often than not, I go to a blog and cuss because navigation is buried under heaps of garbage.
Friends
I'll overlook all of the above if you are a personal friend (even the posting once a month thing – ahem… you know who you are).
Horror
There are just some people who don't function on This Plane of Reality, and yet they blog. Fascinating and terrifying at the same time, like a good (or bad) horror flick.

today's recipe features: slivered almonds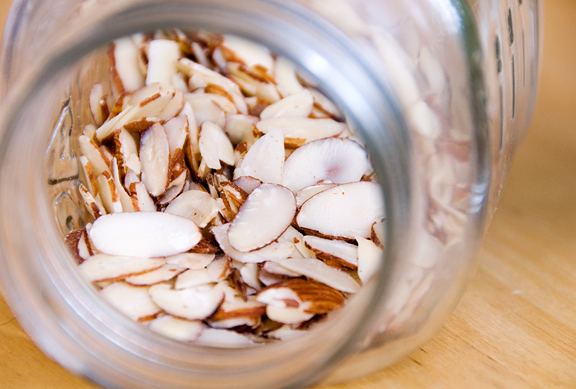 California has caught up and smacked me on the back of the head, much the way a full pack does when you face plant on skis in the backcountry, with a small time delay. *thwack!* I've been passing out in the evenings when my intention was to blog. Zonked out, as my dad would say. Not sure how much longer the fatigue from radiation is supposed to last, but my oncologist just emailed me and suggested I try and chill out. *sheepish grin*
…and salad greens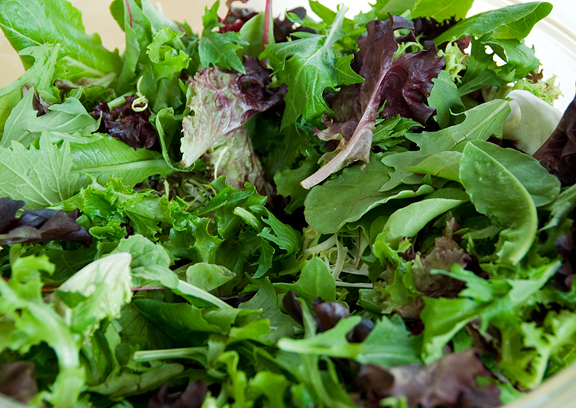 I was so wiped the other day I didn't hear Kaweah asking to be let out in the middle of the night (forget about Jeremy, he sleeps like the dead). Her GI tract is sorting itself after Camp Crazy and apparently she decided to let it sort right onto the guest room floor… Guess I have a date with a steam cleaner this weekend. We have a marathon string of house guests marching through soon.
oooooh! and oranges
After ten days of dining out or eating camp food, I have had nothing but fresh produce on my mind. Well, we did try to eat freshies on our backpacks, but I'm talking about salads. I suppose I am still on a salad kick since I couldn't eat them during chemo (stupid chemo). This here is one of our favorite salads to eat and to serve to guests. The ingredients list is short and the prep can be done ahead of time. Just mix it all together prior to serving. This is one of my go-to salads. Only freaks dislike it.
sectioning the orange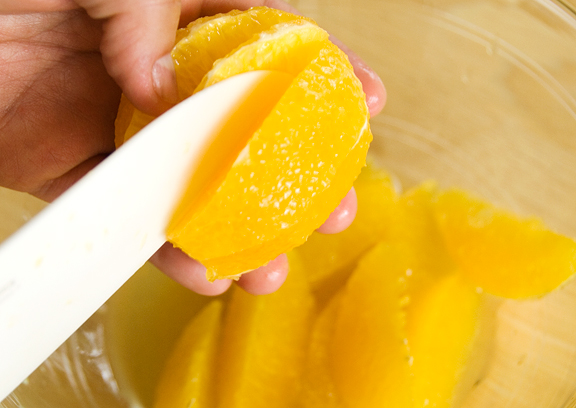 I typically cut the peel off (not peel!) the oranges and then slice out the segments into a separate bowl. I like to use Valencia juice oranges, but navels will do as well. It just gets to be a pain when you segment the oranges if there are baby segments to slice through at the top. I will reserve one orange solely for juicing, which goes into the dressing.
everyone can get along here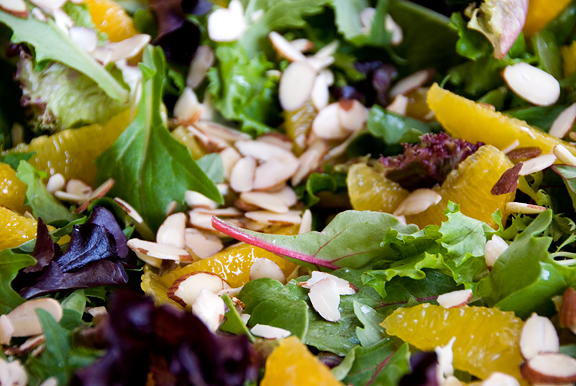 The greens and orange segments go into a large serving bowl. Top that with toasted almond slivers. You really have to keep an eye on the toasting because the almond slivers go from Not Toasted to Scorched in no time. Once they have cooled, I sprinkle those over the bowl.
whisking the dressing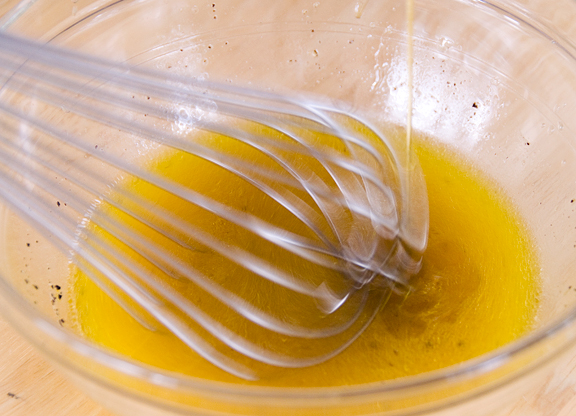 For the dressing, I combine the fresh squozen juice, salt, pepper, a pinch of sugar, and a little bit of red wine vinegar in a large bowl. I whisk in a thin and steady drizzle of oil (vegetable or olive – depends on how I feel) until I have a satisfactory dressing consistency. Usually anywhere between a quarter to a half cup, but I tend to prefer watery dressings over oily dressings.
a light and bright salad
Citrus Almond Salad
[print recipe]
4 oranges (preferrably Valencia juice oranges)
8 oz. mixed greens (don't you dare use ice berg)
1/4 cup almond slivers
salt
pepper
sugar
1 tbsp red wine vinegar
1/4-1/2 cup flavorless vegetable oil (or olive oil)
Juice one orange, set aside. Lop the ends off the remaining oranges. Cut the peel away so that no outer membrane remains on the oranges. Carefully slice out the orange segments from the membranes. Toast the almond slivers until fragrant (350°F oven for about 2 minutes or less). Place the salad greens, orange segments, and almond slivers in large bowl. In a mixing bowl, combine orange juice, salt and pepper to taste, a pinch of sugar, and red wine vinegar. Whisk the liquid and while continuing to whisk, pour the oil into the bowl in a thin, steady stream. The dressing should be emulsified. Pour the dressing over the salad and toss before serving.